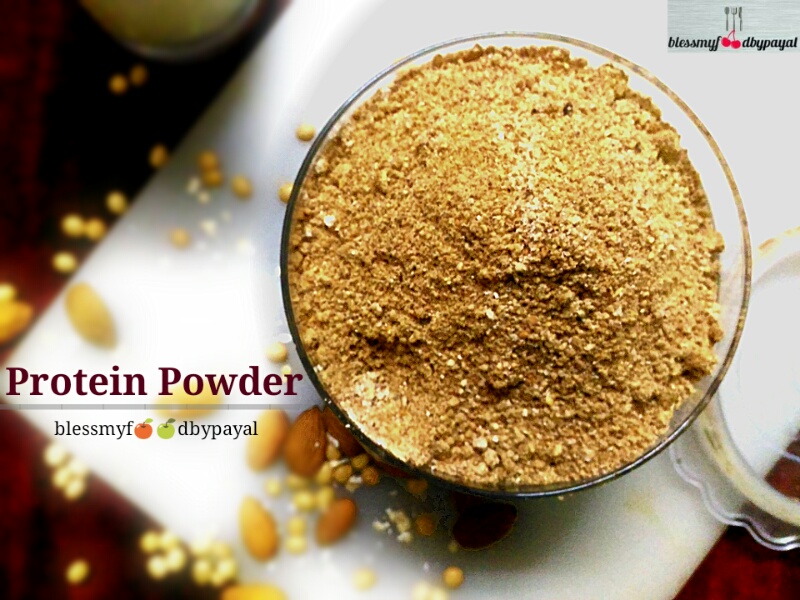 13 Nov

Homemade Protein Powder Recipe | protein powder | homemade protein powder

Homemade Protein Powder Recipe | protein powder | homemade protein powder recipe with step wise Video and pictorial method.

Proteins are our basic requirement and we all need it for the wellness of our body. Although we are taking proteins through our daily meals too but at times that quantity is not sufficient which our body actually requires. And as such we require Protein powder supplements to be added in our daily routine. That is why here it is a recipe of Homemade Protein Powder for you.

Protein powder is a supplement that is often used by athletes and body builders to enrich their exercise training programs. If it is taken on a daily or regular basis, it can help to boost the immune system. It is very helpful in gaining the healthy skin, hair and nails.
Getting enough protein helps ensure your child grows and develops normally and as such we always look forward to many Protein Powder supplements available in the market being sold with different brands and names. But what we are serving to our children is undoubtedly having preservatives.
But no preservatives anymore. Make your own protein powder at home with the basic ingredients and easy to follow method.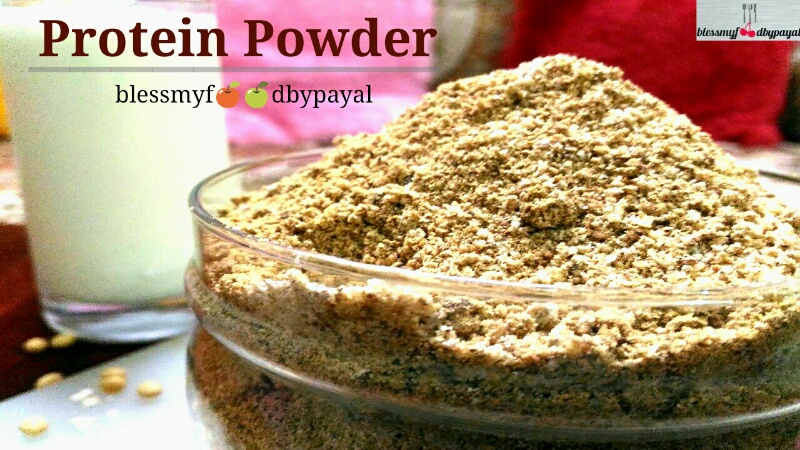 So let's begin the process of Protein Powder…
VIDEO OF HOMEMADE PROTEIN POWDER RECIPE
TEXT OF HOMEMADE PROTEIN POWDER RECIPE
INGREDIENTS
Oats – 100 Gms
Almonds – 100 Gms
Soyabeans – 100 Gms
(you can use ready made soya flour also)
Peanuts – 100 Gms
Milk Powder (vegan/dairy) – 50 Gms
Cocoa powder (optional) – 20 Gms
YIELDS
About 150 Gms of Protein Powder.
METHOD
1. Take a non – stick pan and dry roast Oats, Almonds, Soyabean and Peanuts one after another on a low flame till they turn slightly golden. Keep them aside in separate bowls.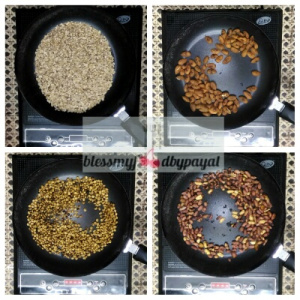 2. Let them turn completely cool.*
3. Now grind all the roasted ingredients one by one to a fine powder.
4. Now it's a time to mix them all together. Better again put all the powdered ingredients in a blender along with Milk Powder** to get a fine mixing.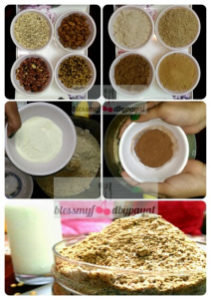 5. Your Homemade Protein Powder is ready. Keep it in an airtight jar and serve to your children by adding a tablespoon of it in hot milk.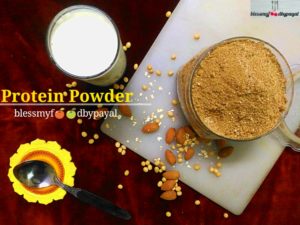 You can preserve it for 1 Month.
NOTE
You can use Cashews and/or Walnuts in addition or in replacement of Soyabeans.
*Cooling down of dry roasted ingredients, especially Almonds and Peanuts is very important. If you grind them while hot, they may turn into a paste instead of powder.
Also, don't overdo while grinding Almonds and Peanuts. This may also cause trouble in making a fine Powder and both of these two ingredients will get the paste like consistency.
** If your children love to have a chocolate flavor, then add cocoa powder along with Milk Powder while blending all the ingredients. The choice of adding cocoa powder is purely yours.
You can adopt Four ways:
I. Don't add cocoa powder at all and leave the entire protein powder chocolate flavor free, if making the powder for adults. (…but don't draw the meaning that adults are restricted to cherish chocolaty flavors ).
II. Add cocoa powder in the entire protein powder and make it chocolate flavored.
III. Take out half or some portion of Protein Powder. Add cocoa powder only in that half part and store in separate jar. This way you will have 2 flavored protein powders.
IV. Leave the entire protein powder cocoa free and while preparing a drink for your children, add a small spoon of cocoa powder or chocolate syrup in the drink along with Protein Powder.
It's up to you…what you love to enjoy and share.
Feel Free To Ask Queries, If Any…
Regards
PAYAL BALI SHARMA
SHAILENDER SHARMA