05 Mar

Tomato Ketchup | tomato ketchup recipe | homemade tomato ketchup

Tomato Ketchup | tomato ketchup recipe | homemade tomato ketchup with step wise pictorial method is given here.
No preservatives, highly economical and more tasteful, these are the qualities of this Tomato Ketchup because it is made at home.
used in every household, Tomato Ketchup is something which is highly Kids friendly. Snacks may fluctuate but they are always enchanting with tomato ketchup.
It took us roughly 10 to 12 days in initiating the procedure of tomato ketchup.
O please dear readers, don't lock the shutter of your screen. You are so valuable to us.
Just give me a minute.
Please let me clarify myself.
There's nothing complicated about the preparation.
Actually what happened….
When we intended to make the tomato ketchup at home, the cost of tomatoes in the market was trouncing the sky like anything. So kept on waiting for the price of tomatoes to come down because I couldn't  dare to make this simple and economical recipe at a high cost.  😉
Finally when the arrogance (cost) of tomatoes was whacked (lower down), we grabbed them and made their ketchup. 🙂
we have made it absolutely preservatives free. More healthy, more Tasty and easy to make….
INGREDIENTS* for tomato ketchup
Tomatoes – 1 kg + 250 G
Ginger – 1 small piece
Garlic – 7 – 8 pieces
Dry red chilies – 2 Nos.
Raisins – ¼ cup**
Sugar  – 4 tbsp***
Vinegar – ¼ cup
Salt – ½ tbsp
TOTAL TIME PERIOD
1 hour 30 minutes.
METHOD

1. Keep the ingredients ready, which includes properly washed and roughly chopped tomatoes, peeled, rinsed and chopped garlic, ginger, dry red chillies, rinsed raisins, vinegar, salt and sugar.
2. In a pressure cooker, add all the above mentioned ingredients i.e. tomatoes , ginger, garlic cloves, dry red chillies, raisins, sugar, vinegar and salt together and put on a low flame for about 20 minutes.****
3. When the tomatoes in the mixture turn soft, switch off the gas stove.
4. When the mixture turns completely cool, blend it to a fine puree.
5. Take a big bowl, keep strainer over it and strain the puree very well.
6. Use the spoon to strain the puree. Keep on straining the puree.  a clear and fine pulp will also keep on releasing through the strainer. just kept on pressing until  no pulp was left in the puree.
7. Place the pan carrying the tomato pulp on a heat between low to medium and let it simmer till the pulp starts thickening and attained the ketchup like consistency.
8. Tomato ketchup is ready.
Transfer tomato ketchup into a sterilized jar & keep in the refrigerator after turns completely cool.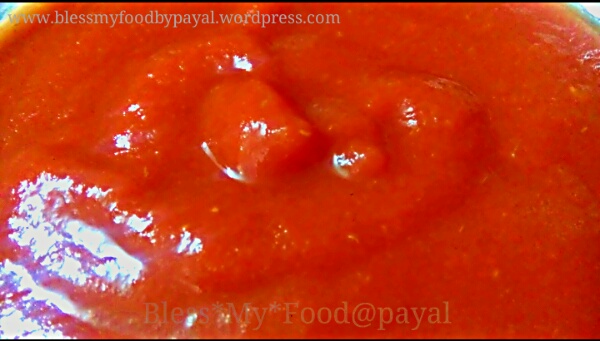 Tomato ketchup is usually served with snacks. to see the variety of snacks items, click here.
NOTES
* Without preservative, life of this homemade tomato ketchup is around 2 months so better not to make this recipe in bulk. But sterilization must be done. It is very-very important. With the given ingredients, i yielded almost ½ Kg Ketchup. You can adjust the quantity of ingredients as per your suitability and usage.
**If you don't have raisins or you don't want to use them, increase the quantity of sugar.
***in the absence of raisins, enhance the quantity of sugar from 4 to 6 tbsp.
****tomatoes carry a good quantity of water in themselves, so you need not to add additional water while boiling them.
Another recipe made with tomatoes, i.e. Tomato Puree is also here in this blog.
Regards
PAYAL BALI SHARMA
SHAILENDER SHARMA