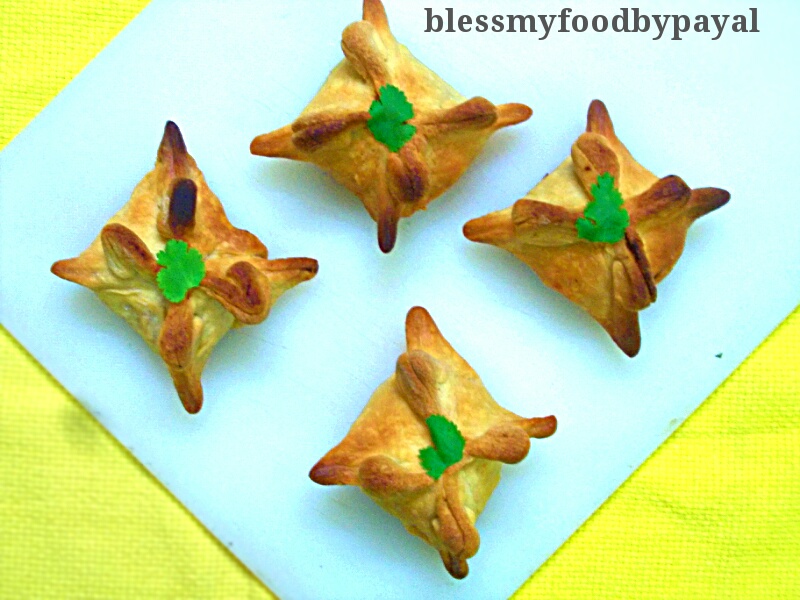 13 Nov

Samosa, | baked samosa | how to make samosa at home

Samosa | baked samosa | how to make samosa at home recipe with step wise pictorial recipe.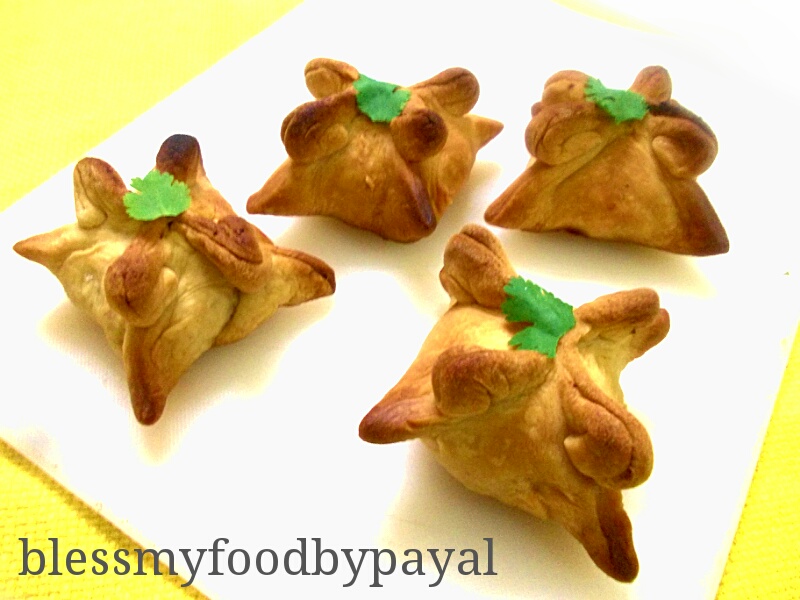 The speciality of this SAMOSA is that it is the baked one and made with Whole Wheat Flour & just few drops of oil.
Samosa needs no introduction. Amongest all the snacks/street foods in India, samosa is at the top due to its liking & popularity.
We have barely seen any person who dislikes samosa. However some people have the restrictions because of their health issues as samosa is usually made with All purpose Flour & deep fried.
So we decided to remove these 2 obstacles from the path of samosa lovers & tried this healthy version named Baked Samosa.
So, if you are a samosa lover but can't have them being heavy on your heart &/or stomach or even otherwise you don't compromise with your health, then this baked samosa is for you. We hope you will surely love it.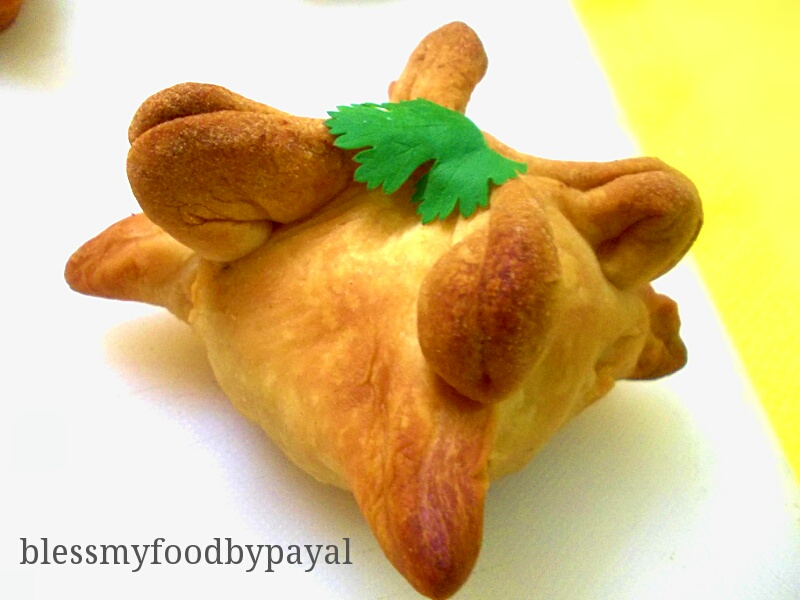 INGREDIENTS
For The Outer Layer

:
*Whole wheat Four – 2 cups
Carom seeds – 1/4 tsp
Baking soda – 1/4 tsp
Oil – 3 tbsp
Salt – 1 tsp
Water as per need
For The Stuffing

:
Potatoes (boiled) – 3-4
Green peas (boiled) – 1/4 cup (optional)
Cumin seeds (dry roasted & roughly crushed)- 1/2 tsp
Ginger (grated or crushed) – 1 tsp
Green chillies (chopped) – 2
Red chilli powder – 1/2 tsp
Coriander powder – 1/2 tsp
Garam masala powder – 1/2 tsp
Mango powder – 1/2 tsp
Coriander leaves (chopped) – 2 tbsp
salt as per taste
METHOD
For The Outer Layer :
1. Seive whole wheat flour, baking soda and salt in a mixing bowl.
2. Add oil & rub the oil with your fingertips to get a breadcrumb like consistency.
3. Now start kneading the flour to a stiff dought with water.
4. Cover the dough with a moistened muslin clothe or kitchen towel and keep aside for 30-40 mins.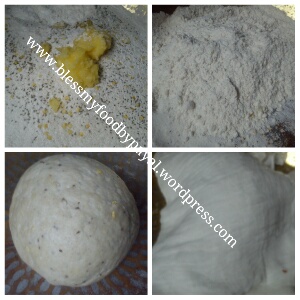 For The Potato Stuffing :
1. Take a bowl, add potatoes and mash them. Add green peas, if using.
2. Add rest of the ingredients and throughly mix them, preferably with your hand.
3. Take some potato mixture and make a small ball out of it with the help of your palms. Keep aside after making all the balls.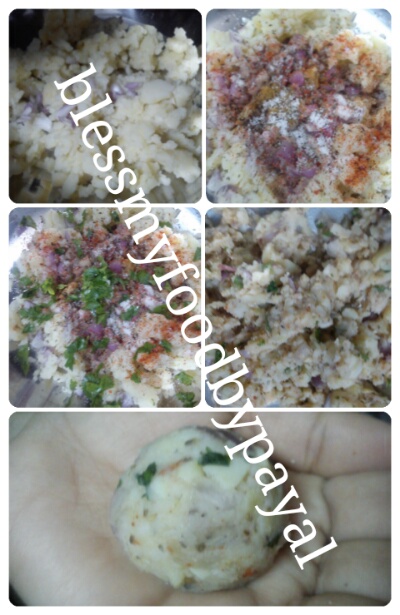 Assembling The Samosa

:
1. When the rest time of dough is over, knead the dough lightly again.
2. Now take a small piece of dough & roll it on your palms and place it on a rolling board.
3. Roll the ball with a rolling pin like you do for making chapatis,keeping the thickness neither thin nor thick.
4. Then place the ball of potato mixture, you have already prepared, in the middle of rolled chapati.
5. Beginning from one side, hold the chapati from two spots (gap between both the spots should be about 1.5 to 2 inches) & stick both the spots.
6. Likewise repeat the same from opposite side.
7. Then lift the stuck spots from both the sides & stick again with each other crossing over the potato ball placed inbetween. This way, you have completed half of the star shape.
8. Now moving on to rest of the 2 sides which are still fallen flat.
9. Hold the absolute center spot of both the flat sides with the help of your finger tips, lift and join them too with the already lifted & spots, already stuck earlier. Your star shape is completed.
10. Be sure there are no cracks & the edges & all the open sides should be joined very well. Apply water with your finger tip where you are countering problem in joining the ends.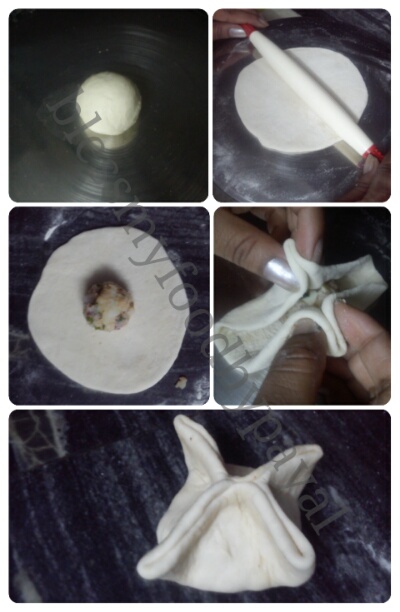 11. Now take a kitchen scissor and cut the star shape from all the 4 corners, leaving the center intact.
15. Fold all the 4 cut strips downwards & pinch the lower portion, which are exactly under the folded strips, giving it a pointed shape.
16. When all your samosas are ready, arrange them in the greased baking tray and brush them with a little oil.
17. Place the tray in a pre-heated oven** at 180 degrees celsius for 30 to 35 minutes, till the crust is golden and crisp. Do keep in mind that oven temperatures vary so keep a check.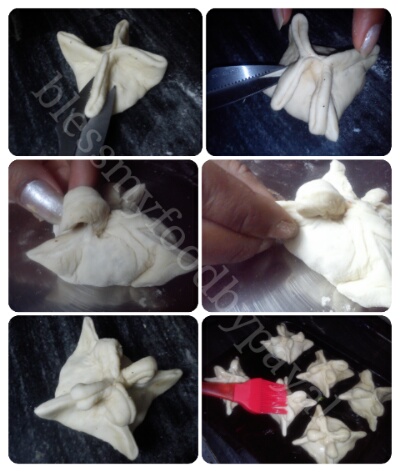 Your baked samosas are ready. Serve them hot with TOMATO KETCHUP, GREEN CHILLI HOT SAUCE or IMLI AUR PYAZ KI CHUTNEY or with any of your favorite chutney.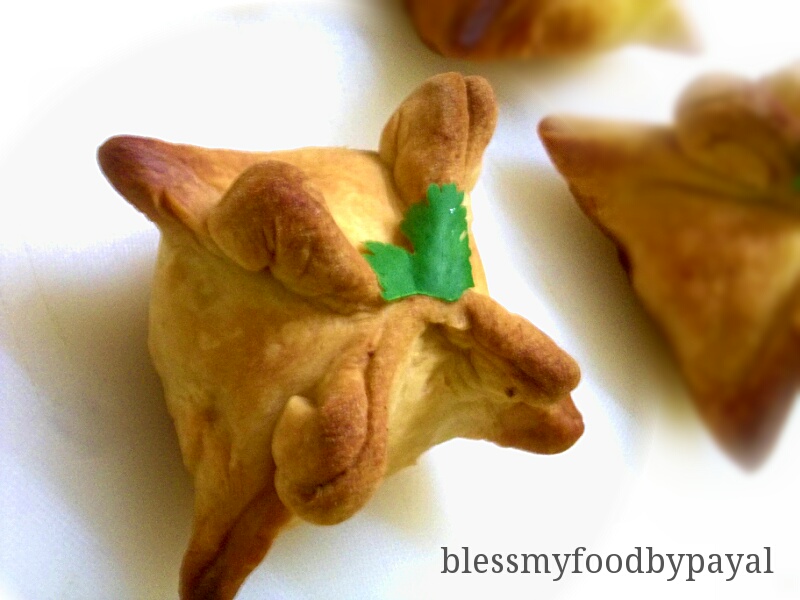 NOTE
* You can also use only all purpose flour/maida or a half-half of both whole wheat flour and all purpose flour.
** You can also make them in Airfryer or even can fry them in hot oil.
I have given this shape to samosas just to please my son & for a change. You can go either for regular shape or any other shape of your liking.
Regards
PAYAL BALI SHARMA
SHAILENDER SHARMA