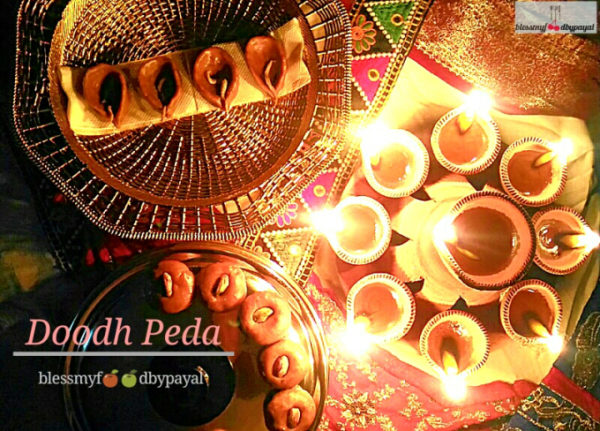 16 Oct

Doodh peda, milk peda

Stepwise pictorial and Video recipe of Doodh Peda, milk peda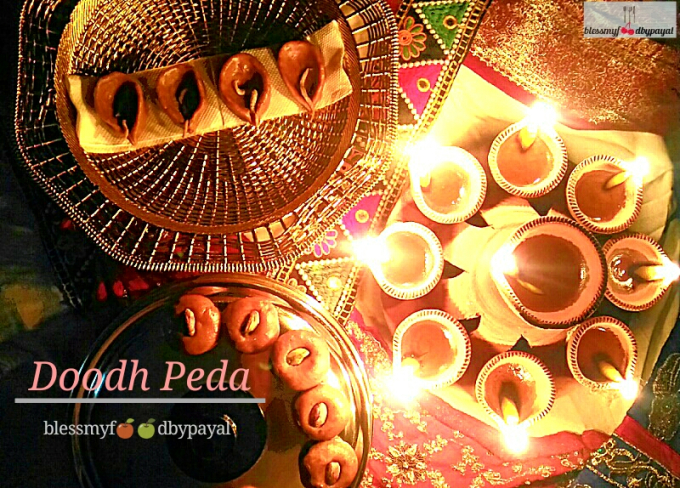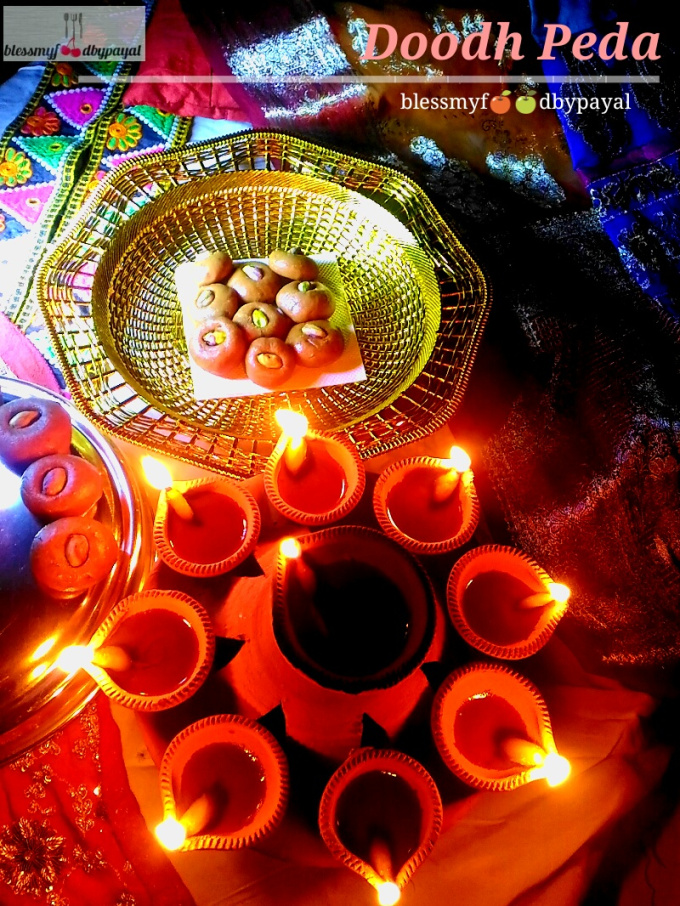 Doodh Peda or Milk Peda is a traditional sweet usually made on festivals. Very quick and easy to make, doodh pedas are highly delicious and melt in mouth. These pedas are round in shape and we have made it in round shape also. But, as we are making it on the occasion of Diwali, so made few in the shape of Diya too.
Doodh pedas are also made with fresh milk and/or Mawa, but the present one is the instant version of Doodh peda.
So come and join us in the preparation of delicious Doodh pedas.
VIDEO RECIPE
…beauty at its best.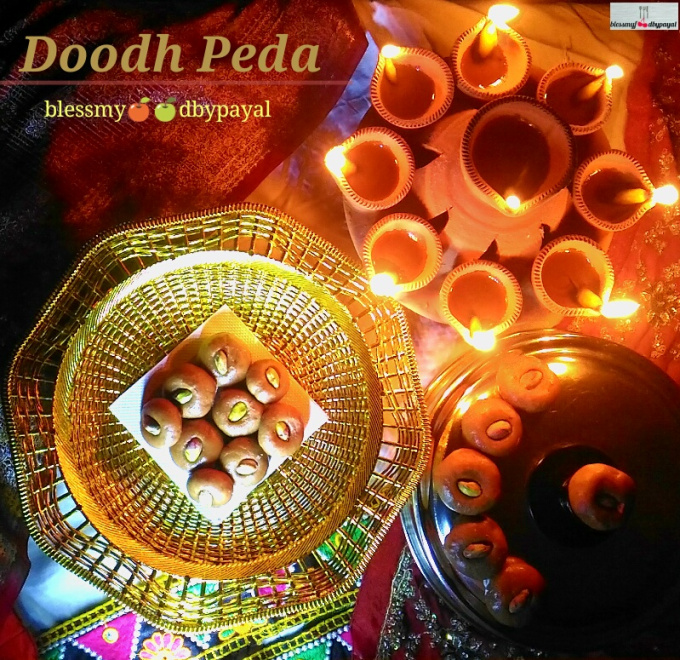 TEXT RECIPE
INGREDIENTS
Homemade DULCE DE LECHE or CONDENSED MILK – 1 can/400 Gms
Milk powder – 1.5 Cups
Desi Ghee / clarified butter – 2 tbsp + just a bit to grease the hands
Cardamom essence or Powder – 1 tsp
Pistachios – 15-20
Powdered sugar as per need (only in case making Diya shaped pedas)
METHOD
(The entire process needs to be done on "Low Flame").
1. In a thick bottomed pan, add 1 tbsp of ghee out of total 2 tbsp (as mentioned in ingredients).
2. Pour Dulce de lache.
3. Then add milk powder and mix properly so that there are no lumps.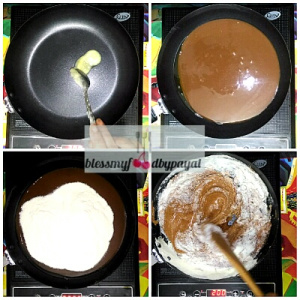 4. The mixture will start thickening with the time. But keep stirring.
5. After sometime, the mixture will be so thick and it will start leaving the sides of the pan.
6. Add cardamom essence or powder and mix.
7. At this stage, add another tbsp of desi ghee and mix it.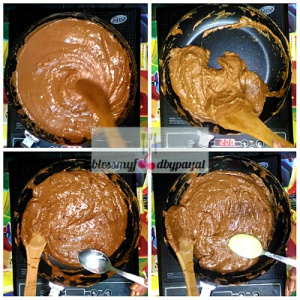 8. Switch off the flame and flatten the mixture so that it gets cool early.
9. After about the 10 minutes, the mixture will be cool enough to touch it with the naked hands.
10. Now start shaping the pedas.
FOR ROUND SHAPE.. (see the video for better understanding)
A. Grease your hands with the ghee.
B. Scoop out the mixture dough and rotate it between your palm to give it a round shape.
C. Tuck a Pistachio in the middle of round peda.
D. Make more round pedas.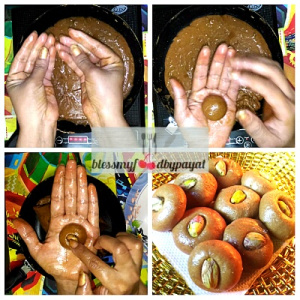 FOR DIYA SHAPE (because we are making it as Diwali sweet)
(see the video for better understanding)
A. Scoop out the mixture dough and rotate it between your palm to give it a round shape.
B. Make a hole in the middle with your finger tip.
C. Now start rotating the ball in a way so that a wall is created around the hole.
D. Then pinch it with your finger tips to give it a diya shape.
E. Now for making the baati (lamp) for diya, just prick a dough, roll it between the palms.
F. Toss it in the powdered sugar and fix between the diya.
Your Round shaped pedas and Diya shaped pedas are ready.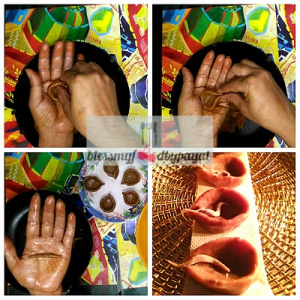 Enjoy….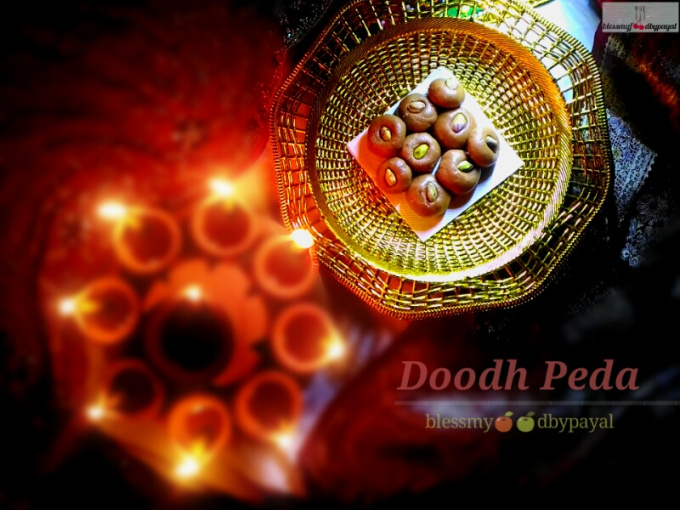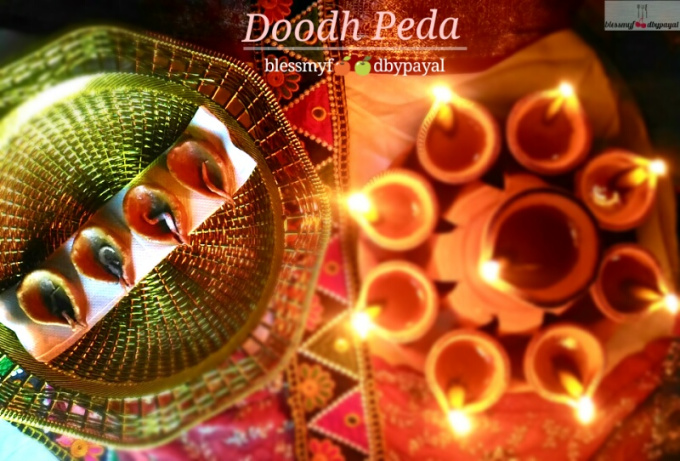 Feel Free To Ask Queries, If Any…
Regards
PAYAL BALI SHARMA
SHAILENDER SHARMA
Please subscribe to get easy access to our new and upcoming recipes.