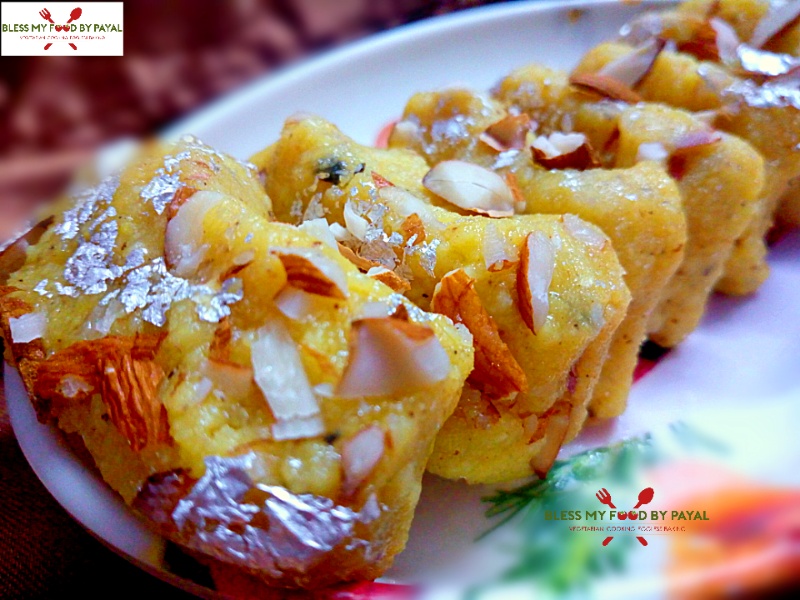 13 Oct

custard flavoured paneer barfi from leftover ghee residue | paneer barfi | custard burfi

Custard flavoured Paneer Barfi from leftover ghee residue with step wise pictorial and video recipe.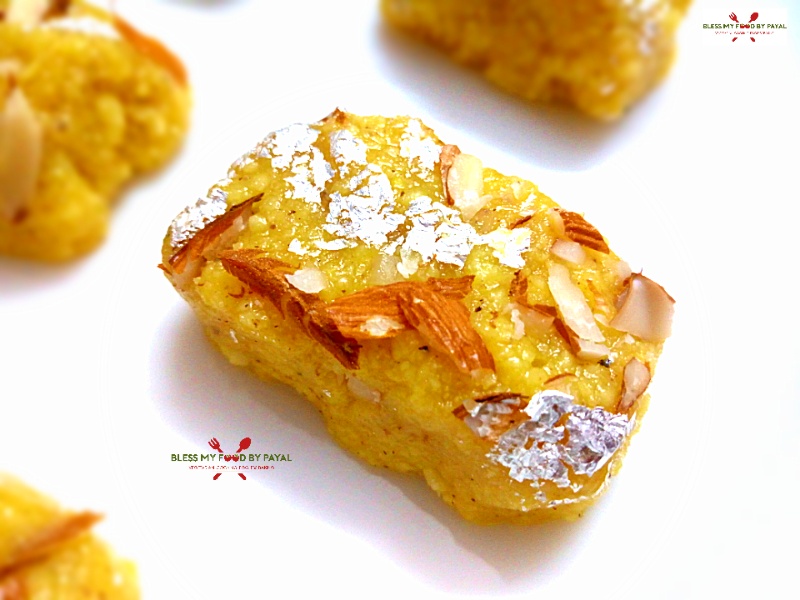 Custard flavoured Paneer Barfi from leftover ghee residue is one of the most easy, amazing and interesting method to utilize the residue left after making desi ghee.
This recipe idea is derived from a talented home chef Ms. Anjali Suresh who shared the similar recipe in one of the Facebook group. The only difference is that she prepared Laddus using desi ghee whereas we are preparing Barfi using ghee residue.
The taste of this Custard flavoured Paneer Barfi from leftover ghee residue is quite similar to Milk cake / kalakand.
Also have a look at other recipes made using leftover ghee residue :
Ladoo from leftover ghee residue
Eggless Oats Cookies with leftover ghee residue
gajar ki barfi with desi ghee residue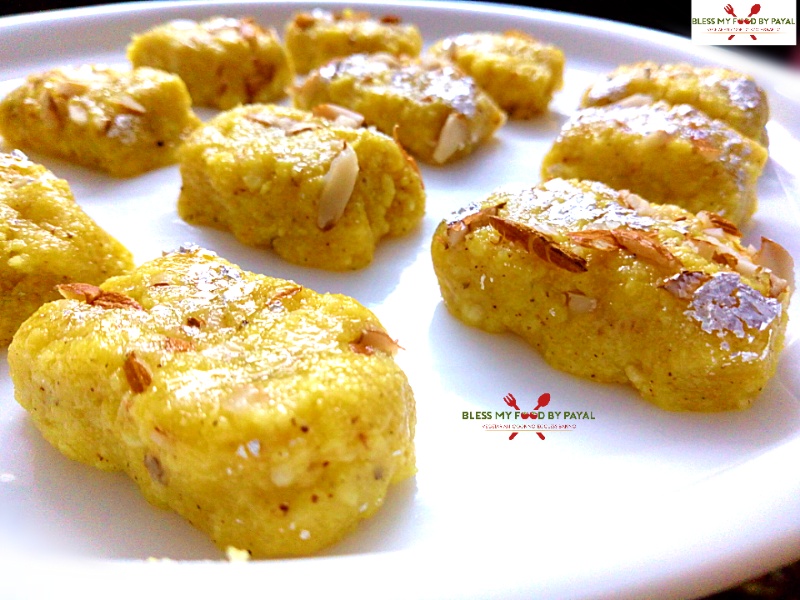 YouTube
INGREDIENTS
Paneer – 200 gms
Powdered Sugar – 2/3 cup (about 10 tbsp
Custard powder (Vanilla flavoured) – 2 tbsp
Ghee residue – 1/4 cup
Desi ghee just to grease the plate
Nuts of your choice
METHOD
You are recommended to use the same Kadai/pan in which you have made the ghee for making this recipe of custard paneer burfi from leftover ghee residue because even after filtering the ghee, there remains much stick to Kadai/pan. So to save & utilize even a last drop of ghee, we are using the same Kadai.
1. Take a bowl and grate paneer in it. You can either finely mash it.
2. Add custard powder and powdered sugar.
3. Mix the paneer, sugar and custard powder properly so that they combine well.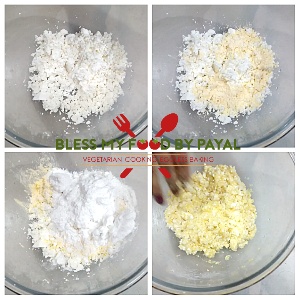 4. Take a Kadai in which ghee residue is already placed and sticked all around. Scrape the residue from all the sides and collect in the centre of Kadai.
5. Transfer the paneer mixture in Kadai and start cooking at low flame.
7. Saute well by continuously stirring for 5 minutes.
8. When it becomes a thick mass and starts separating the Kadai, turn off the flame.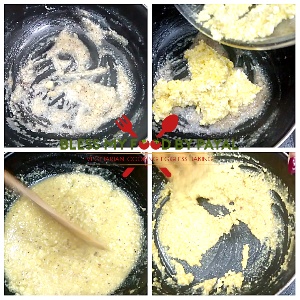 9. Take a plate or small box (we used cake tin) and grease it with ghee.
10. Transfer paneer mixture into tin and spread properly.
11. Garnish with chopped nuts.
12. Place in refrigerator to get set for about an hour.
13. Cut into the shape of Barfi.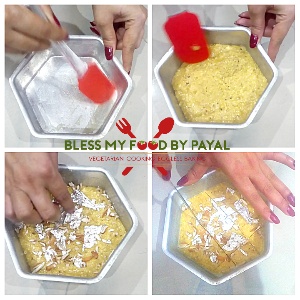 Enjoy…….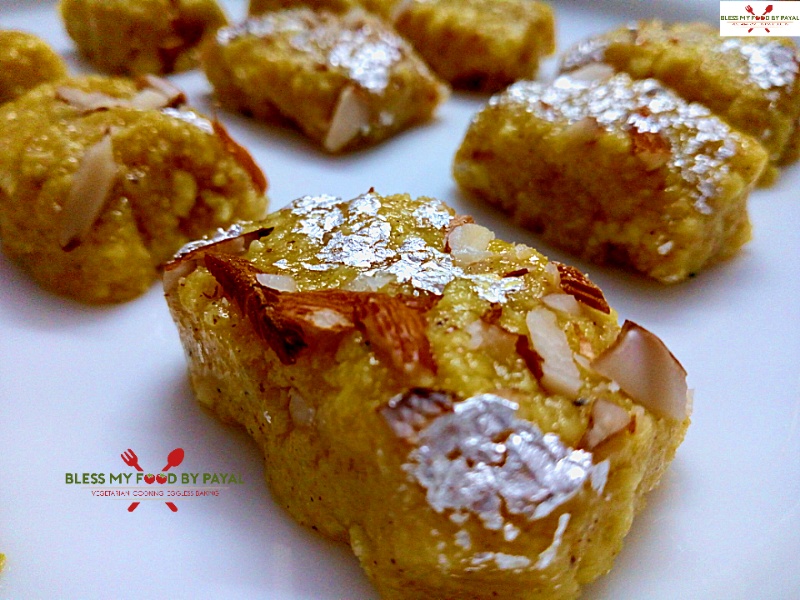 NOTE
* As we are making this recipe by using the residue of ghee, so we have to be careful right from the stage when we started preparing the ghee.While preparing ghee, keep on stirring the butter otherwise the residue will stick to the  bottom of the pan and get burnt and as a result you will not be able to make these ladoos and if made, they will be bitter in taste.
* Feel free to add Cardamom powder, if you like.
* You can make the same recipe also with desi ghee instead of leftover Ghee residue.
* The role of custard powder is just to give different flavour to Barfi. Otherwise you can make this Barfi without custard powder too.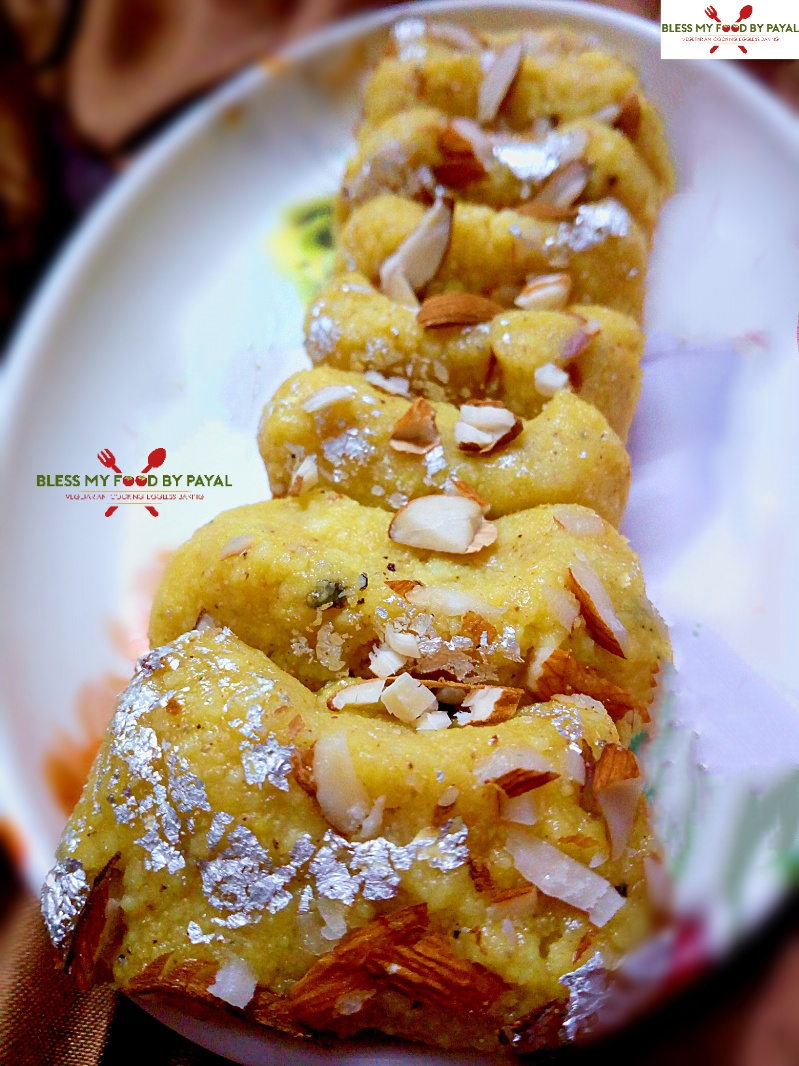 Feel Free To Ask Queries, If Any…
Regards
PAYAL BALI SHARMA
SHAILENDER SHARMA