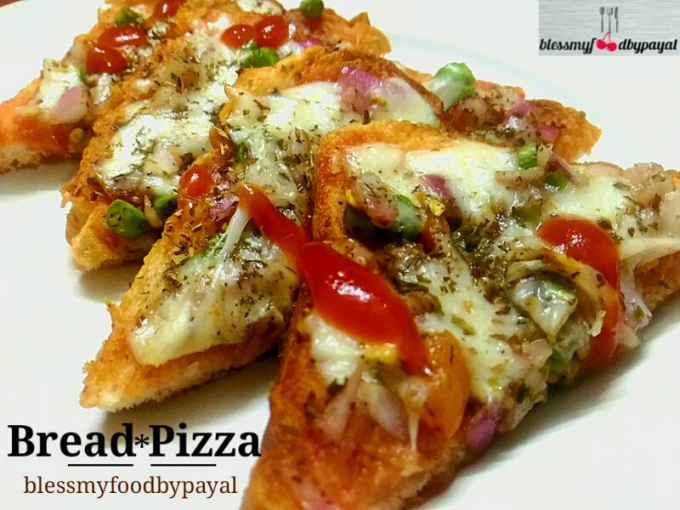 02 Sep

Bread Pizza

Stepwise pictorial and Video recipe of Bread Pizza.
Bread Pizza is an instant version of real pizza. Although with the store brought pizza base, the process of making a pizza is same but if your child makes a demand for pizza in odd hours, pizza bases are not usually remain available 24×7 at home. Whereas bread is almost there in the refrigerator of every home. So make it Instant. This bread pizza can also be send in the tiffin of your child. So let's begin with the making of bread pizza.
Prep Time: 5 minutes
Cook Time: 10 minutes
Total Time: 15 minutes
Yield: 8 pieces
Serving Size: 1/2 piece
VIDEO RECIPE OF BREAD PIZZA…..
TEXT RECIPE OF BREAD PIZZA….
INGREDIENTS
 Bread – 4
Tomato  – 1 small
Green beans  – 4-5 pieces
Onion  – 1
Butter – 1 tbsp
Tomato Ketchup– 2 tbsp
Black pepper powder – 1 tsp
Chaat Masala – 1 tsp
Chilli flakes – 1 tsp
Salt as per taste
Vegetable Oil – 1 tbsp
Mix herbs as per choice
Mozzarella Cheese (grated) – 1/2 cup
METHOD
1. Roughly chop tomatoes, beans & onion.
2. Transfer them into a bowl.
3. Add black pepper powder, chaat Masala, chilli flakes, salt and oil. Mix them properly and keep aside.
4. Take bread slices and spread ketchup on them.
5. Spread the vegetables mix over the bread.
6. Now spread mozzarella cheese over it.
7. Sprinkle mix herb on the spreaded mozzarella.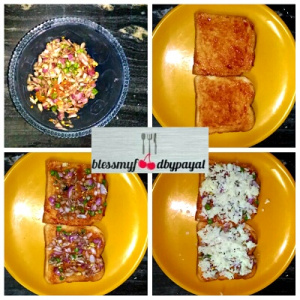 8. Place non- stick tawa on gas stove on low flame.
9. Spread butter on the tawa.
10. Place bread slices on the tawa with loaded side upwards & cover it.
11. In about 2 minutes when the mozzarella will be seen melting, your bread pizza is ready.
12. Either cut into halves or serve hot whole slices with tomato ketchup.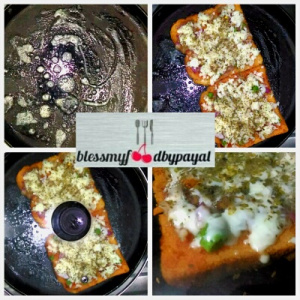 Here is your share…..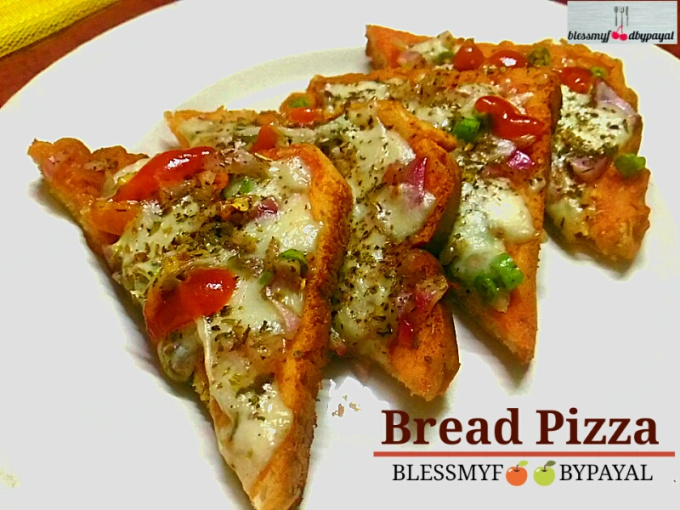 NOTES
* You can use any bread, white or brown.
* Use of vegetables is a personal choice. Either you make this pizza only with mozzarella cheese or use any vegetables like capsicum, carrot, mushroom or anyone of your choice/availability.
*If you have pizza sauce, use it to spread over the bread slices instead of tomato ketchup.
* You can make this pizza in oven also.
Also have a look at the recipe of PIZZA WITHOUT OVEN in this blog.
Feel Free To Ask Queries, If Any…
Regards
PAYAL BALI SHARMA
SHAILENDER SHARMA
Please Subscribe to get easy access to our new and upcoming recipes.