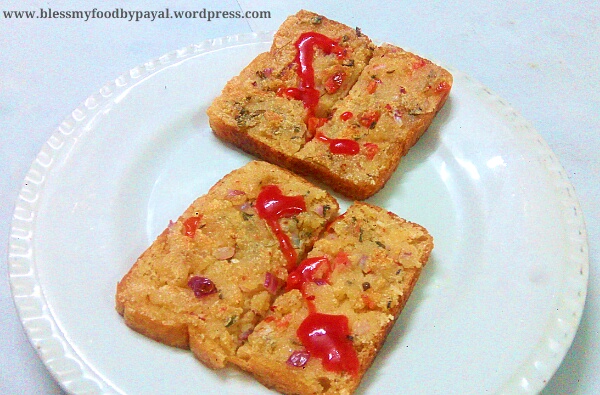 06 Jul

Rava Toast | rava toast recipe

Rava Toast | rava toast recipe with step wise pictorial method.
The most easy recipe full of nutrients, protiens, vitamins & minerals is here. Made with the ingredients easily available at home added more affection towards this toast. Rava, also known as Sooji or semolina, the prime Ingredient of this recipe is good for Diabetics, provides great energy, vital for important body functions, a diet food during fever & a balanced food a whole. And when it is associated to whole wheat bread which is rich in nutrients and  fibre, a healthy breakfast is guaranteed.
INGREDIENTS
Whole wheat bread slices (you can use White bread also) – 6
Rava / Semolina / Sooji – ½ cup
Onion (finely chopped) – ¼ cup
Tomato (finely chopped) – ¼ cup
Yogurt/curd – ⅓ cup
Salt – to taste
Chilli flakes or Red chilli powder ¼ tsp or as per taste
Kasoori Methi / Dried Fenugreek leaves 1 tbsp (optional)
black pepper – ⅛ tsp
Oil – 1 ½ to 2 tbsp
METHOD
1. Take a bowl and mix all the ingredients (sooji, kasoori methi, onion, tomato, salt, black pepper, red chilli powder and curd). Keep aside.
2. Take the bread slices one by one and spread the sooji mixture on them evenly using spoon. Keep aside.
3. Take a non stick tawa and place it on a medium heat. Once hot, add some oil & place the bread with filling side down and cook till it is light brown.
4. Then turn the side of the bread and toast other side also.
5. Remove it on a plate.
Rava toast is ready. Cut each slice into half & serve hot with Tomato Ketchup.
Regards
PAYAL BALI SHARMA
SHAILENDER SHARMA