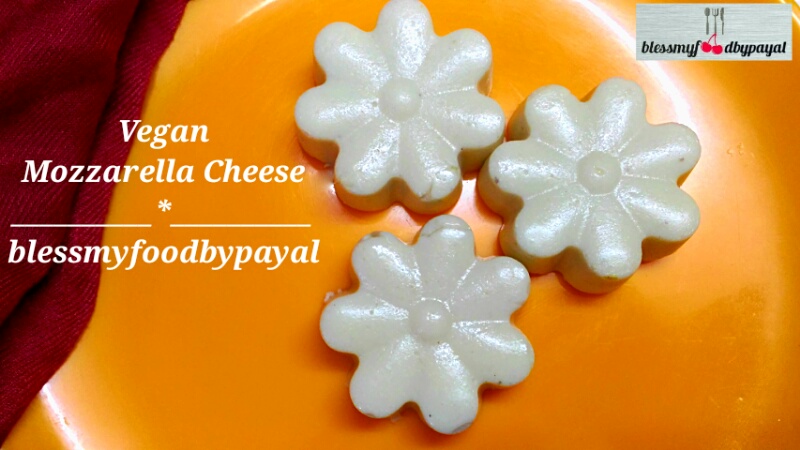 13 May

Vegan Mozzarella Cheese Recipe | Best Vegan Mozzarella

Vegan Mozzarella Cheese Recipe | Best Vegan Mozzarella which will get ready in 10 minutes is here to make everyone surprise. It is surprising because its very easy to make with the basic ingredients.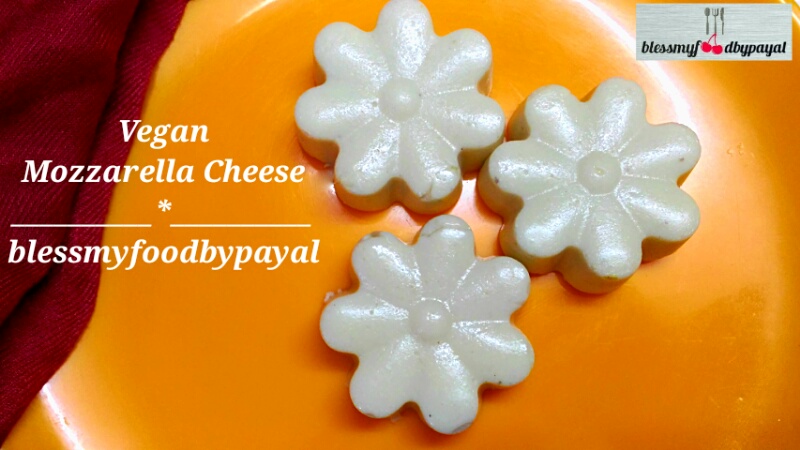 Since long we wanted to make Mozzarella Cheese at home, but the project found to be very ambitious. It starts with the making of the curds but such is a very time taking process, requires a few special ingredients (starter culture, rennet, etc.) and checking of temperatures and pH level.
Another big hurdle was the availability of Vegetarian Rennet – a natural coagulation enzyme, which separates the solids (curds) from the liquids (whey)—which is used to make almost all cheeses.
Usually animal rennet is used in the making of Mozzarella which comes from the lining of cow stomachs, especially baby cows. Unfortunately, vegetarian rennet or substitute rennet for making vegetarian cheese is harder to find (atleast at our place)….so there was no scope for us being hardcore vegetarians.
Then while walking through the streets of internet, we came across the Vegan Mozzarella Cheese Recipe | Best Vegan Mozzarella, so thought of giving it a try, although we are not vegans.
Made with the basic ingredients and very very easy method, we were happy with the results. All thanks to LAZY VEGAN blog.
However this Vegan Mozzarella Cheese Recipe | Best Vegan Mozzarella RECIPE IS NOT FOR THOSE who are very strict to their taste buds and never intend and willing to accept anything new. But if you love innovations & want to try something new, then do place your hand on this recipe. Vegans are surely going to love it and rest may feel the difference in taste, yet happily acceptable.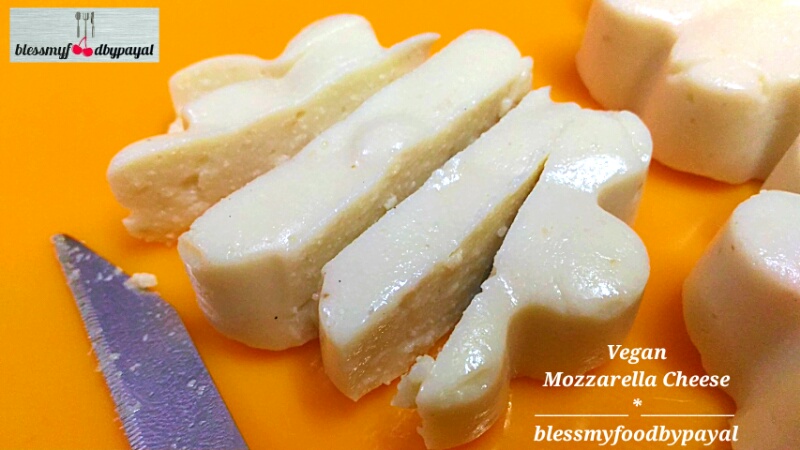 INGREDIENTS for Vegan Mozzarella Cheese Recipe | Best Vegan Mozzarella
Cashews – 1/4 cup
Corn starch or tapioca starch – 2.5 tbsp
Vegetable Oil – 1 tbsp
Garlic Clove – 1 small
Salt – 3/4 tsp
Lemon Juice (freshly squeezed) – 1 tsp
Hot water – 1 Cup
Water (for soaking) as per need.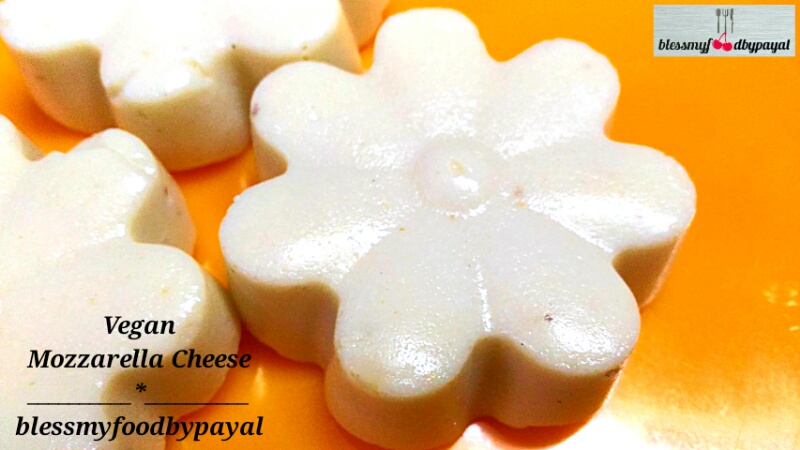 METHOD
1. Wash cashews and soak in sufficient quantity of water for 20 minutes.
2. Drain the water and add soaked Cashews along with all the ingredients mentioned above and blend well untill smooth.
3. Heat a non stick pan and pour the mixture into it.
4. Start cooking the mixture on medium heat. Keep stirring. After 2 – 3 minutes, when the mixture will begin to shrink and appear in clumps, keep stirring further and lower the heat to medium. Cook for another 2-3 minutes, until the mixture becomes really quilted.
4. * Turn off the heat and transfer the cheese to anything, of whose shape, you want to give to your cheese. (We used silicon moulds). Let the cheese cool down completely.
5. ** When the cheese turns completely cool, remove it from the mould you are using, transfer into a Ziploc bag and place in the freezer.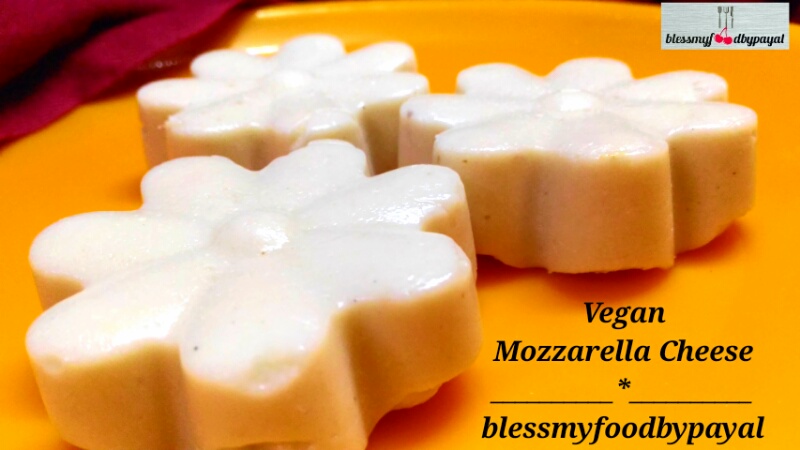 Make Pizza, Bread Pizza, Cheesy Discs and whatever you love to….
NOTE
* While the cheese is hot, it is having a spreadable consistency and if you are making pizza or anything asking for Mozzarella, you can instantly spread/use it.
** Even after cheese was poured into silicon moulds and it turned completely cool, it was extra soft and clumsy. So instead of removing the cheese from silicon moulds and transferring into Ziploc, we initially placed cheese along with silicon in the freezer. When cheese turned little hard, only then we removed it from the moulds and transferred to Ziploc bag.
The texture of this cheese is soft and can be crumbled easily with your fingers.
Exact period for which vegan cheese can be preserved is not known, but we used the last piece of cheese after 10 days and it was too good yet.
Feel Free To Ask Queries, If Any…
Regards
PAYAL BALI SHARMA
SHAILENDER SHARMA