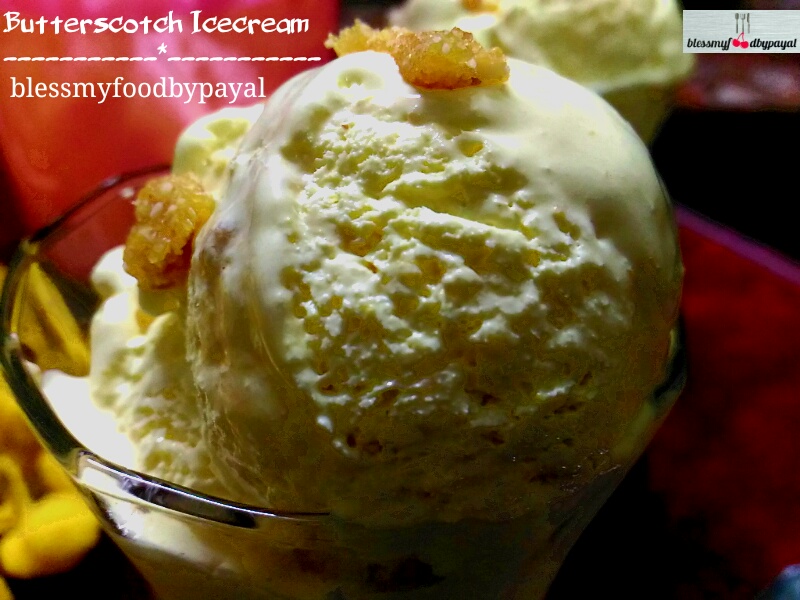 01 Jul

butterscotch ice cream | eggless butter scotch ice cream recipe

butterscotch ice cream recipe with step wise pictorial method is here.

No machine, no churn, no egg butterscotch ice cream is undoubtedly favorite of all, so we found it to be the best way of celebrating 100K views of our blog.

Dear Readers, firstly accept heartfelt THANKS from our end to make our blog so successful with your affection and appreciation. We are and we will remain indebted to your love.

We hope you will love to try this easy to make ice cream which requires no extraordinary ingredients. So without elaborating much, let's celebrate this beautiful and amazing moment.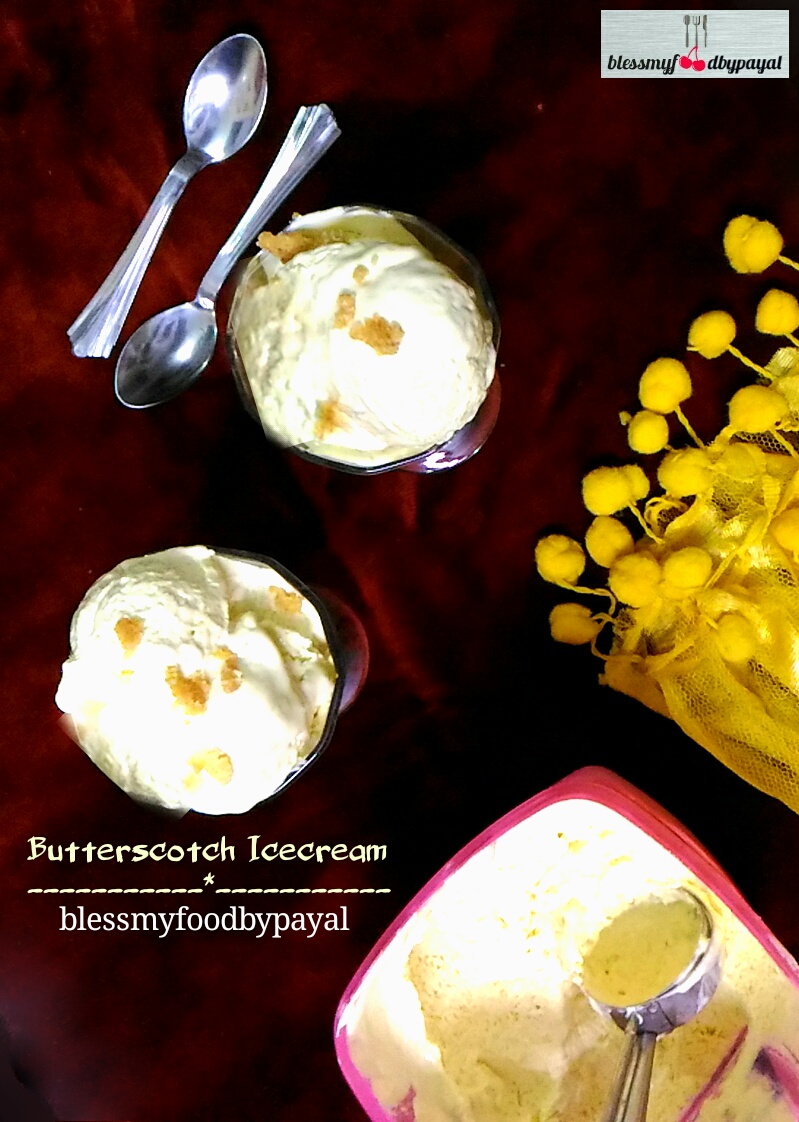 INGREDIENTS
FOR BUTTERSCOTCH ICE CREAM
Praline – as per need (Ingredients & method is given hereunder)
Whipping or Low Fat Cream – 1.5 Cup
Sugar – 6 tbsp
Milk – ½ Cup
Butterscotch Essence – 1.5 tsp
Yellow food colour – few drops
FOR PRALINE
Sugar – 4 tbsp
Cashews (roughly chopped) – 1 tbsp
Almonds (roughly chopped) – 1 tbsp
Butter – 1 tbsp
Oil for greasing
METHOD
1. Place a bowl and electric beaters in the refrigerator, for atleast 30 minutes, so that they turn out to be chilled.
2. Now begin with MAKING OF PRALINE.
A. Take a steel plate, grease it with oil and keep aside.
B. Take a nonstick pan, add sugar and caramelize it on a low flame stirring often.
C. Once it caramelizes, add butter and let it mix evenly.
D. Now add chopped cashews and almonds and mix properly.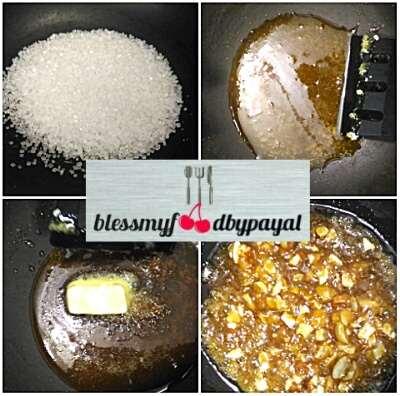 E. Transfer the mix to greased plate and let it cool completely.
F. Once it is cooled, take it out by pressing the bottom of the plate.
G. Crush the praline to small chunks/powder like consistency. Keep aside.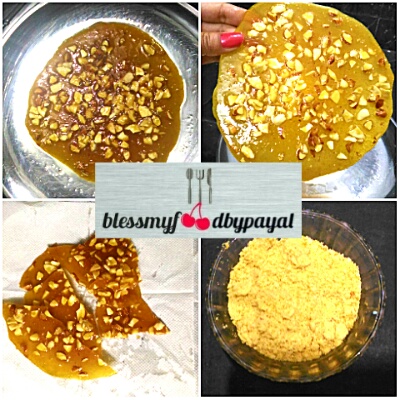 3. MAKING OF ICE CREAM
A. If you don't have powdered sugar, first grind sugar and keep aside.
B. Take a big and wide bowl and add ice cubes to it, followed by some water.
C. Now place the another bowl (which was kept in refrigerator for chilling) in the center of the big bowl carrying ice water.
D. Add the cream and beat it with the electric beater to stiff peaks.
E. Once its double in volume, add in grinded sugar and again beat it to form peaks.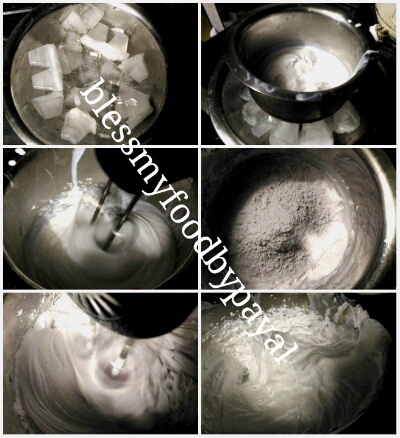 F. Once its whipped, add in milk, butterscotch essence, yellow food colour, praline (reserve some in airtight for garnishing) and mix well (no need to beat).
G. Transfer the mixture to an air tight container and freeze for a couple of hours.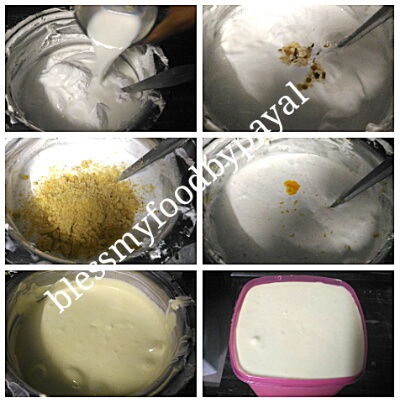 H. Once frozen serve after garnishing with leftover praline.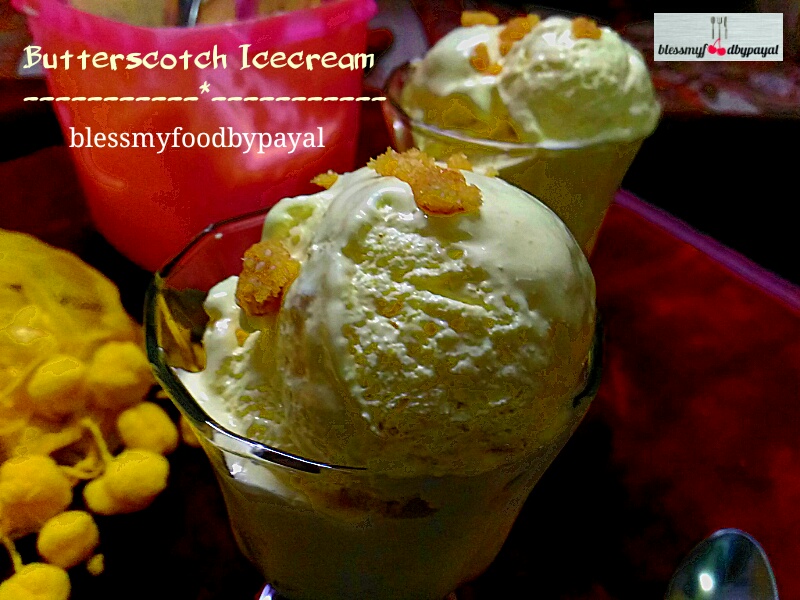 NOTES
While freezing the ice cream, place the container in zip lock bag and only then place it in freezer. with this simple method, the formation of ice crystals in the ice cream can be avoided.
This method is useful in case of store brought ice creams too. After every use, place the ice cream containers (either Homemade or store brought) in the freezer only after putting it in zip lock bag.
No such bags, no problem, use polythene bags and tie them with rubber band, like we did. Isn't that simply and useful?😊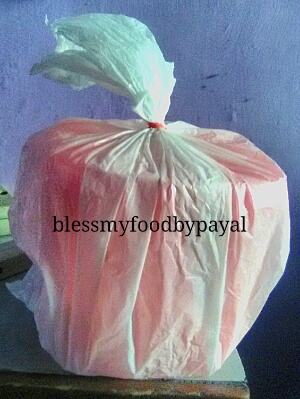 Also have a look at other recipes of other Ice Creams  from this blog.
Feel Free To Ask Queries, If Any…
Regards
PAYAL BALI SHARMA
SHAILENDER SHARMA