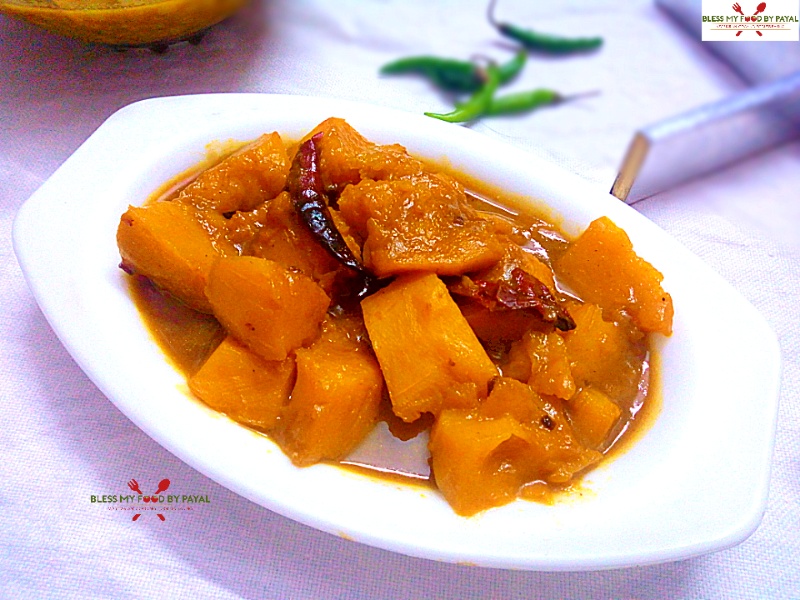 15 Oct

ambal | ambal recipe | khatta meetha kaddu | sweet and sour pumpkin

ambal | ambal recipe | khatta meetha kaddu | sweet and sour pumpkin | dogri ambal recipe with step wise pictorial and video method.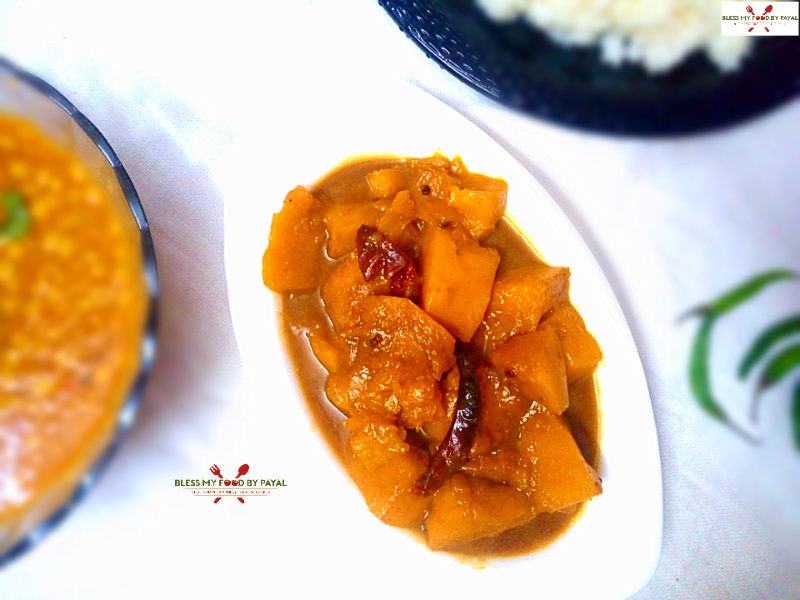 ambal | ambal recipe | khatta meetha kaddu | sweet and sour pumpkin | dogri ambal is one of the most loved cuisine from Jammu region of J&K State (India).
Dogri is the language of Jammu and this is the reason this mouth watering dish is also named as Dogri Ambal.
Ambal has a traditional recognition especially during the weddings in Jammu. There's a ritual of "Saant" performed on the afternoon of the day when the wedding ceremony is going to be solemnised in the evening and this takes place on both the sides, either it's a bride side or of the groom's. After the Saant, there's a lunch which has a fixed Menu and Ambal is an integral part of that. Either it's a rich or poor or mediocre family, this menu is there for all. The Saant lunch includes white rice, rajma &/or Chane ki Dal, Ambal and meethe chawal.
You may find many recipes of the same using much more ingredients but here we are sharing the strictly traditional recipe of Ambal.
So let us begin with the preparation of this appetizing sour and sweet unique dish from the land of Jammu.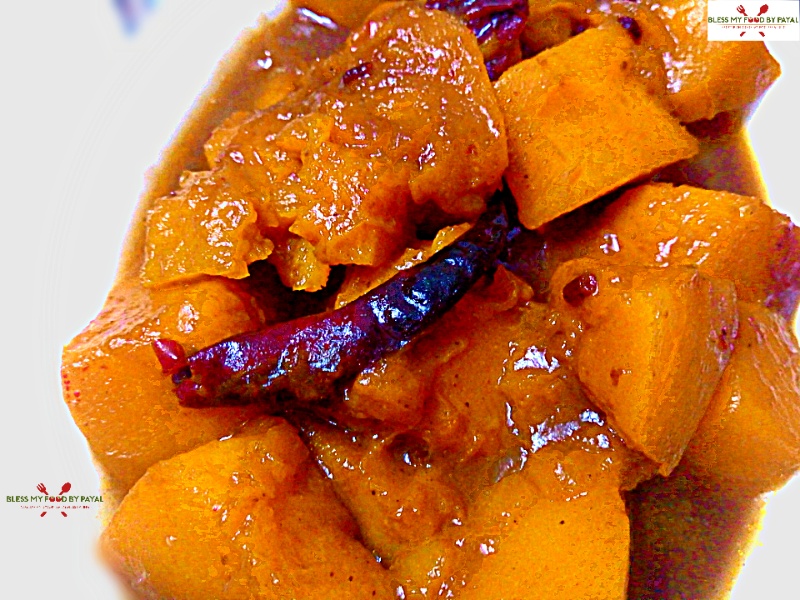 YouTube
Text Recipe of Ambal
INGREDIENTS:
Pumpkin / Kaddu (Orange coloured) – 250 gms
Jaggery / gud – 3 tbsp
Fenugreek seeds / Methi Dana – 1 tsp
Dried red chillies / sukhi lal mirch- 4-5
Turmeric powder / haldi – 1 tsp
Red chilli powder / laal Mirch –  a pinch
Mustard oil / sarsoo ka tail – 2 tbsp
Salt / namak as per taste
Water – 1 cup
For making Tamarind water / Imli Ka Pani
Tamarind / Imli – 100 gms
Water – 1 cup
METHOD
Making of tamarind water
1. Take a small bowl and add tamarind and 1 cup of water in it.
2. Place the bowl on fire and warm the water as much as your fingers can easily bear.
3. Off the flame and rub the tamarind well using your fingers till all the pulp has been extracted.
4. Strain the mixture using a strainer in another bowl. Keep aside.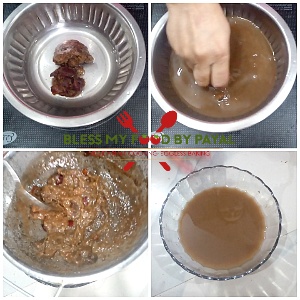 Making of Ambal
1. Scoop out the seeds from inside, peel the skin and cut the pumpkin into medium sized cubes.
2. Wash them and keep aside.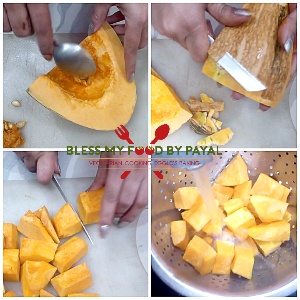 3. Take a Kadai and add mustard oil in it. Put it on flame and let the oil cook till it reaches smoking point and fumes starting coming out of it.
4. Add fenugreek seeds and let them splutter for a while.
5. Add red chillies and saute for few seconds.
5. Add turmeric and red chilli powder and saute for just half minute.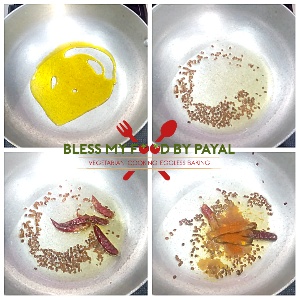 6. Now add pumpkin cubes and toss properly.
7. Add 1 cup water, cover the kadai with a lid and cook on low to medium heat till the pumpkin is soft and tender.
8. Add tamarind water and jaggery. Cook for 3-4 minutes on high flame till the pumpkin becomes mashy.
9. Add salt to your taste. Mix.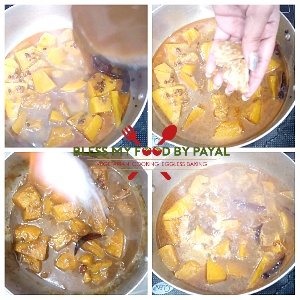 10. Your ambal is ready. Serve it with rice and Rajma or Chane ki Dal.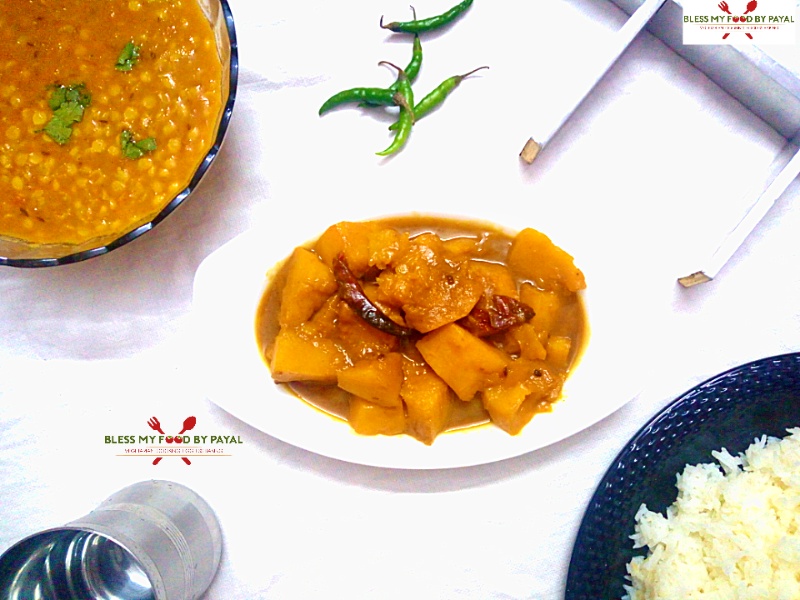 NOTE
* In place of jaggery, you can use sugar also.
* Use any vegetable oil if don't want to use mustard oil.
* Don't throw away discarded seeds of pumpkin. They are very healthy full of proteins. Save them to use later.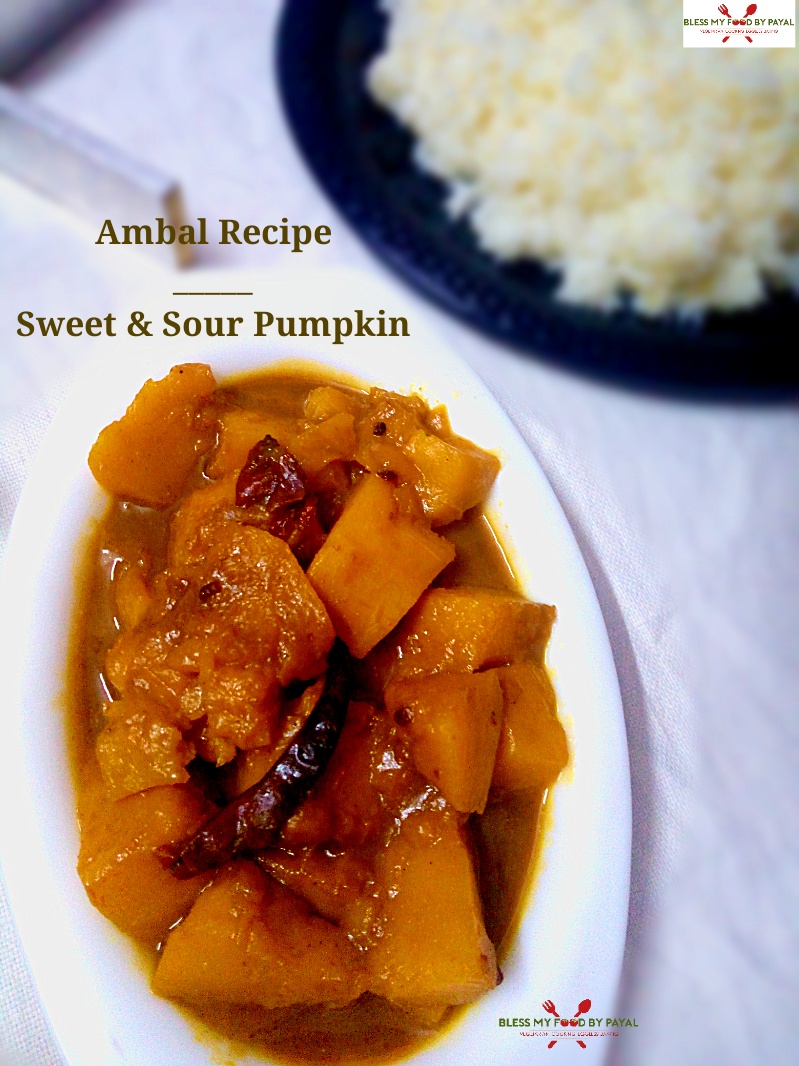 Feel Free To Ask Queries, If Any…
Regards
PAYAL BALI SHARMA
SHAILENDER SHARMA