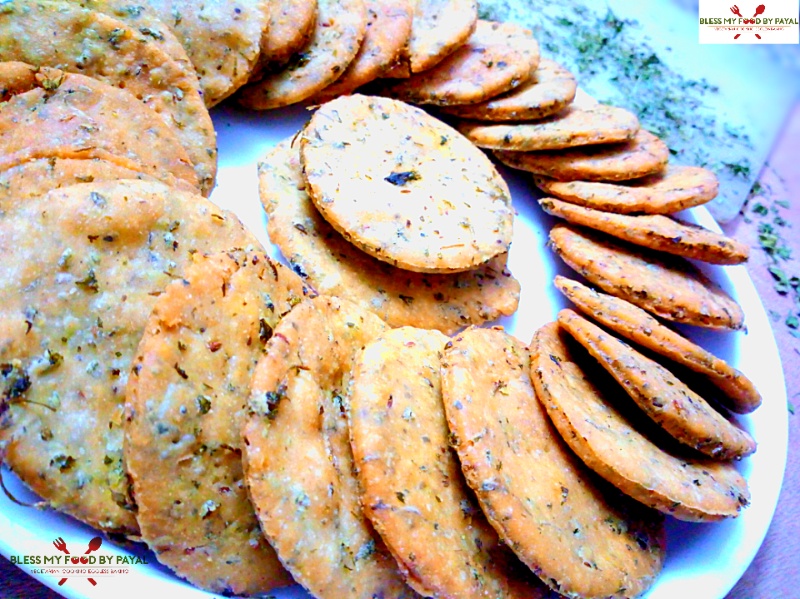 22 Oct

methi puri recipe | methi ki puri | how to make methi puri | methi poori

methi puri recipe | methi ki puri | how to make methi puri | methi poori with step wise pictorial and video method.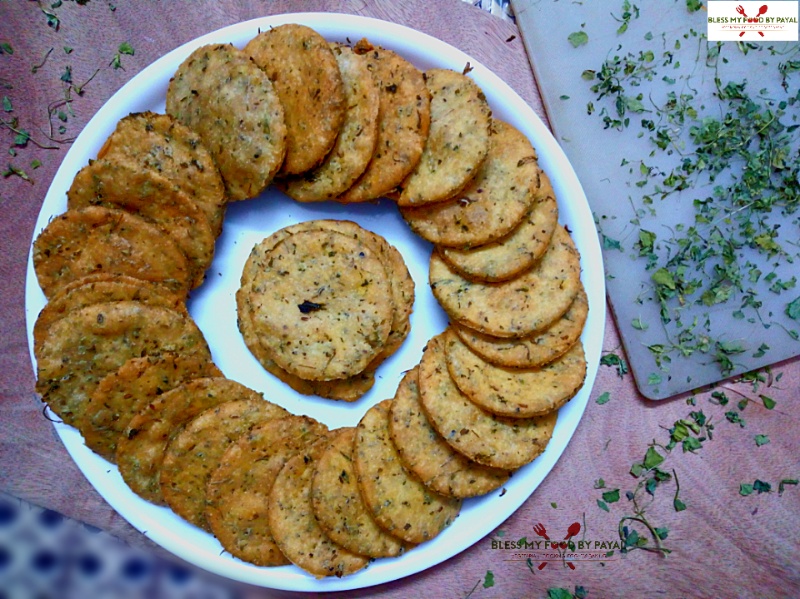 methi puri recipe | methi ki puri | how to make methi puri | methi poori is one of the most easy snacks recipe. The idea behind making this recipe is that every evening we carve for something to munch with a cup of tea but this is not possible to prepare anything anytime. Undoubtedly there are numerous snacks recipes which you can cherish with a cup of tea but most of the recipes need to be prepared on the spot, meaning thereby, whenever you want to eat, prepare them.
We are a working family and we reach late at home in the evening. That time we need a cup of tea along with some short snack. This is the time when we need something which is already prepared. In such a situation, this methi Puri recipe comes to out rescue.
On one fine Sunday, we made this methi Puri recipe in bulk, kept in airtight and now enjoy it with a hot cup of tea every evening with tea.
So let's begin with the recipe..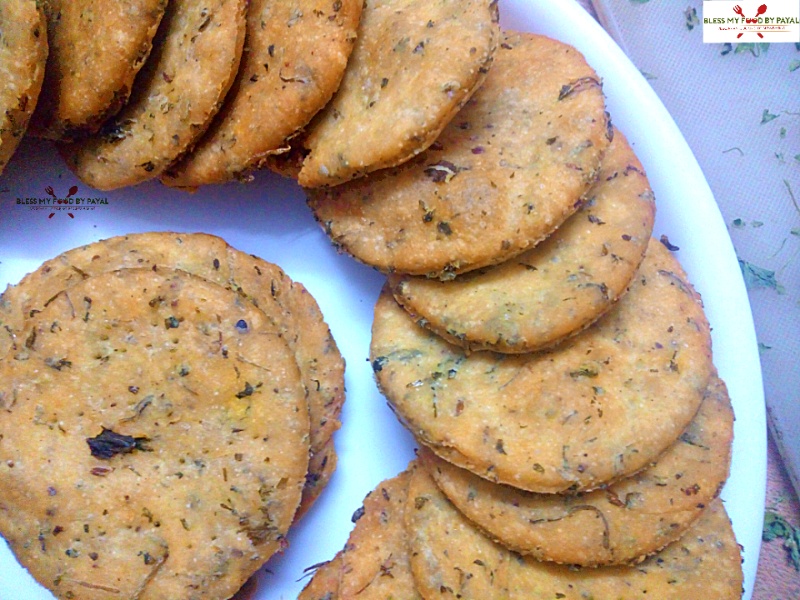 YouTube
methi puri recipe in text
INGREDIENTS
Whole wheat flour – 2 cup
Suji / semolina – 2 tbsp
Cumin seeds – 1 tsp
Black pepper (crushed) – 1 tsp
Carom seeds – 1/4 tsp
Hing – a pinch
Desi ghee – 2 tbsp
Salt -1/2 tsp
Kasuri Methi – 3/4 cup
Water as per need
oil for frying
YIELDS
About 30 puris (depending upon size)
METHOD
1. Take a bowl and add wheat flour and suji in it.
2. Now add cumin seeds, crushed black pepper, carom seeds, hing and salt. Give it is mix.
3. Now add Kasuri Methi and mix it with the flour mixture.
4. Add desi ghee and mix the mixture to make it like breadcrumbs like.
5. With the help of water, knead the stiff dough.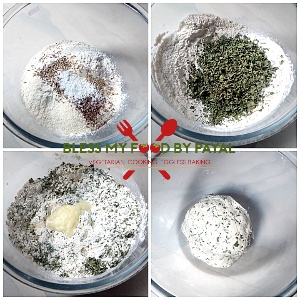 6. Take a ball out of dough and roll it like chapati with the help of rolling pin.
7. With the help of round cutter or some glass or katori, mark the cuts in the rolled chapati.
8. Take out the extra dough and prick the round puris with the fork so that they shouldn't puff up while frying.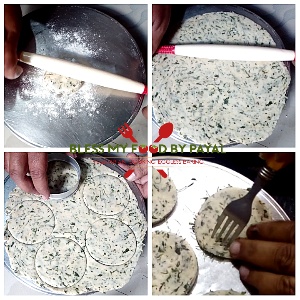 9. Make more puris with the entire dough.
10. Transfer a batch of puris in hot oil.
11. Once you put the puris in hot oil, they will sink to the bottom. Don't disturb them. They will themselves start floating over the oil after couple of seconds.
12. Flip over the sides of puris and fry them till they turn light golden brown.
13. Take them out and place on a plate carrying paper nepkin so that it absorbs extra oil.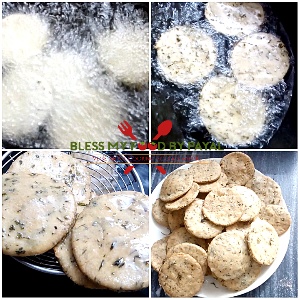 Your methi poori is ready. Once they turn completely cool, transfer them to air tight container.
Enjoy this crispy methi puri recipe with a cup of hot masala chai.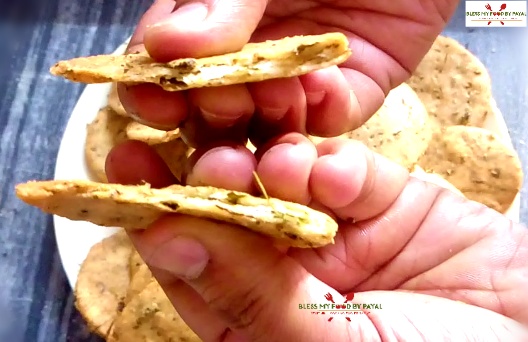 NOTE
* Use Maida instead of whole wheat, if you like.
* Adding suji (semolina) is optional but this is highly recommend because it brings a nice crisp to methi puri.
* Fresh methi can be used instead of kasuri methi.
*  Instead of frying, you can bake them also.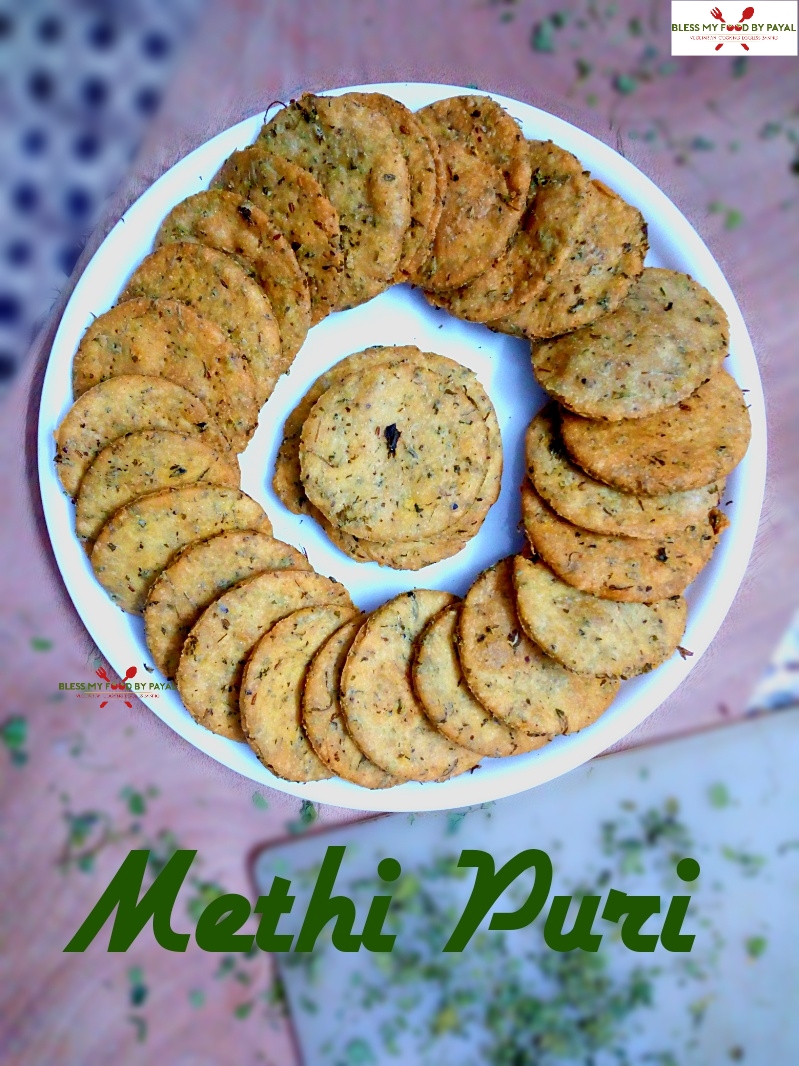 Feel Free To Ask Queries, If Any…
Regards
PAYAL BALI SHARMA
SHAILENDER SHARMA