19 Feb

Homemade Whole Wheat Noodles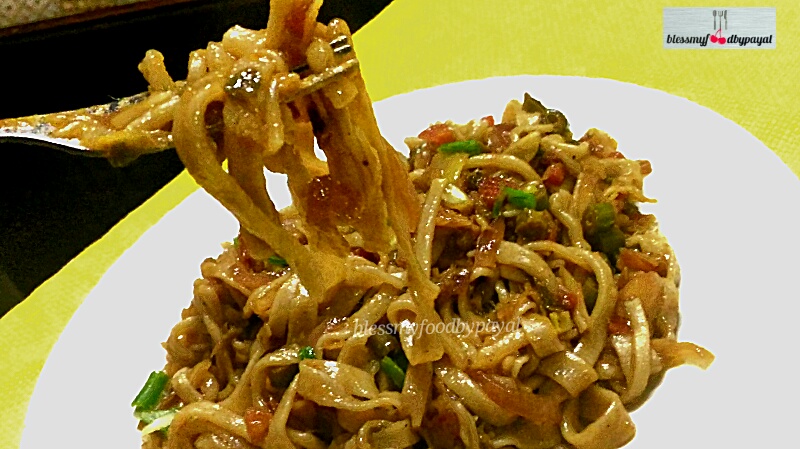 Stepwise pictorial recipe of Whole Wheat Noodles. Certain recipes are very lovable to us just because we need them oftenly and we have found a very easy and convenient way to cook them at home.
These Noodles are amongst such recipes. There's no need to tell that how much love children have for the Noodles and when you have discovered an easy way to prepare firstly raw Noodles and thereafter finally cook them in your own kitchen, that feel is beyond all awesomeness.
So let's go ahead with the prepration of Whole Wheat Noodles.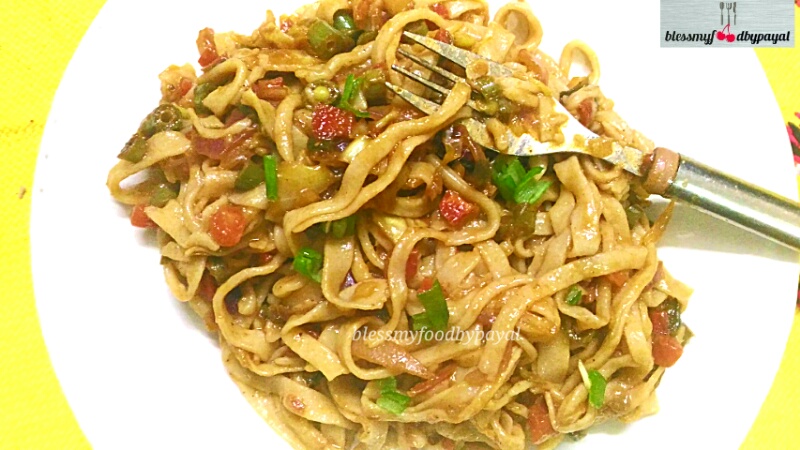 INGREDIENTS
HOMEMADE WHOLE WHEAT NOODLES (Raw)* – 2 cups
Vegetables (Mixed/thinly chopped or into Juliennes) – 1.5 cup
(We used carrots, beans, spring onion & cabbage)
Onion (chopped) – 1
Soya sauce – 1 tbsp
GREEN CHILLI HOT SAUCE as per taste
TOMATO KETCHUP – 2 tbsp
Salt to taste
Cumin seeds – 1 tsp
Vinegar – 1 tbsp
Oil – 2 tbsp
METHOD
1. Heat oil in a wok or pan.
2. Add cumin seeds and when they pop up, add onions and cook till they turn translucent.
3. Add all the veggies & toss & stir fry on a high flame till the veggies are almost cooked (don't let the veggies turn completely soft because Noodles taste best if some crunch remains there in the vegetables).
4. Add the soy sauce, chilli sauce, tomato sauce, vinegar & salt. Stir and then add the noodles.
5. Keep on tossing and stirring till all the veggies are mixed well with the noodles for minute or two.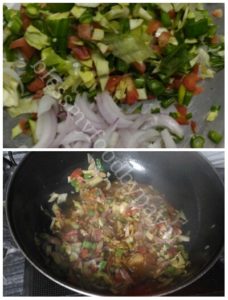 Your Whole Wheat Noodles are ready. Serve hot with more tomato ketchup.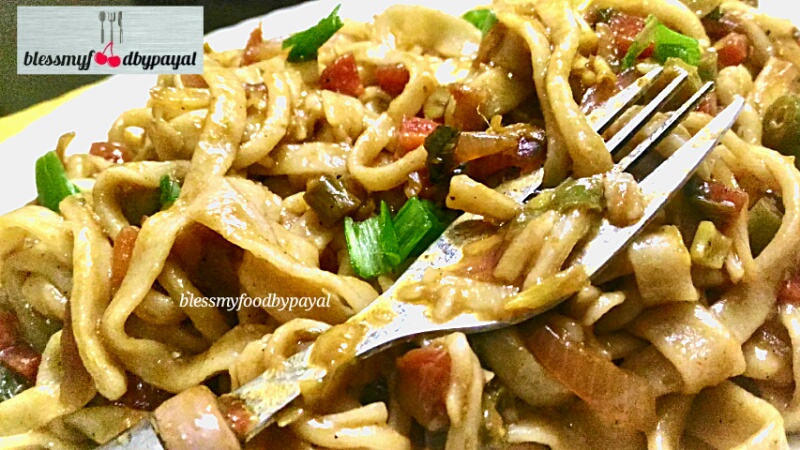 NOTE
* By way of this method we are preparing the Noodles which we have prepared at home. But by using the similar process, you can also prepare the store brought Noodles but for that  boil the Noodles with salt and oil till they turn soft. Drain hot water, run Noodles from cold water and then add to veggies.
Regards
PAYAL BALI SHARMA
SHAILENDER SHARMA
Please Subscribe to have an access to our new and upcoming recipes.