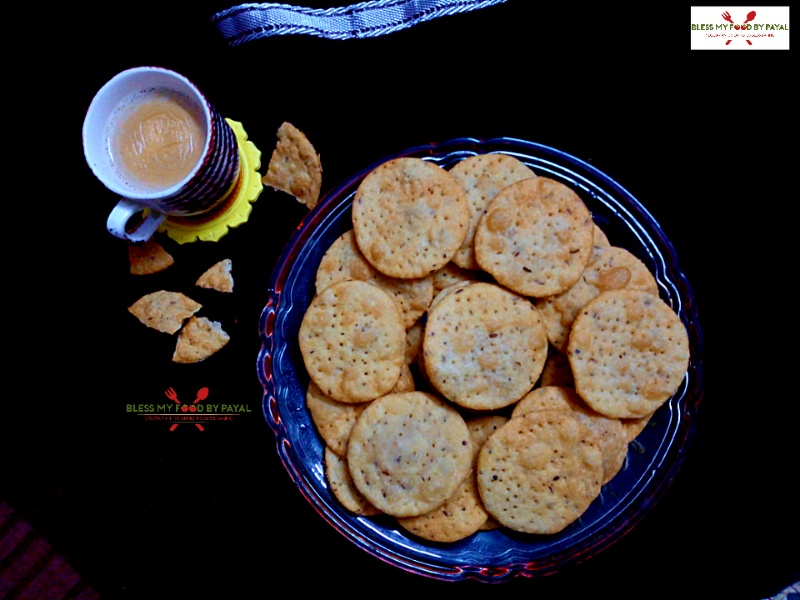 03 Nov

farsi puri recipe, gujarati farsi puri, how to make farsi puri, farsi poori

farsi puri recipe, gujarati farsi puri, how to make farsi puri, farsi poori recipe with step wise pictorial and video method.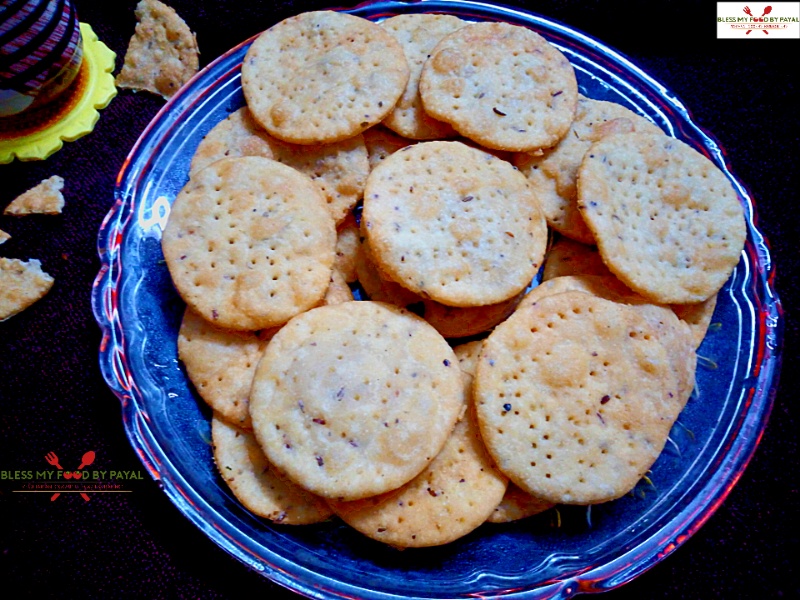 farsi puri recipe, gujarati farsi puri, how to make farsi puri, farsi poori is one of the most easy snacks recipe. Farsi is a gujarati word which means crispy. So you can well imagine that a recipe which carries a crispy word in its name, how much crispy it actually would be.
We usually make farsi puri recipe in bulk and keep it safe in airtight container. And as a result, every time before having a cup of tea, we really don't need to rush to the kitchen to prepare something. Not only with the tea, but this is a perfect snack for munching anytime and anywhere.
The other snacks recipes in the blog are methi puri, chorafali, cheeslings, karela mathri, namak pare and duck shaped namak pare.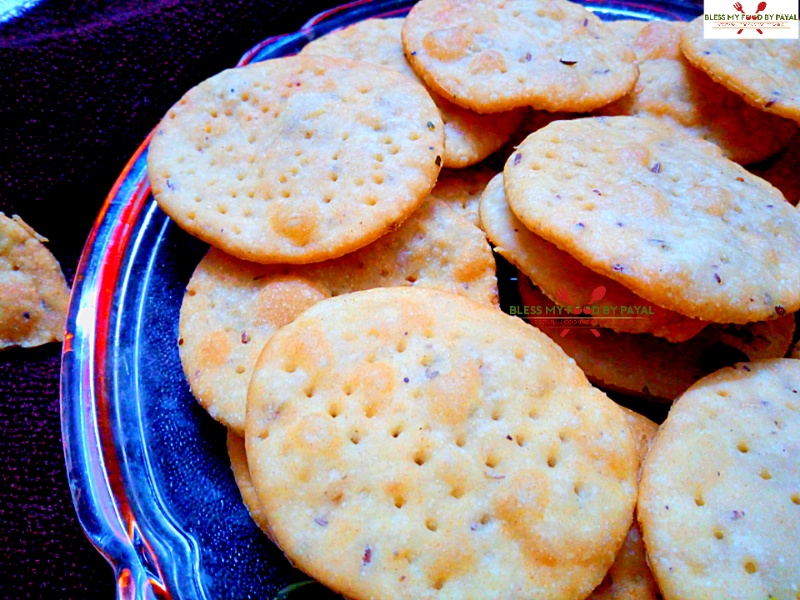 So let's begin with the recipe..
YouTube
INGREDIENTS
Whole wheat flour – 2 cup
Suji / semolina – 2 tbsp
Cumin seeds – 1 tsp
Black pepper (crushed) – 1 tsp
Carom seeds – 1/4 tsp
Desi ghee – 2 tbsp
Salt -1/2 tsp
Oil for frying
Water as per need
YIELDS
About 30-35 puris (depending upon size)
METHOD
1. Take a bowl and add wheat flour and suji / semolina in it.
2. Now add cumin seeds, crushed black pepper, carom seeds and salt.
3. Add desi ghee and rub the mixture with fingers to make it like breadcrumbs like.
4. Slowly add water and knead the stiff dough.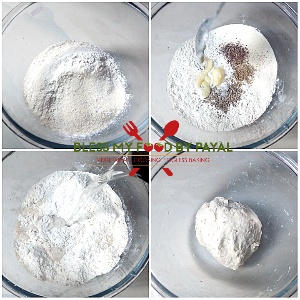 5. Take a ball out of dough and roll it like chapati.
6.  Prick the flattened chapati with the fork so that puris shouldn't puff up while frying.
7. With the help of round cutter or some glass or katori, mark the cuts in the rolled chapati.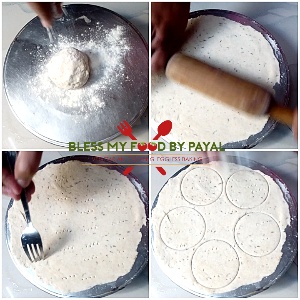 8. Take out the extra dough from the sides. Make more puris with the entire dough.
9. Transfer a batch of puris in hot oil.
10. Once you put the puris in hot oil, they will sink to the bottom. Don't disturb them. They will themselves start floating over the oil after couple of seconds.
11. Flip over the sides of puris and fry them till they turn light golden brown.
12. Take them out and place on a plate carrying paper nepkin so that it absorbs extra oil.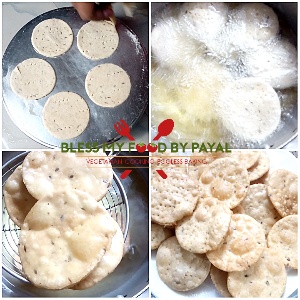 Your farsi poori is ready. Once they turn completely cool, transfer them to air tight container.
Enjoy with a cup of hot masala chai.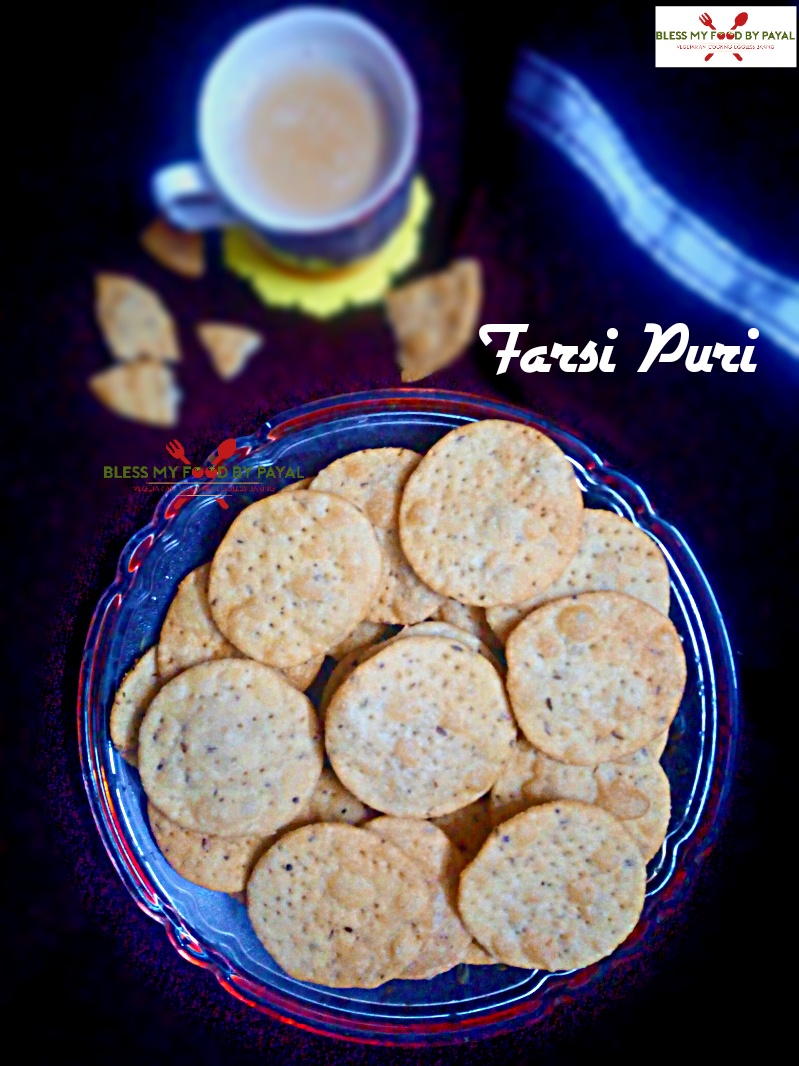 NOTE
* Use Maida instead of whole wheat, if you like.
* Adding suji (semolina) is optional but this is highly recommend because it brings a nice crisp to methi puri.
Feel Free To Ask Queries, If Any…
Regards
PAYAL BALI SHARMA
SHAILENDER SHARMA
Please subscribe to get easy access to our new and upcoming recipes.