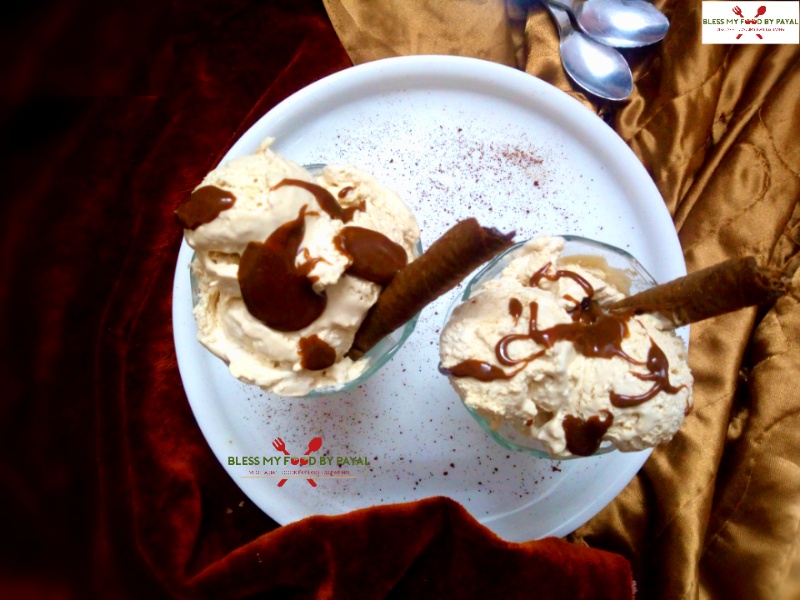 19 Jun

coffee ice cream | coffee flavored ice cream

coffee ice cream | coffee flavored ice cream recipe with step wise pictorial and video method is here.
If you love drinking coffee, you are definitely going to love eating coffee.
Although it can't be said that it's taste is exactly like chocolate ice cream but yes, both has one similarity. Both are full of sweetness with a nice blend of mild bitterness. This is for sure that those people who love chocolate ice cream are definitely going to love this version too.
To be very honest, when we decided to make this coffee ice cream, we were not sure about its success. Success not in terms of its making only, but success in terms of its taste also. This was our first experience with the making as well as tasting of coffee Ice cream. We have never eaten the coffee flavor ice cream ever.
But we are happy to inform you that the results were really awesome. Not only the texture of this ice cream came out really well but it's taste was more than excellent. Kids usually don't love the coffee but our son loved it from the core.
As far as ingredients are concerned, they are very basic and easily available. Made without using eggs and condensed milk, this coffee ice cream is really going to be a hit in your family and friends.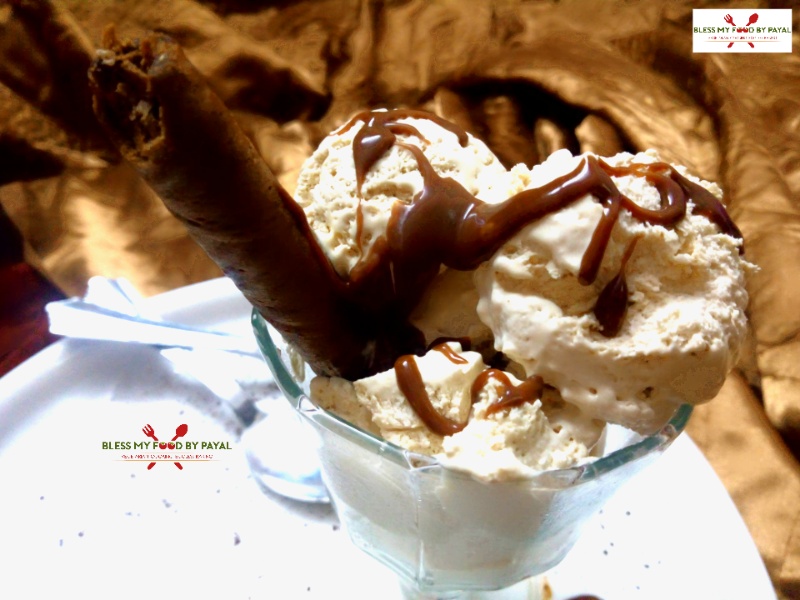 Video recipe of Coffee Ice Cream
Also have a look at other ice cream recipes in this blog :
mint chocolate chip ice cream
butterscotch ice cream
rose ice cream
Paneer Ice Cream
Strawberry Bread Ice Cream
One Ingredient Ice Cream
INGREDIENTS
Whipping Cream (chilled) – 2 cups
Powdered Sugar – 6 tbsp
Coffee powder – 1 tbsp
Milk (chilled) – 1/4 cup
Water (Luke warm) – 2 tbsp
METHOD
1. Place the beater and bowl in refrigerator for chilling for 15 – 20 minutes.
2. Take a small bowl, add coffee powder in it.
3. Add water in the coffee powder and mix them well. Keep aside.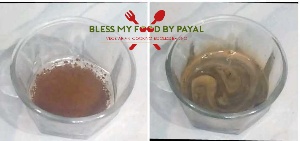 4. Now take a bowl out from the refrigerator, and add cream in it.
5. Whip the cream until the soft peaks formed.
6. Add powdered sugar gradually and keep beating until stiff peaks.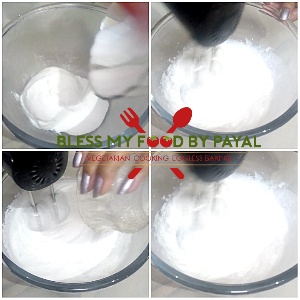 7. When the size of the cream becomes double in volume, add coffee mixture and whip for a short time to mix it properly.
8. Add milk and whip more to make it like a foam texture. But don't overdo otherwise cream may melt.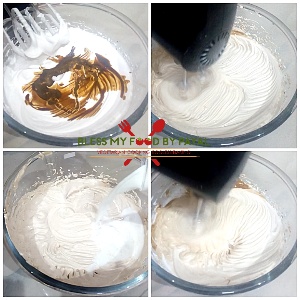 9. Now transfer it in an airtight jar and place it in the freezer for 6 to 8 hours or overnight for setting.

Your Coffee Ice-cream is ready to be served. Serve it after drizzling chocolate or caramel or as it is.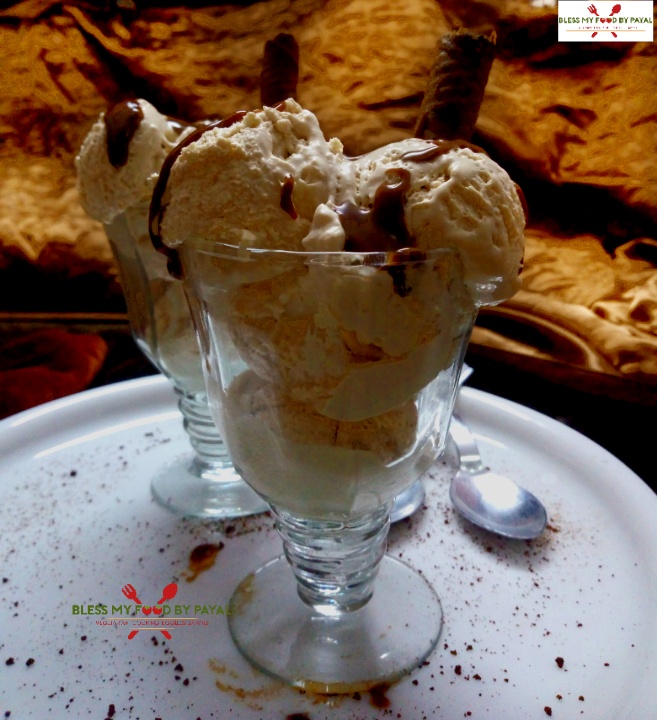 NOTE
* We have added just 1 tbsp of coffee powder because coffee has a very strong and bit bitter taste. And also strong flavor was not supposed to be loved by our son. But if you love the strong flavor of coffee, then you may add little extra. But be careful while making judgment about the quantity of coffee otherwise your ice-cream may turn bitter. Better begin with the quantity as suggested and taste the cream mixture before transferring to jar for freezing.
It needs a mention that 1 tbsp of coffee powder gave us the best results as per our need and liking.
*You can also use condensed milk to make this ice cream but in that case, don't add sugar and milk.
*While freezing the ice cream, place the container in zip lock bag and only then place it in freezer. By adopting this method, you can avoid the formation of ice crystals in the ice cream.
This method is useful in case of store brought ice creams too. After every use, place the ice cream containers (either Homemade or store brought) in the freezer only after putting it in zip lock bag.
If you are out of such bags, use polythene bags and tie them with rubber band, like we did. Isn't that simply and useful?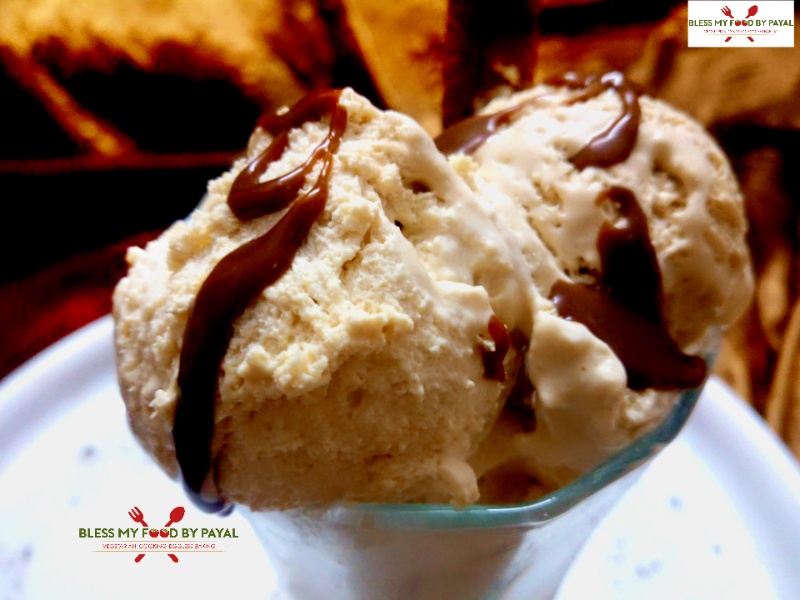 Feel Free To Ask Queries, If Any…
Regards
PAYAL BALI SHARMA
SHAILENDER SHARMA