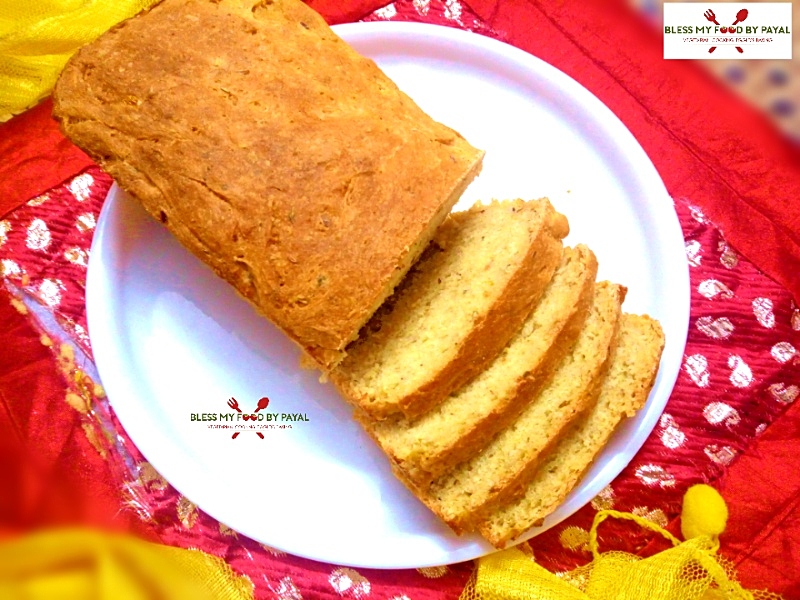 15 Sep

whole wheat bread from leftover cooked moong dal

Whole wheat bread from leftover cooked moong dal | eggless bread from leftover moong dal | leftover moong dal cooked recipe with step wise pictorial and video method.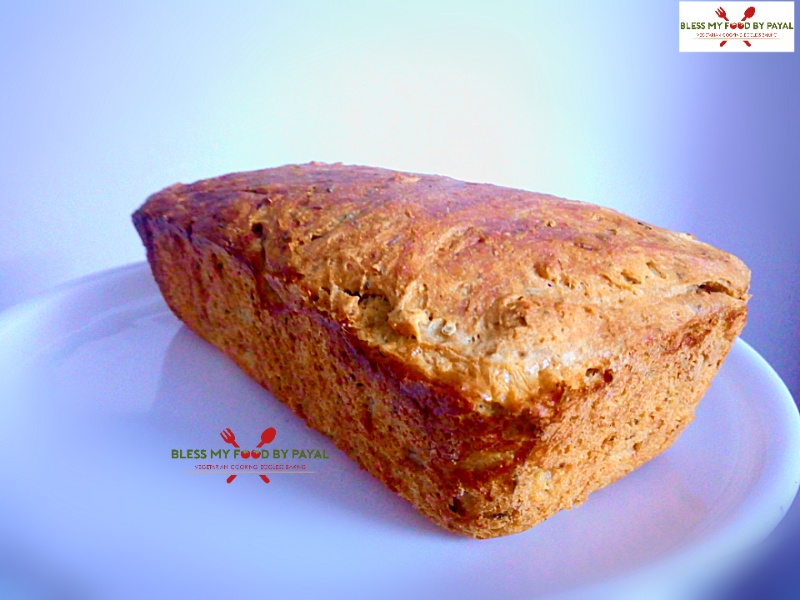 Like every household, Moong Dal is cooked in our house too and obviously most of the times, some of the dal is left. As we don't believe in throwing food outside, so either we eat the leftover for the second time or make some missi roti. And this trend is going on since ages in our house.
But one day we saw this recipe of Whole wheat bread from leftover cooked moong dal shared by a talented home chef Ms. Honey Johar on Facebook and decided to prepare this next time whenever there will be Moong Dal in the leftover.
Whole wheat bread from leftover cooked moong dal is so easy to prepare with the basic ingredients already available at home. It really came out very well and finally I new turn from missi roti to Whole wheat bread from leftover cooked moong dal.
You can also look at the recipe of Simple Eggless whole wheat bread in this blog.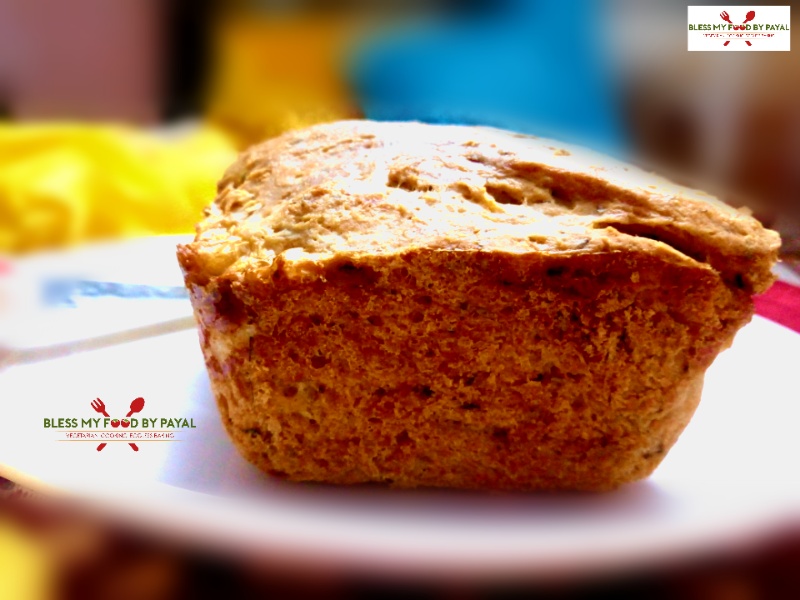 YouTube
INGREDIENTS
Whole wheat flour – 3 cups
Leftover Moong Dal (cooked) – 1 cup
Sugar – 1 tsp
Salt – 1 tsp
Mixed herbs – 1 tbsp
Yeast (instant) – 1 tsp
Oil – 2 tbsp + 1 tsp for greasing & oiling.
Water (Luke warm) – as per need
Milk – just a spoon or two for milk wash
METHOD
1. Take a big bowl and add whole wheat flour, sugar, yeast, salt, mixed herbs and oil. Mix them to combine.
(Here we are using instant yeast which needs no prior activation. But if you are using Active Yeast, then do learn how to activate yeast).
2. Add 1 cup of thick leftover Moong daal. Daal should be slightly warm.
3. Mix everything with the finger tips and the mixture will turn crumbly.
4. Start kneading with the help of Luke warm water. Knead the dough for minimum 8 to 10 minutes. Dough should be slightly loose.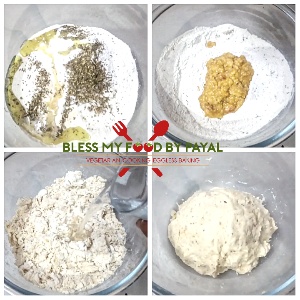 5. Apply oil on the dough and cover the bowl with cling film.
6. Keep it at some warm place till the dough doubles.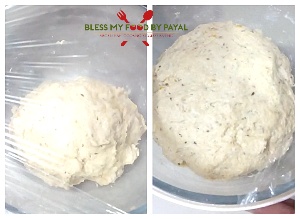 7. Take out the dough and knead again, but this time only for a minute or two.
8. Grease loaf tin and transfer dough in it. Spread the dough in the tin.
9. Cover the dough with kitchen towel and place it again for second rising.
10. Brush the dough. Bake it in a preheated oven at 190°C  till the upper crust is brown. As every oven is different, we baked it in the middle rack with both the rods on for about 40 minutes & then for 15 minutes in the lower rack with the only lower rod on. Your's may vary.
11. Do the toothpick test and then take out the pan and let it cool down on a wire rack. Invert and cut into slices.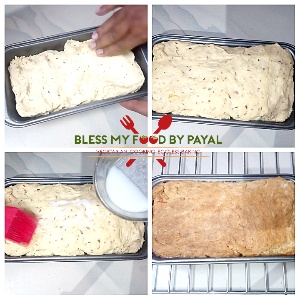 Your whole wheat bread from leftover cooked Moong Daal is ready. Enjoy with a cup of hot masala chai.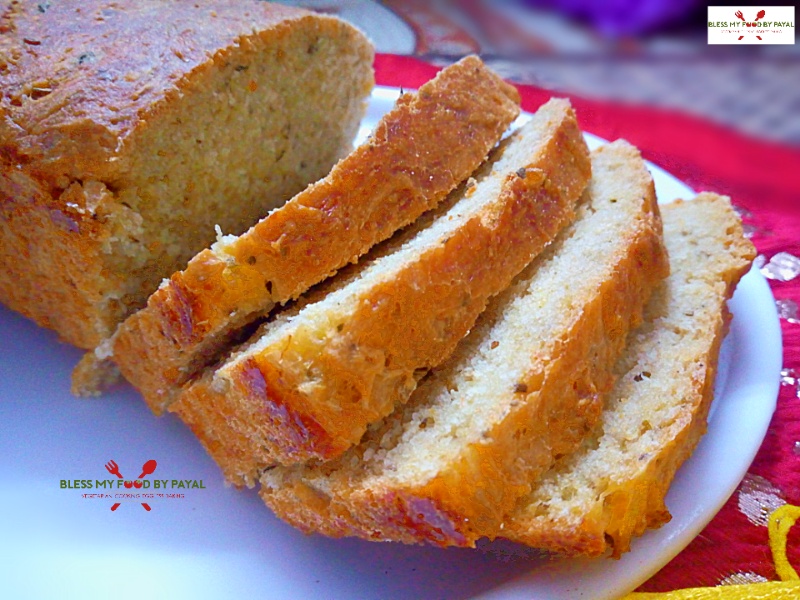 NOTE
* We are making this recipe with the leftover Moong Dal, which is already cooked. If making during summers, it is suggested to make this bread on the very day when the Dal is prepared.
Reason being, during summers, we can't keep the food outside refrigerator for a long time to prevent from spoiling. And in this recipe, you have to keep the dough (carrying Dal) at warm place twice, meaning there by, for couple of hours. So there's maximum possible that if the dal is too old (even yesterday's), it may spoil the whole dough.