13 Feb

vermicelli upma | semiya upma | vermicelli upma recipe

vermicelli upma | semiya upma | vermicelli upma recipe with step wise pictorial and video method.
vermicelli upma | semiya upma | vermicelli upma recipe is one pot meal which is so delicious and satisfying breakfast recipe.
the vermicelli, which is also known by the name semiya is available in different variations in the market. some are made of all purpose flour or wheat flour. some with rice flour and some with semolina.
we have tried to make this recipe of vermicelli upma more healthy by choosing the vermicelli made of semolina i.e. suji or rava you can say. suji is gluten free and considered as a healthy food. we should keep adding semolina in our daily diet in one way or the other.
so semolina on one hand and a bowl full of mixed vegetables, you can well imagine how healthy breakfast you are going to have. and this is so satisfying that it will keep you filled for a long time.
as far as our family is concerned, we haven't confined this vermicelli upma to breakfast only and cherish it as and when feel like. have made it many a times in the lunch and dinner when getting bored of regular meal. adding it to the kids tiffin is also a great idea and they are going to love it.
also have a look at other healthy breakfast recipes using vermicelli/suji like Suji Ka Paratha, eggless atta suji noodles, instant rava appe and rava toast.
so begin with this delicious one pot breakfast recipe
video recipe of vermicelli upma
INGREDIENTS
vermicelli – 2 cup
mustard seeds – 1/2 tsp
cumin seeds – 1/2 tsp
ginger (grated) – 1 tsp
asafoetida/hing – a pinch
dry red chilli – 1
green chillies – 2
urad dal – 1 tsp
chana dal – 1 tsp
curry leaves – 10-12
peanuts – 1/4 cup
salt as per taste
turmeric powder – 1/2 tsp
juice of one lemon
coriander leaves – 2 tbsp
oil – 2 tbsp
water as per need
Vegetables of your choice
we used the following vegetables
spring onion – 1/4 cup
cabbage – 1/4 cup
capsicum – 1/4 cup
peas – 1/4 cup
carrot – 1/4 cup
beans – 1/4 cup
tomatoes – 2 tbsp
3 – 4 servings
METHOD
1. first of all, begin with the dry roasting of vermicelli in a heavy bottomed pan. roast the vermicelli on low to medium heat until it changes its colour to golden brown. if you have pre-roasted vermicelli, then skip this part.
2. till the time you are roasting vermicelli, take another pan, add lots water in it and place it on high flame for boiling.
3. transfer roasted vermicelli in hot boiling water and let the vermicelli turn little soft. it will take 2 to 3 minutes so be vigilant. if vermicelli is overcooked, you with not get spreaded vermicelli upma.
4. immediately drain the water from vermicelli and pour cold water over the cooked vermicelli. cold water is poured to stop the cooking process of vermicelli. keep the vermicelli aside.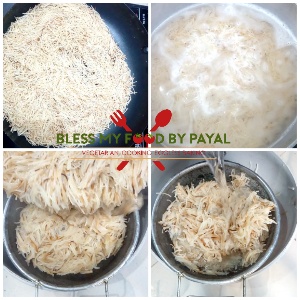 5. take a kadai and add oil in it.
6. add mustard seeds and cumin seeds & let them splutter.
7. add dry red chilli, grated ginger and let it turn little brown.
8. add chopped green chillies & asafoetida.
9. add urad dal & chana dal & let them cook until they turn slightly brown.
10. add curry leaves & saute.
11. add turmeric powder and salt. mix.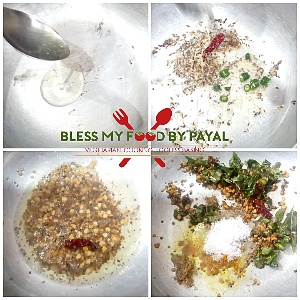 12. add all the finely chopped vegetables mentioned in the Ingredients. mix well.
13. cover the kadai and let the vegetables cook for 5 minutes. you must check at short intervals so that vegetables shouldn't get burnt.
keep in mind that we don't have to cook the vegetables fully but just a tender cooking. there should remain a crunch in each bite.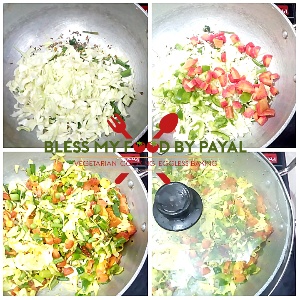 14. remove the lid. give them a mix one more time.
15. add vermicelli and peanuts. mix well so that vegetables and vermicelli incorporates so fine with each other.
16. spread some coriander leaves and squeeze a lemon. mix.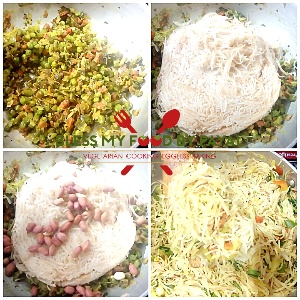 your vermicelli upma is ready. association with a cup of tea or coffee will enhance your taste of vermicelli upma. this is a perfect food to go for packing in kids tiffin.
NOTE
* be careful while boiling vermicelli. overcooked vermicelli will spoil the taste of entire upma.
* use vegetables as per their availability and your liking.
* spring onion can be replaced with regular onion.
* the quantity of vegetables is also at your discretion.
* add peanuts if they are in the season, otherwise not compulsory. you can also dry roast peanuts before adding.