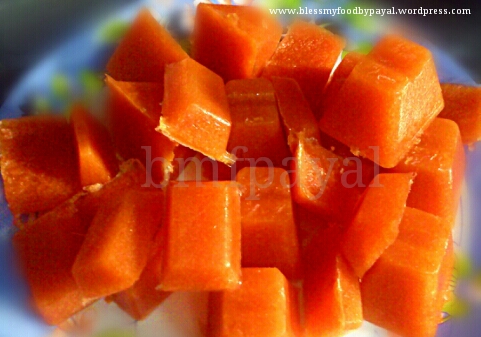 07 Apr

Tomato Puree | how to make tomato puree at home

Tomato Puree | how to make tomato puree at home recipe with step wise pictorial recipe. it is to be noted here that the present recipe of tomato puree is made in the frozen form. of Tomato Puree (Frozen).
Tomato is one ingredient which is used in almost 90% of the vegetables. Where, keeping in reserve a tomato puree, saves our time & efforts on one hand, it is also the best method to preserve the tomatoes (in the form of a puree) for a longer period on the other hand.

So let's save our time & tomatoes…

INGREDIENTS

Red Tomatoes – 1 kg.
water for boiling
Vinegar – 1 tsp (optional)*
Salt – 1/2 tsp (optional)**

METHOD

1. Take a large pan, add water sufficient enough to sink all tomatoes into it and place on a gas stove for boiling.

2. Wash tomatoes and discard the eyes of the tomatoes using the tip of the knife.

3. Make cross-cuts into the base of each tomato. This will help the tomatoes to cook little fast.

4. When the water begins to boil, put all the tomatoes in the boiling water for 4 to 5 minutes or until they turn soft.

5. Now remove the tomatoes from boiling water and put them in cold water for some time.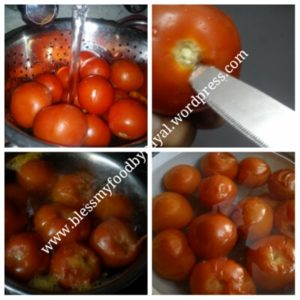 6.*** Once cool, chop them roughly and blend to a smooth puree in a blender.
7. Take a bowl, place a sieve over it and pass the puree through the sieve to discard the seeds which will remain intact even after blending.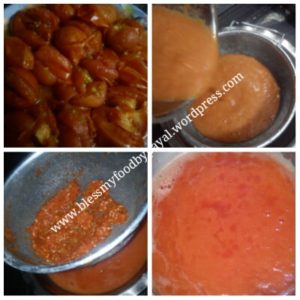 8. Add vinegar & salt to it and mix well.
9. Take the ice cube box and fill the puree into it.
10. Transfer the box into freezer and let the puree freeze completely. It may take 7 to 8 hours. Preferably keep them overnight.
11. Now take zip lock bag,**** transfer the frozen puree cubes into it.
12. Press the Zip lock bag from the upper side before locking so that no air remains there in the bag.
13. Again tranfer the bag in the freezer and use the cubes as and when needed.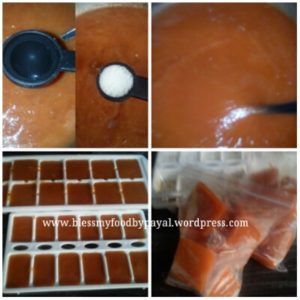 NOTES
*Use of vinegar will help the frozen tomato puree to last longer.
**Salt will also accommodate vinegar.
***If you don't want to add the skin of tomatoes into your puree, remove the skin after tomatoes become cool and before blending them. But i preferred not to discard skin because skin also get mashed totally & incorporated into the puree. Moreover while using the puree in my cooking, i didn't find any drawbacks of skin into puree, so i had no reason to waste skin.
****If you don't have zip lock bag, you can use polythene and rubber band as a substitute.
Also have a look at the recipe of Tomato Ketchup from this blog.
Regards
PAYAL BALI SHARMA