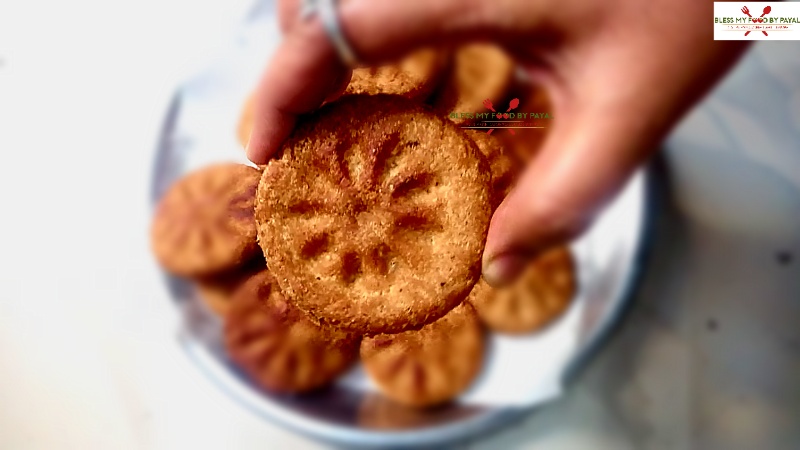 05 Feb

thekua | thekua recipe | bihari khasta thekua recipe

thekua | thekua recipe | bihari khasta thekua recipe with step wise pictorial and video method.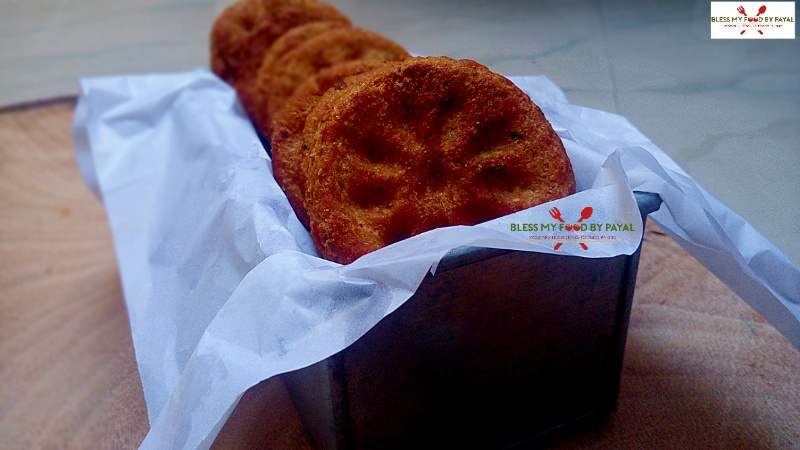 thekua | thekua recipe | bihari khasta thekua recipe is sweet recipe from the land of bihar. but not only in bihar, this thekua is very popular in Jharkhand, West Bengal, eastern Uttar Pradesh and Terai region of Nepal. desi ghee is also added in thekua but the present one is made with the leftover desi ghee residue.
thekua, also called by the names thokwa, thekariis, khajur & rutt in jammu is made with whole wheat flour and jaggery, thekua has a religious sanctity in those places and is seen as a revered parshad which is offered to god on chatt pooja. but this is such a delicious snack that you can make it otherwise also and enjoy as and when feel like munching something.
we usually made it during winters because of usage of jaggery which keeps us warm. some may like to make it with all purpose flour but wheat flour makes it more healthy.
So let's begin with the tasty and healthy recipe of thekua.

we take this ooprtunity to share other recipes made with desi ghee residue such as gajar ki barfi, custard flavoured paneer barfi, eggless oats cookies and Ladoo.
Youtube : thekua
INGREDIENTS
whole wheat flour – 1.75 cup
semolina / suji – 1/4 cup
Fennel seeds – 1 tsp
shredded coconut – 1/4 cup
cardamom powder – 1/2 tsp
ghee residue – 1/2 cup
(If making without ghee residue, add 3 tbsp of desi ghee)
jaggery – 1/2 cup
water – 1/4 cup
oil for frying
Special equipment
A glass with ridged design at its base. (as we don't have specific mold used for making thekua)
YIELDS
About 15 thekuas
METHOD
1. in a bowl add whole wheat flour, semolina, fennel seeds, shredded coconut and cardamom powder.
2. add ghee residue and if you are making it without ghee residue, as already mentioned, add desi ghee in the bowl.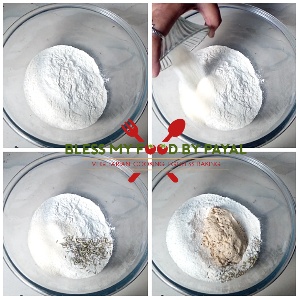 3. take a pan and add water in it. place on low flame.
4. add jaggery and stir it until the jaggery melts.
5. pour melted jaggery into the bowl.
6. mix everything with hands so that it looks like crumbled texture.
7. knead a normal dough using water, if needed.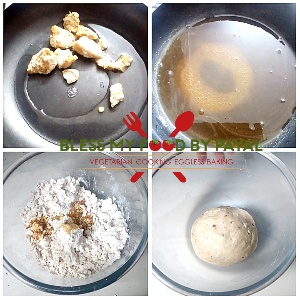 8. take a ball size dough and place it on a clean shelf greased with oil. (now onwards watch youtube video for better understanding. video is given herein above)
9. flatten the dough ball using your finger tips.
10. hold the glass with the open side downwards and press on the flattened dough to give it a perfect round shape.
11. remove the excess dough from outside the glass border.
12. now turn the side of the glass with designed side downwards and grease that side with oil so that it doesn't stick to the dough.
13. press the glass on the flattened dough to mark a design on thekua.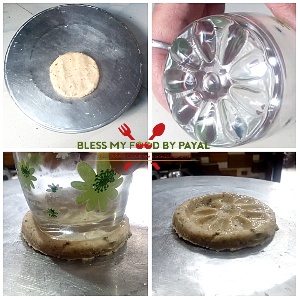 14. likewise make thekuas with all the dough and keep aside.
15. fry them in batches in oil on medium heat.
16. take them out on a plate lined with paper nepkin so that excess oil is absorbed.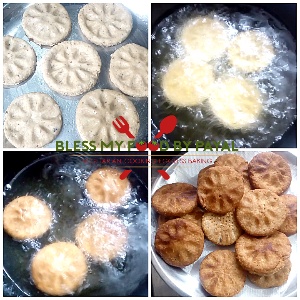 your thekua is ready. you can keep them for a week and enjoy with a cup of tea or coffee.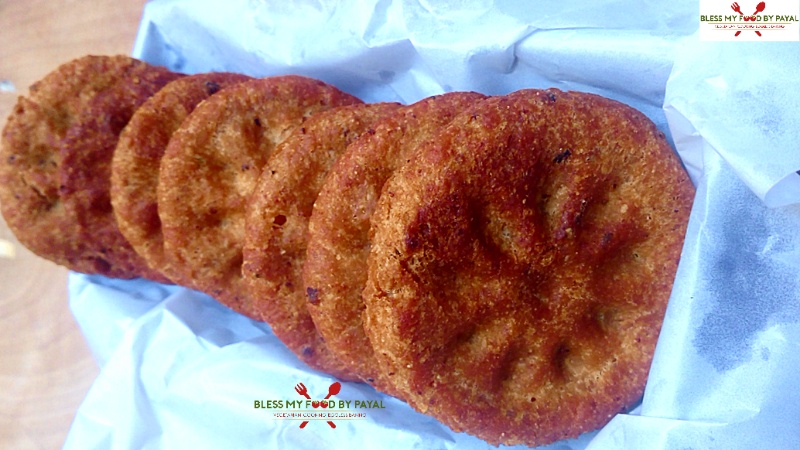 NOTE
* as already mentioned, use ghee if you are making it otherwise and not to utilize the ghee residue.
* can add fresh coconut after grating in place of shredded coconut.
* in place of jaggery, you can use sugar also, though, traditionally thekua is made with jaggery only.
* while melting jaggery, keep in mind that you just have to melt it and not making any syrup.
* use very less water to melt jaggery because this water has to go in your dough. shortage of water while kneading dough can be managed by adding more water but extra liquid in the dough is troublesome.
* you necessarily don't need to have the exact quantity of ghee residue as we have mentioned. if you have little less or more, add it. but be vigilant while adding water for melting jaggery.
* to give a round shape to thekua, we have cut it with a glass. this process is not compulsory because when you will flatten the dough, it will easily take the round shape. we have cut the dough to round only to make thekuas more beautiful and presentable, especially for pictures. 😉
*  thekua is traditionally made using specific molds but as we don't have any such mold, we have used a glass because it is having ridged design at its base. you may have any such glass or other utensil in your kitchen.
* if you don't have any such designed utensil, make a design with the help of fork or anything else or leave your thekua plain.