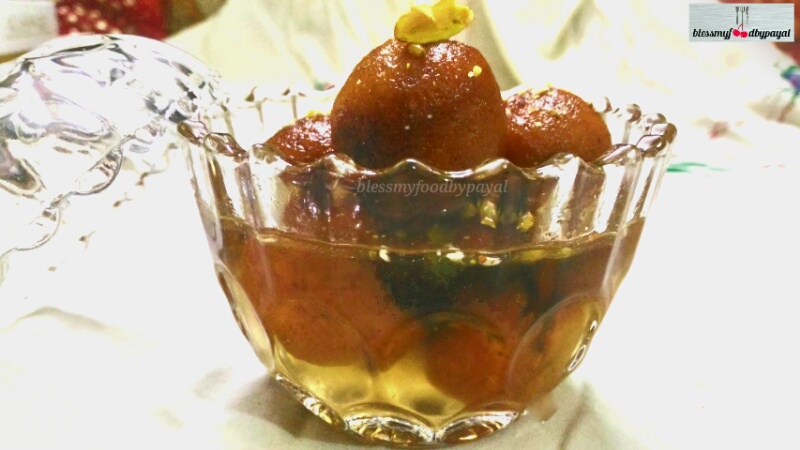 27 Feb

Stuffed Bread Gulab Jamun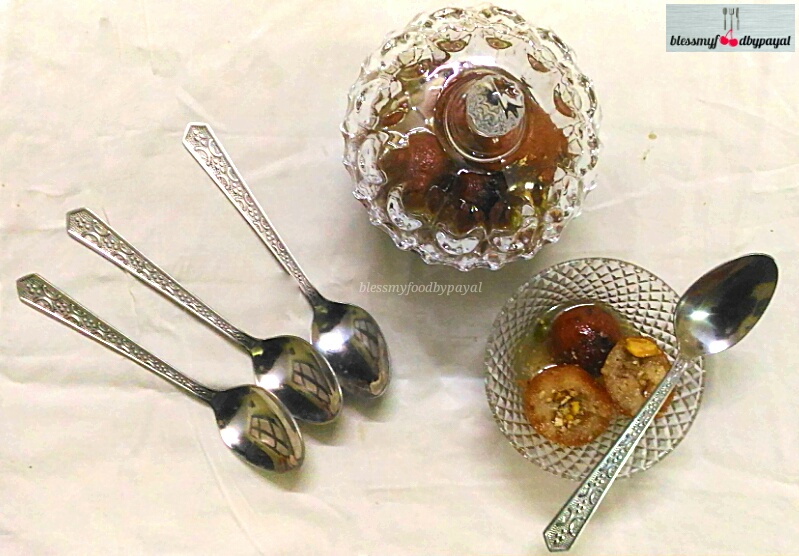 Stepwise pictorial recipe of Stuffed Bread Gulab Jamuns. Among all the sweets, Gulab Jamuns are the most loved and popular sweet across the country. It is being made and eaten on special occasions and for us, this day is here for us.
Yessss…this is the FIRST ANNIVERSARY of our blog 🙂
Traditionally, Gulabjamuns are made with Khoya &/or milk powder…and no other way can match or compete with that method.
But if you love innovations and new ideas and concepts, then this recipe of Stuffed Bread Gulabjamuns is for you.
There were some myths relating to Bread Gulabjamuns, that they are not exactly like original Gulabjamuns, they are somewhat hard and you feel that a bread like stuff is there in your mouth. But after we took first bite of it not with much happiness, we were surprised with its taste. These were very soft and there was no bread like taste in them. They were like that if we would have served it to some outsider, he could never imagine with all his senses that they are made with bread.
Now these Gulabjamuns are in the list of our routine making.
So come & do join us…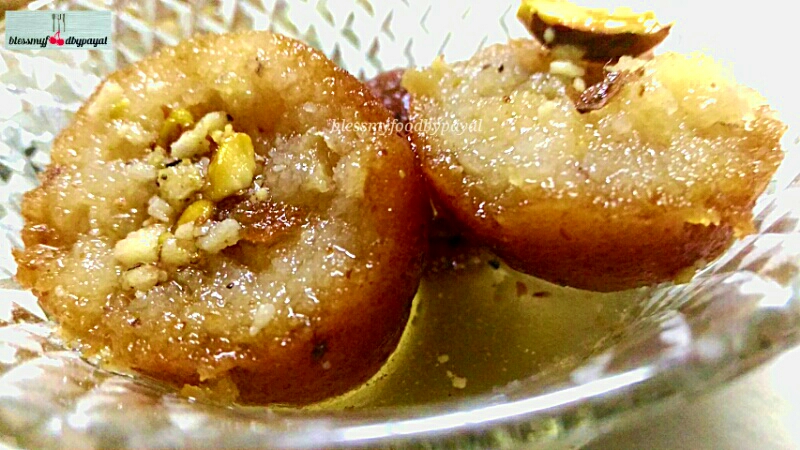 INGREDIENTS
For Gulabjamun Balls
BREAD – 8-9 Slices (go for white bread only)
Milk Powder – 2 tbsp (optional)*
Khoya – 2 tbsp (optional)**
Milk – 1.5 tbsp or as per need
Oil for frying
For Stuffing ***
Cashews – 2
Almond – 2
Pistachios – 2
Khoya – 1 tbsp
For Sugar Syrup
Sugar – 1/2 cup
Water – 1/2 cup
Cardamoms – 2-3
YIELDS
6 Gulab Jamuns
METHOD
Making of Sugar Syrup
1. Take a pan and add water, sugar & Cardamoms.
2. Bring to boil and simmer until it attains the thick consistency**** at low flame.
3. Once it is thick, remove the pan from the gas stove and keep aside.
Making of Stuffing
1. Take the dry fruits mentioned above under the head 'Stuffing' or of your choice and crush them in a clean kitchen towel. Keep aside.
2. Grate or mash 1 tbsp of Khoya and keep aside.
Making of Gulab Jamuns
1. Remove the outer crust from the bread slices & roughly tear up the inner part of bread into small pieces. Transfer to a bowl. (Make it a point that leftover crust is not a waste. Reserve this for making Breadcrums).
2. Add milk powder & khoya and mix well.
3. Add just a tbsp or even less of milk (be extra cautious while adding milk otherwise your dough may become clumsy) and gently mush up the bread mixture with your fingertips & knead it into a dough. Don't press or knead too hard otherwise the Gulabjamuns will become hard on frying. Add more milk if needed to combine the dough, but we again repeat, be very very cautious.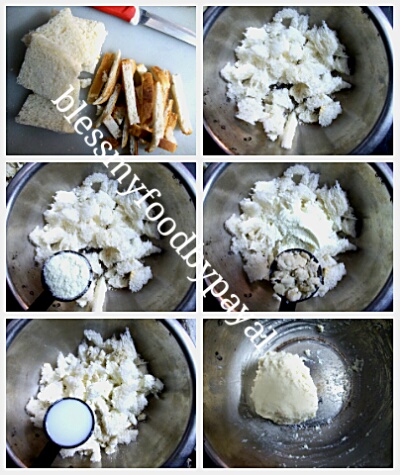 4. Once done, grease your hand, take a lemon sized dough, flatten it on your palm and place a pinch of Stuffing made of crushed dryfruits & khoya in the center. Shape into a small ball.
5. Set aside on a plate and make more balls with the entire mixture like the first one.
6. Heat oil to mild degrees and gently drop the balls into it.
7. Fry these balls until golden brown. Make sure you keep the flame medium when frying, otherwise the balls will turn golden outside but will remain raw inside.
8 .Once the balls turn golden brown, transfer them to the warm sugar syrup.
9. Let the Gulabjamuns soak in the sugar syrup for a few hours until softened.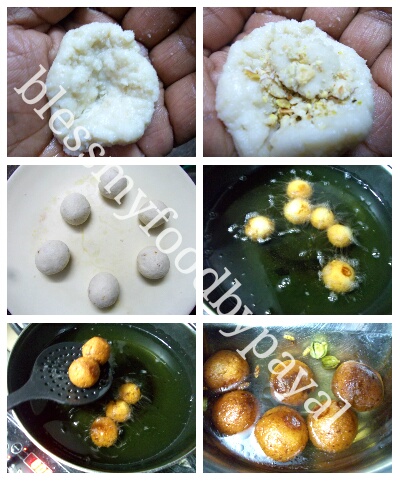 Serve warm or chilled.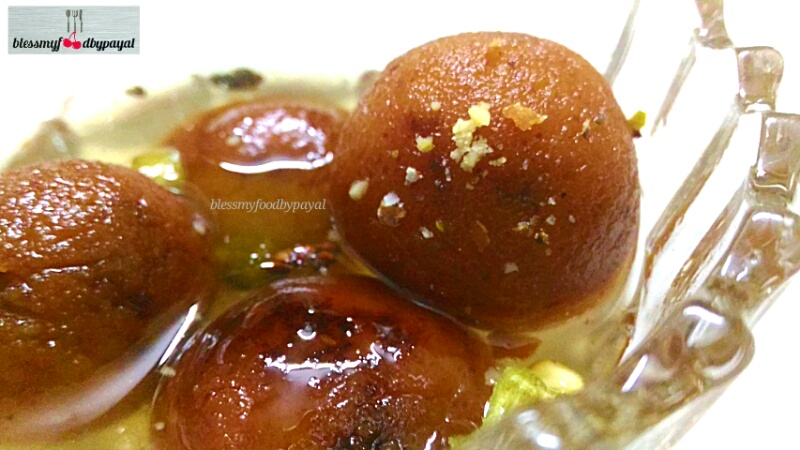 NOTE
* & ** Milk powder & Khoya are shown as optional ingredients and Bread Gulabjamuns can also be prepared without them. But adding a small portion of these 2 optional ingredients will make a drastic change in the taste & texture of your Gulabjamuns.
This is our 2nd attempt of making bread Gulabjamuns & this time we again followed the same process which we had followed in our first attempt. But a drastic change is there in the 2nd time made Gulabjamuns. These are super soft and tasty beyond imagination. So you are recommended not to skip these 2 ingredients. Rest, your take.
*** You can skip the ingredients and method relating to stuffing, if you don't want your Gulabjamuns to be Stuffed. But again this small addition will do wonders to the taste of your Gulabjamuns.
**** Syrup is generally boiled unless it reaches one thread consistency. However we didn't strictly followed it and just boiled sugar-water mixture for 8 – 10 minutes until it thickened.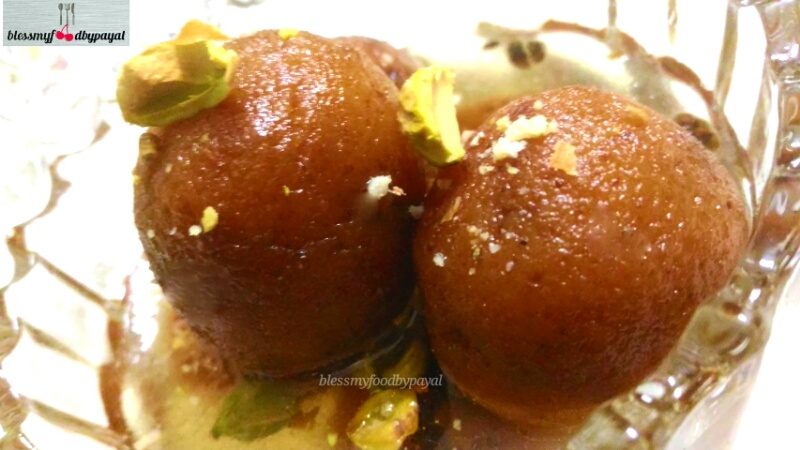 Feel Free to Make Queries, If Any….
Regards
PAYAL BALI SHARMA
SHAILENDER SHARMA
To get easy access to our new and upcoming recipes, just click the FOLLOW button.