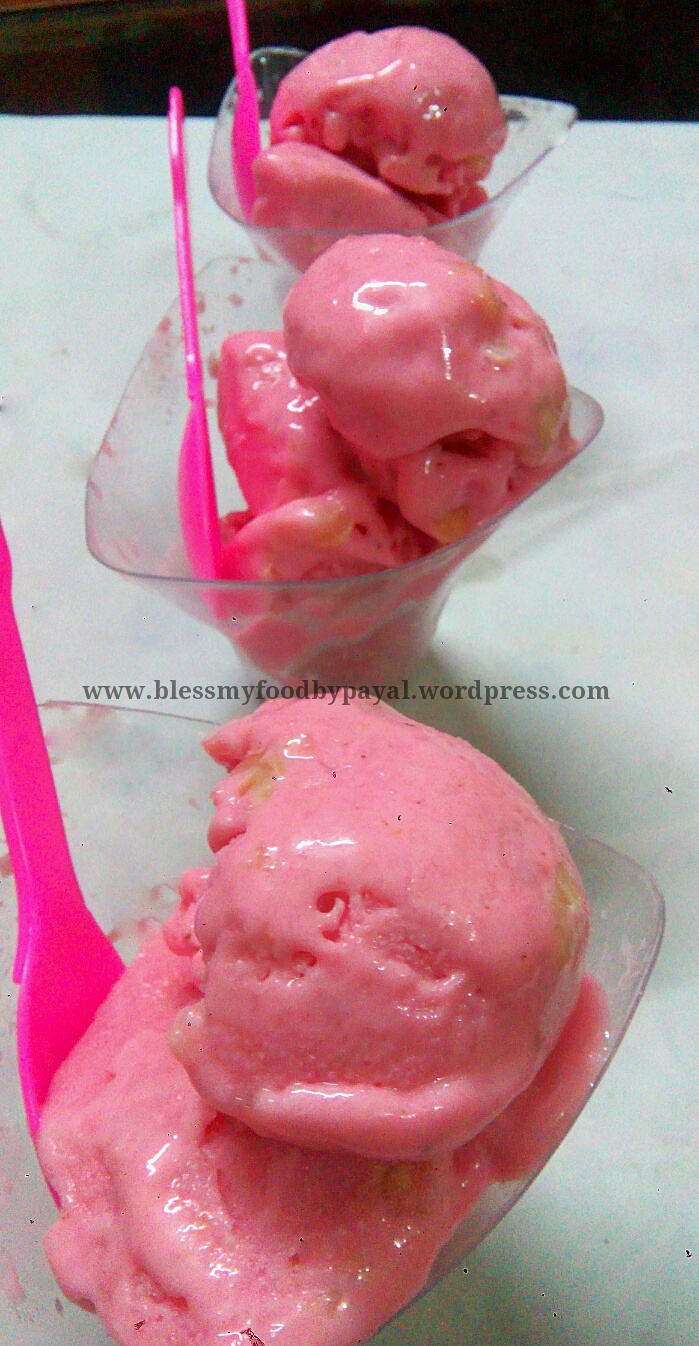 29 May

Strawberry Bread Ice Cream

Strawberry Bread Ice Cream recipe with step wise pictorial method.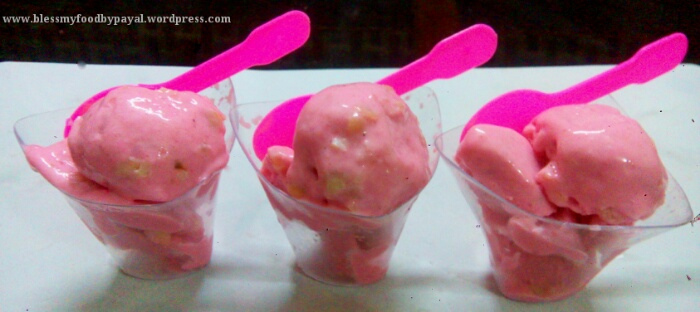 recipe of strawberry bread ice cream with no use of whipped cream or cream, condensed milk or strawberries.
I have making this ice cream with an unusual ingredient. The ingredient which is a very common food and is being loved by we all.
Here i am talking about ….BREAD.
Making ice cream in such a way was just an experiment which has surprised me too with its awesome taste. I never thought that it will come out so well that i will make it a part of my blog.
With just few basis ingredients, this ice cream can be yours…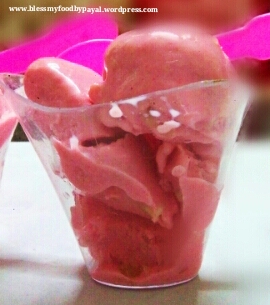 So let's begin the recipe….
INGREDIENTS
Milk (full fat) 1/2 litre
White bread (small slices) 4-5
Baking soda 1/8 tsp
Butter (unsalted) 2 tbsp
Sugar as per taste
(I used 7 tbsp)
Strawberry essence 1 tsp
Red food colour 1/8 tsp
Nuts of your choice
(I used cashews & almonds)
SERVINGS 4-5
METHOD
1. Take a heavy bottomed pan and add milk in it.
2. Place it on a flame for boiling.
3. In the meantime, take bread slices & cut their edges. Roughly piece them.
4. When the milk begins to boil, bring the flame on low and keep it low throughout the next process.
5. Add baking soda in it and mix.
6. Then add bread pieces & stir.
7. After 2-3 minutes, add sugar & mix.
8. Let the bread cook well in milk for 20 to 25 minutes with no lumps in it. Mash* the bread thoroughly. Keep stirring at intervals to prevent the sticking of bread on the bottom of the pan.
9. When the bread mixture attains the thick porridge like consistency, add strawberry essence, red food colour & unsalted butter.
10. Mix them well and switch off the flame.
11. Add nuts & mix well.
12. Let the mixture cool down properly.
13. Once cooled, transfer the mixture into airtight plastic container.
14. Place it in the freezer and let it be in there for 6 – 7 hours.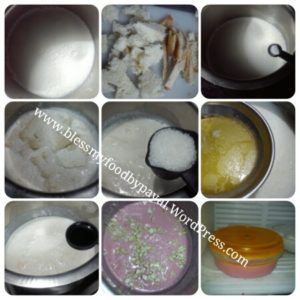 Your strawberry bread ice cream is ready.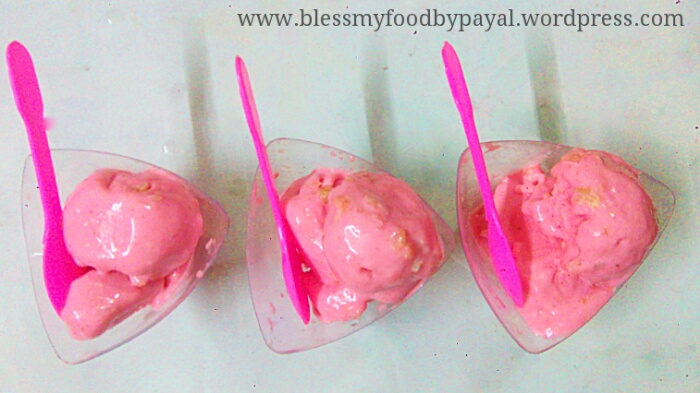 NOTE
* Thorough mashing of bread is important for getting neat texture of ice cream otherwise it will be little gritty textured.
#As I have made this ice cream without using cream, so it's texture will be slightly hard immediately when you will bring it out from the freezer. So just place it at rest for 3-4 minutes and soon it will be a soft creamy like ice cream. Even in the process of scooping and serving, it will gain it's creamy texture, so nothing to worry.
#You can also open the wings of your innovations. With some other  essences and food colours, you can make the ice cream of other flavors too.
Like…
Chocolate essence + cocoa powder = Chocolate Ice Cream
Orange essence + orange food colour = Orange Ice Cream
Vanilla essence + No colour = Vanilla Ice Cream.
I haven't tried these variations so far but they can easily be tried by following the above method. If any of my reader tries any of these methods, do share your experience. Would love to hear from you.
Regards
PAYAL BALI SHARMA