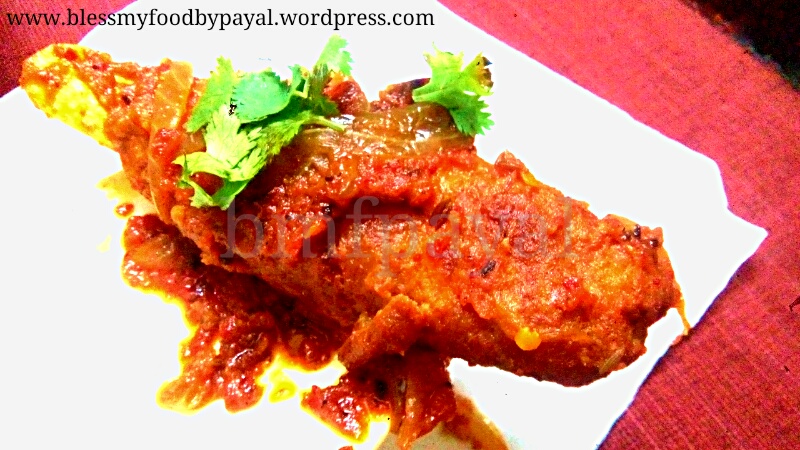 17 Apr

soya chaap recipe | how to cook soya chaap

soya chaap recipe | how to cook soya chaap with step wise pictorial and video method.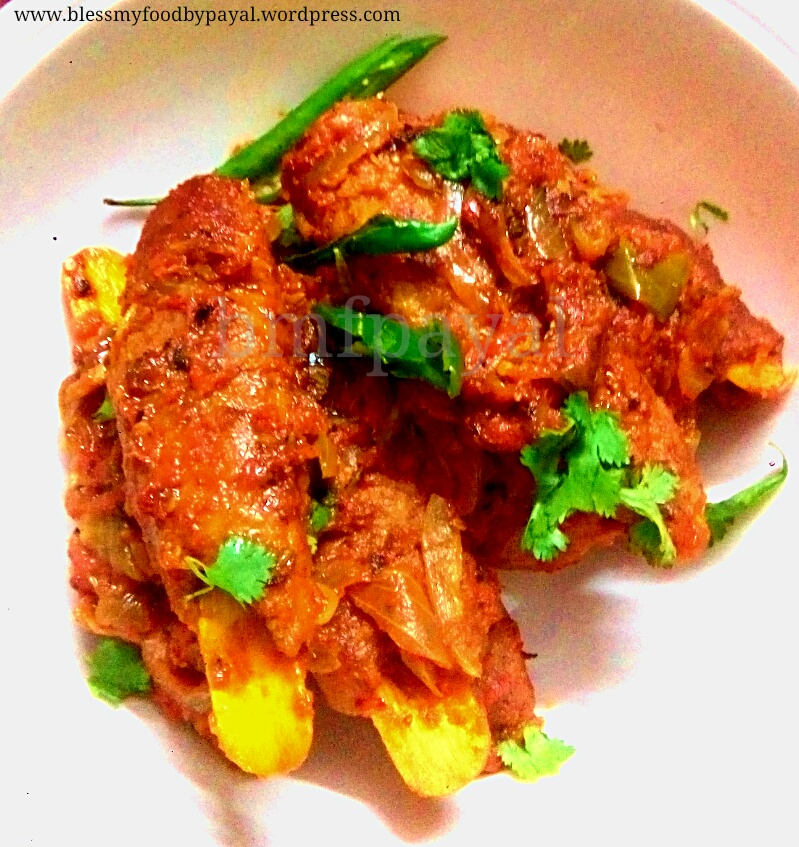 soya chaap recipe | how to cook soya chaap is an amazing food which is primarily a side dish but you can have it in your main course also, especially with Chapati.
In our city, it is sold in every nook & corner of the city as a street food. It is mostly served with bread.
Since long we are cooking Chaaps at home only but everytime they were store brought. This is for the first time that we have made the raw chaap also at home. And believe us, so far we have made chaaps uncountable number of times but it was on the top of all in terms of taste.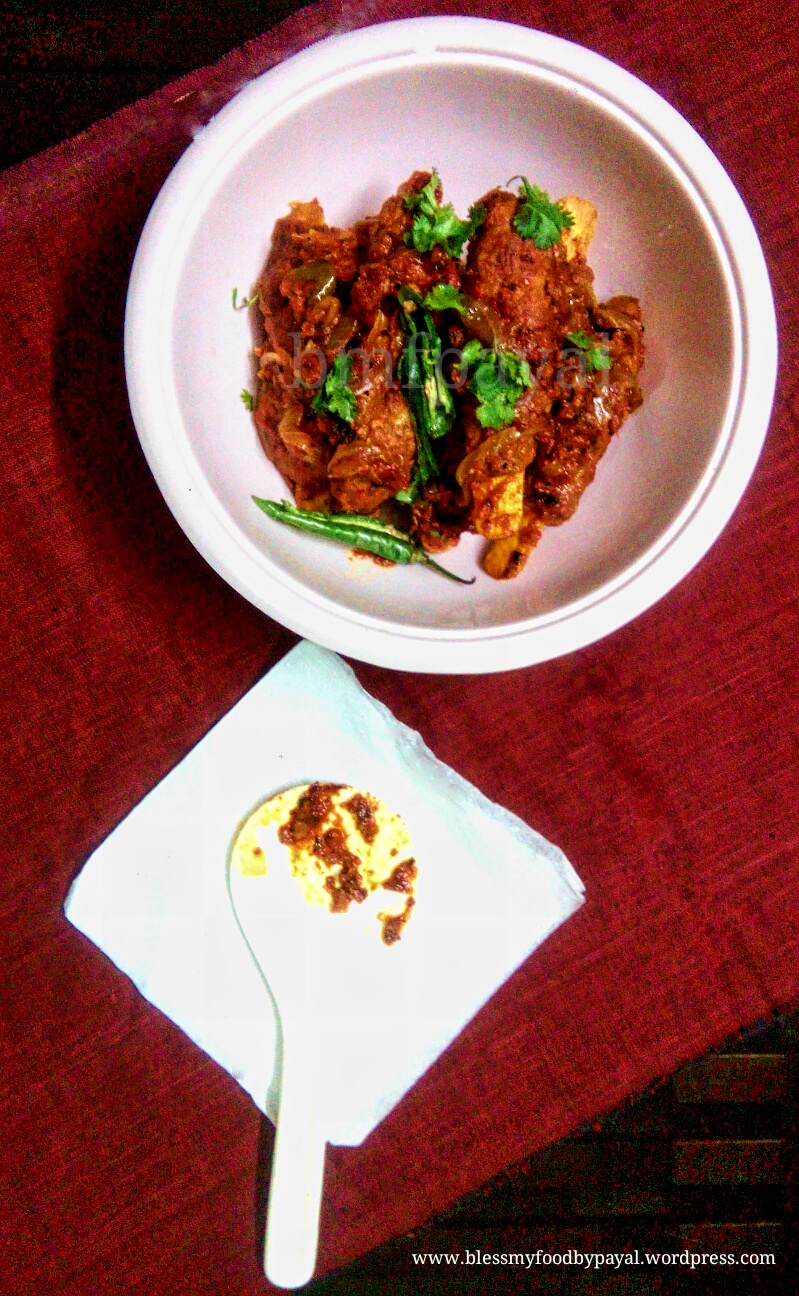 So let's begin with the recipe of Chaap.
VIDEO RECIPE OF SOYA CHAAP
TEXT RECIPE OF SOYA CHAAP
INGREDIENTS
Soya Chaap (Raw)  8 – 10
(See the recipe of Chaap (raw) herein above)
Onion (large) – 2
Tomato  / tomato puree – 4 / puree of 4 tomatoes
(See the recipe link of tomato puree here)
Green chilli (chopped) – 2-3
Red chilli powder:- ½ tsp
Turmeric ¼ tsp
Cardamom powder  – ⅛ tsp
Mace a pinch (optional)
Cumin seeds 1 tsp
Cloves:- 2-3
Thick cardamom/Moti elaichi-1
Salt to taste
Water ¼ cup
Oil 2 tbsp
Oil for frying
Garam Masala – 1 tbsp
METHOD
1. Bring out the chaaps (raw) from the freezer and place them in a sieve* so that the ice frozen surrounding them melts.
2. Add oil in a pan and place it on a flame. When hot, add chaaps (raw)** and let them fry on a medium flame until turn golden brown.
3. Now remove them on a paper napkin to remove excess oil.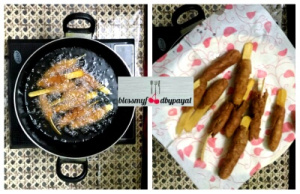 4. In the mean time, chop onion & green chillies seperatly.
5. Add 2 tbsp oil in a pan and put it on a flame.
6. Add cumin seeds and let them sputter. Then add green chillies, cloves, moti elaichi & Green cardamom. Stir.
7. Add onion and stir fry until it turns translucent.
8. Add red chilli powder, turmeric powder, mace and stir fry together.
9. Now add  tomato and mix well. Let it cook until the tomato is separated from the oil and the oil is seen releasing from the edges.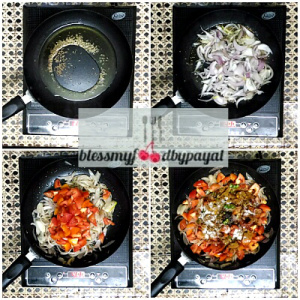 10. Once the tomatoes are cooked, add fried chaaps in it and mix well.
11. Add water and cover the pan with the lid.
12. Let the chaaps cook for 5 to 10 minutes or until the water has evaporated and the chaaps  have turned soft.***
13. Your chaaps are ready. Garnish them with coriander leaves and roasted cumin seeds.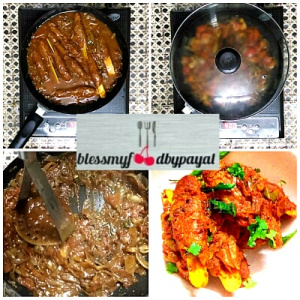 Serve hot either as it is or it goes well with the bread.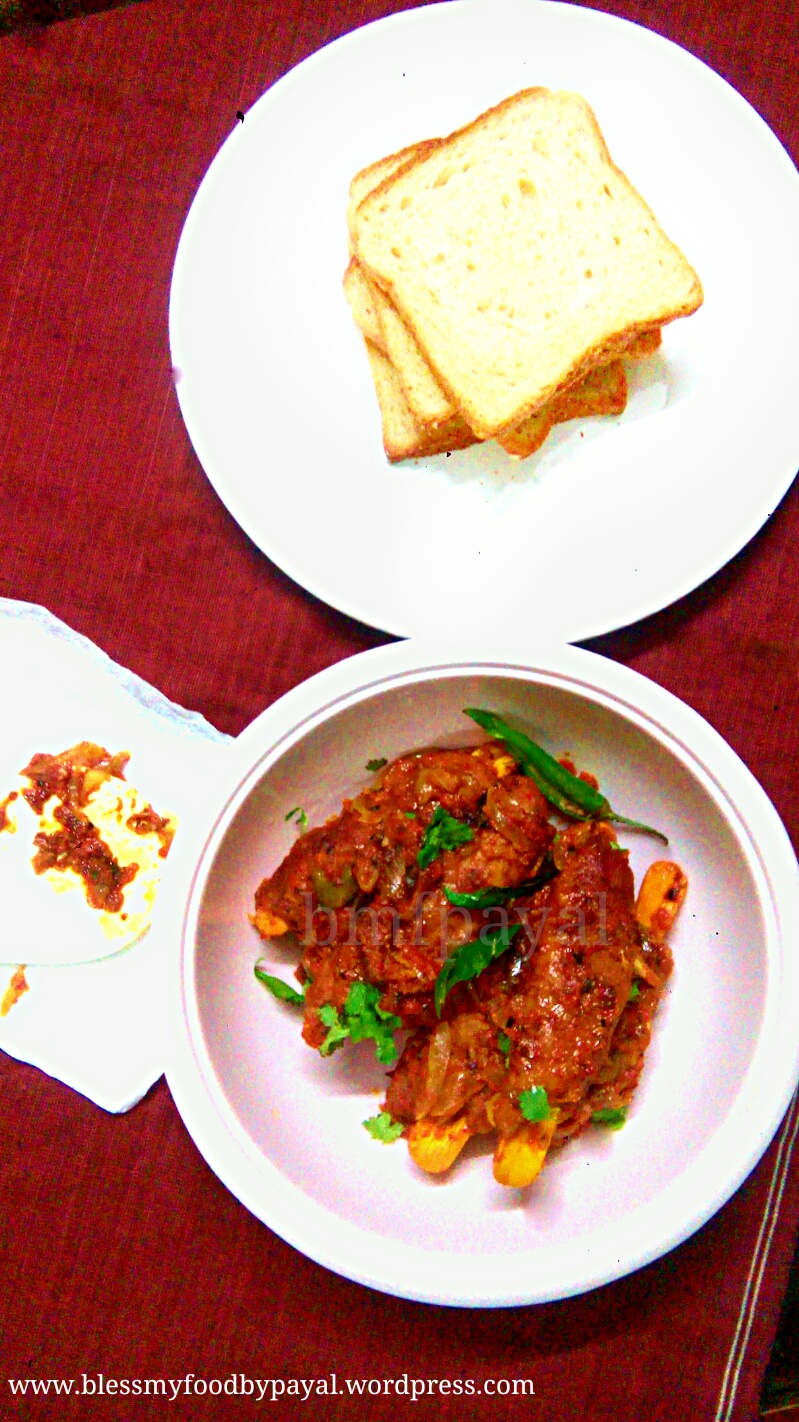 NOTES
*If you are in a haste and have no enough time to let the ice melt, then bring the chaaps under running water.
I usually avoid this method because, with this, the chaaps turn too watery and little lumpsy.
So i will recommend to adopt this method only when you are in a hurry.
** Before frying the chaaps, you can remove the sticks from them and cut the chaap in 2 to 3 pieces depending upon their size. It all depends upon your choice that how you want to make a presentation.
***If you feel that the water has dried but still the chaaps are hard, no worry. Boil water as needed in a separate bowl and add it to the chaaps and let the chaaps cook for further period until turn soft.
When making a full Chaap instead of removing its sticks and without cutting it into pieces, I usually prefer to prepare the chaaps atleast 1½ to 2 hours prior to serving them. Because as long as the chaaps will remain in the tomato gravy, the more they will soak deep inside the flavours and spices you have added into the gravy.
So get them ready before the time and just re-heat them at the time of frying.
Feel Free To Ask Queries, If Any…
Regards
PAYAL BALI SHARMA
SHAILENDER SHARMA