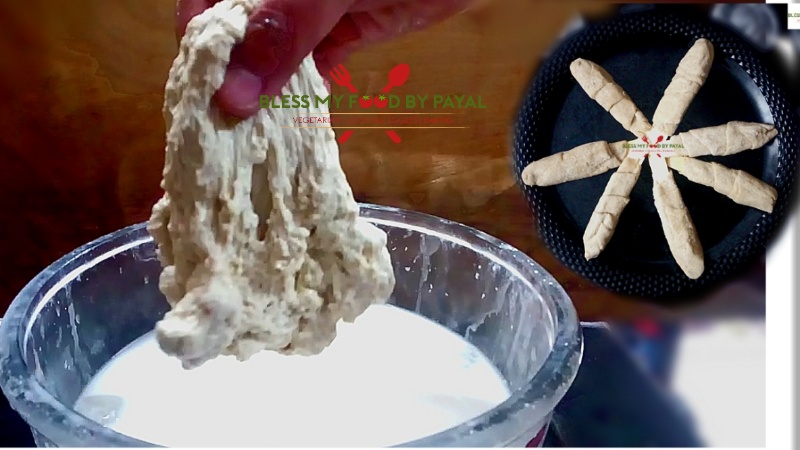 17 Apr

Raw Soya Chaap | Homemade Raw Soya Chaap | How to make Soya Chaap Sticks at home

raw soya chaap | homemade raw soya chaap | how to make soya chaap sticks at home with step wise pictorial and video method.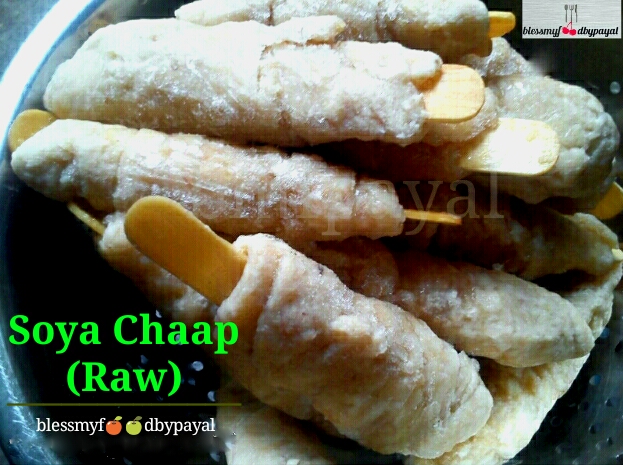 raw soya chaap | homemade raw soya chaap | how to make soya chaap sticks at home is one of the most loved street food recipe, especially, in northern India. those who eat non-veg says that the taste and texture of chaap is as good as chicken. it is to be noted that this is the post with respect to making of soya chaap which is "raw". how to further cook a raw chaap has been shared in another post.
editing this recipe again for the third time on 10-02-2019. know the reasons, below, which includes honest confessions too

.
this recipe of raw soya chaap always remained a challenge for us because we have made about 8 experiments on this recipe in the span of 3 years, which resulted from failure to average results. when we updated the recipe of soya chaap for the first time on 17.04.2016, it was no where on the internet so no prior knowledge was available with us. also there was not any one surrounding us who knew that how to make raw soya chaap. that was our first experiment which we had learned from one of the food groups on social media. that chaap was made of wet soya and maida.
it received lots of love from all over the world and people started making it. with the passage of time, we started receiving the comments with less appreciation but more complaints. some wrote that their chaap turned too much hard. but the common complaint was that the maida in the chaap remains uncooked and has a raw taste on eating. it was sad to read such comments and we started thinking of improving the recipe.
as the major complaint was with respect to the raw maida in the chaap, we thought of removing the maida from the recipe, which was used in huge quantity in the first experiment, and second recipe was developed in which just few spoons of maida was used. this second experiment/recipe was updated after editing the first one on 03.11.2017
In this second experiment, it was obvious that there could be no complaints of raw maida because maida was hardly used. but we started receiving comments that this chaap is not at all like that of market's chaap as it didn't have that elastic and stretchy consistency. those who have already eaten chaaps must know that chaap has a gooey stuff, which was missing in our second experiment.
and our journey of making raw soya chaap better remained continuous. we went to many professionals to learn the correct recipe of raw soya chaap. actually we didn't know any professional in this field, so we went to the shop keepers who sell raw soya chaap and also to those who sell cooked soya chaaps. everyone told us that they buy it readymade so they don't have the knowledge that how the raw one is made. may be either they actually didn't know or didn't want to share with us. alas!
however, in the year 2017, one shopkeeper told us that soya flour is not used and raw soya chaap is made by stretching the maida only but he doesn't know more about it in detail. we thought that 'soya chaap without soya'…no ways, so he was of no help to us.
in December, 2018, we saw the pictures of few packages of raw soya chaap on internet in which the Ingredients were mentioned. it included 60% soya flour, 40% maida, salt and water. but on some of the packages, whole wheat flour was also mentioned. quite confusing for us.
we decided to experiment again but also decided not to edit the blog post until perfect chaap is made.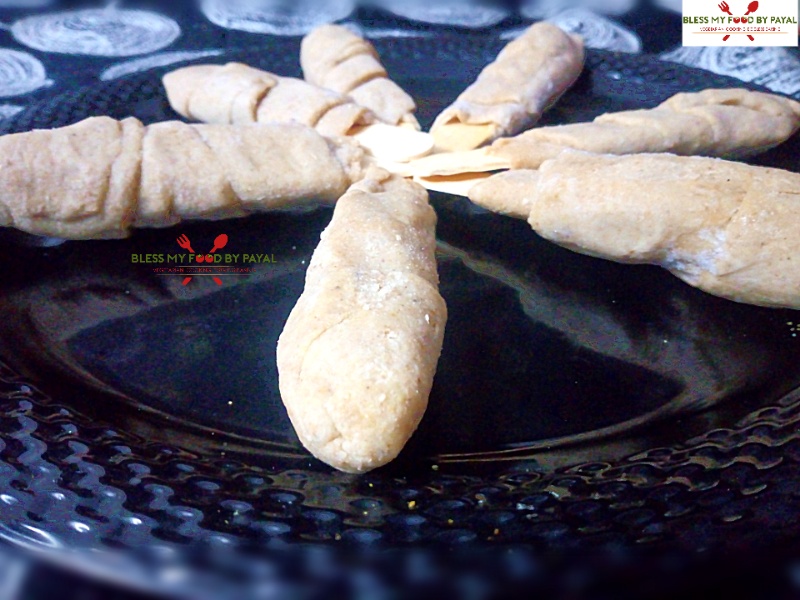 in our third, fourth, fifth and sixth experiment, we made one batch of raw soya chaap with soya flour along with maida & another with whole wheat flour. in the first two experiments, we added soya flour in extra ratio than the other flours. the taste was good but there was no gooey in the chaaps again. then fifth and sixth experiment was made by mixing all the three flours with soya flour in larger quantity than the other two flours but problem remained the same. taste of chaap was improved but with no gooeyness which is the soul of chaaps and that is the only reason for its being loved by people.
the actual trouble was with respect to the presence of correct ratio of gluten in the chaaps made so far. the gooeyness in the chaap is due to the presence of gluten and soya flour is gluten free whereas maida and wheat flour, both, has gluten in it. but on mixing both soya flour and other flours, the quantity of gluten decreases lower to the required degree.
in our seventh experiment, which was in a very very casual mood, we took a big dollop of dough, which always remain there in our refrigerators for making chapatis, and experimented with it. in this experiment, we made just one single chaap. on cooking this, it was like Oh my God. It was 99.9% close to the market chaaps. made just and just with the dough of whole wheat flour and no soya flour, it was perfect chaap but was it soya chaap ? somewhere no. how a chaap can be called soya chaap without soya !
recently, we met a shopkeeper who told us that the branded soya chaaps do contain soya but the local manufacturers made soya chaaps only with maida. it was surprising for us but we recollected the words of that shopkeeper who told us in 2017 that soya chaaps are made without soya and only maida. we also related his words with our seventh experiment in which we made one single chaap with whole wheat flour only and it was perfectly made.
it was a complete state of confusion for us that how to develop this recipe. to make the perfect recipe of raw soya chaap, we have to skip the soya, and if we skip the soya, how it will be named as soya chaap.
to win over this confusion, we made eighth experiment. we focused more on wheat and all purpose flours, but also added bit of soya to make it soya chaap & not just chaap. and this is perfect raw soya chaap for us with amazing taste and yes, that gooeyness, the real star is a chaap recipe.
hence this recipe is very very special to us because it is the outcome of so many discussions with professionals, extensive study on internet and food groups (though none was helpful), number of experiments from zero to average results and editing the recipe in blog already twice.
really, it took us 3 years to understand & believe that local soya chaap is actually not made of soya.
.. thank you dear readers for traveling those 3 years with us through this post.
finally let's begin with the recipe of raw soya chaap edited for the third time..
YouTube – Raw Soya Chaap
INGREDIENTS
(1 cup – 240 ml)
whole wheat flour / atta – 2 cup
all purpose flour / maida – 2 cup
salt – 1 tsp
homemade soya flour – 2 tbsp + little more for dusting
hot water – a big bowl
chilled water – a big bowl
ice cubes – one tray
ice cream sticks – 5-6
zip lock bag or a polythene bag with rubber band.
YIELDS
5-6 chaaps
METHOD
(do watch youtube video, given above, to understand the method in a better way.)
take a big bowl and place a sieve over it. add whole wheat flour, all purpose flour and salt in the sieve.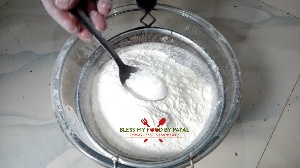 sieve the flour into the bowl. mix the flour so that everything incorporates together very well.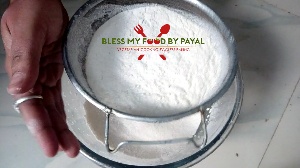 start adding water gradually and knead the flour into a dough.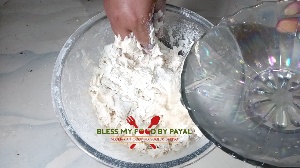 keep on kneading the dough for at least 15 to 20 minutes. more the better.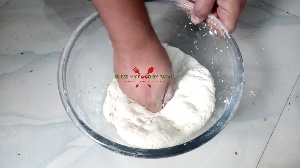 cover the dough with a kitchen towel and place a lid on the bowl. place the dough for rest for at least one hour on kitchen shelf (in winters) or in refrigerator (during summers).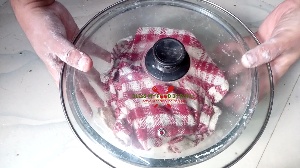 after one hour, take the bowl back and uncover it. knead the dough again for a minute.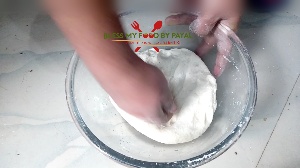 pour lots of very hot water over the dough. water should be as much hot as your hands can bare and the quantity of water should be as much so that entire dough drowns in it.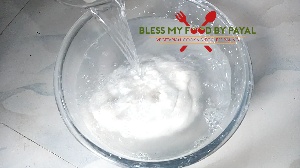 let the dough remains in water for 10 seconds.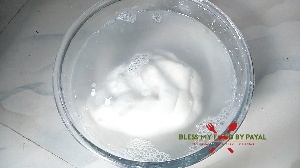 take the dough out and start squeezing & twisting it with your hands. you have to squeeze out the water from the dough.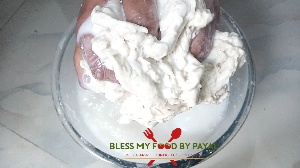 when you have squeezed out the water from the dough, again put the dough back in same water and let it remain there for 10 seconds.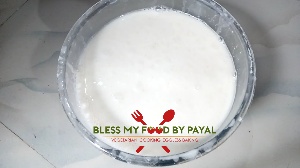 repeat this process again and again for 10 minutes. means… put dough in water for 10 seconds, bring out, squeeze & again in water for 10 seconds & so on and on. during these 10 minutes, this process of bathing the dough will take between 12 to 15 rounds. and the colour of water will also change to white.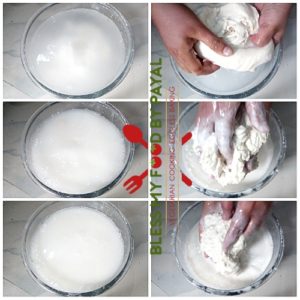 after 10 minutes and when about 12 to 15 rounds of dough bath will complete, pass the water carrying dough through a sieve so that water drains out and dough gets collected in the sieve.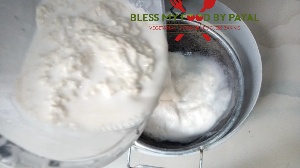 in the sieve too, squeeze the dough to take out maximum water from it.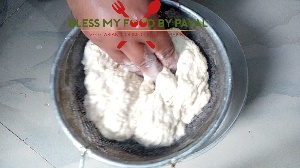 transfer the dough back to the bowl.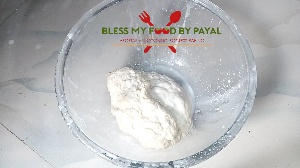 now pour chilled water in the bowl carrying dough to the level dough completely sinks in.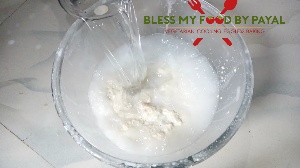 add some ice cubes to make the water extra chilling.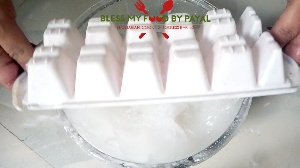 this time again, you need to repeat the same process what you did in hot water. means… place dough in water for 10 seconds, bring it out, squeeze & again in water for 10 seconds & so on. every time press the dough with pressure so that all water squeezes out of it. each time you put the dough in water and then squeeze, the quantity of dough will keep on decreasing and the colour of this water too will turn white. no issues.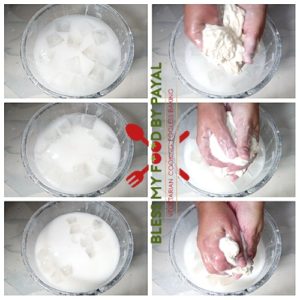 after 8 to 10 minutes, you will observe that dough will start coming together and becoming like a mass.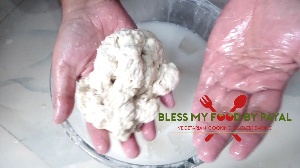 keep the process on and further in 2 to 3 minutes, dough will become stretchy. on pulling, dough should be elastic.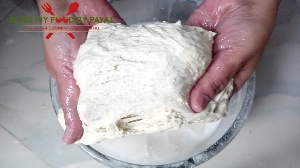 when such consistency of dough is attained, stop the bathing process of dough. make sure you have squeezed the dough very well and no water is dripping out of it.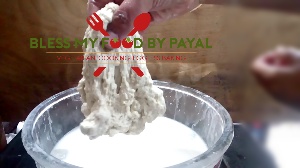 transfer dough in another bowl. Make sure this bowl should be dry.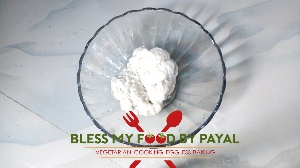 add 2 tbsp of soya flour over the dough.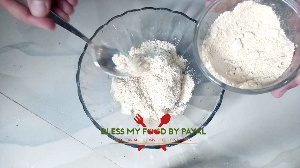 knead the dough well for a minute so that soya flour incorporates well. you can add more flour if you feel that dough is still too much sticky.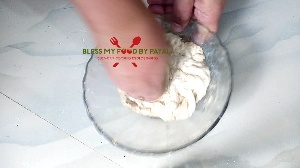 dust you hands with soya flour, particularly finger tips.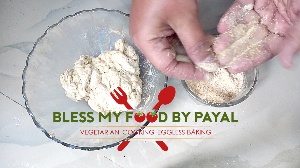 take a small ball size dough from the entire dough.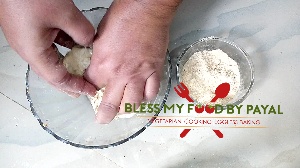 stretch it a bit with both of your hands vertically.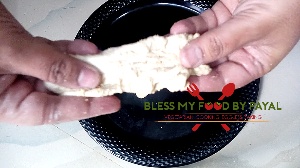 take an ice cream stick and start rolling the dough across the stick starting from one inch ahead of bottom of stick to the top and back. press the rolled chaap with your palm so that dough sticks to the stick properly (see video for better understanding).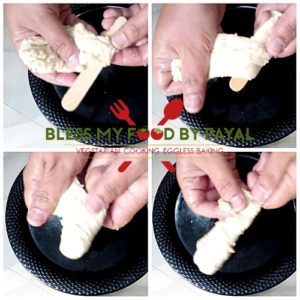 finish the dough likewise. you will be able to make 5 to 6 chaaps out of this dough. our's were 5.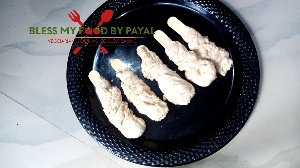 transfer all the chaaps in a zip lock bag, lock bag properly and place it in freezer. no worries if you don't have zip lock bag. take a clean polythene bag, place all chaaps in it, tie a rubber band & then place it in freezer.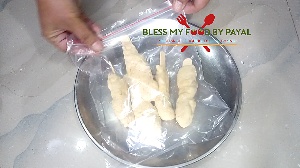 your raw soya chaaps are ready.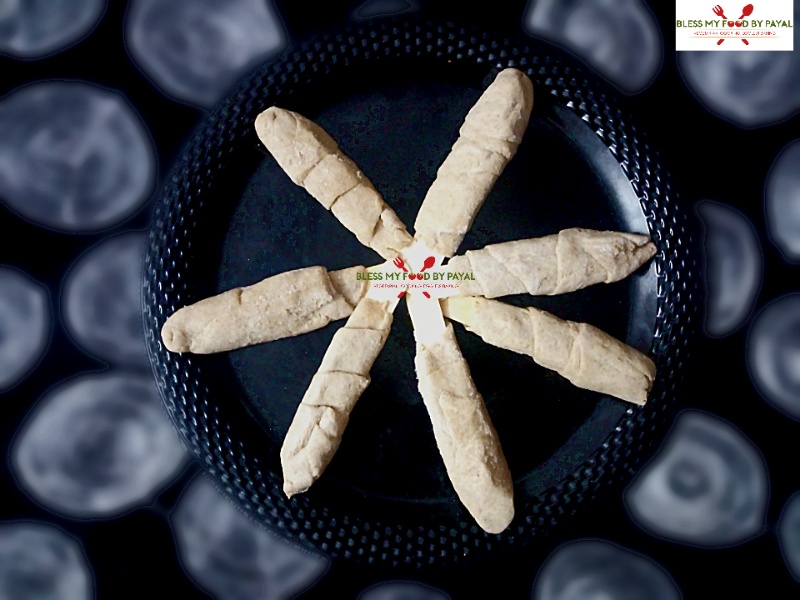 you can cook the Raw Soya chaap with the easy method given here. however, you might have your way of cooking the same.
NOTE
* instead of in the ratio of 50 : 50, you can use wheat flour or all purpose flour completely.
if any queries, ask freely
Recipe, for the purpose of blog, developed by
PAYAL BALI SHARMA
SHAILENDER SHARMA