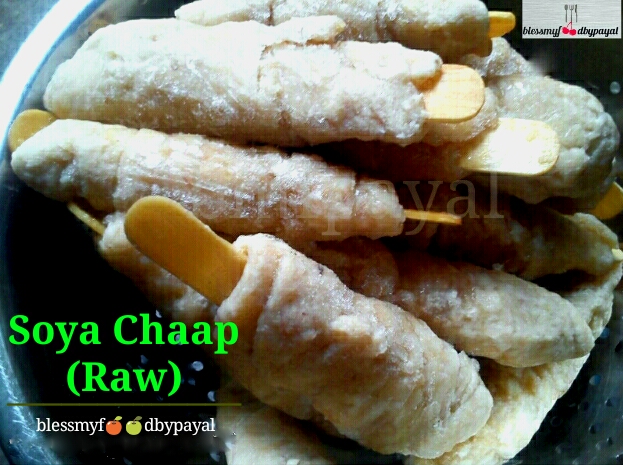 17 Apr

Raw Soya Chaap | Homemade Raw Soya Chaap | How to make Soya Chaap Sticks at home
Raw Soya Chaap | Homemade Raw Soya Chaap | How to make Soya Chaap Sticks at home recipe was originally posted on 17.04.2016 and this is the Revised Recipe dated 03.11.2017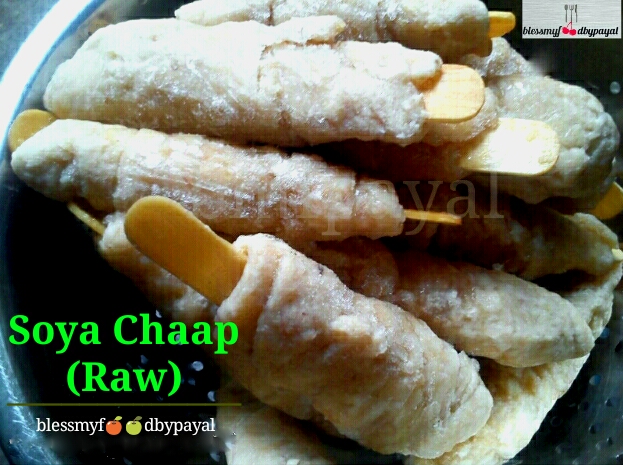 We posted the recipe of raw soya chaap more than an year ago and that was liked by many of our readers, but even thereafter, we were keep on working to make it more better.
Not so much of major changes has been made in the amended version. The ingredients are still are same and only the use of All Purpose Flour/Maida is reduced to 90% almost. Making the Raw Soya Chaap this way gave better results and the chaaps were very close to the store brought one.
So here the recipe goes…
VIDEO RECIPE OF RAW SOYA CHAAP

 
TEXT RECIPE OF RAW SOYA CHAAP
INGREDIENTS
Soya Daal – 1 cup
Soya chunks – 1.5 cup
Salt – 1 tsp
All purpose flour – about 1/4th Cup or as per need
Water – Just 2 to 3 Spoons
SPECIAL EQUIPMENTS
Ice cream sticks 24 – 25 (keep some extra in reserve)
Zip lock bags/ polythene bags with rubber bands
YIELDS
24 – 25 Chaaps
METHOD OF PREPARING RAW SOYA CHAAP
Two Star Ingredients of Chaap (Raw)
1. Soya Daal
2. Soya Chunks
Now the procedure begins…
1. Wash and soak Soya Daal in sufficient amount of water with a pinch of salt at night or for 10 – 12 hours*.
2. In the morning or after 10 – 12 hours, take Soya Chunks (also named as 'Nutri' in common) and grind them to a fine powder.
3. Now remove the Soya Daal from water in which it was soaked and grind soya daal to a paste. Add water (just 1 or 2 spoons, that too if needed) while grinding to make a fine paste.
4. Transfer the Soya Daal Paste in a big bowl.
5. Add salt and mix properly.
6. Prepare a stiff dough by adding Soya Chunks Powder into it, spoon by spoon.
IMPORTANT: Don't use water to knead the dough)
7. Cover the portion of the dough with cheese cloth for 5 minutes so that it doesn't get dried. Now begin next step.
8. Take a ball out of the dough and roll it with the help of a rolling pin like you do for making chapatis in a routine.
9. Dust some All Purpose Flour to avoid the sticking of your roti  to rolling pin or the board.
10. Now with the help of a knife or pizza cutter, cut the rolled roti into strips as shown in the picture as well as in video.
11. Roll each strip around the ice cream sticks.
12. Keep on repeating the process as shown in point 8 to 11 untill the dough is finished or the number of champs you want to make are done.
13. After all the strips are rolled around the ice cream sticks, keep them aside.
14. Now take a wide pan. Add water and place it on a gas stove for boiling.
15. Once the water has started boiling, add the chaaps, prepared so far, into the hot boiling water.
(If the size of your pan is not sufficient enough to adjust all the chaaps in one go, then boil them in seperate batches one after another. Making a mess in the boiling bowl may spoil your chaaps.)
16. After 3 to 4 minutes you will find the bubbles around the boiling chaaps. However let them boil for 15 to 20 minutes.
17. In the mean time take another bowl and fill it with the cold (room temperature) water and keep aside.
18. Once the chaaps are boiled after 10 – 15 minutes, immediately shift them to the bowl having cold water.
19. Let the chaaps rest in cold water for 10 minutes untill they become cool completely.
20. Bring them out from the cold water and shift in a zip lock bag. If you don't have zip lock bag, nothing to worry. Take a polethene bag, fill the chaaps into it and close it with the rubber band.
21. Place your ziplock bag/ polythene bag in freezer.
Your Raw Soya Chaap is ready.
NOTE
* We have experienced that time for soaking the Soya Daal is of utmost importance. As now Winters are on the arrival, we soaked it (accidentally) for about 18 to 20 hours. Giving more time to soaking helped in making a fine paste and we had to add just 1 to 2 spoons of water while grinding the Daal. Last time, we soaked it for 8 to 10 hours and it became a difficult job to make the paste. We had to add more water to make the paste fine.
So if you are planning to make these Raw Soya Chaap on Sunday evening, better soak the Daal on Saturday evening.
Now it's a time to cook the Raw Soya chaap with the easy method given here
Feel Free To Ask Queries, If Any…
Regards
PAYAL BALI SHARMA
SHAILENDER SHARMA
Please Subscribe to have an access to our new and upcoming recipes.