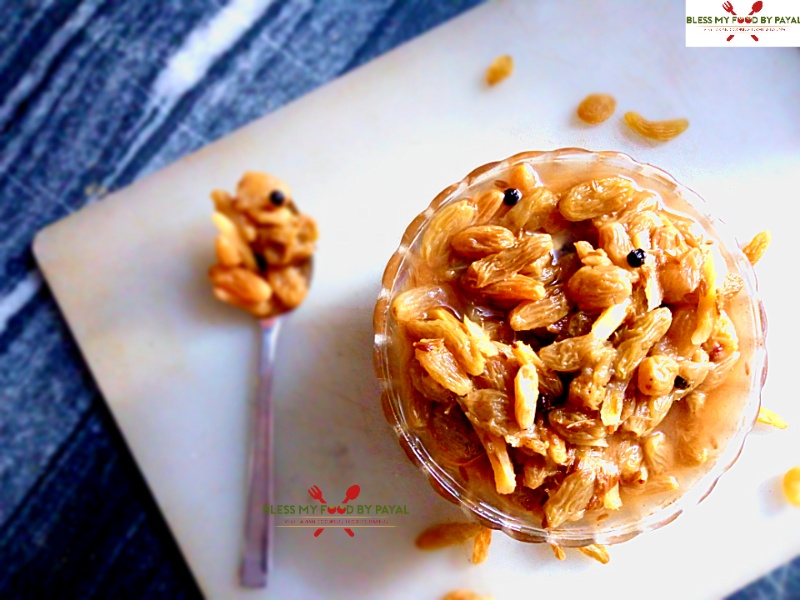 07 Oct

raisins pickle | kishmish ka achar recipe

raisins pickle | kishmish ka achar recipe with step wise pictorial and video method.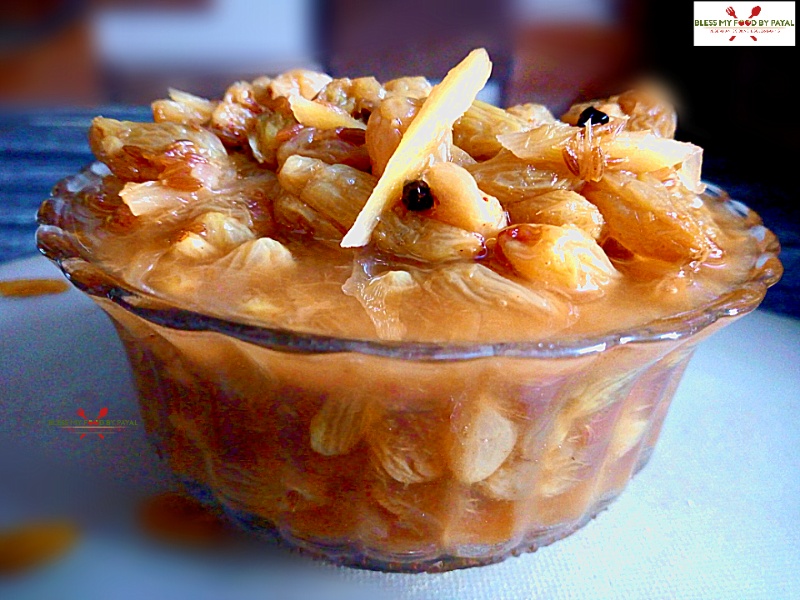 raisins pickle | kishmish ka achar recipe is one of the best method for utilizing heaps of raisins kept in the leftover or when you are really carving for an easy dry fruit sweet and sour pickle.
There was a time when wedding invitations were always accompanied by a box of sweets but now the tread has entirely changed. Now most of the people give packs of juices or a box carrying almonds and raisins. That way we were having lot many boxes  having almonds and raisins. There's no issues with the almonds and you can utilize them in thousands of way but when it comes to raisins, they were hardly of much use, except you add them to some sweets or desserts.
Then this recipe came to our rescue and we could utilize some of the raisins finally. Made with the easy process and very basic and minimal ingredients, this raisins Pickle is one of the best condiment recipe were have ever tried.
Also have a look at carrot pickle in this blog.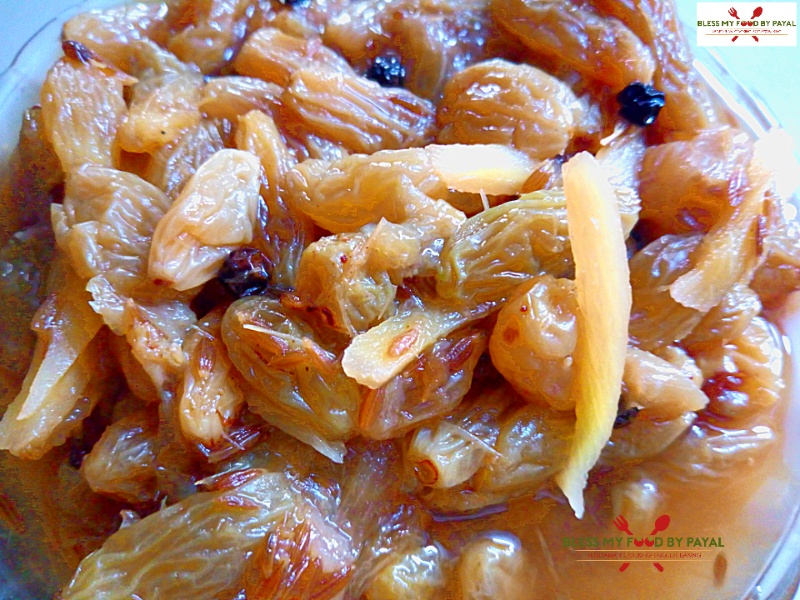 YouTube
INGREDIENTS for raisins pickle
Raisins – 1 cup
White Vinegar – 2.5 cup
Ginger – 1 tbsp
Salt as per taste
Whole Black pepper – 1 tsp
Cumin seeds – 1/2 tsp
Green cardamom – 2-3 pods
METHOD
1. Wash the raisins and keep aside.
2. Cut ginger into julienne or small pieces and keep aside.
3. Take a steel pan and add vinegar into it. Put on the high flame.
4. When vinegar begins to boil, bring the flame to low-medium and add salt, ginger and raisins in it.
5. Keep the vinegar boil and keep stirring the raisins at intervals.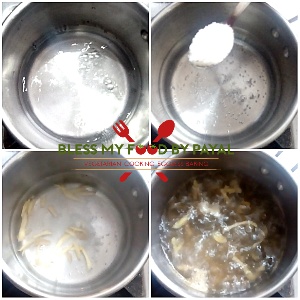 6. When the vinegar reduces to 1 cup after about 12-15 minutes, add black pepper, Cumin seeds and green cardamoms.
7. Let the entire mixture cook/boil in vinegar and keep on stirring at some short intervals.
8. When vinegar remains 1 to 2 tbsp after about 5 to 7 minutes, switch off the flame.
9. Let the raisins cool completely.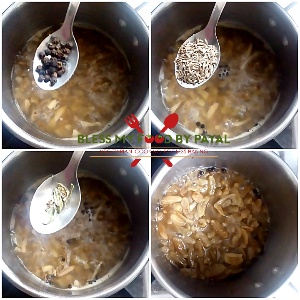 Your raisins pickle is ready. Transfer it into some jar and enjoy with your regular meals or as you like.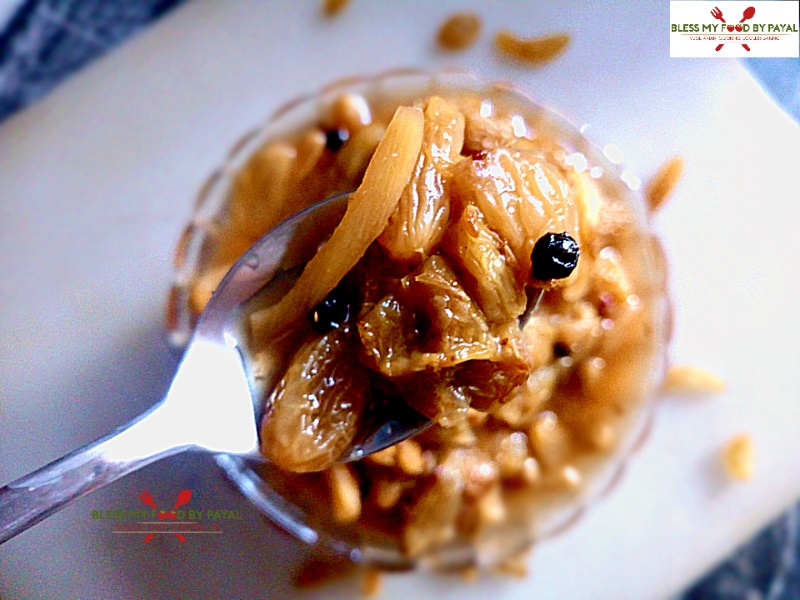 NOTE
* If you don't like the chunks of ginger, then you can add the grated ginger also.
* We didn't add sugar because raisins are already having natural sweetness. However if you like the pickle more sweet, you may add some sugar also.
* For more spiciness, you may add the black pepper powder also.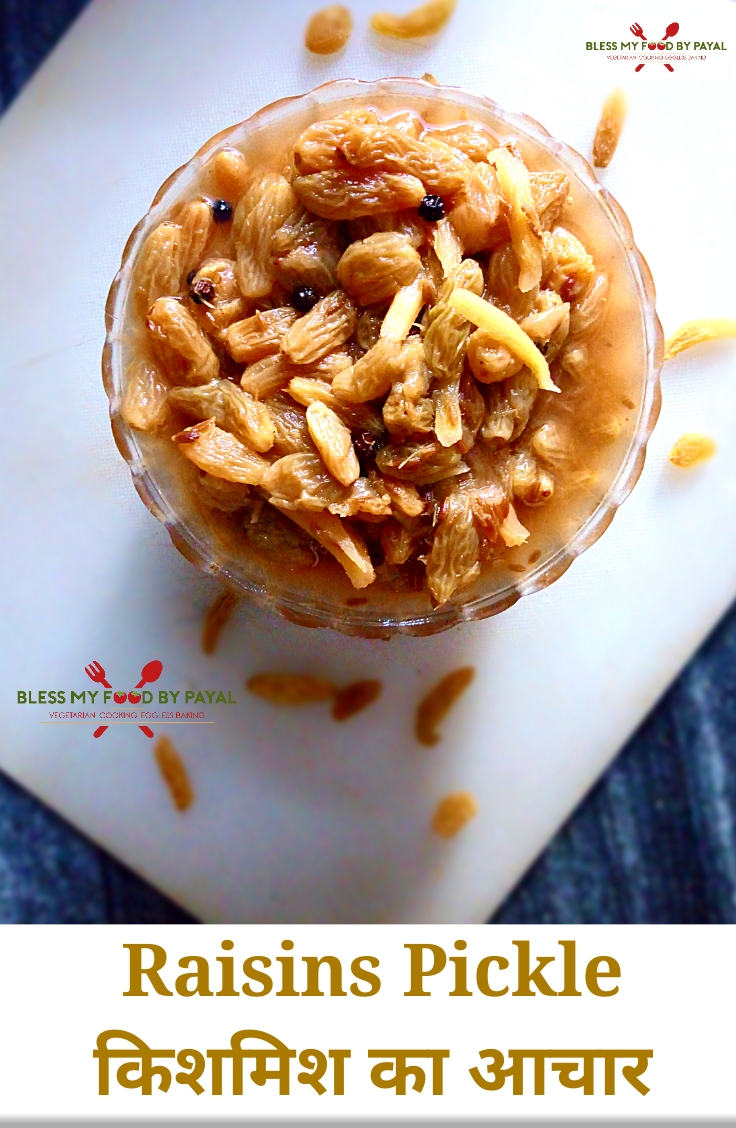 Feel Free To Ask Queries, If Any…
Regards
PAYAL BALI SHARMA
SHAILENDER SHARMA