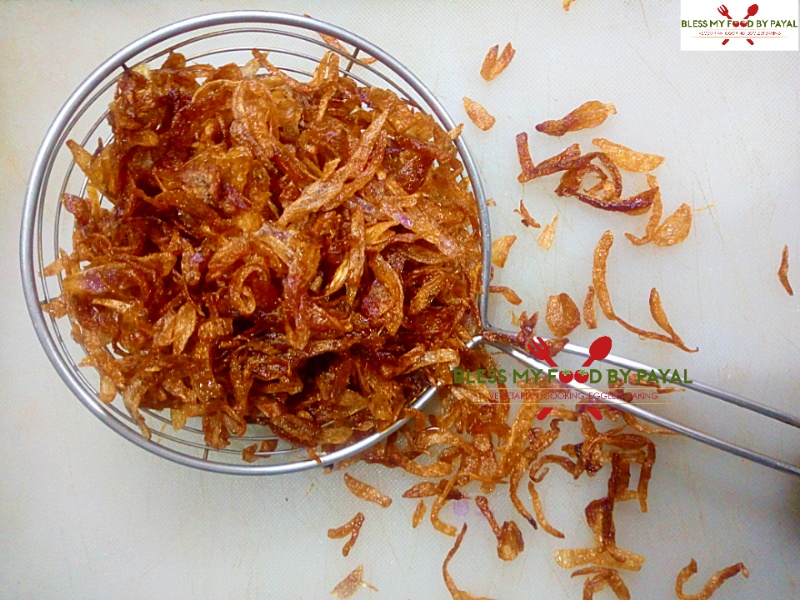 30 Nov

Onion barista | brown onion | fried onion recipe

Onion barista | brown onion | fried onion recipe with step wise pictorial and video method.

Onion barista | brown onion | fried onion recipe is basically just a simple fried onions which are golden brown in colour and crunchy in texture.

There are many recipes which are incomplete without onion barista like biryani (both veg and non veg), korma and curries. Making biryani is very tedious job and as such you can't compromise with the ingredients. Onion barista is something you can't even think of skipping while making biryani because it gives a nice texture, flavor and aroma to your biryani.

One fine Sunday we had a plan to make Hydrabadi veg dum biryani and for that purpose, onion barista was a necessity. We cooked it one hour prior to making biryani but you can make it anytime because it can be stored for a long time.

Not just biryani, but you can use onion barista many ways. Any recipe in which frying onion is a part of the method, you can add onion barista.

If you a bag full of onion barista in your refrigerator, you can make your simple and plain rice too yum. Just fry white rice in a tbsp of oil, add salt, onion barista and you are done. If you love, spread some chopped fresh coriander and mint leaves over it. You need nothing else.

Add onion barista to your curd with some other spices and your raita is ready in no time.

So why not to add it to your to do list ???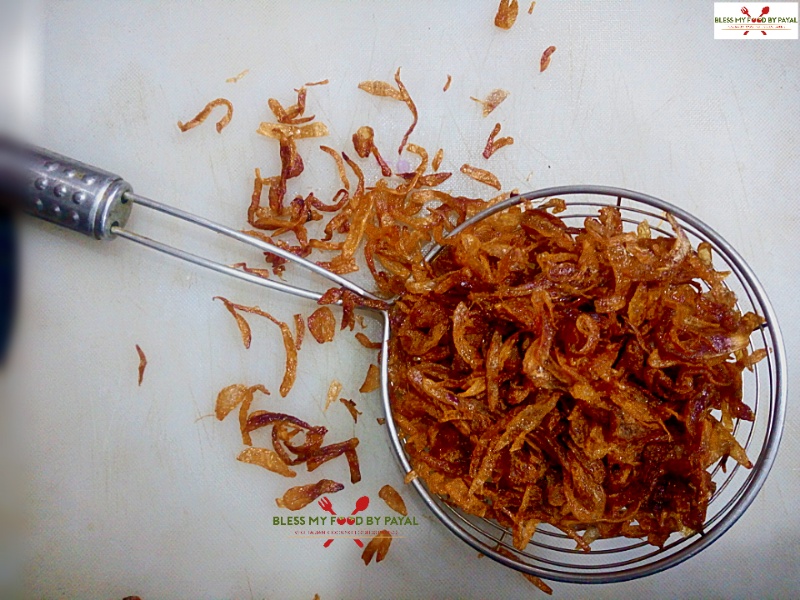 Here's the recipe please…
YouTube – Onion barista
INGREDIENTS
Onion – 1 kg or as much you need
Oil for frying (Quantity of oil depending upon quantity of onions)
METHOD
1. Peel the onions and and cut them into halves. Slice them as thin as possible to yield crispier barista. Make sure that you should cut them evenly.
2. Heat oil in a pan and when the oil is medium hot, add onions in it. If you making onion barista in large quantity, then add as much onions as the pan can easily adjust. Don't overcrowd the pan.
3. Let the onions fry and you keep on stirring them.
4. After couple of minutes the onions will become translucent.
5. After some more time, they will turn slightly pink in color. Keep stirring.
6. After some more time, the edges of onions will begin to turn brown. Keep stirring.
7. At last, the onions will turn brown. Don't make them extreme brown because even after removing the onions from the oil, their cooking process will keep on continuing being extremely hot.
8. Take the onions out from the oil and spread on some paper nepkin so that the excess oil is soaked.
9. Let them turn cool completely. Onion barista will become crunchy.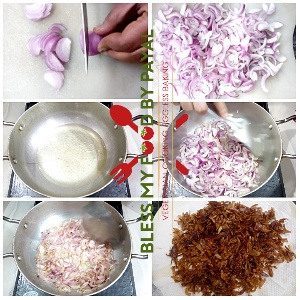 Use it in the recipe asking for onion barista.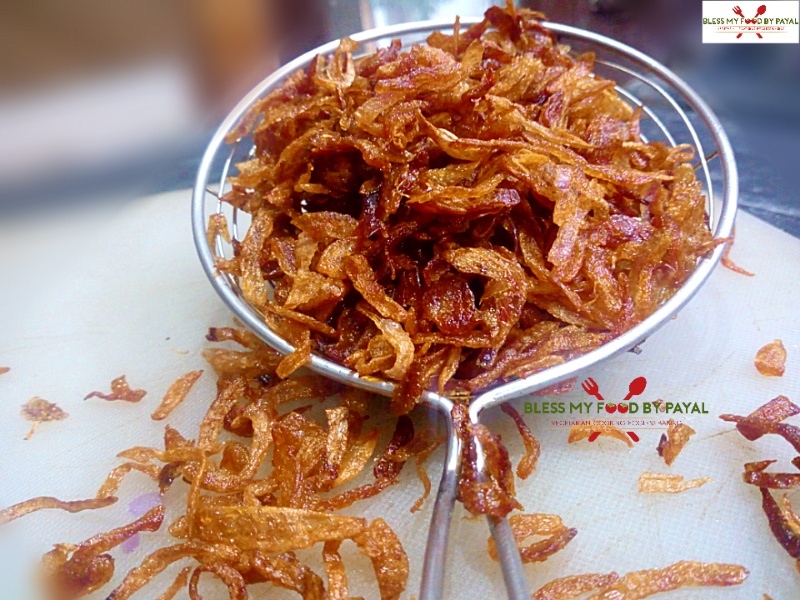 how to store onion barista
store onion barista in airtight container and place it in refrigerator for couple of days.
If you don't know when you will require them, then transfer onion barista in some zip lock bag and place in freezer. It will stay good from about an year.
NOTE
* The leftover oil, in which onions were fried, can be used in making vegetables. Like if making onion barista for making biryani, use leftover oil in biryani. Your biryani will become more flavorful.
Feel Free To Ask Queries, If Any…
Regards
PAYAL BALI SHARMA
SHAILENDER SHARMA