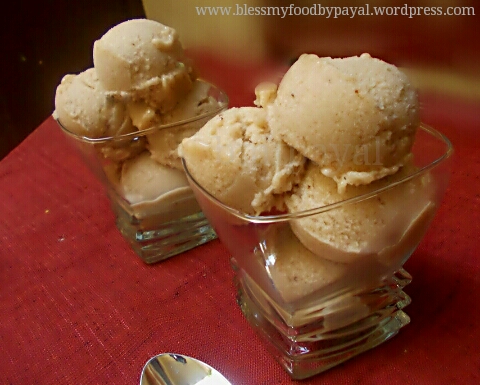 04 Apr

One Ingredient Ice Cream | banana ice cream

One Ingredient Ice Cream | banana ice cream with step wise pictorial recipe.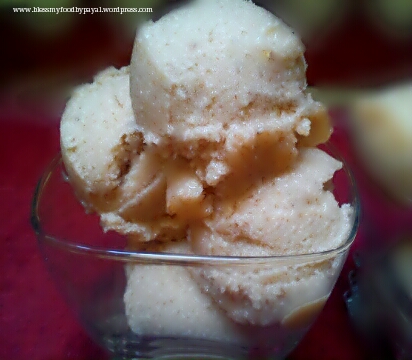 With the arrival of summers, arrival of ice creams are also on the high velocity. Although there's no specific season to enjoy ice creams but summers have more tendency to attract us towards ice creams.
With a huge variety of flavors and colours, ice creams are always favourite of all irrespective of age and season. But you need lots of efforts and expensive ingredients to make a delicious ice cream. And don't forget about the calories.
But here in the present recipe, i will tell that how to make an ice cream with just One ingredient. And believe me…
The digit 'One' honestly means One.
No typing error….
It's true….
I repeat…. just ONE INGREDIENT.
And this is not the only part of this recipe, which is surprising, but in addition, the other surprising thing is that it can be made ready in less than one minute.
So give your ONE minute….
….in reading this recipe and make this delicious ice cream in ONE MINUTE….
…..with just ONE ingredient.
And that show stopper one ingredient is….
None other than our favourite…
"BANANA"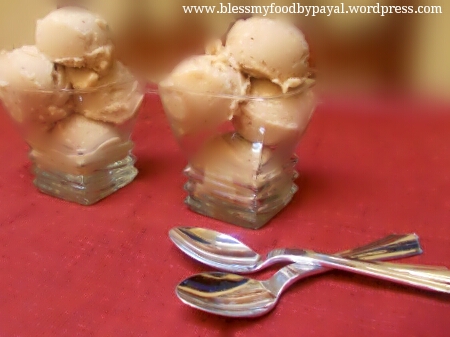 This recipe is amazing in terms of many things.
No added sugar but only natural sweetness, no preservatives, no time consuming, economically highly cheap and best in taste.
So let's go for the recipe……..
INGREDIENTS
Ripe bananas 4
SPECIAL EQUIPMENT
Food processor/blender
METHOD
1. Take 4 ripe bananas. They should be sweet and soft.
2. Peel the bananas and cut them roughly.
3. Put the bananas in a zip lock bag. You can also use an airtight container.
4. Freeze the banana pieces for atleast 3 – 4 hours, preferably overnight.
5. Take the frozen bananas out from the ziplock bag and blend them in a food processor or powerful blender.
6. Start blending the frozen banana till they turn out to be creamy.
7. You will get this texture almost within a minute.
8. Check the banana, if still you find some little chunks of banana, just go ahead with blending but don't overdo.
9. Your Banana ice cream is ready.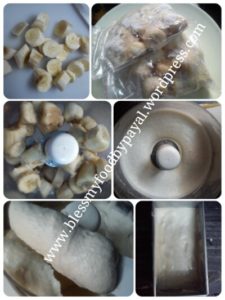 It's all yours…….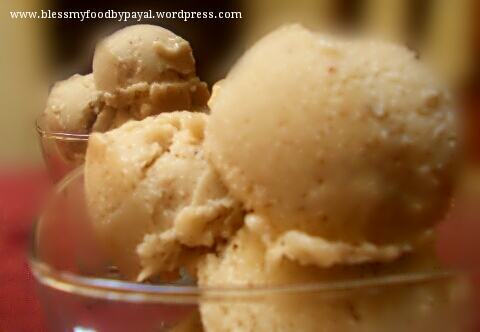 NOTE
1. Although you can immediately serve the ice cream directly from the blender but it will be VERY SOFT at this stage.
2. I will STRONGLY suggest you to  transfer the ice cream to an airtight container and freeze until solid, like an ice cream is supposed to be.
3. If you don't have an air tight container, don't feel low. Keep the ice cream in any container having a lid. Close the lid tightly and place the container in some polythene bag. Close the bag with the rubber band.
4. Although ONE INGREDIENT is the highlight of this ice cream but if you want to make it more charming and stunning then feel free to give a chance to-
Spoonful of peanut butter
Drizzle of honey
Sprinkle some tutti fruity
Handful of chocolate chips
A few nuts……and
…….whatever your ideas and creativity allow you to do.
Also have a look at the other Ice Cream recipes in this blog.
Regards
PAYAL BALI SHARMA