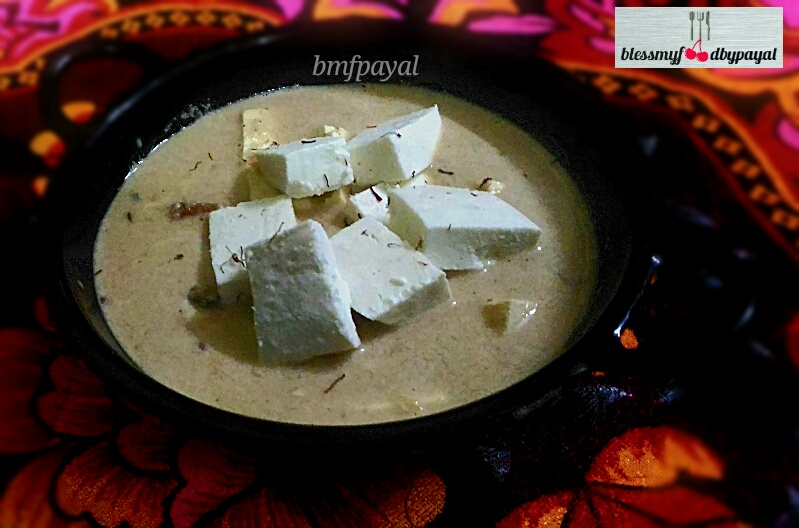 09 Mar

Mughlai Shahi Paneer Korma | Shahi Paneer Korma recipe

Mughlai Shahi Paneer Korma | Shahi Paneer Korma recipe with step wise pictorial method.
This tempting paneer recipe is originated from the period of Mughals – very rich in taste, aroma and appearance. White symbolizes peace & purity, and this recipe, made in white gravy, has all the ingredients leading to hearts ease.
Paneer cubes twinned in the rich paste of almonds and garnished with saffron, this is truly a Royal dish in the real sense of the term.
Thank you vegrecipesofindia for this wonderful recipe.
INGREDIENTS
For Almond Paste:
Almonds (badam) – 24-25
Water (for soaking or boiling) – as per need
Water for making paste – 2-3 tbsp.
For Onion Paste:

Onions – 2 medium onions
Water for cooking – 1/4 cup or more, if needed.
Other Ingredients:
Paneer (cottage cheese) – 250 gms
Ginger garlic paste – 2 tsp
Cumin seeds (Jeera) or Caraway seeds (shahi jeera) – 1 tsp
Bay leaf – 1
Black Pepper (kali mirch) – 1/4 tsp
Coriander powder (dhania powder) – 1/2 tsp
Cinnamon (dalchini) – 1 inch
Cardamoms (elachi) – 3-4
Cloves (lavang) – 3-4
Mace (javitri) – 2-3 strands
Green chili – 1
Curd – 6 tbsp
Malai or cream – 1/4 Cup
Rose water or kewra water or half of both – 1 tsp
Water – 1 cup
Salt as per taste
Desi ghee – 2 tbsp
Saffron for garnishing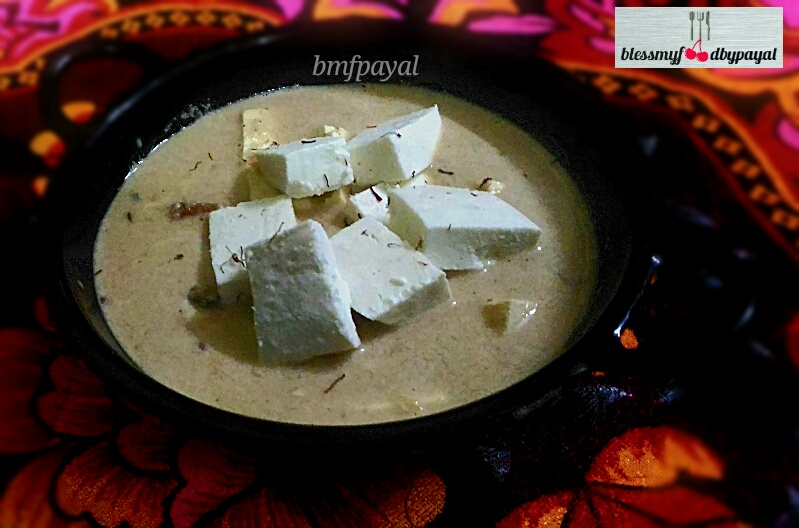 METHOD
1. Making of Almond Paste :
Firstly blanch almonds by boiling them in hot water. You can also use the almonds soaked overnight. Then blend these blanched & peeled almonds to paste. You can use 2 – 3 tbsp of water while blending to make a paste smooth. Keep aside.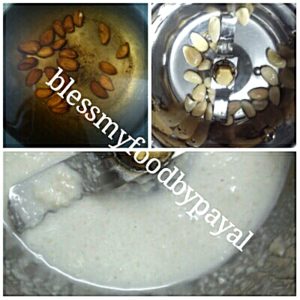 2. Making of Onion Paste :
Roughly chop 2 onions and add them in a pan with 1/4 cup of water. Put the pan on fire at low, stirring at intervals, until onion softens. You can add a bit of more water if the water dries up while cooking onions but onions haven't turn soft yet. Add these cooked onions in the blender and blend to a smooth paste. Keep aside.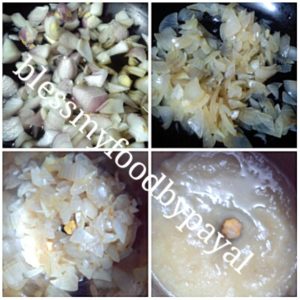 3. Making of Ginger Garlic Paste :
If you don't have this paste, then finely crush 5 to 6 garlics with a small piece of ginger in mortar-pestle. Keep aside.
4. Take  curd in a bowl and whisk well till smooth. Keep aside.
5. Take a pan and add ghee in it. Put it on a flame.
6. Add cumin seeds, bay leaf, cinnamon, cardamoms, cloves & mace. Saute the spices for 20 – 30 seconds.
7. Add ginger garlic paste and stir well.
8. Now add the onion paste and saute the onion paste till you see some fat releasing from the sides and the paste thickens. (Don't let this paste turn brown as we are preparing a white gravy).
9. Now add the almond paste & stir continuously and saute for two minutes on a low flame.
10. Add slit green chilies, black pepper, salt & coriander powder. paddle again & saute for a minute on a low flame.
11. Now it's a time to add the curd but don't add entire curd in one go. Just add 1 to 1.5 tbsp of curd in one time on a low flame.
12. Stir to incorporate the curd with the rest of the mixture.
13. Likewise add the rest of the curd in 3 -4 installments. Keep stirring every time to incorporate the curd with the mixture.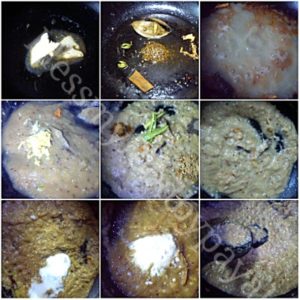 14. Now add 1 cup of water & stir very well so that the whole gravy has a uniform consistency. Let it summer for 4 to 5 minutes on low flame.
15. Add the paneer cubes and stir it gently.
16. Add malai & stir again.
17. Switch of the flame and finally pour Khewra water. Mix very gently.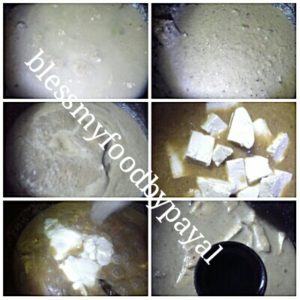 Serve hot with chapati or rice after garnishing with saffron.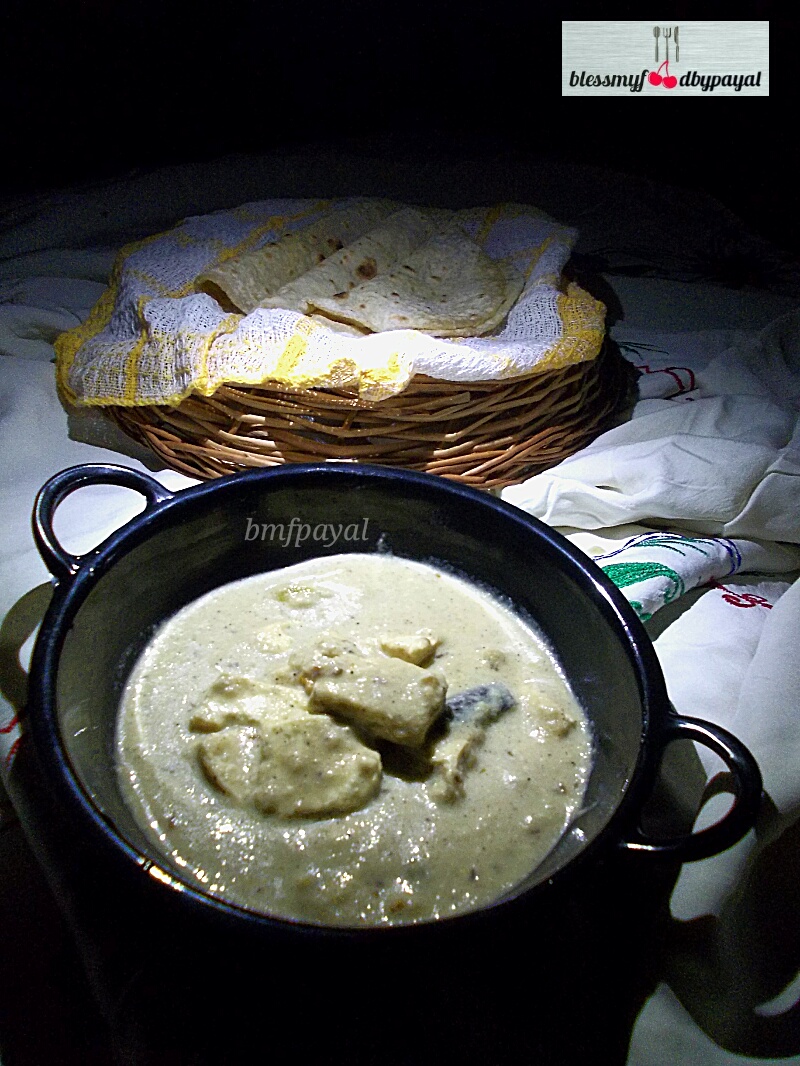 Feel Free To Ask Queries, If Any…
Regards
PAYAL BALI SHARMA
SHAILENDER SHARMA