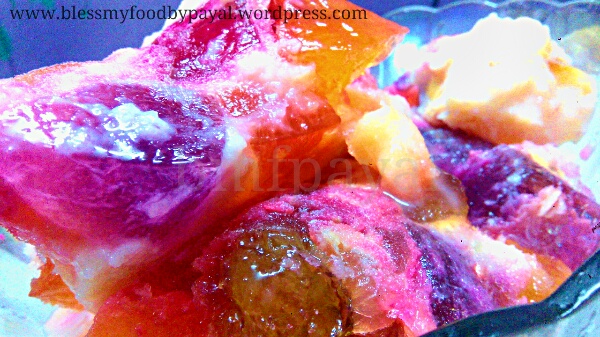 20 Mar

Motley Jell O

Step wise pictorial recipe of Motley Jell O.

(Name given by us)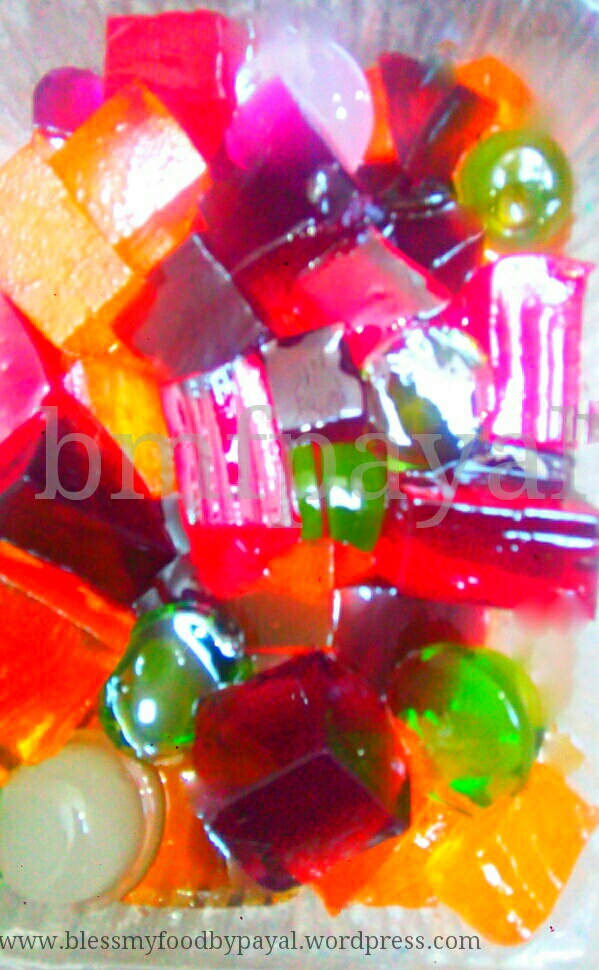 'JELLY'….
Whenever this word is uttered, the first thing about the jelly which strikes to our mind is its soft touch and beautiful translucent variety of colours…
….and just imagine with us please…
' a box full of different coloured Jellies under a sun shine'…
O God! This is mesmerizing.
Although we have spoken very high about Jellies and we are very honest with our words, but frankly speaking, these were our views only about the appearance and feel of touch for the Jellies. But we both never an ardent fan of it's taste prior to the moment when we took first spoon of this amazing dessert.
But our son is a huge fan of Jellies and he oftenly told us to make it…..and we do.
As far as this recipe is concerned, it was in our wishlist for the last about 3 months and one day we were about to kick start it….but suddenly we said NO.
Just wait.
As this recipe is all about bringing all the shiny colours together in one dessert, why not to reserve it for the day when the entire nation (India) plays with all the beautiful colours on an aupecious festival 'HOLI.' !!!!!
Initially we wanted to get this ready on the plate exactly on the day of Holi but being a blogger, we are duty bound to bring the receipes well in time so that our readers can also get benefitted by them and if we will post it exactly on the day of Holi, our readers won't be able to make it a part of their Holi dessert.
Comewhatmay, we can never disappoint our dear readers.
So here the recipe goes. We still have 2 days in Holi. Let's celebrate the festival of colours with the picturesque colours of Jellies.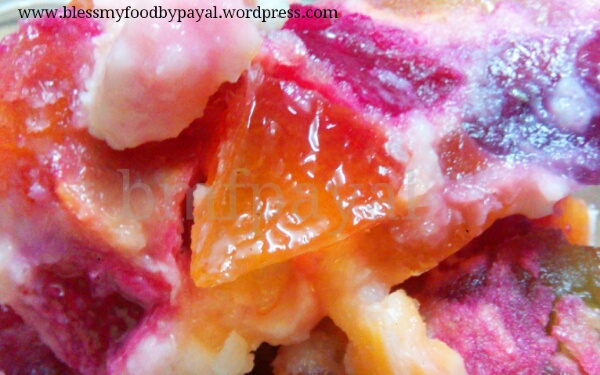 INGREDIENTS
Different coloured Jelly Boxes
(We used Mango, apple, lemon, strawberry, orange – one box of each flavor)
One can of sweetened condensed milk.
( i used Homemade Milkmaid)
Agar Agar powder – 5 tsp
(You can use the gelatin)
Boiling water 1 & half cup
Cold water  1/2 cup
METHOD
1. Follow the instructions, EXCEPT ONE, given on the back of Jelly packages and make your Jellies in separate boxes.
(The one instruction is 'not to follow the quantity of water mentioned in the instructions'. Use only half of the quantity of water so that you get firm sliceable jelly.Jelly packs are directing to use 500ml of boiling water but we used 250ml only.)
2. Place all the jelly boxes in the Fridge for several hours. We kept them overnight.
3. Once the Jelly has set, bring first bowl from the refrigerator and cut the Jelly into cubes with the help of a knife. Repeat for all the boxes of jelly.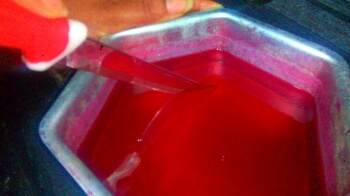 4. After cutting all the jellies into cubes, place them back to the refrigerator otherwise it will start releasing water.
5. Take a big bowl and add 1/2 cup of cold water. Sprinkle agar agar onto water and let it sit for a minute or two.
6. Boil 1 & half cup of water in a separate bowl and add it to the agar agar added water. Stir to dissolve.
7. Then add the can of condensed milk. Stir and let it cool in the refrigerator.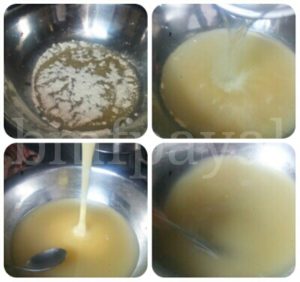 8.  Once the condensed milk mixture has cooled, pour it over your Jelly cubes and again place it in the refrigerator for cooling down.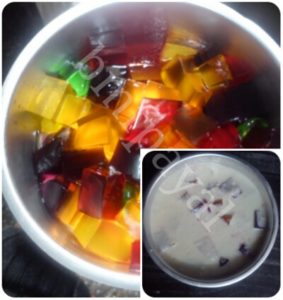 9. Once cooled thoroughly, gently mix it and serve in the glass or bowl.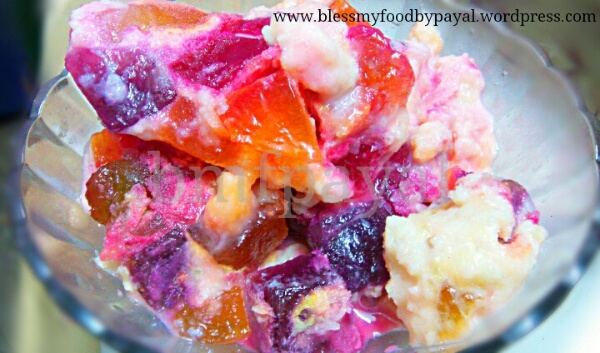 …. And please your guests with its stunning beauty.
Regards
PAYAL BALI SHARMA
SHAILENDER SHARMA