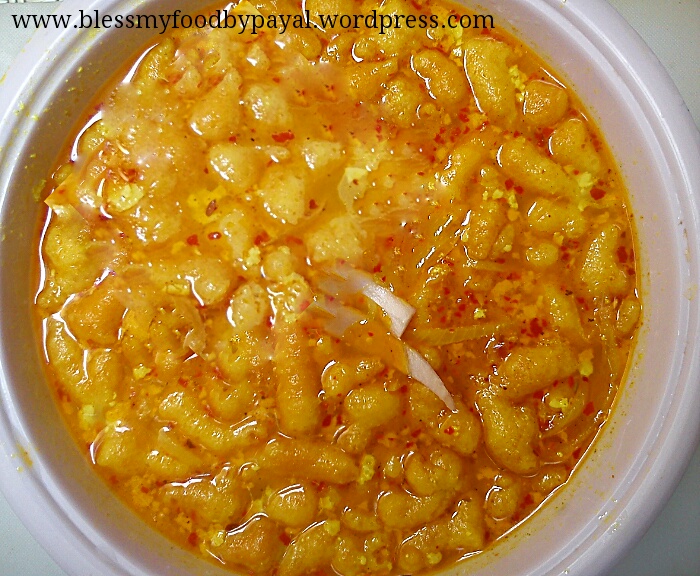 27 Apr

Mongra Curry | how to make mongra curry at home

Mongra Curry | how to make mongra curry at home in 10 minutes with step wise pictorial recipe.

Being a working woman, i am always in search of something which is easy to make, less time taking and be made with the least ingredients available at home. Although there's no paucity of such recipes which take few minutes in cooking but they have a long preparation time. For eg. Dahi wale Alu also needs about 10 minutes in cooking but for that you need to have boiled potatoes in hand which is time taking. Likewise Some lentils (daals) are there who needs almost very less preparation time but their cooking time is a lengthy process.

So in such a state, making something within few minutes (both preparation & cooking timings inclusive) was a challenge for me & finally i won over it with this Mongra curry.

One thing important to mention here is that only timing was not in my consideration only but taste was also the priority. And when this curry was made by me, it was superhit in terms of taste.

Although i consider to make it whenever i am in a hurry or some guests press the door bell of my house at wee hours & they are supposed to have the lunch/dinner at my place and there's no time to make or arrange the long drawn recipes…… but my family want this curry irrespective of time & schedule. They want me to make it even when i can spend hours in kitchen & the pantry is full of ingredients. They will be more pleased if i make it on every alternate day.

I am understanding that i have gone too far in writing but it was all needed to make you understand how it is helpful to me. Anyhow, i seek your pardon for such a detailed & lengthy introduction.
Now let's go for the recipe….
INGREDIENTS*
Mongra** 1 cup
Curd*** 1 cup
Onion(chopped) 1 big
Cumin seeds 1 tsp
Red chilli powder 1 tsp
Turmeric powder 1/2 tsp
Salt**** as per taste
Oil 2 tbsp
Water***** as per need
TOTAL TIME NEEDED
10 minutes
METHOD
The Star ingredient of this recipe is Mongra.
1. Heat oil in a pan & add cumin seeds, onion, red chilli powder, turmeric powder & salt. Stir fry.
2. Stir for just a minute so that onion should not loose it's crunch.
3. While the onion was stir frying, within that one minute take a bowl, add curd & whisk it rapidly.
4. Immediately add the whisked curd in the pan and keep stirring for about a minute or two. Do not stop otherwise curd will crakle down.
5. Once the curd is mixed properly, let it cook untill it releases oil from its edges.
6. When the curd is cooked, add water & let it boil.
7. When the water comes to boil, add mongra, mix it in the curd gravy well, just one more boil and…..Mongra curry is ready.
Serve with Rice or Chapati.
NOTE
*As already mentioned that this is my prompt recipe and i usually make it when having a shortage of time so using very very very basis ingredients.
However you can add any masala of your choice.
**Mongra is a kind of crunchy snack which is sold in the sweet shops usually. This is NOT that Mongra which we add in curd & make Raita. You can have this Mongra as it is with or without a cup of tea even. If you also find yourself in need of this recipe at any point of time, no need to rush to the market immediately to buy mongra. You can buy it well before time and make it whenever needed.
Some important facts about Mongra:
a. During summers, you can preserve it for the whole week even without refrigeration.
b. During winters, One month is the minimum time of preservation. It may be retained for more than one month.
c. During the rainy season, it can also be preserved for about one month but in air tight container otherwise it turns soggy.
***Prefer to use slightly tangy curd for better taste. 1 day old curd is a better choice. But if you have only a fresh curd, no issues. Just place the curd out of refrigerator for about 1 hour prior to preparation of curry. In short, tangy curd will be better over fresh sweet curd.
****Be careful while adding salt because mongra too have a salt in it.
*****Add water depending upon your liking and requirement for thickness. Serving with rice needs little extra water in comparison to when serving with chapati.
Regards
PAYAL BALI SHARMA