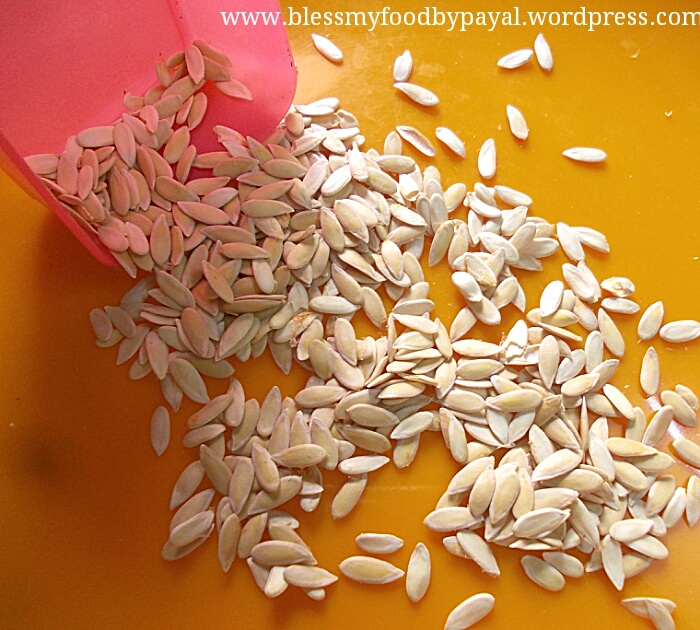 22 Jun

Melon Seeds : Know them, Not to throw them.

Melon Seeds : Know them, Not to throw them.

A detailed post on Melon seeds, their usage and health benefits. However let me clearify that these seeds are of Melon and don't confuse yourself with the watermelon seeds.

Hindi name for Melon seeds is Magaz.

Melon is a cooling and nutritious fruit found during summers. It is refreshing and healthy being low in calories and having high water content, .

Melon carries the seeds inside, which most of the people usually throw away after eating the melon. These seeds are generally cream white and hard shelled with a soft white kernel inside.

But once you will come to know that how beneficial & useful these seeds are, you are never going to discard them. So let me explain the benefits & uses of Melon Seeds:

HEALTH BENEFITS

Melon seeds reduce cardiovascular risks, boosts immunity, help in normalizing blood-fat levels and contain essential nutrients for wound healing.

The holdings carried in melon seeds are believed to help sustain healthy skin, nails and nerves.

It also fights against osteoporosis and promotes healthy teeth and bone growth.

Melon seeds contain high amounts of antioxidants, folic acid, magnesium, zinc and protein.

The seeds of Melon are rich in  vitamins C and E, iron, calcium, omega-3 fatty acids and unsaturated oils.

CULINARY USES

Melon seeds added to the palette of traditional halwas, various sweets, fudges, fruit puddings, savoury snacks, Confectionary, health drinks and cereals.

In the form of a paste, it adds to the consistency of gravies for curries.

It is best to be used as mouth fresheners when mixed with nuts and spices.

These seeds are used to season various flours for making exotic breads.

Melon seeds are used in the making of various types of cakes.

These oval seeds can simply be roasted for a tasty delight.

AVAILABILITY & PROCESSING

The dried melon seeds are easily available in the stores with the shells or peeled.
But if you can have your own seeds without spending much on the store brought, then there's nothing like that.

So let's begin with the process….

1. Scrape out all the seeds from inside the melon using a spoon with a sharp edge. This will also remove the fibrous strands, the sticky insides, from the melon.

2. Place the seeds in a colander and hold it in a sink while running warm water over the seeds. You can use your hands to remove chunks of strands.

3. Lay the seeds flat in a plate. Let the seeds dry under a sun for couple of hours.

4. After the seeds are dry, you just peel* them with the fingers. Can also try plucker for easy peeling.

5. Now the white soft kernel is out of the hard shell to decorate your food and improve your health in many ways.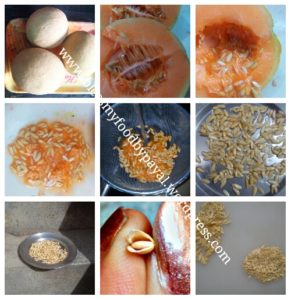 NOTE
*Peeling melon seeds is an hectic job because each seed is to be pressed one by one to bring out a kernel. If you are willing to go for this tedious task right at the moment, then bravo. 🙂
Otherwise, just store these dry seeds with the shell and only peel the requisite quantity of seeds prior to their use.
STORAGE
melon seeds must be stored in an airtight container and keep it in a dry and dark place.
Use them to garnish your homemade Sweets
Regards
PAYAL BALI SHARMA