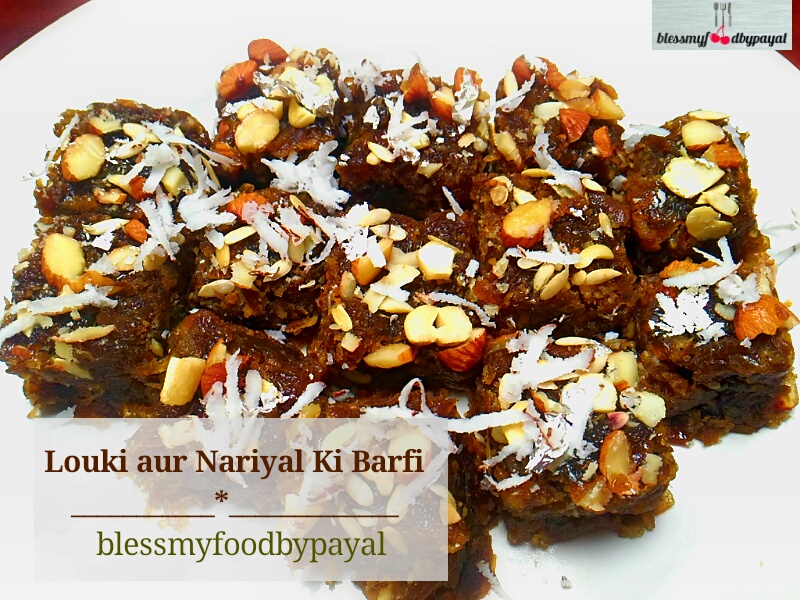 06 Aug

Louki Aur Nariyal Ki Barfi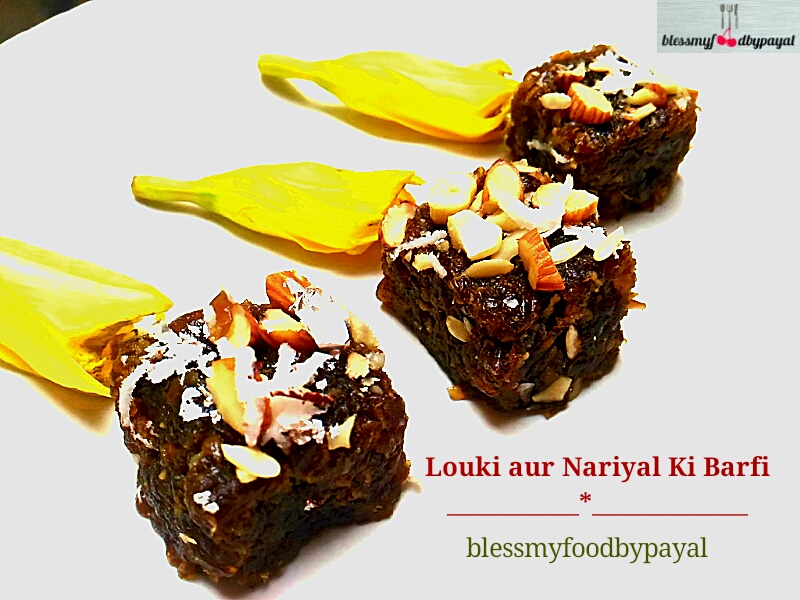 Stepwise pictorial recipe of Louki (Bottle Gourd) aur Nariyal (Coconut) Ki Barfi.
We made this Louki Aur Nariyal Ki Barfi couple of days back just for the purpose of a trial. We had an idea that it will be just good. But when we tasted it, it was like thousands and thousands of Wows.
In a couple of days, the festival of Rakdha Bandhan was arriving. You can well imagine the importance of Raksha Bandhan and we wanted to make the best sweet. On that very moment we decided to make this sweet on the occasion of Coming Rakdha Bandhan.
Our readers outside India must not be knowing about Raksha Bandhan. It is a celebration of relation – that of a brother and a sister. This relationship is not celebrated the way it is in India. A festival, known as Raksha Bandhan is celebrates the bond of affection between brothers and sisters. It is a day when sisters tie a thread (named as Rakhi) on the wrist of her brother and both pray for each others' well being and wish for each others' happiness and good will.
So you too make this tasty sweet for any of the occasion and festival. It is made with the basic ingredients and believe us, no one can ever imagine that it is made up of Louki/ bottle gourd.
VIDEO RECIPE :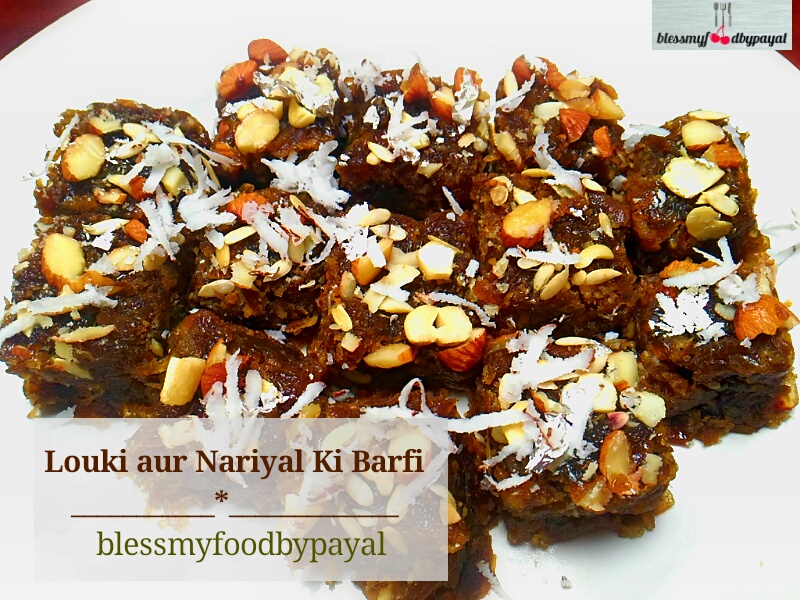 TEXT RECIPE
INGREDIENTS
Lauki/Ghiya/Bottle Gourd – 1 Kg
Coconut (freshly grated) – 1/4 cup
Sugar as per need
Desi Ghee/ Clarified Butter – 2 tbsp
Green cardamom (crushed) – 5-6 skin Khoya – 1/2 Cup
Dry fruits (roughly chopped)
For Garnishing
Dry fruit of your choice (we used almonds, Melon Seeds/Magaz & Cashews)
Grated coconut
Silver leaves / chandi ka vark
YIELDS
25-30 Pieces of barfi
METHOD
1. Remove the skin and grate the louki with the help of a grater or in the food processor. Also grate coconut, chop dryfruits and grease a steel plate with oil or ghee and keep aside.
2. Take a non stick pan, add the grated lauki and bring to low heat.
3. Stir from time to time to avoid the grated lauki from sticking to the pan.
4. The lauki will become limp and start to lose water. Keep cooking till most of the water evaporates.
5. Add sugar and cook louki for some more time. At this stage, louki will release more of its water. Keep on cooking and stirring louki till the sugar melts and gets absorbed.
6. Once the lauki starts to get dry, add in grated coconut and chopped dryfruits (leaving some of the both coconut and dryfruits for garnishing) and stir for 1-2 minutes till the coconut and dryfruit is mixed properly in the louki.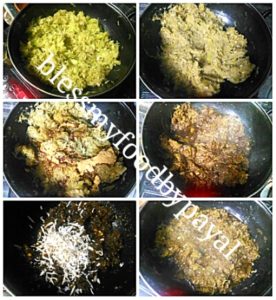 7. Add Khoya and mix until it melts in louki.
8. Add in ghee and Cardamoms and mix it properly.
9. Keep cooking louki mixture at low temperature until it reaches a dough consistency.
10. Now remove the pan from flame and quickly spread the mixture evenly on a pre-greased plate.
11. Sprinkle the left of the dryfruits on top and gently tap them so that they stick to the mixture.
12. Keep aside to cool down completely.
13. Once the mix cools down, decorate it further with silver leaves and then cut into desired shapes.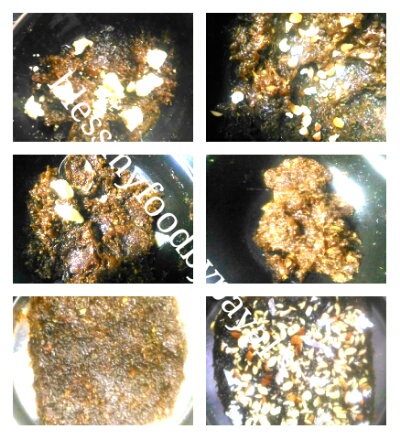 14. Your Louki aur Nariyal Ki Barfi is ready. You can serve as it is or place it in the refrigerator and enjoy chilled for atleast a week.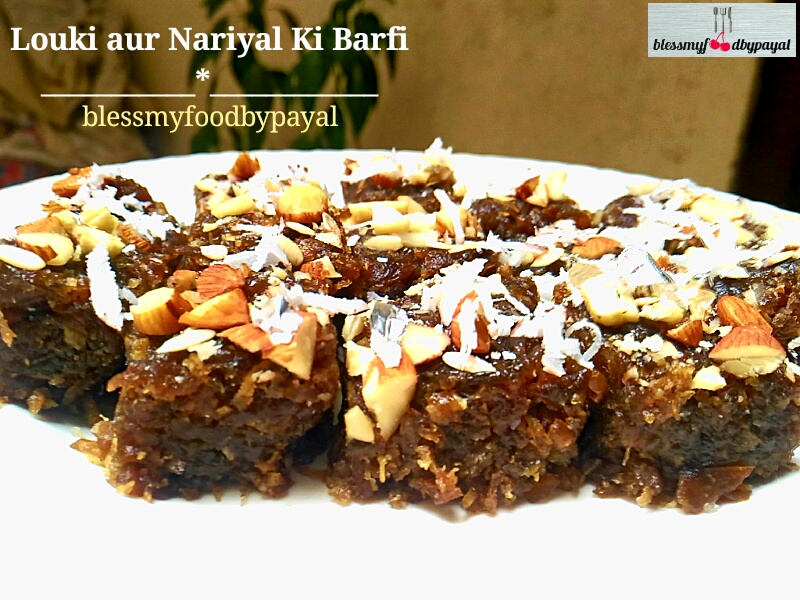 NOTE
* You might be thinking that if it is Louki ki barfi, then why it is Dark brown in colour instead of Green. This is dark brown because we have used Brown sugar instead of white one. However you can use white sugar. In that case, your barfi will be of Green colour instead of dark brown.
* In place of khoya, you can also add milk powder or condensed milk. In case of condensed milk, be careful while adding sugar. You may or may not need to add sugar depending upon your liking for sweetness.
* You can make this Barfi even without khoya or milk powder or condensed milk but probably the richness in the taste of Barfi will be missing.
* Use of Coconut is also optional. Drop it if you don't have coconut. In that case, it will be named as Louki Ki Barfi only.
*With the same method, you can make louki ka Halwa. You may or may not use coconut. Only difference will be don't cook the louki mixture until it reaches a dough consistency. Leave it bit earlier.
Feel Free To Ask Queries, If Any…
Regards
PAYAL BALI SHARMA
SHAILENDER SHARMA