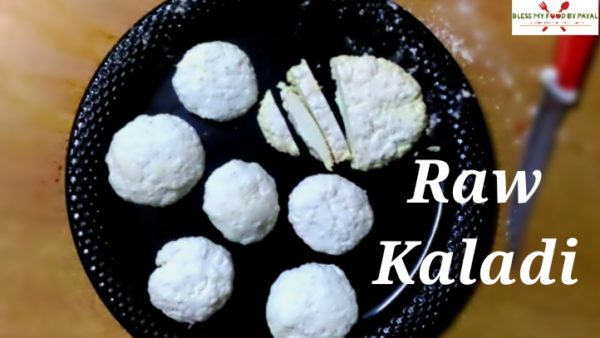 17 Feb

kaladi | kalari cheese recipe | famous food of jammu and kashmir

kaladi | kalari cheese recipe | famous food of jammu and kashmir is here with step wise video and pictorial recipe. This is basically a recipe of Kaladi which is Raw.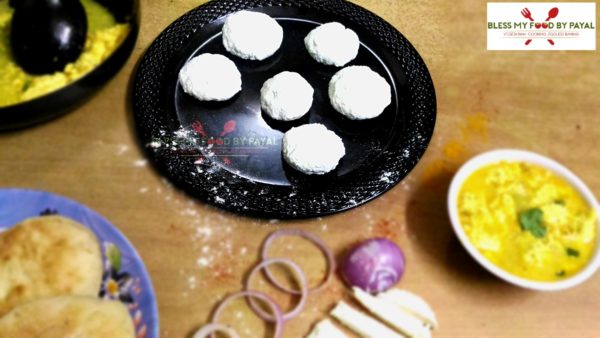 Kaladi or also spell as Kalari (Maish Krej in Kashmiri language) is an authentic Dogra cuisine originated from the Ramnagar area of Udhampur district of Jammu province of Jammu & Kashmir State & is not available anywhere in the world. Raw Kaladi is now prepared in almost every sweet shop of Jammu on daily basis.
What is Kalari / Kaladi
usually made from cow's or buffalo's milk, kaladi is extremely tasty and legendary food of Jammu, which is not to be mistaken as Mozzarella. This is a ripened cheese which is a very dense & is usually sauted in its own fats.
Popularity of Kaladi
Visitors who come to Jammu and are aware or being made aware by locals about this street food can't afford to miss a bite of Kaladi at any cost.
One incident narrated to me long back by my late mother-in-law, is that once some Prime Minister of India (I don't remember which one) visited Jammu and he was served with Kaladi in the dinner. He liked it this much that he told his chefs to learn the recipe and on his departure, he got few Kilograms of Kaladis packed and took them away for his family.
I think this is sufficient enough to make you understand how much royal this cuisine is.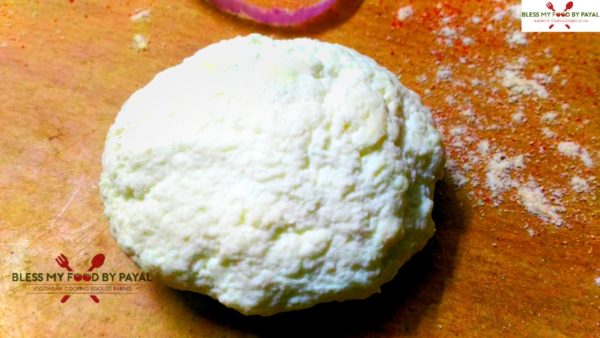 Not only kaladi, but jammu and kashmir is known for many lip smacking recipes and one of them is rajma masala. Also the most magnificent food of Jammu and kashmir is Nadru Yakhni, the recipe of same will also be found in this blog. I hope, you will love to visit these authentic cuisines from the land of jammu and kashmir.
Coming back to the Kaladi, let me tell you that we have developed this recipe on the basis of guidelines sought from the milk vendor Raju, from whom we buy our daily milk.
VIDEO RECIPE of Kaladi
INGREDIENTS for Kaladi
Raw Milk – 2 Litres
(We have used Buffalo's. You can use Cow's milk also)
Whey Water – 2 Cups
(Neither too fresh nor too old. Preferably 3-4 days old)
OPTIONAL INGREDIENTS
(You will find the reasons for mentioning these optional ingredients under the head "Note" in the body of the post. Dear readers are requested not to skip the Notes section, as it carries very vital information regarding preparation of Kaladi)
Citric Acid / Taatri – 1 tsp
Or
Juice of half Lemon
YIELDS
6-7 Kaladis
METHOD
1. Boil whey water and keep aside.
2. Take a deep pan and add milk in it.
3. Place the pan on gas stove on high flame and warm the milk. You don't have to boil the milk. We repeat, don't boil the milk.
(TEST: To ascertain whether the milk is sufficiently warm is to put your finger in the milk. When you can feel the warmth but no trouble in keeping the finger inside milk for atleast 15-20 seconds, it is done.)
4. The moment milk is warm, immediately switch off the flame. Better remove the pan from gas stove.
5. Pour the boiled whey water in milk and start stirring. The temperature of milk will rise as we have added boiling hot whey water in it, so nothing to worry now.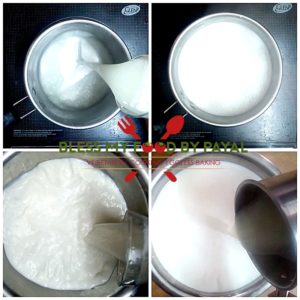 6. After 2-3 minutes of stirring, you will see that the milk will separate from the water. The texture of this milk will be quite creamy.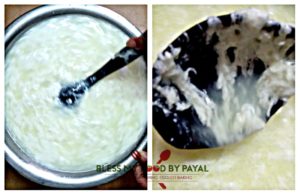 7. Then take a handful of this separated creamy milk floating over the water on your palm, wisely press it to squeeze the water and give it a shape of tikki. This is your kaladi.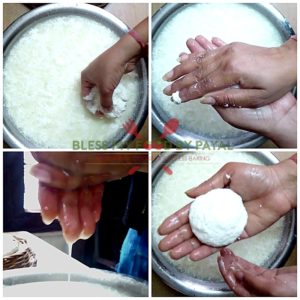 8. Keep making all the kaladis and arrange them at a place where there is a way out to drain the leftover water present in the Kaladi.
(We have used some old bamboo basket already available at our home. You can try other methods like use some wide sieve or inner lid of rice cooker or whatever your imagination allows you to think. The only purpose is to create a space for water to drain out from kaladis).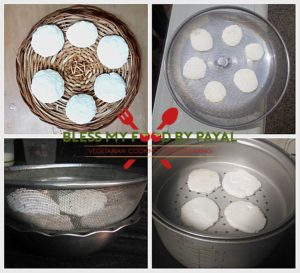 9. At last when very less floating curdled milk is left in the pan which is not convenient to collect with hands, then pass the liquid through a sieve, hold the collected material within the sieve and make your last Kaladi.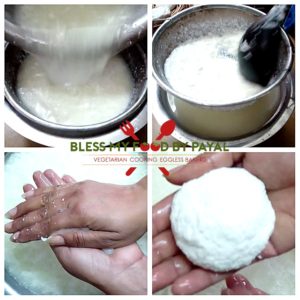 10. Kaladi may take 3 to 4 days in getting dry completely, rather more days during winter. However after couple of hours when Kaladi stops dripping water, you can transfer it in refrigerator.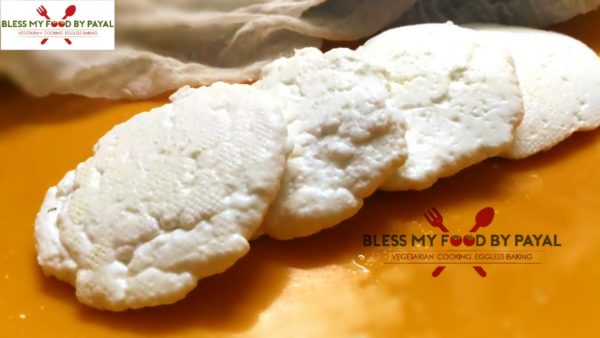 Once Kaladi is completely dry, make it the following ways:-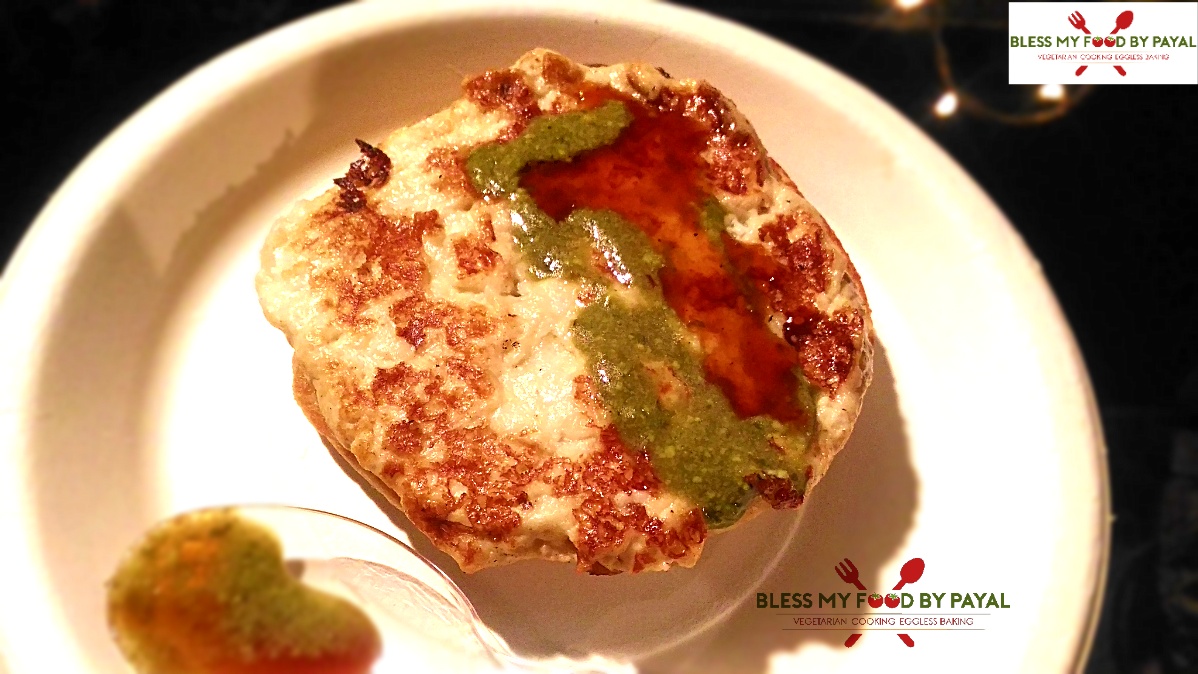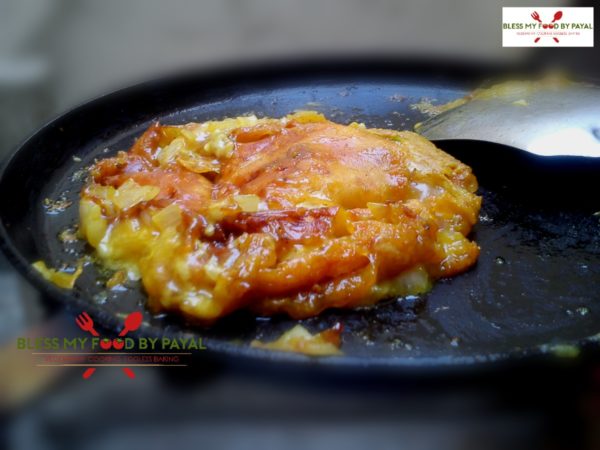 NOTE
* Kaladi made of Buffalo's or goat's milk will be white in colour whereas Kaladi made of cow's milk will have a pale yellow shade. Also some makers make Kaladi out of buttermilk. This kind of Kaladi is not much popular in jammu but is being made in the surrounding vicinity. Such Kaladi is also having pale yellow color.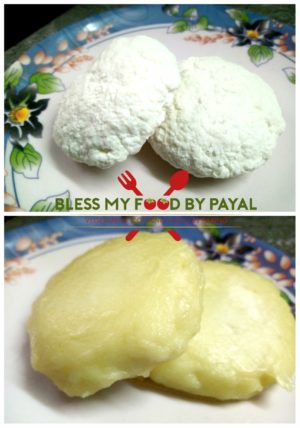 * You may reduce or enhance the quantity of milk depending upon your need of number of Kaladis.
*In this recipe, the quantity of whey water is given as 2 cups. However you don't need to go by measurements strictly. The purpose of whey water is just to curdle the milk. So even if you have less or more whey, you can use it without much calculations. It is, however, important that whey should be of sufficient quantity capable to curdle the milk.
* Using only whey water is the traditional and appropriate method to curdle the milk for making Kaladi, so preference should be given to this Ingredient. But as the whey water is not so much sour, at times (especially during winters) the milk doesn't curdle inspite of adding liters of whey water. However there's a rare chance in summers for the milk not to get curdled.
So if you come across same situation and your milk has not been curdled even after waiting for 2-3 minutes after adding whey water, then, while the milk is still little warm, you are suggested to switch over to Optional Ingredients. Do keep Citric Acid/Taatri or Lemon available with you. Immediately add citric acid/taatri into the milk. Alternatively, you can squeeze one lemon in milk to curdle it.
However avoid using Vinegar (as suggested by our milk vendor).
* We have mentioned in para 10 & 11 herein above that Kaladi takes about 3 to 4 days in getting dry and only then cook it. However we would let you know that the shopkeepers who prepare Kaladi start selling immediately after 2-3 hours of making it and they don't wait for 3-4 days to get it dried. And also Kaladi is being cooked by many even when it is still wet.
We advice you to wait for letting it get dried first. But if you can't wait for 3 days, then at least give it 8-10 hours to drain whole of its water. Even no harm in drying the Kaladi under the sun for couple of hours, though shopkeepers don't do like this.
*If due to lack of care you forget to switch off the flame at right time and as a result milk boils or for any other reason you missed the shot, then don't make kaladi out of it. Because kaladis made up of boiled and cuddled milk may look like kaladi but will taste like cottage cheese/ paneer only.
In such a situation, it is better to make cottage cheese/paneer/chenna as the method of making it is almost similar with a minute difference. Though you will miss the chance to relish Kaladi for the moment, but atleast there's a sign of relief that, atleast, your milk has not gone waste. Let it be Paneer this time.
*Don't discard the leftover water as it is full of nutrition and proteins. We use this water for kneading the dough which makes the chapatis very soft. This time we made rice in this water.
*The size of your kaladi is your personal choice. We made medium to big sized 7 kaladis out of 2 Lts. of milk.
HOW TO PRESERVE KALADIS
Simply placing the Kaladis in the refrigerator is sufficient. Don't put them in any airtight.
And there will be no harm to Kaladis for many days if you leave them out of refrigerator, but during winters only.
TEXTURE & LIFE OF KALADI
* Freshly prepared kaladis have a soft texture but with each passing day, it will keep on hardening. It may turn out to be very hard like mozzarella cheese while being placed in refrigerator & you will feel it hard to cut them with knife even. But being hard is no issue at all and you can still cherish your kaladi.
* It stays good in refrigerator for 12-15 days or even up to 1 month depending upon climate also. It has also a good shelf life during winters but not much in summers.
* Those new to Kaladi may get confused due to its typical smell while keeping it in refrigerator. But let us clear you that it is the natural smell of Kaladi, so don't consider the Kaladi as rotten. Kaladi has a long life and it becomes non usable only when you find a whitish or greenish fungus over or around it.
Initially we had no plan to create this heading in this post but later we realised that many of our readers, especially those totally unaware about Kaladi, if thinking that there's hardly any difference in the making process of Kaladi and Paneer/Cottage Cheese. So what's new in this recipe?
For those, let us bring few points of difference between the two:-
1. Cottage cheese can be made with any milk, raw or already boiled but Kaladi can only be made of Raw Milk.
2. For making Cottage Cheese, you need to boil the milk, but for Kaladi, only warm the milk. Milk shouldn't go to boiling stage at all.
3. Cottage Cheese is made by curdling milk with lemon, Vinegar or curd even but Kaladi is made by curdling milk preferably with whey water.
4. There's no hard and fast rule & a particular stage to add the ingredient into milk for curdling it to make cheese out of it. But in case of Kaladi, you have to warm the milk first, remove it from the flame and only thereafter can add the ingredient you are using to curdle the milk.
5. Either it be Summers or winters, you don't require to play extra for making Paneer but making Kaladi during winters is somewhat cumbersome job.
6. After milk is curdled for making Cheese, the entire cheena is transferred into muslin cloth to drain the water. However for Kaladi, the round flat balls are made out of cheena and arranged them separately to drain the water.
7. You really don't need to wait for the last drop to dry up before using Cheese whereas Kaladi tastes best when it is dried completely.
8. The milk solids floating over the top will be creamy when you curdle the milk for making Kaladi. But the texture of milk solids for Paneer is crumbly.
9. If your method of making Kaladi fails, you will get paneer at least. But if your method of making paneer (which almost never) fails, you will not get Kaladi. 🙂
10. There must be 1000 ways to cook/prepare/use Cottage Cheese but Kaladi can only be cooked in 3 ways, as has already been suggested in the post.
11. Lastly, you all must have eaten cheese/paneer many a times. But this time, prepare Kaladi, cook it and feel the difference. Who can guide you better than yourself.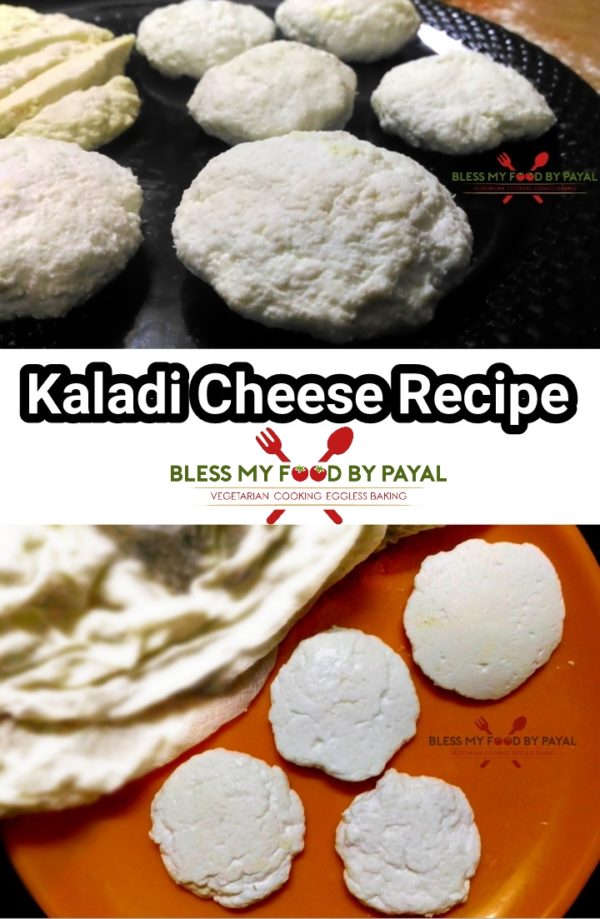 Feel Free To Ask Queries, If Any…
Regards
PAYAL BALI SHARMA
SHAILENDER SHARMA