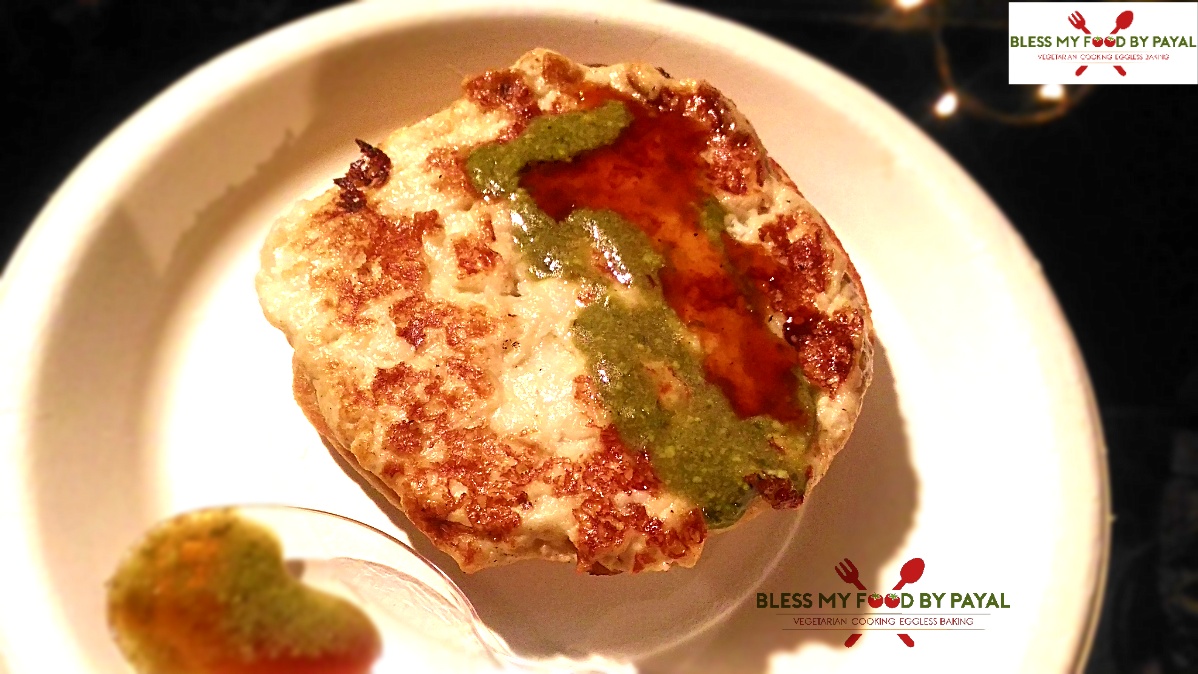 17 Feb

kaladi kulcha | kaladi cheese recipe | best street food in jammu

kaladi kulcha | kaladi cheese recipe | best street food in jammu with stepwise video and pictorial recipe.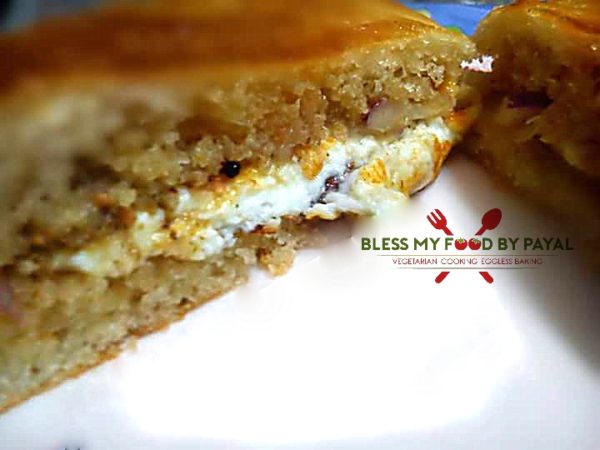 India is well known for its diversity either its languages, clothing, culture, traditions or food…..and every State is rich in food and almost every State has some signature recipes.
Our State of Jammu & Kashmir too is known for many delicious recipes and the one traditional amongst them is…Kaladi Kulcha.
A renowned chef of India ' Mr. Sanjeev Kapoor' when last visited to Jammu in 2014 with his wife cherished Kaladi Kulcha on roadside and also shared the pictures on his social media account.
With this, you can well imagine the royalty of this amazing Street food.
In another post, we have already said much about Kaladi, the link to which you will find hereunder in Ingredients head. Kaladi is basically a matured cheese, served with the choice of your bread but preferably kulcha's – let's keep it original.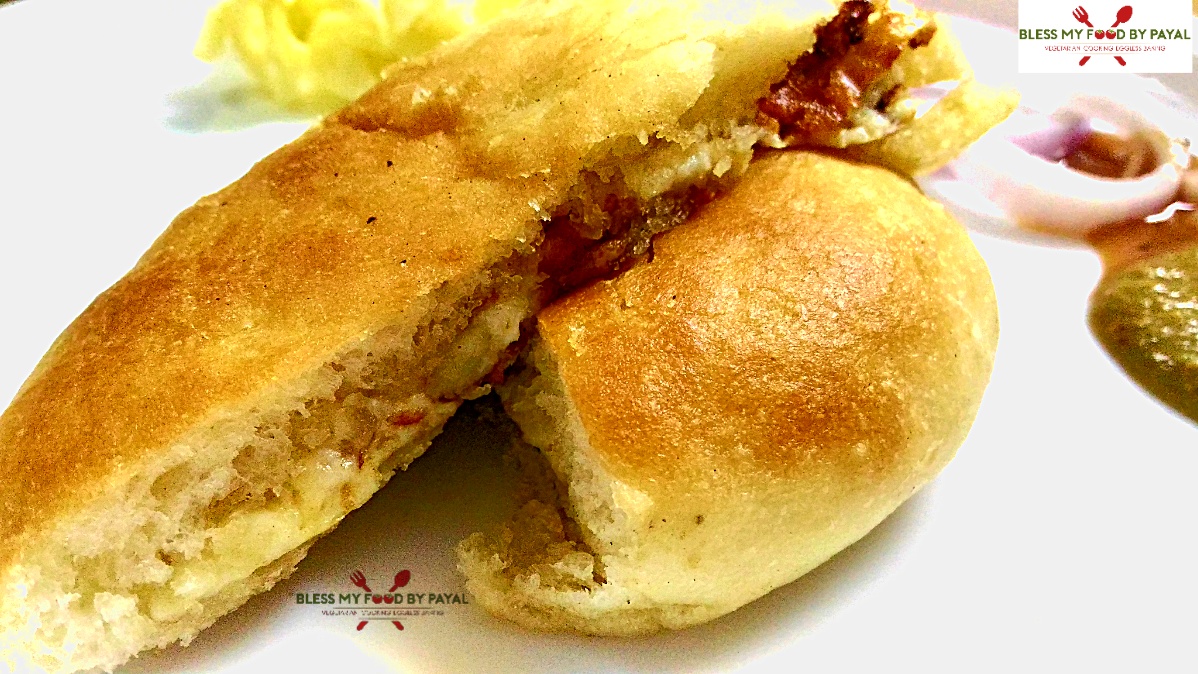 So here we are coming up with the rich and traditional taste of KALADI KULCHA.
VIDEO RECIPE
INGREDIENTS for Kaladi Kulcha
Raw Kaladi – 1
(To see the recipe of Raw Kaladi, click here)
Oil – 1 tsp
Salt a pinch
Homemade Amul Butter – one small cube
To be served with…
Kulcha – 1
Pudina/Anardana Chutney
Imli Aur Pyaz Ki Chutney  or Tamarind Date Chutney
Preparation time – 5-7 minutes
Servers – 1
METHOD
1. Take a non-stick Tawa and place it on a gas stove.
2. Put oil in the centre of the Tawa and place Kaladi on it.
3. the flame must be kept between low to medium and gently press the Kaladi.
4. In couple of minutes or it is to say in 2 to 3 minutes, Kaladi will be cooked from bottom and must have turned brown in color.
5. Now change the kaladi to its other side and likewise cook from there too.
6. Keep pressing the Kaladi intermittently so that it cooks from inside too. But don't overdo which will make it messy.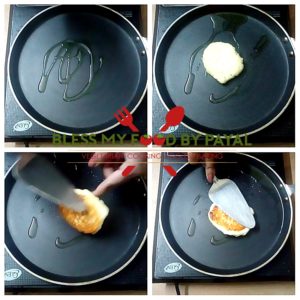 7. When the Kaladi is almost done, immediately take Kulcha and mark a cut in the center in a way to make a sandwich out of it.
8. Apply some butter on the side of same Tawa, toss Kulcha to warm it.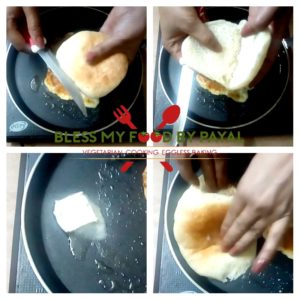 9. Place/fill Kaladi in the middle of the Kulcha. Apply some chutney on Kaladi right now if you want, otherwise, you are serving with Chutneys, obviously.
10. You Kaladi Kulcha is ready to be served. You may cut Kulcha from the center diving into two, if you like.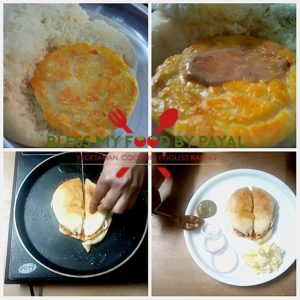 11. Service hot with Pudina/Anardana Chutney and Tamarind Dates Chutney or Imli aur pyaz ki chutney.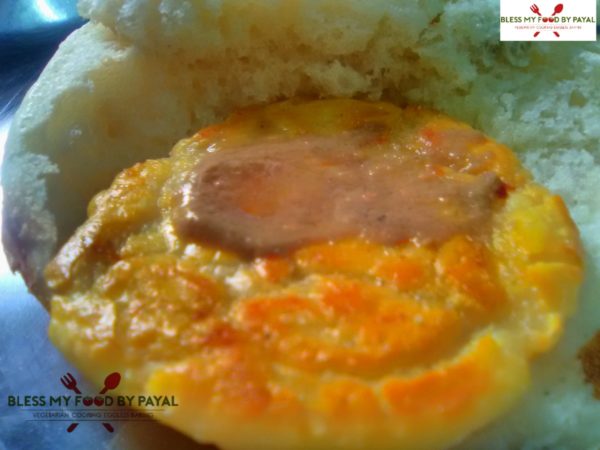 NOTE
* Kaladi has its own fats depending upon the quality of Kaladi. At times a good Kaladi needs very very less or rather no oil and get cooked in the fats released by itself on being placed on hot Tawa.
* Use of only non stick Tawa is recommended otherwise if you make kaladi on iron Tawa, you will find less Kaladi in your plate and more sticked to the Tawa. 🙂
* While cooking, you may find the bubbles on the sides of Kaladi which is a normal thing.
* Keep an eye on the Kaladi while cooking to prevent it from burning.
* In the method, you have been suggested to press the Kaladi intermittently while cooking.
However there's no hard and fast rule that how many times you need to press the Kaladi with how much pressure. It depends upon the thickness and hardness of each Kaladi.
Thick Kaladi placed in refrigerator is comparatively harder than the thin Kaladi placed out of refrigerator. So apply your own judgement.
* You can eat this Kaladi with Bread or chapatis or as it is even. As this is the recipe of Kaladi Kulcha, so Kulcha was must here.
* Kaladi becomes hard if turns cool and as a result, at times, becomes tough to chew. So better serve only hot.
* As mentioned, Kaladi Kulcha is mainly served with Pudina Chutney and Tamarind Date Chutney, but as we like Imli aur Pyaz ki Chutney more with Kaladi Kulcha, so we enjoyed Kaladi Kulcha with Pudina Chutney and Imli aur Pyaz ki Chutney.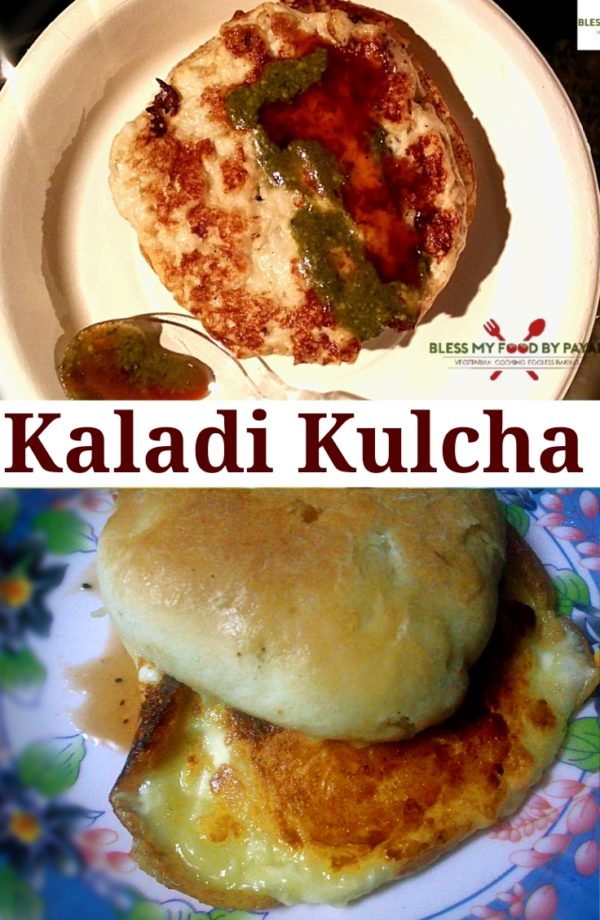 Do try other Recipes of Kaladi too :-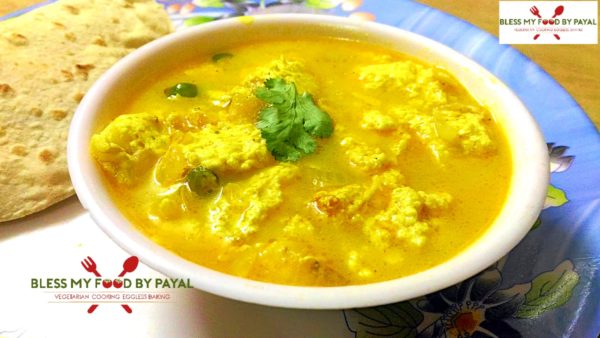 Feel Free To Ask Queries, If Any…
Regards
PAYAL BALI SHARMA
SHAILENDER SHARMA