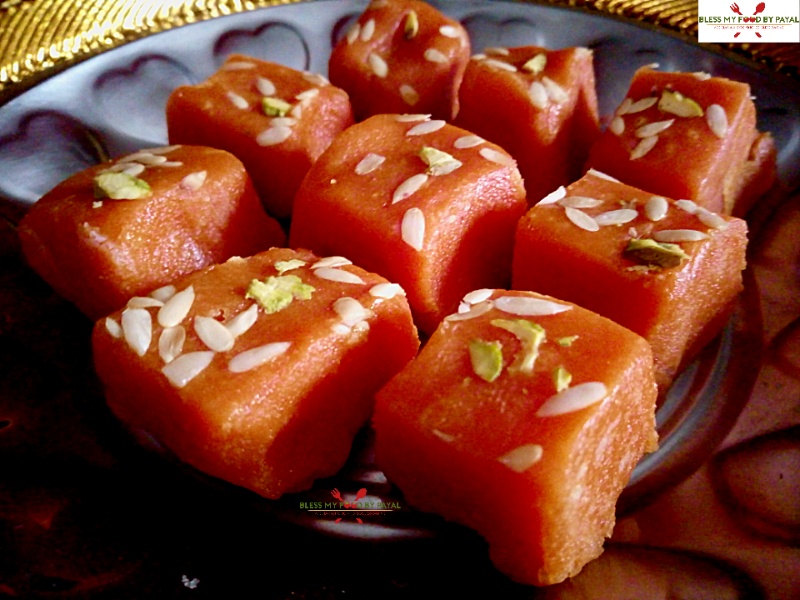 09 Nov

jammu chocolate | jammu chocolate recipe | how to make jammu chocolate at home

jammu chocolate |  jammu chocolate recipe | how to make jammu chocolate at home with step wise pictorial and video method.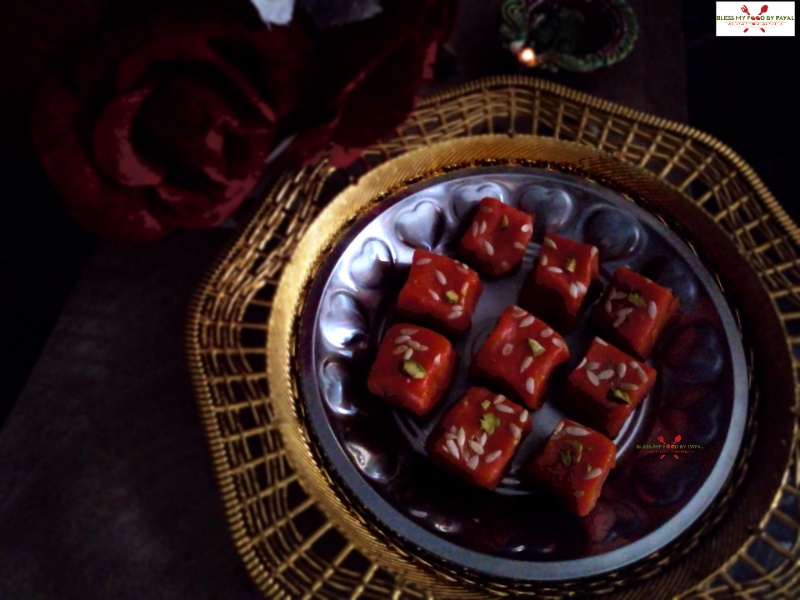 jammu chocolate | jammu chocolate recipe | how to make jammu chocolate at home is an extremely delectable sweet recipe with no chocolate in it. Yes, you read it right. There's no chocolate in the recipe but only added in the name. Don't know the history behind naming it (jammu) chocolate but once you put a piece of this yummiest jammu chocolate in your mouth, you will be mesmerized by its taste and least interested in knowing the history behind. 
Few days back we saw someone asking on social media about the recipe of jammu chocolate but unfortunately she couldn't get the authentic recipe. In the couple of days, Diwali and bhai dooj were arriving, so only then we decided to make this jammu chocolate on such occasions. We made coconut Barfi as Diwali Sweet and reserved jammu chocolate for bhai dooj. bhai dooj was falling on 9 November i.e. today and we made it on yester night. Therefore we couldn't share it with all our readers well in time but you can save it for any upcoming occasion.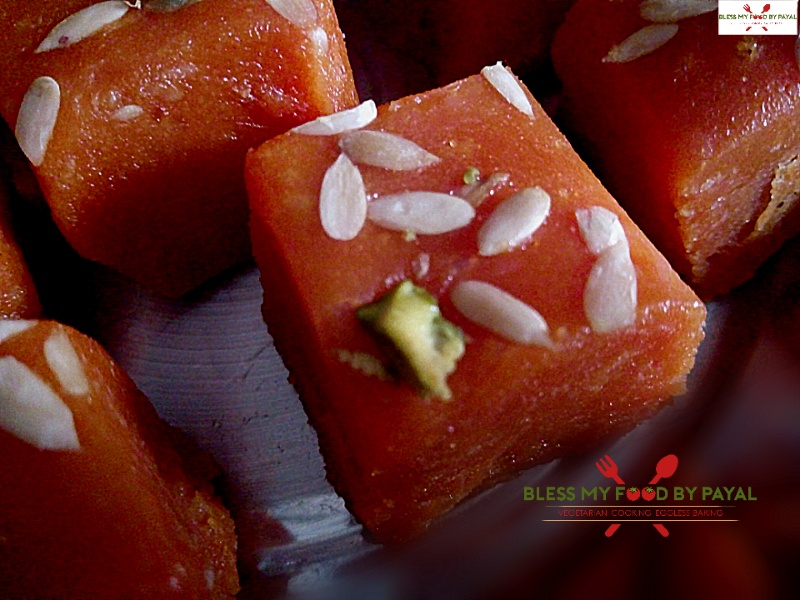 The credit of making this jammu chocolate goes to Mr. Raju again, who is our milk vendor and who has already once guided us how to make Kaladi. This time again he guided us at length that how to prepare this recipe.
jammu chocolate is such a sweet having taste and texture different altogether from other sweet recipes. You can't call it barfi because barfis usually melt in mouth but jammu chocolate is chew. Secondly, either you consider food colours unhealthy or whatever, but the fact is that jammu chocolate can't be prepared without food colours. Sticking to the traditional process of making jammu chocolate strictly, please have a visual treat as well as learning process.
Have a look at some more interesting Jammu Kashmir recipes in this blog.
YouTube – recipe of jammu chocolate
text recipe of jammu chocolate
INGREDIENTS
Khoya – 1/2 kg
Desi ghee – 100 gm/ 1/2 cup
Sugar – 1 cup
Citric acid or tatri – 1/2 tsp
Red food colour – 1/2 tsp
Yellow food colour – 1/2 tsp
Magaz and pistachios for garnishing
YIELDS
About 500 gms
METHOD
1. Add desi ghee in a wide pan/Kadai and place on low flame.
2. When ghee melts, add khoya and break the lumps.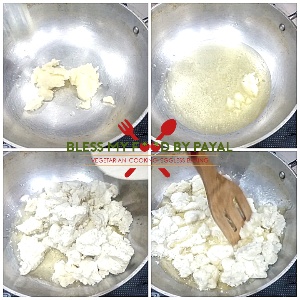 3. Add tatri and mix it. Keep stirring at low to medium heat.
4. After 10-12 minutes, Khoya will have a creamy texture. Keep stirring.
5. After more 10 minutes, the mixture will start getting thick and crumbled. Keep stirring.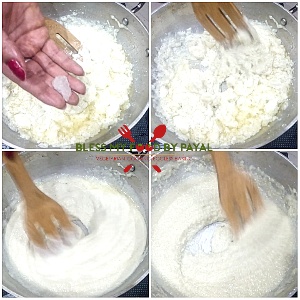 6. Now add sugar and let it melt. It will dissolve into the mixture.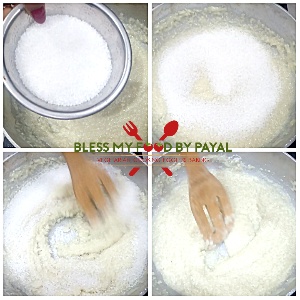 7. Add food colours but with an instruction. (See the  NOTE below).
8. Mix well. Keep cooking further till khoya thickens and become like a porridge.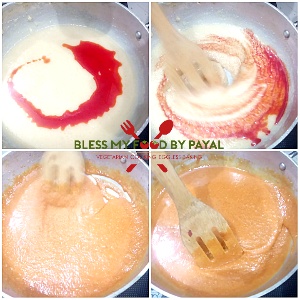 9. Grease a tray with ghee and pour Khoya mixture into it.
10. Tap the tray slightly to get the mixture leveled.
11. Spread magaz and pistachios over the mixture.
12. Let the mixture turn completely cool and set for about 30 minutes.
13. Cut into squares in the desired size.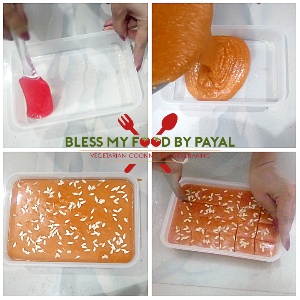 Enjoy for about a week….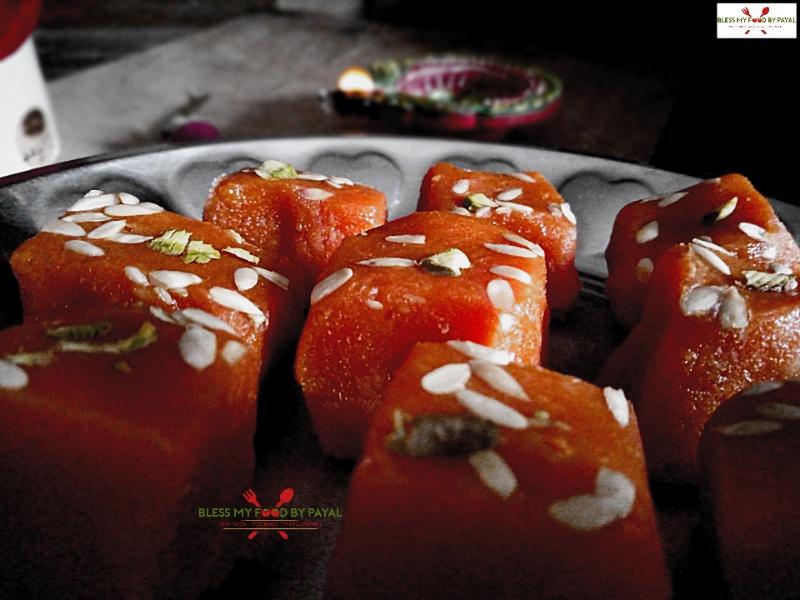 NOTE
* Citric acid, Nimbu Sat or Tatri, whatever you call, is one and the same thing available in the market in different looks. Tatri and Nimbu Sat are the names for Citric Acid in hindi. Citric Acid is available in the market in the form of a powder whereas Tatri, also named as Nimbu Sat, is available in crystals. We preferred Tatri over Citric Acid because Tatri is more economical and pure being in a raw form and also easily available.
* Jammu chocolate has a dark orange (like a sky look while sunrise/sunset) which you can get by mixing red and yellow food colours. While adding food colours in mixture, don't add both the colours in one go. Few drops of both colours first, check the desired results, and proceed accordingly. You may need to add both colours in different quantity than ours depending upon the basic colour of Khoya you are using. Our Khoya is bright white so had to use much colours but you keep a check on your's.
* Why only Magaz and pistachios (that too, too less) for garnishing?
… because this is the tradition look of Jammu chocolate. We have rarely observed cashews, almonds or any other dry fruits sticking over it. Not even silver verk is used. Only good quantity of magaz and very very less pistachios.
* If at any stage you will find that the mixture is becoming dry, add water just by spoon/s to maintain the consistency.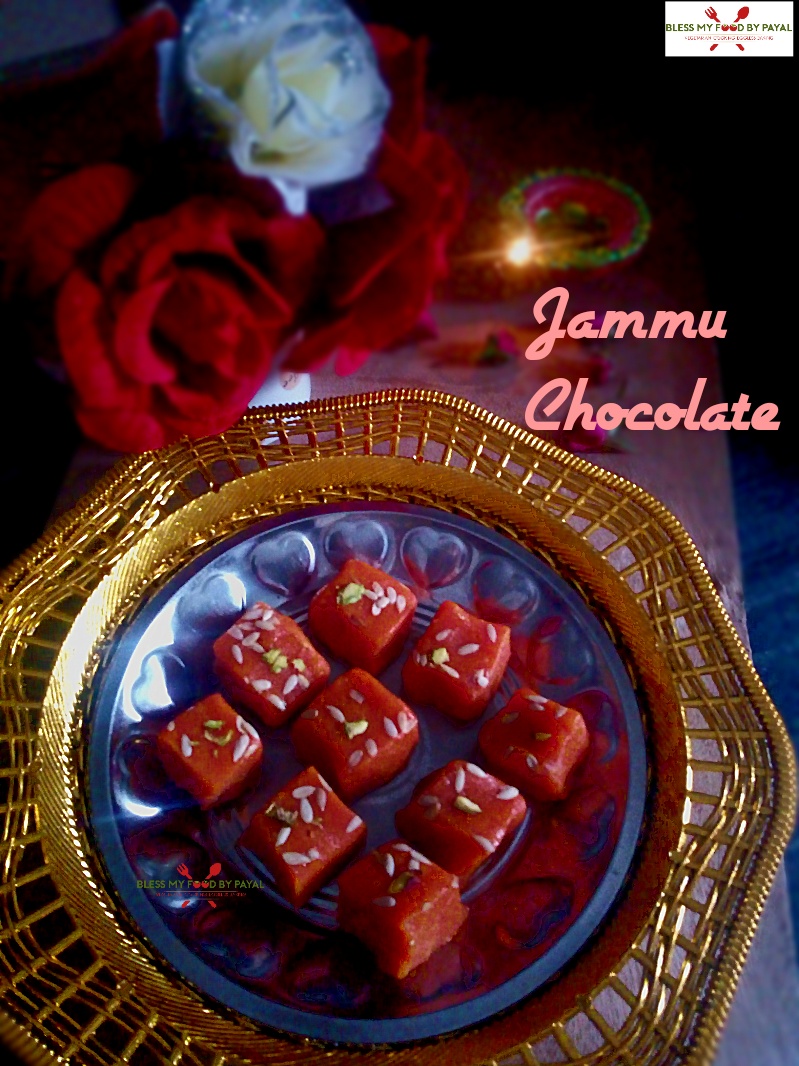 Feel Free To Ask Queries, If Any…
Regards
PAYAL BALI SHARMA
SHAILENDER SHARMA