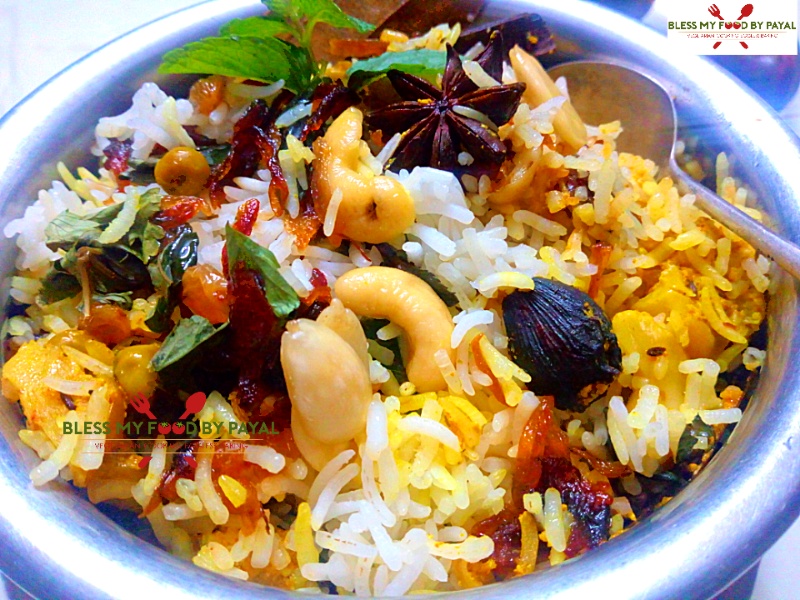 01 Dec

hydrabadi veg dum biryani | veg dum biryani | hydrabadi biryani

hydrabadi veg dum biryani | veg dum biryani | hydrabadi biryani with step wise pictorial and video method.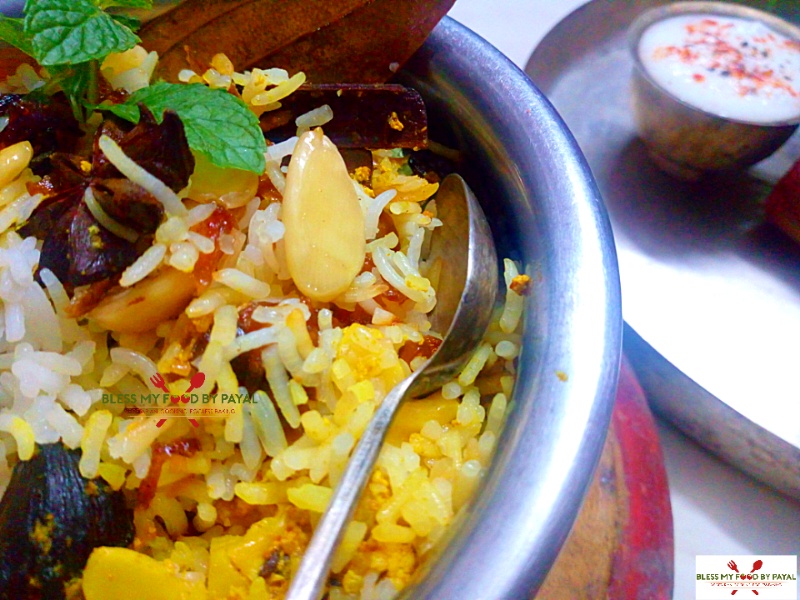 hydrabadi veg dum biryani | veg dum biryani | hydrabadi biryani is a popular cuisine from the land of hyderabad. made with the multiple vegetables of one choice and rice along with so many spices, this slow cooked biryani is indeed a royal and rich food in the real sense of the term.
hydrabadi veg dum biryani | veg dum biryani | hydrabadi biryani has dum in its name because it is cooked in its own dum, meaning there by, in its own steam on slow fire. traditionally made in handi which is a clay pot, the steam is not allowed to pass out and is being seized by applying dough on all the opening sides of the pot.
hydrabadi veg dum biryani | veg dum biryani | hydrabadi biryani is full of flavors and aroma due to the presence of rich spices in it. This is a complete meal in itself and it asks for so much of patience and love in making it.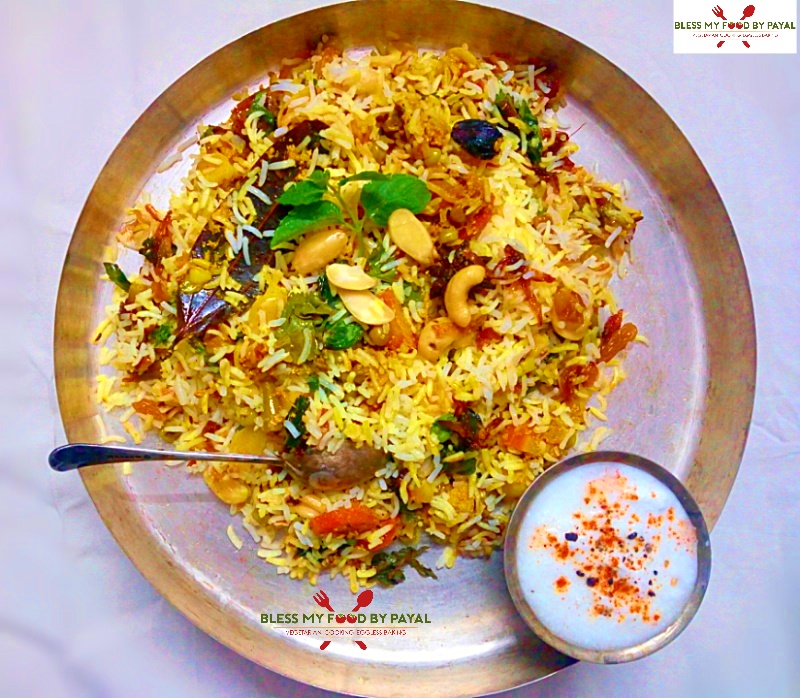 * you need endless list of ingredients;
* extremely difficult to make;
* need almost whole day to prepare;
* you need only top branded basmati rice..
…these are some myths attached to hydrabadi veg dum biryani and we were also influenced by all of them.
hydrabadi veg dum biryani was in our 'to do list' since long but we were always reluctant to make it for the reasons stated herein above.
finally what we realized is….
yes…
list of ingredients is long but 99% of them are available almost in every Indian kitchen.
yes…
this is difficult to make but only until you are cooking it in your thoughts. Once you begin to prepare it, you will enjoy the process
yes..
you need to give time to it but not whole day at least. Better choose holiday or Sunday (if you are working) and just give 2 – 3 hours to it.
yes…
you need top branded basmati rice because this is the aura of this royal recipe. but this is not the 'to die for' criteria and you think you can't make this biryani in the absence of such rice. we have made this biryani with good quality of sharbati rice and believe us, we didn't find any difference, both in taste as well as appearance, between the biryani made with two different types of rice. for us, the criteria is that rice should be of good quality. In your case, you are the best judge.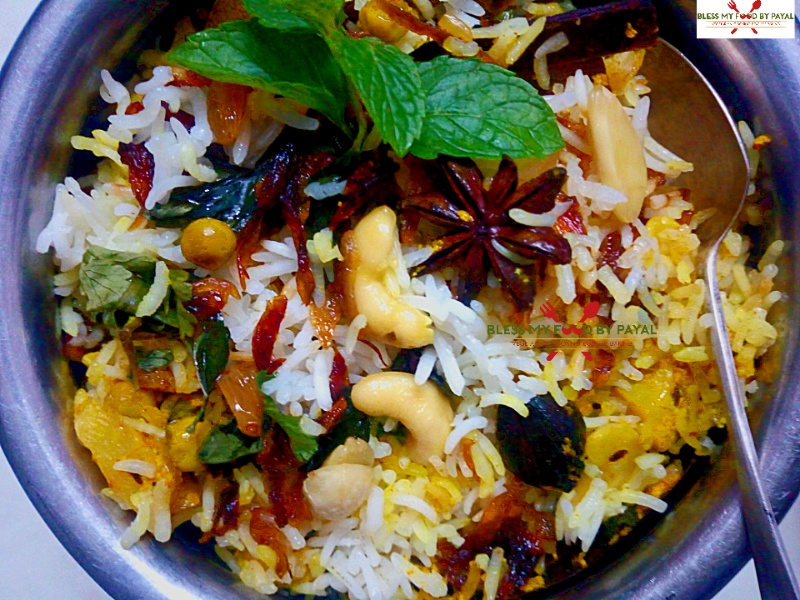 Oops…. intro is turning out to be too long. better let's begin with the process.
MAKING OF HYDRABADI VEG DUM BIRYANI
YouTube – hydrabadi veg dum biryani
hydrabadi veg dum biryani, veg dum biryani, hydrabadi biryani has 3 parts of making process i.e.
1. making of rice
2. making of gravy &
3. assembling biryani
so we have divided the ingredients and method in 3 parts for your convenience.
INGREDIENTS
Ingredients for part 1 i.e. making of rice.
1. rice – 1.5 cup
2. water sufficient for soaking them
3. water – 5 – 6 cup for cooking rice
4. green cardamoms/hari ilayachi – 3
5. black cardamom/badi ilayachi – 1
6. cloves/loung – 3
7. bay leaf/tej patta – 1
8. star anise/chakar phool – 1
9. cinnamon stick / dalchini – 1 inch
10. oil – 2 tsp
11. salt -1/2 tsp
Ingredients for part 2 i.e making of gravy
Vegetables
1. carrot  – 1 medium
2. peas – 15-20
3. beans – 7-8
4. cauliflower – 1 very small
5. mushrooms – 4-5 buttons
Other ingredients
6. desi ghee – 2 tbsp
7. oil – 1 tbsp
8. cumin seeds – 1 tsp
9. cinnamon – 1
10. bay leaf – 1
11. green cardamoms – 3
12. black cardamom – 1
13. mace/javitri – a small piece
14. ginger (grated) – 1 tbsp
15. garlic (grated) – 1 tbsp
16. onion (chopped) – 1 big
17. curd – 1 cup
18. red chilli powder – 1 tsp
19. turmeric powder -1/2 tsp
20. biryani Masala – 2 tsp
21. salt as per taste
22. water – 3/4 cup
Ingredients for part 3 i.e for assembling biryani
1. rice – already cooked
2. gravy – already cooked
3. Onion barista / fried onions – 3/4 cup
4. cashews – 8-10
5. almonds (blanched) – 8 – 10
6. raisins – 2 tbsp
7. coriander leaves – a handful
8. mint leaves – a handful
9. saffron soaked in milk – 6 tbsp
10. desi ghee – 1 tbsp
preparation time : 45 minutes
cooking time : 45 minutes
total time : 1 hour 30 minutes
serving : 5
METHOD
A. PREPARATION OF INGREDIENTS
first of all look at the list of ingredients given under all the 3 parts above and see that which of the ingredients you need to prepare.
PART 1
you just need to wash the rice and soak them for 20 minutes. But do keep in mind that when you are sure about beginning of cooking rice in next 20 to 30 minutes, only then wash & soak the rice. Rice soaked for so much of time may turn mushy while cooking.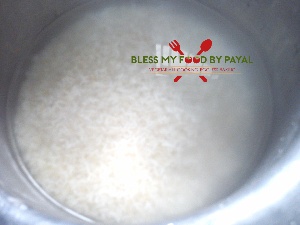 PART 2
1. cut or peel the vegetables as per their need. Like cut carrots, beans, cauliflower and mushrooms into medium sized pieces. Peel the peas and keep aside. Finally you will get 1/4 cup of beans & mushrooms, 1/2 cup of cauliflower, carrots & peas.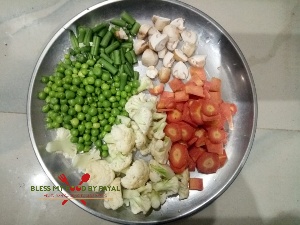 2. Chop the onion in small pieces and grate ginger and garlic (if you aren't using ginger garlic paste).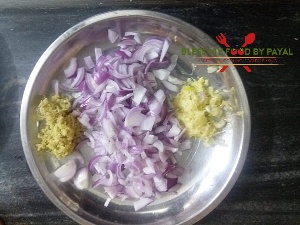 PART 3
1. make onion barista, if you already don't have. (Click on the word ' onion barista/fried onions' written in set 3 of ingredients herein above to get the recipe).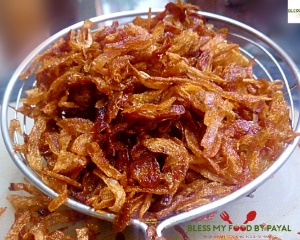 2. Blanch almonds by boiling them in water for 2-3 minutes and then remove their skin.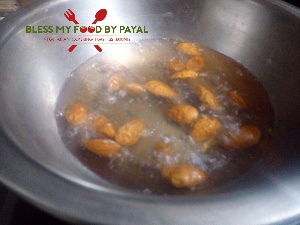 3. Cut blanched almonds and cashews, but not in too much small pieces. We just divided them into two by cutting them from their joints.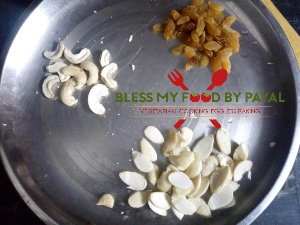 4. Pluck the leaves of mint and coriander and wash them.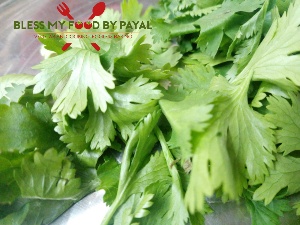 5. Add 4-5 strands of saffron in 6 tbsp of milk and keep aside.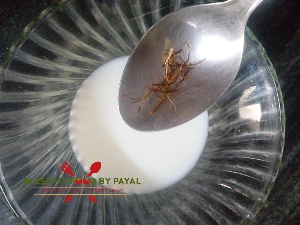 So we have prepared the ingredients for all the 3 parts and the ingredients which don't require any prior preparation, just arrange them on your kitchen shelf.
B. PREPARATION OF PART 1 i.e MAKING OF RICE
1. Add 5 – 6 cups of water in a wide pan.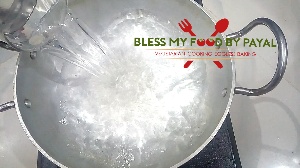 2. Add all the ingredients from serial no. 4 to 11 (green cardamoms, black cardamom, cloves, bay leaf, star anise, cinnamon stick, oil and salt) under part 1 of ingredients.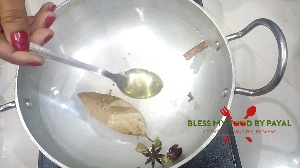 3. When water begins to boil, add rice after draining water in which they were soaked.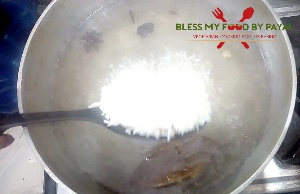 4. Let rice boil on their own and don't mess with them. We need fluffy rice.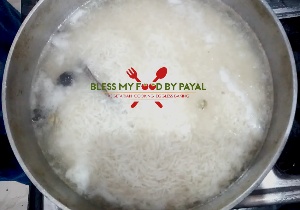 5. Once rice are almost but not fully cooked or we can say that when rice are about 75% cooked, switch off the flame.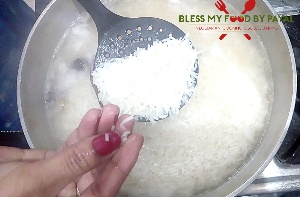 6. Pass the rice through a sieve and drain all water.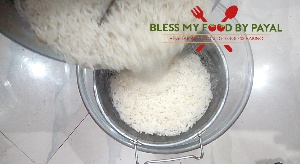 7. Spread cooked rice in a wide plate or tray so that their cooking process stops earlier.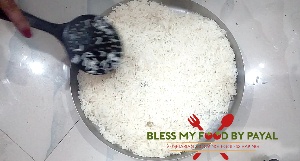 8. Rice are cooked. Keep them aside.
C. PREPARATION OF PART 2 i.e MAKING OF GRAVY
In part 2, there is an interference of 3 ingredients from part 3.
1. take a Kadai and add 2 tbsp of desi ghee in it.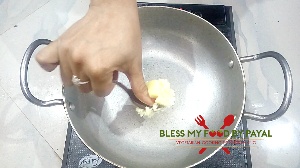 2. add almonds, cashews and raisins and roast them for couple of seconds on low flame. remove them immediately otherwise they may burn.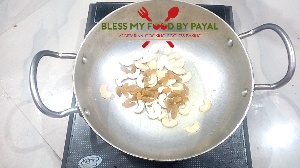 3. In the same Kadai in which ghee is already there, add 1 tbsp of oil. We have used the same leftover oil in which onion barista was made.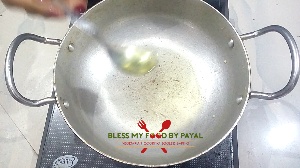 4. Add cumin seeds, cinnamon, bay leaf, green cardamoms, black cardamom and mace. Saute for couple of seconds.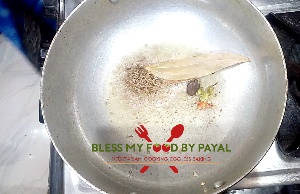 5. Add ginger & garlic and cook it till it becomes slightly golden.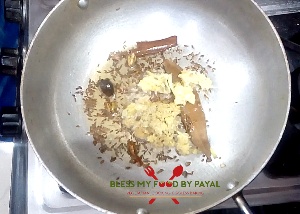 6. Add chopped onion and cook till it turns translucent.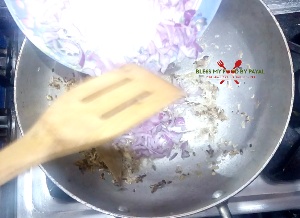 7. Then add all the vegetables and mix well.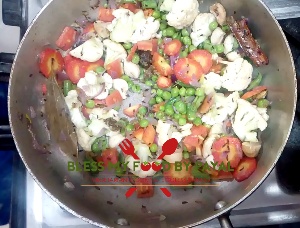 8. Add curd, red chilli powder, turmeric powder, salt and biryani masala. Mix well so that curd is incorporated properly.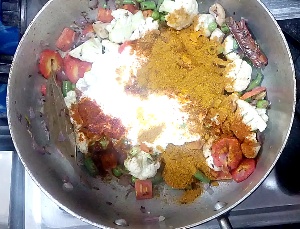 9. Add 3/4 cup of water, cover the kadai with a lid and let the vegetables cook for about 15 minutes. Vegetables too need to be cooked up to 80% and not fully.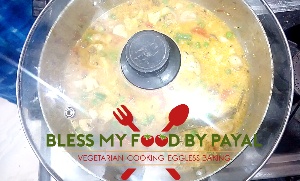 10. After 15 minutes remove the lid. If still there's water, boil it with lid off for some more time, otherwise switch off the flame.
Your gravy is also ready. Keep aside.
D. PREPARATION OF PART 3 i.e ASSEMBLING BIRYANI
1. Take a big pan with a heavy bottom. We have used the same Kadai in which rice were cooked. Start making the layers.
2. Spread half of the gravy as first layer at the bottom of the kadai.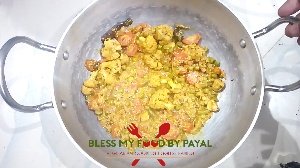 3. Then spread half of the rice as second layer over the first layer of gravy.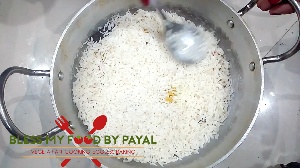 4. Spread half of the mint leaves, coriander leaves, onion barista, dry fruits and saffron milk over the rice.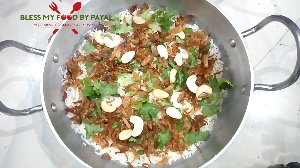 5. Spread rest of the gravy as third layer over mint leaves and others.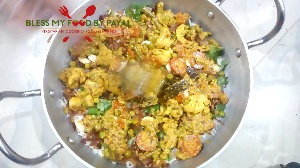 6. Then spread rest of the rice as fourth layer over the layer of gravy.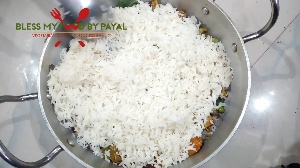 7. At last spread rest of the mint leaves, coriander leaves, onion barista, dry fruits and saffron milk over the rice. This time also spread 1 tbsp of desi ghee on the top.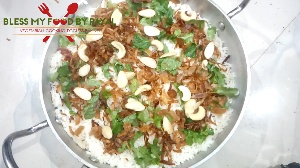 8. Place a tawa on high flame.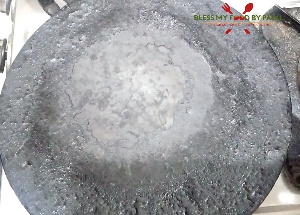 9. Take an aluminium foil and cover the face of Kadai properly so that there remain no space for steam to come out.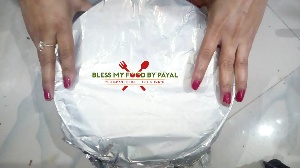 10. Thereafter place a lid on the aluminium foil.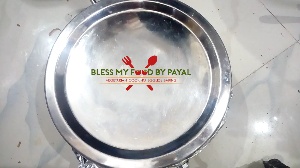 11. Lastly place some heavy object on the lid to assure no way out for the steam.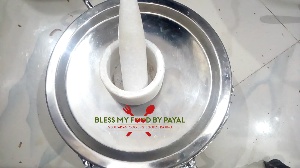 12. Place Kadai on hot tawa and bring the flame to low.
13. Let the kadai remain there for 30-35 minutes.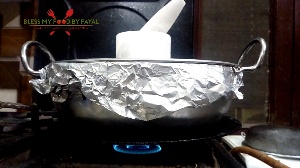 14. Switch off the flame.
finally your hydrabadi veg dum biryani is ready. Give a standing time of 8 – 10 minutes and then serve And one important thing. Never mix the biryani. Serve by Inserting serving spoon at the corner of biryani right from top to bottom holding all layers of biryani.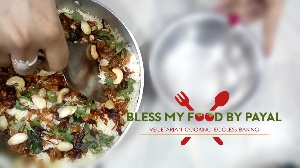 Enjoy hydrabadi veg dum biryani with your favourite raita.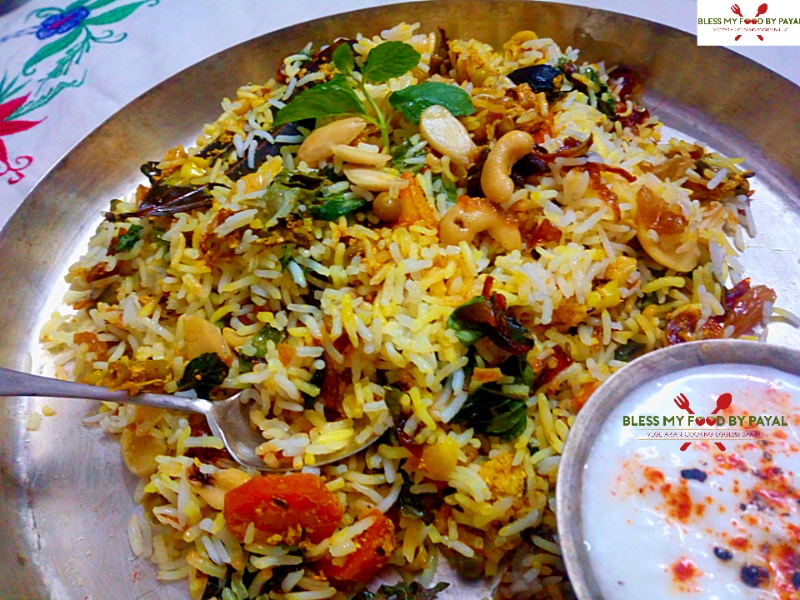 NOTES
* you can use the vegetables of your choice. may add potatoes and even cheese.
* In the absence of biryani masala, use garam masala.
* you can avoid star anise and mace if you don't have.
* we have cooked part 2 i.e gravy in a kadai. you can make it in pressure cooker too but with less water.
* for giving dum to biryani, please note that always use a vessel having a tight lid.
* aluminium foil can be replaced with kitchen towel.
* You can also seal the sides of the pan while giving dum with dough/atta so that steam shouldn't come out.
* We have made 4 layers. you can make as much as possible depending upon the quantity of your biryani.
* While leveling the ingredients for dum, do keep in mind that the layer at the bottom of pan should be of gravy and the top layer should be of rice.