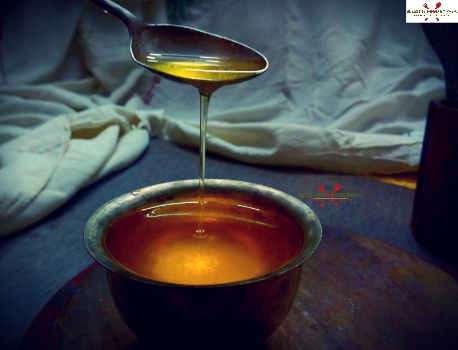 24 Dec

homemade desi ghee from malai | desi ghee recipe | homemade ghee

homemade desi ghee from malai | desi ghee recipe | homemade ghee with step wise pictorial and video method.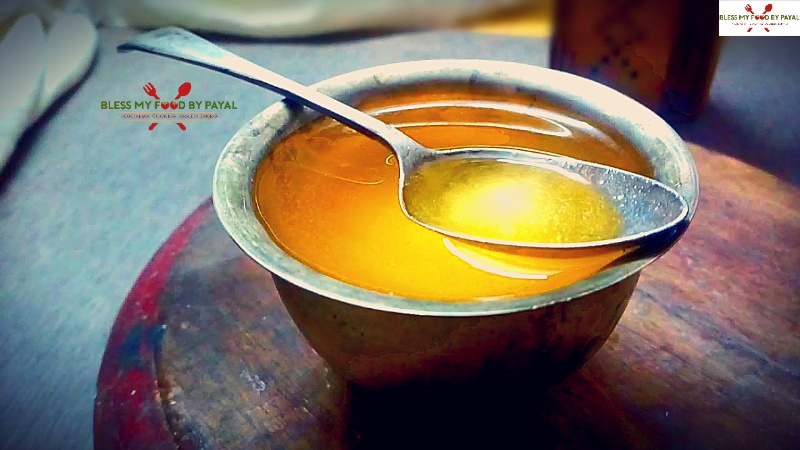 homemade desi ghee from malai | desi ghee recipe | homemade ghee is something which is prepared in almost every Indian house and Indian meal is incomplete without desi ghee.
The present recipe of desi ghee is considered as the instant recipe because in this recipe we are making desi gheehee directly from the collected malai. most of the people make desi ghee from malai in a way that firstly they make white butter out of the malai and then make desi ghee from the white butter which is obviously a time taking process because you have to go through the two stages ; one making of white butter and second making of desi ghee.
honestly speaking, since a long time we were also keep on making desi ghee by adopting the another method that is firstly making of white butter and then ghee out of the white butter. a concept was installed in our mind that the ghee which is made through the white butter is good and you get more quantity of ghee in comparison to the ghee made directly from malai.
this time we broke out our barrier and tried this way. Wondered to see no difference at all. Rather this one is easy method. You need a blender to make white butter and as a result, so much of utensils are there to wash.
not just easy, but this method is less time taking. One, because, you don't need to give time to make white butter. Second, for churning malai to make white butter, malai needs to be brought to room temperature. Whereas there's no need to give much time prior to begin the actual process.
so do adopt this easy method if you want only desi ghee out of malai.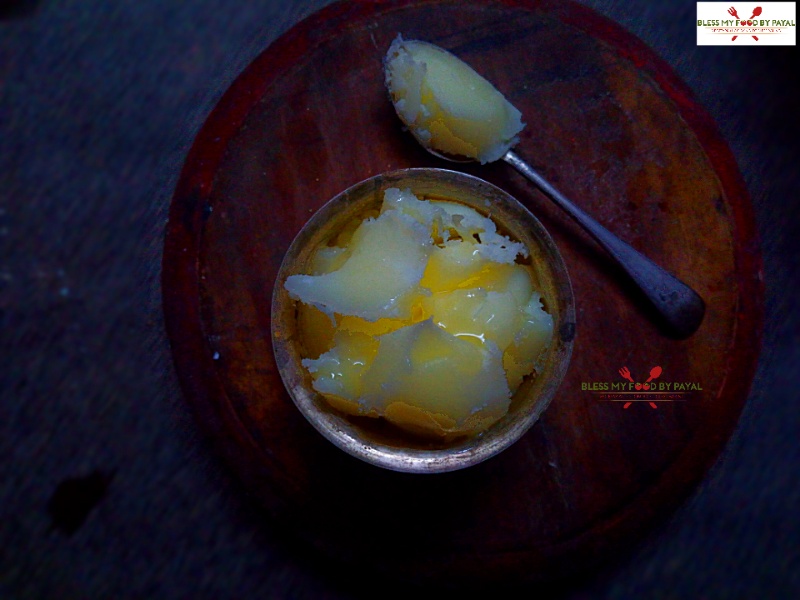 YouTube : homemade desi ghee from malai
INGREDIENTS
Malai / milk cream collected for 15 days.
Water as per need
METHOD
1. Take malai out of the freezer and place on shelf so that it turns little soft & can be transferred to pan easily.
2. Take a wide pan or Kadai and transfer all the malai in it.
3. Place Kadai on low flame.
4. Malai will begin to melt slowly. Star stirring.
5. After some time, malai will completely melt and look like a thick milk. Keep stirring at intervals.
6. After 10 to 15 minutes, malai will turn little creamy.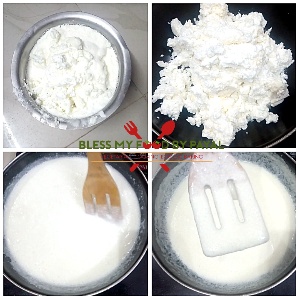 7. At this stage, from the edges, little water like liquid will begin to be seen. That is actually ghee which will begin to separate from malai. Keep stirring.
8. After 15 to 20 minutes you will find more ghee on the edges. Keep stirring.
9. After some more time, milk solids will settle down in the kadai and ghee will get separated. Switch off the flame.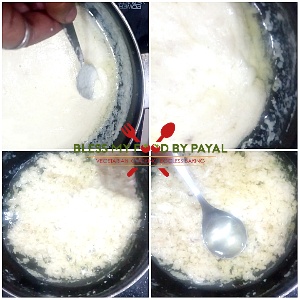 10. Now take a bowl, place a big sieve on the bowl. Then place some muslin cloth or kitchen towel in the sieve.
11. Pass the entire mixture through it.
12. Ghee will collect in the bowl and some whitish material will stay in the kitchen towel. This material is called ghee residue which still have so much of ghee in it.
13. Your ghee is ready but this is not the end yet because ghee residue still have so much of ghee in it.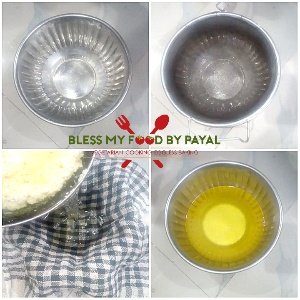 14. Transfer ghee residue back in the kadai and pour some clean water in it so that ghee residue merges well in water.
15. Place Kadai in refrigerator for 2 to 3 hours.
16. Take Kadai out of the refrigerator. There will be a whitish layers set on the surface of the water in Kadai. That is also ghee which is soft frozen due to being in refrigerator.
17. Collect that layer of ghee.
18. The water in the kadai still have some chunks of ghee as well as residue at the bottom. Time to collect that ghee too.
19. Take a small sieve and move it through the surface of the water. Ghee chunks will itself get collected into the sieve. Be careful not to go deep into water because ghee residue is settled down there. You have to collect only and only ghee.
20. Once you see that there's no more ghee capturing in the sieve, means all ghee is collected. Stop the process. Your another batch of ghee is also abstracted hence ready.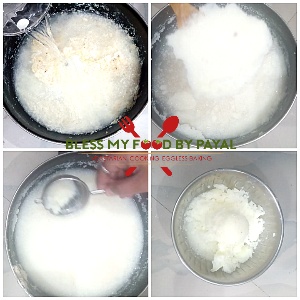 21. As what is left after filtering is not a waste but very useful, so you need to go ahead to save the leftover too.
22. Filter the water through the sieve. Ghee residue and water, which is something like butter milk, get separated.
23. Butter milk can be used to make rice or kneading dough or use it in making daals.
24. Ghee residue is very tasty and healthy and you can make several delicious recipes out of it. See at the end of this post to check the various recipes made with ghee residue.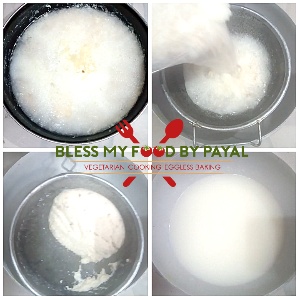 So we made ghee twice out of same malai with zero wastage.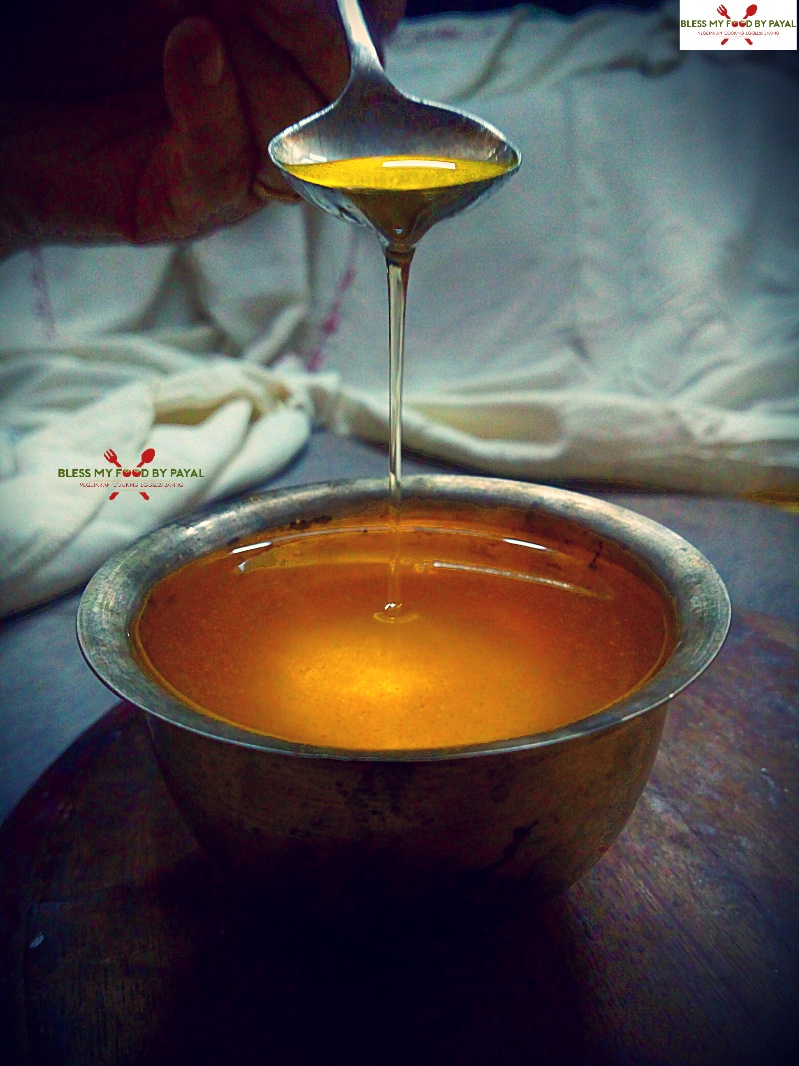 NOTE
* While you begin to collect malai, just add 1 tbsp of curd in the bowl. This will give a long life to the collected malai.
* Always put the bowl in freezer.
* Don't keep collecting malai for an extra long days. During summers, make ghee out of malai collected for a week and during winters, don't go beyond 15 to 20 days. Otherwise malai will begin to get rotten and also you will not get good quality of ghee residue.
* During the whole process of making desi ghee directly from malai, stirring is very important because otherwise your malai will stick to the bottom and as a result ghee will burn and turn bitter.
* Stirring is also important because you have ghee residue also in the kadai and this will become spoil and become unusable if burnt.
Recipes made with ghee residue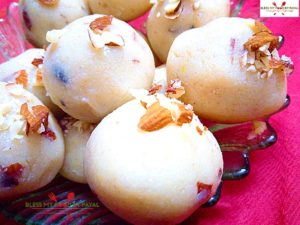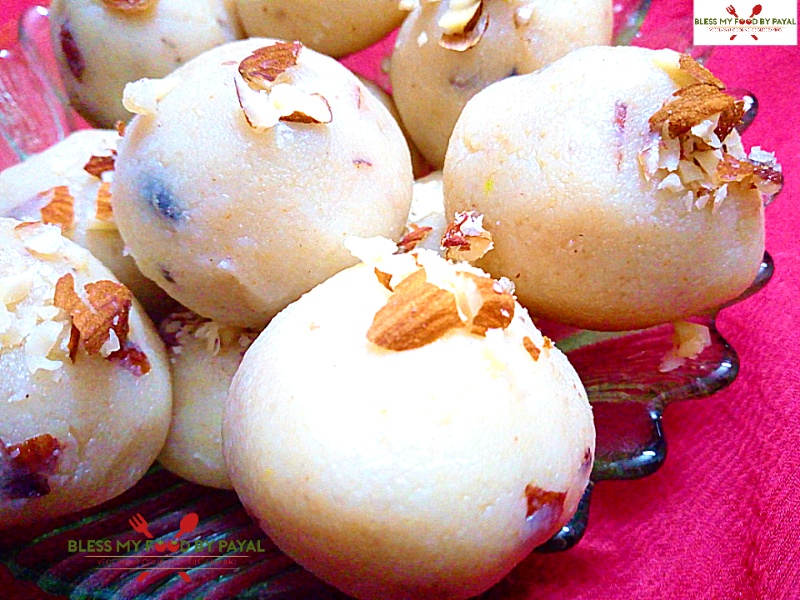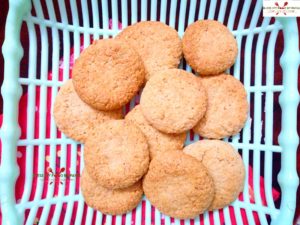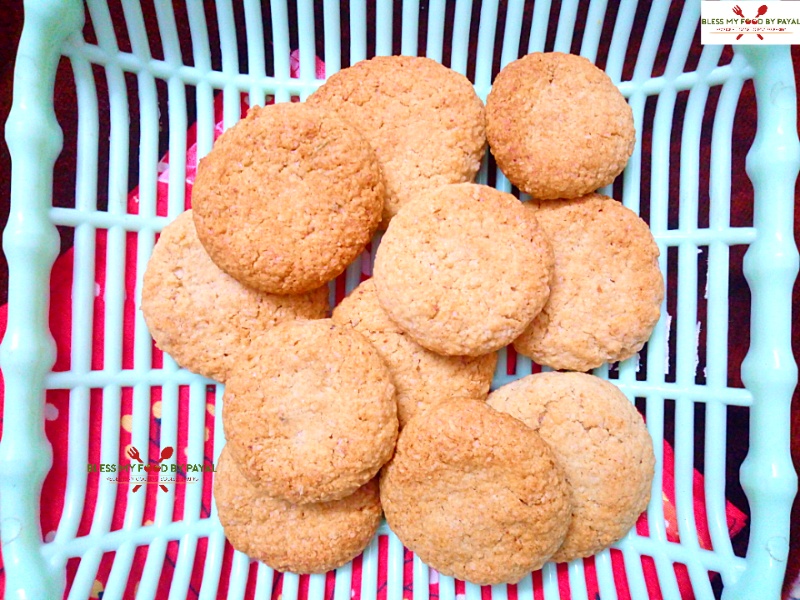 3. Custard flavoured paneer barfi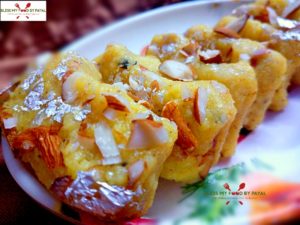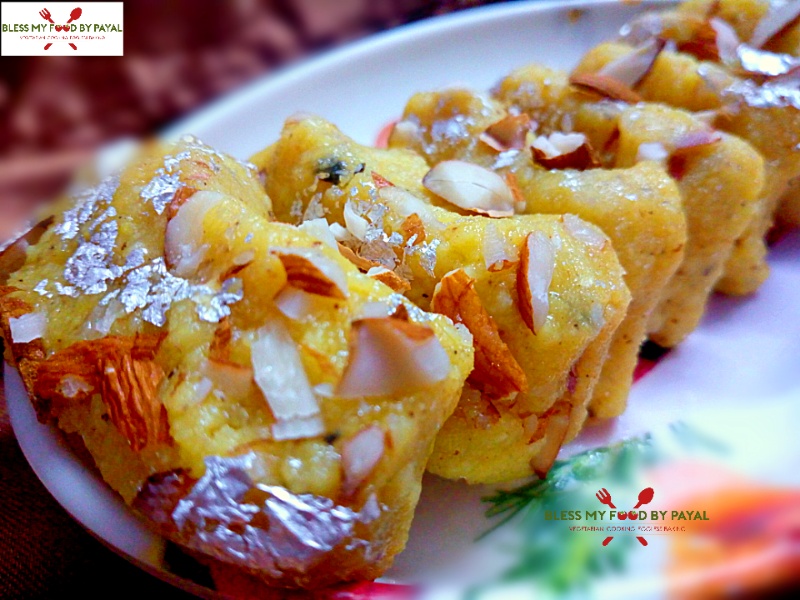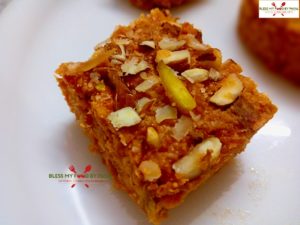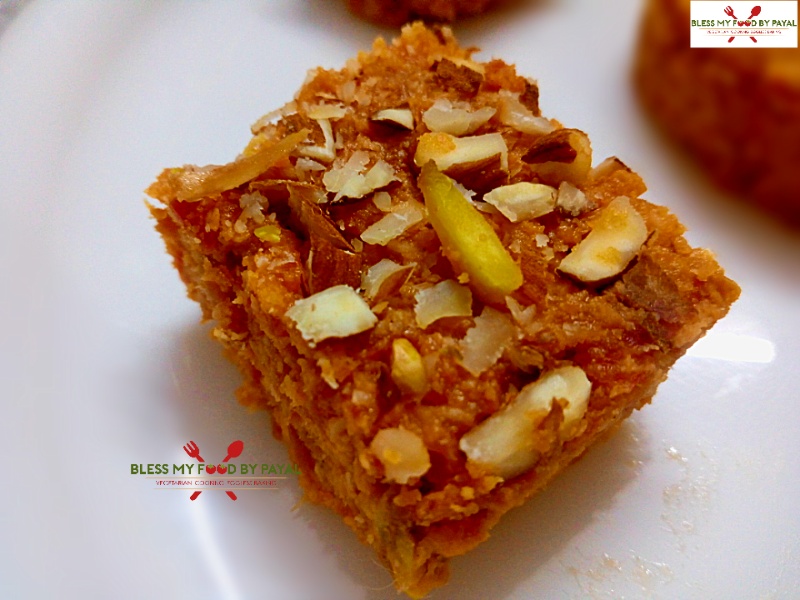 5. Thekua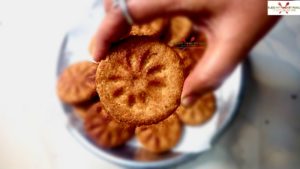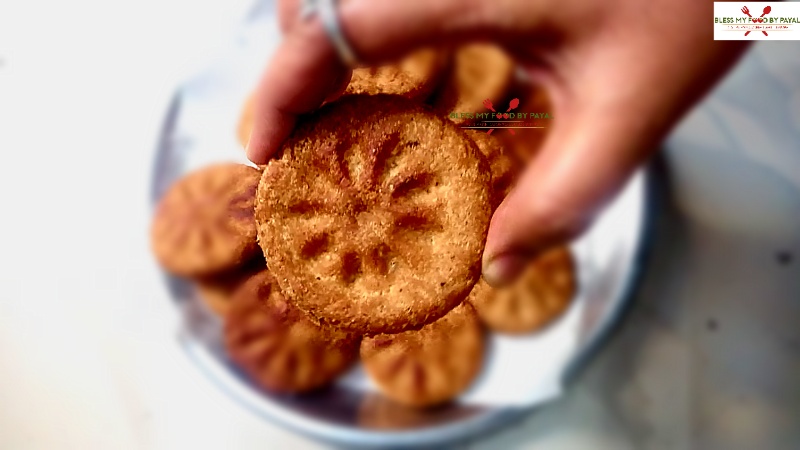 6. khoya paneer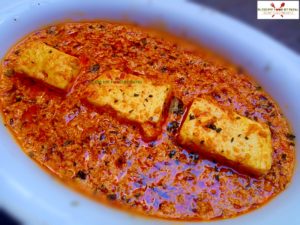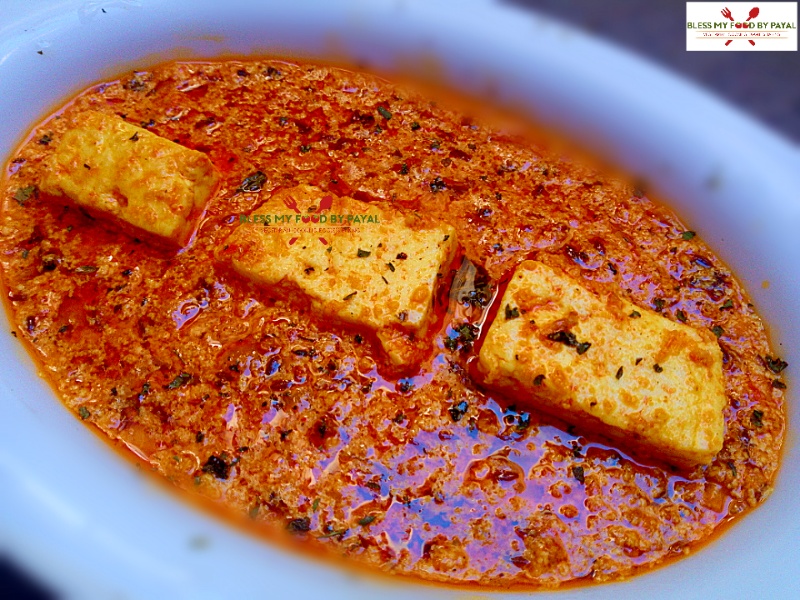 stay connected for more recipes with ghee residue in future..
Hope you must have loved it ..