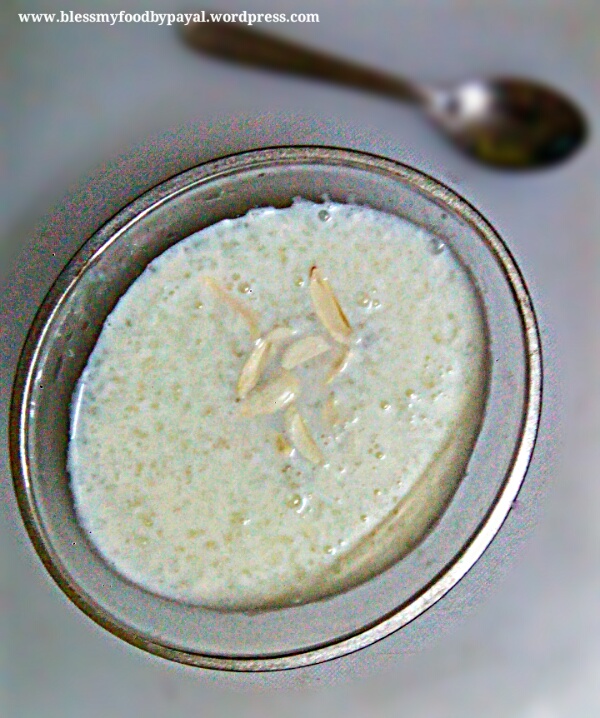 08 May

Gond Katira Kheer | make kheer using gond katira

Gond Katira Kheer | make kheer using gond katira with step wise pictorial recipe.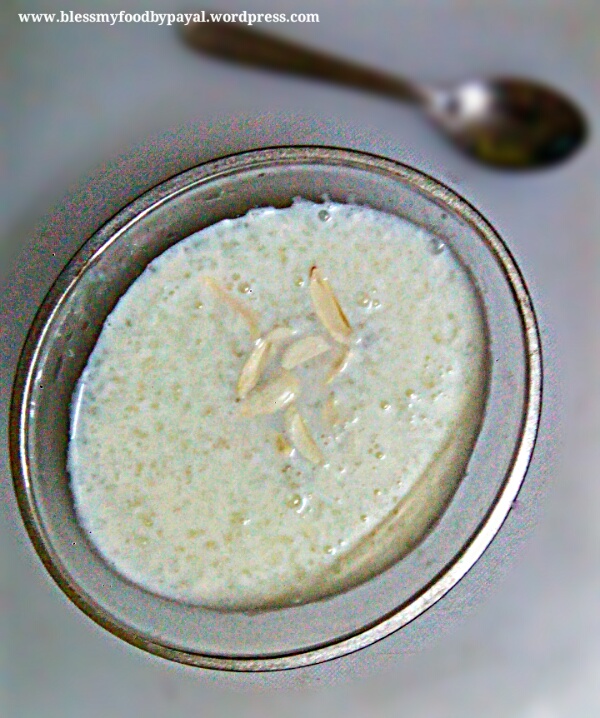 This is not just a desert. It is something much more than a sweet pudding. I won't be wrong if i call it a sweet dish with so many health benefits.
Daily intake of Gond Katira through any of the Gond Katira recipes (others mentioned in the end) prevent heat stroke & it is very useful for those children who are having a problem of Nose Bleeding in summers.
If you want to know more about it…..
….look at a detailed post on GOND KATIRA ; a cooling herb in summers.
INGREDIENTS
Fluffed Gond Katira* – 1 tbsp
Milk – 1 cup
Sugar Candy / Rock sugar (Mishri)** as per taste
Green cardamon powder a pinch
Nuts (optional) as per choice (i used overnight soaked Almonds)
YIELDS
1 Serving
METHOD
1. Take a pan, pour milk and place it on a gas stove for boiling on a high flame.
2. Add sugar candy / Rock sugar (Mishri) & cardamom powder.
3. When the milk begins to boil, low the flame and let the milk reduce a bit or as per your choice.
4. Switch off the flame and allow the milk to come to room temperature.
5. When the milk has come to room temperature, place it in the refrigerator and allow it to be chilled.
6***. Add the fluffed Gond katira and mix it.
7. Finally add nuts.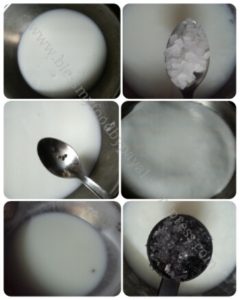 Your Gond Katira Kheer is ready. Serve chilled. Don't go by it's simple look ; count its benefits.
NOTE
*Although the link given on the top of this post gives each and every detail regarding its preparation, but for the convenience of my readers, i am reproducing the method of making fluffy Gond Katira:
Take two pieces of Gond katira and soak it overnight in water. In the morning it becomes fluffy and there is an increase in the volume of Gond katira. Just wash it & use. But for appropriate measurements & procedure, do see the mentioned post.
**Mishri/Rock sugar/sugar candy are one and the same thing and it helps to keep you cool during summer. But if you don't have it, opt for Sugar.
***Add the fluffed Gond Katira only in cold/chilled milk. During Summers, Gond Katira is never recommended to go through heat.
To bring more taste & thickness to your kheer, you can also use condensed milk.
Also see other recipes with Gond Katira : GOND KATIRA SHARBAT, GOND KATIRE WALA DOODH.
Regards
PAYAL BALI SHARMA