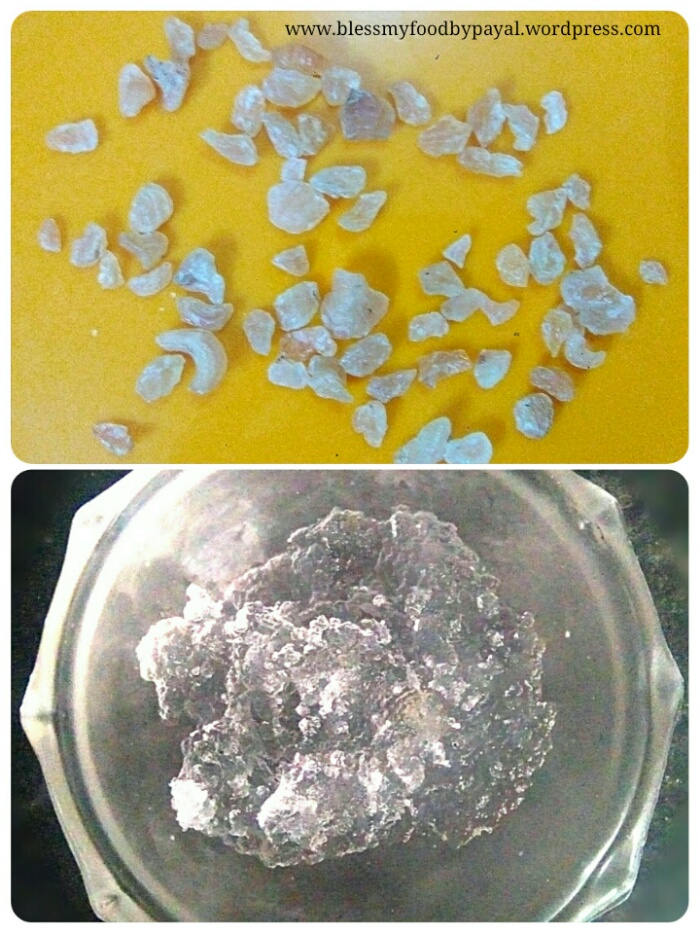 08 May

gond katira | katira gond | edible gum | gum tragacanth

gond katira | katira gond | edible gum | gum tragacanth, its benefits, uses & pictorial methods of using it in different recipes, all in one here in this post.

(Although the writeup is little lengthy, but you can't skip even a bit of it once you will come to know that how beneficial is Gond Katira for our body/health.)

Summers are on the rise and the mercury as well. This is just a mid of May in India & the temperature is touching 38 to 40°C in Northern India. God knows where it will reach in the coming days. People resort to various measures to get respite from the scorching heat. Other than the requisite changes in wearings & surroundings, people rush to lots of chilled drinks but many of the drinks just give temporary relief from heat & only  cools our throat and not entire body from within.

But Gond Katira is an ingredient which is the best suitable to the situation & works as a best cooling agent.
GOND KATIRA HEALTH BENEFITS
@Heat stroke – It acts as a cooling agent in body, thus preventing us from heat stroke. Some children has nose bleeding problem due to excessive heat in their body and goond katira is a best medicine for them.
@Laxative – It has the qualities of laxative and so it helps in constipation.
@Urinary Lewdness – It has amazing results against Urinary incontinence or involuntary urination.
@Tumur/Immune system – It is believed that Gond Katira could suppress tumor and stimulate immune system.
@Burns – It has been used as a modern treatment for burn and applied in the form of paste.
@Cough/Diarrhea – It is also utilized to cure cough and diarrhea.
OTHER USES OF GOND KATIRA
Gond Katira has a wide area of applications. It serves as an emulsifier, thickener, binding agent and stabilizer. It is used in sauces, salad dressings, processed cheese, cottage cheese, ice creams, icing and confectionery. Other than the food industry, it is used as a binder and even stabilizer in industries like paper making, cosmetics, textile industry and so on.
WHAT IS GOND KATIRA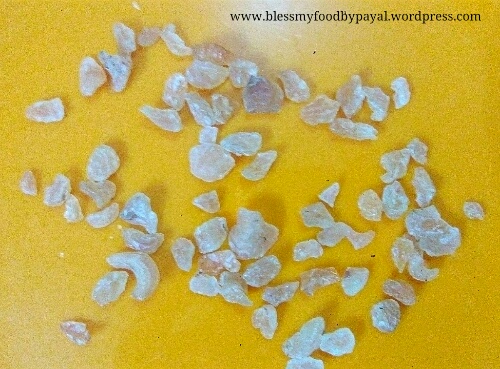 After going through its benefits, especially related to health, the curiosity is obvious that what is this magical herb.
Gond Katira is a gum which is obtained from the dried sap of several species of eastern areas.The gum comes from a thorny shrub. It exudes naturally from the roots of the plant and from incisions made in the stem . This is collected and when gets dried, it forms a flakes crystals. Iran produces a big quantity of Gond katira.
OTHER NAMES FOR GOND KATIRA
Hindi name – Gond katira
English name – Tragacanth gum
Botanical name – Astragalus Gummifer
Scientific nomenclature – Cochlospermum religiosum.
German name – Kutira Gummi
French name – Gomme Adragante
Arabi Name – Katheera, Haloosiyaa
Bengali Name – Katila
Some more names for Gond Katira are:
Dragon gum,
Shiraz gum,
Gum elect and Qujah.
Ela-imbul-kinihiriya
Quatira Shiraz gum
Goat's thorn
Locoweed
GOND KATIRA PRICE, AVAILABILITY & USUAGE
Available in almost all the provisional/Karyana stores, this herb is very expensive and in my city its cost is  ₹1000/- for 1 Kg, but this cost is too less in lieu of its enormous benefits. And moreover it is used in a very very small quantity, so no need to buy in bulk. Begin with grams. Initially i bought just 50 gms for ₹ 50/- & is sufficient for 12 to 15 days for a family of 3 members. (3 servings per day).
Rest, you are the best judge of your requirements.
Usage details have been shared hereunder in the method.
HOW TO USE GOND KATIRA IN SUMMERS
Gond Katira has both the effects, i.e. cooling and heat.
In summer, it is to be used only after soaking it in water because after soaking, it becomes fluffy and soft. And consuming it in this form helps to cool our body.
In winter it is to be used after frying and grinding & is very good especially for pregnant ladies. Then, it can be added to many of the desserts and other items. In this form, it generates heat in the body which is actually needed.
As suggested already herein above, Gond Katira is to be used only after soaking during the period of summers. So for soaking, all you need is….
INGREDIENTS
Gond Katira (crystals) 2 medium sized pieces*
Water 1 cup
METHOD OF SOAKING
1. Take a big bowl,** add Gond Katira and soak it for 8 – 10 hours or overnight in water.
2. After 8 – 10 hours / in the morning, it will become fluffy and there is an increase in the volume of Gond katira.
3. Rinse the excess water & wash the fluffy Gond Katira with clean water for 2-3 times to remove the impurities.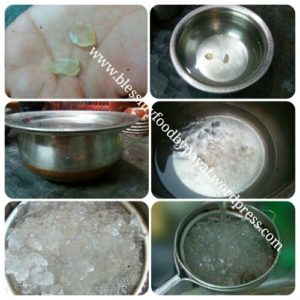 Your Gond katira is ready to be used. It appears exactly like a crushed ice.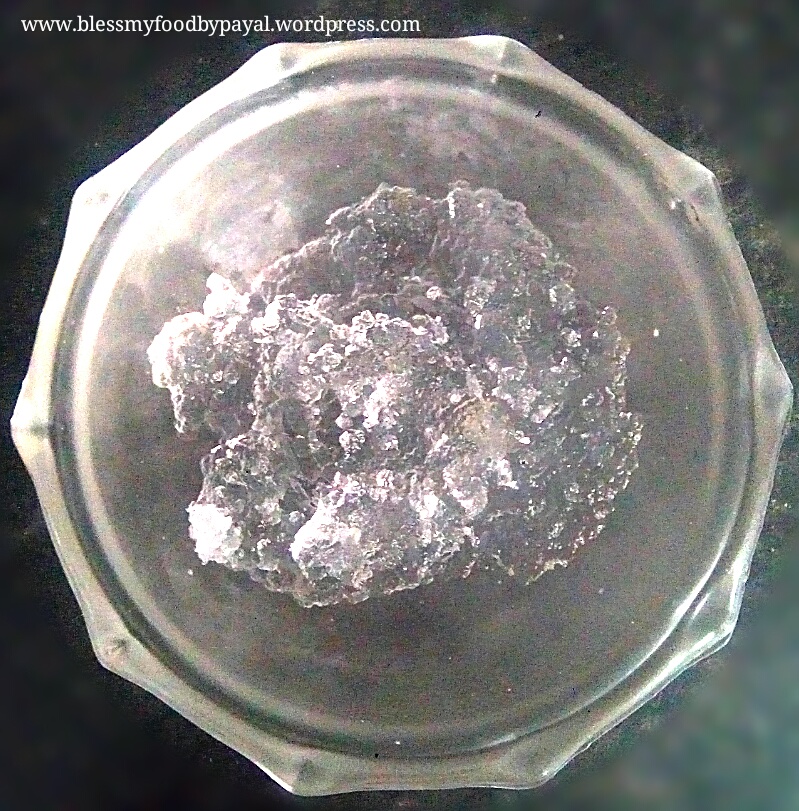 NOTE
*Don't confuse yourself with the size of Gond Katira crystals. 2 small crystals can make about 2 tablespoons of fluffy Katira. So before soaking, pre-access your requirements because all the below mentioned recipes don't call for more than 2 tbsp of Fluffy Gond Katira for 1 serving.
**Don't go by the size of crystals & only take a big bowl for soaking. Gond Katira is going to fluff and its volume will be raised.
HOW TO STORE
If your assessment has gone wrong and you have soaked Gond Katira more than your requirement, nothing to worry.
You can store the fluffed Gond Katira for 4 – 5 days on the upper shelf of refrigerator and use as and when needed. Don't use airtight container.
IMPORTANT TIP
To draw the maximum benefits of Gond Katira, all you need to do is to make it a part of daily routine of your family during entire summers. Even one time intake is also sufficient at any point of the whole day.
GOND KATIRA RECIPES
You can simply add sugar (as per your taste) in it and enjoy this coolant or can make following easy and delicious recipes with Gond Katira :
I wish & pray that my efforts must also be fruitful to my dear readers.
Regards
PAYAL BALI SHARMA