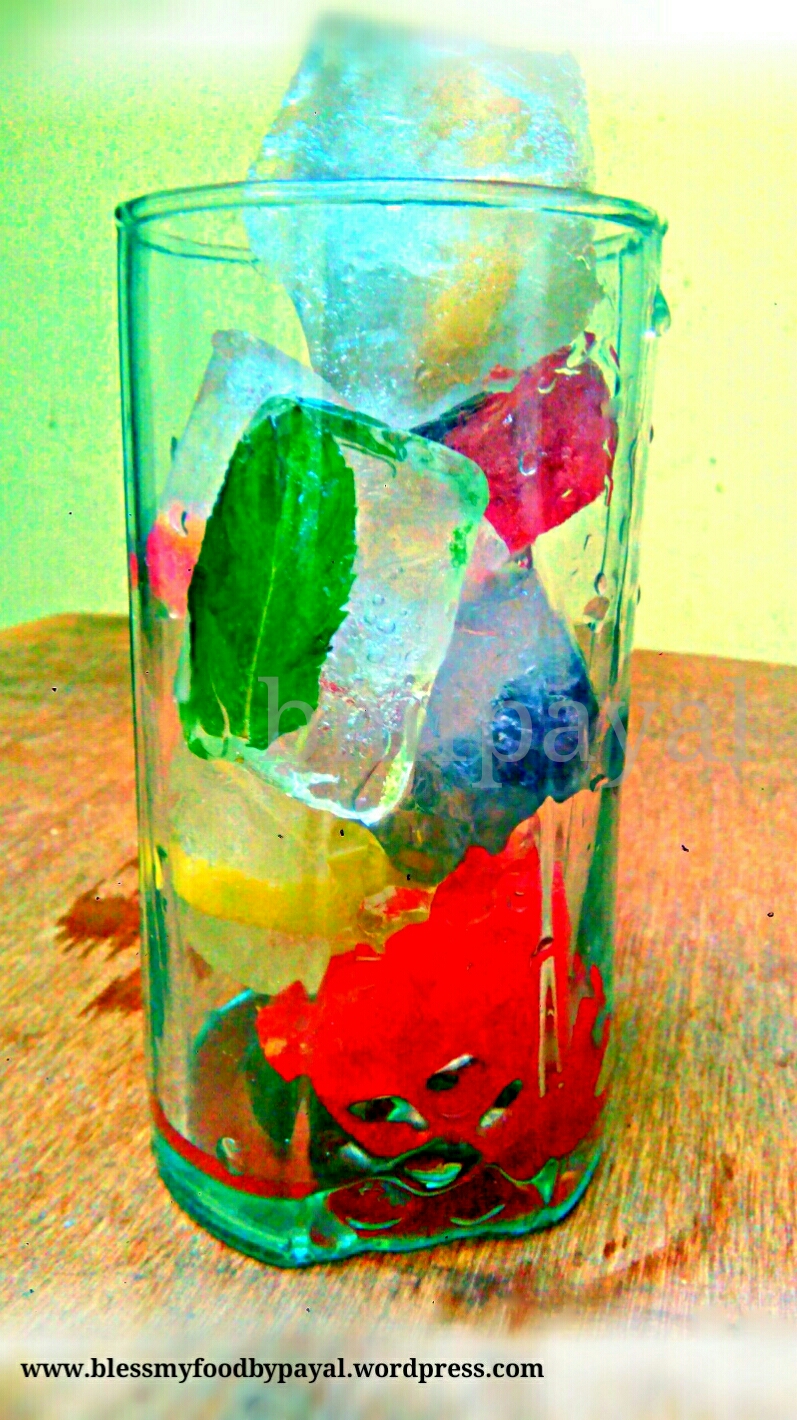 24 Apr

flavored ice cubes | fruit flavored ice cubes

With these stepwise pictorial ideas of flavored ice cubes, let's decorate our drinks. These simple ideas can make even a simple & plain water worth appealing and presentable…what to say of other drinks.

With the arrival of summers, we all rush to different kinds of drinks and cocktails which are tasty, healthy and must work as a coolant. Moreso your guests will also expect something like this only on their visit to your place on a hot sunny day. And if in addition to all other requirements, you will serve them something amazing in look too, then…you are definitely going to gain so many appreciations.

So here in this post, i am sharing few of the ideas, with which you can add more flavors and looks to the drinks. And the matter of more happiness is that no extraordinary technique or skill is needed to complete the job.

I will not call it a recipe because this is just a method to introduce your drinks in a more presentable manner.

So let's decorate our drinks….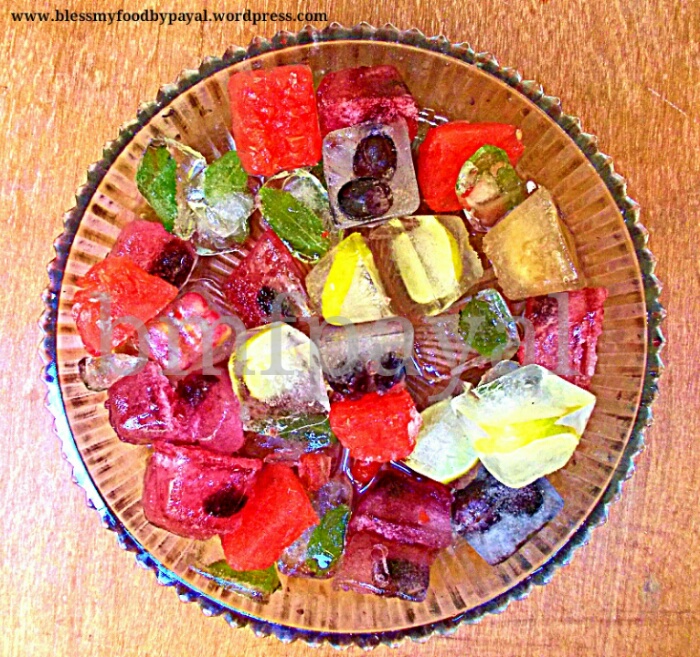 INGREDIENTS
Fruits of your choice
Lemons as per your choice
Mint leaves as per your choice
Filtered water as per need
Right at the moment, i am having black grapes, banana, mulberries, watermelon, pomegranate and also lemon & mint in my refrigerator…so worked on it only.
You can also use Basil, Rusberry, Mango, Apple, Straberry, Pineapple, Orange, plum, Cucumber and other fruits & herbs of your choice.
SPECIAL EQUIPMENTS
Ice cube trays
Ziplock bags (optional)
METHOD
FOR FRUIT ICE CUBES
1. Prepare your fruits.
How to prepare the fruits depend upon the kind of fruit you are going to use for infusing in an ice cube. Some fruits need washing only, some Washing and cutting being big in size, some peeling and some chopping.
I washed grapes and mulberries; peeled banana and chopped into thin slices; also peeled pomegranate; Cut, remove seeds & finely chopped watermelon. If there would have been apples too, that needs washing and cutting both.
On the contrary, you can extract the juice of the juicy fruits & freeze the juice in the ice cube trays.
2. Slightly prick the fruit (which is intact & unable to release its flavor unless cut) with a toothpick or pointed knife.
I had to prick grapes and pomegranate.
3. Transfer the fruit to the ice cube tray.
4. Fill the tray with distilled/filtered water and place in the freezer for freezing.
You should use the filtered water so that after freezing, the ice cube should be clear enough not to dominate the appearance of fruit infused in it.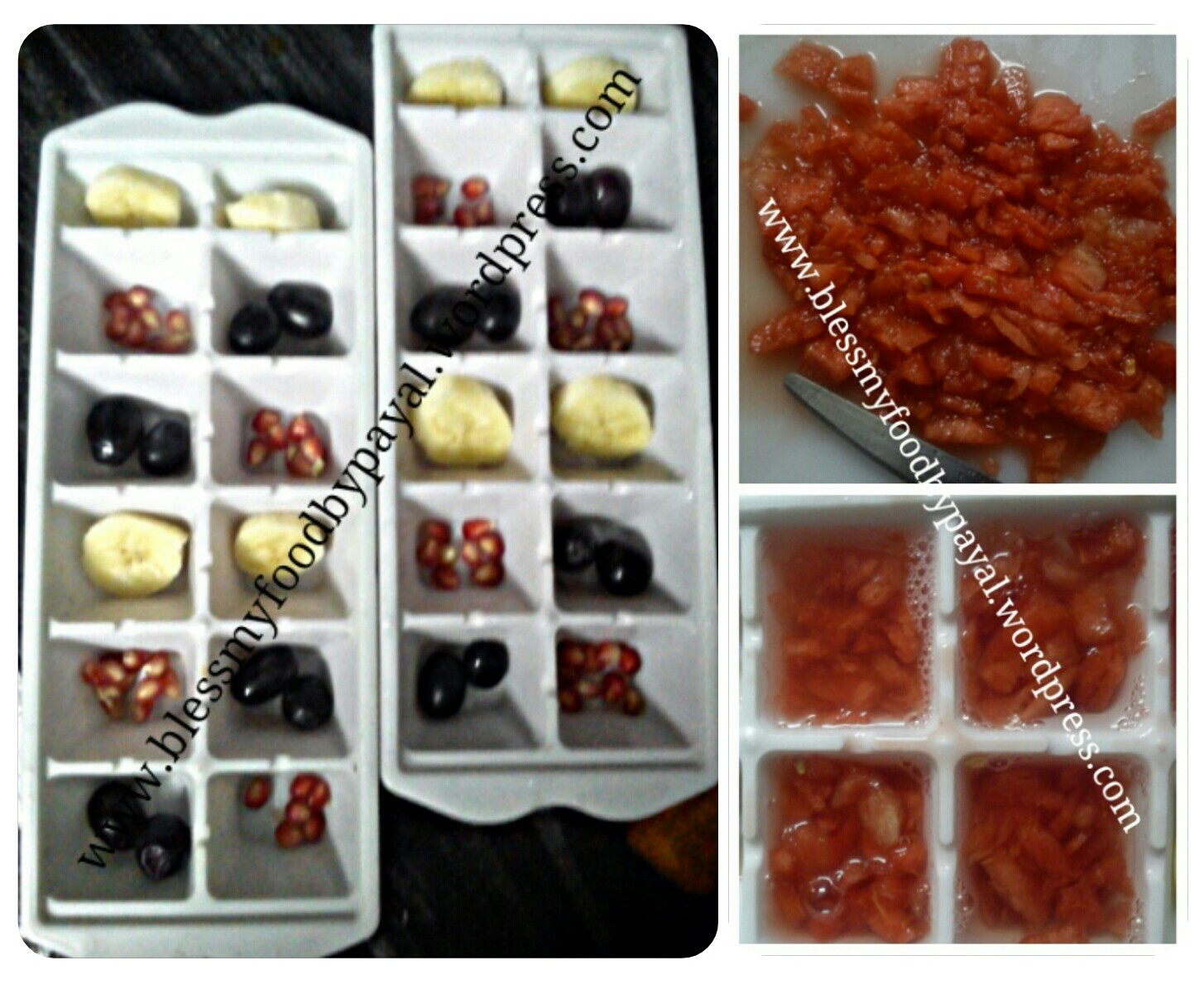 5. Once freezed, flavoured ice cubes are ready for use.
FOR MINT ICE CUBES
1. Wash the mint leaves and place each of them in the ice cube tray.
2. Fill it with filtered water and place it in the freezer.
You can either finely chop the leaves or use the whole leaf.
Also the leaves being light weighted will float on the top of water and will freeze like this only. If you want that the leaves should freeze exactly in the middle of the ice cube, then fill the ice cube tray half, place a leaf in it and transfer to the freezer. Cubes will be semi freezed after some time and the leaves will be stick to it. At this stage, fill the left out portion of cubes with water & again transfer to freezer. This way your leaves will be freezed exactly in the middle of the cube.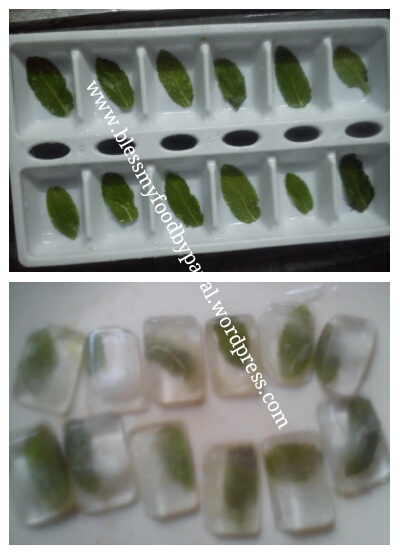 Your Mint infused Ice Cubes are ready…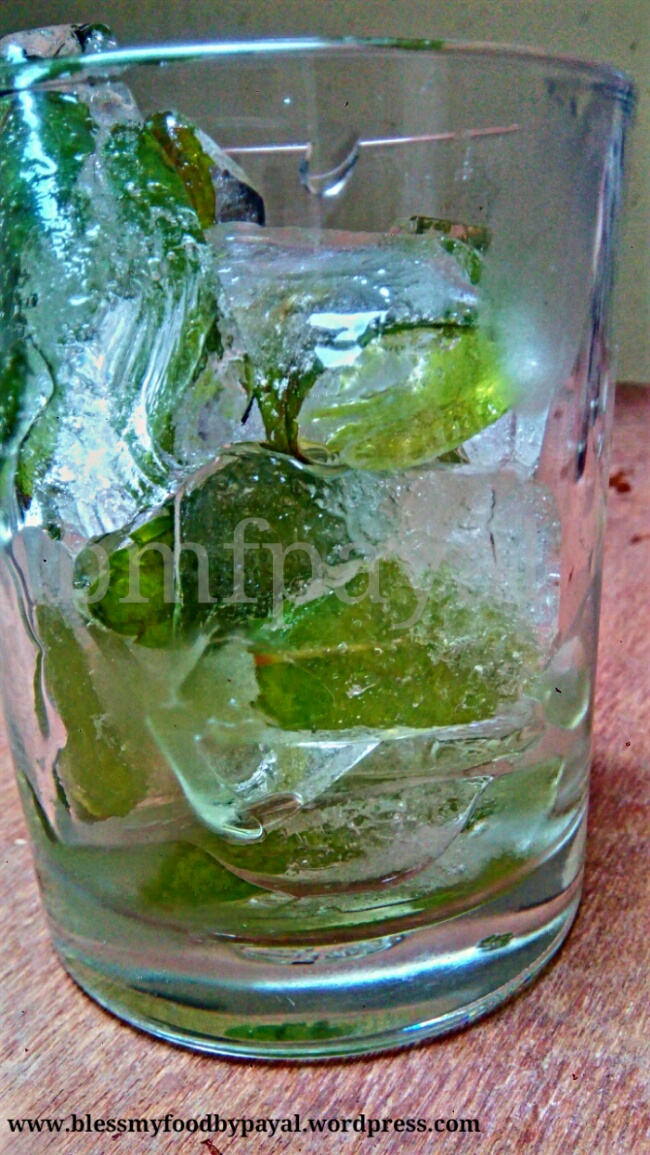 FOR LEMON ICE CUBES
I adopted 2 METHODS for making these ice cubes…
METHOD 1. Thinly slice lemons, de-seed them, place in the ice cube tray and fill with water. Finally place in the freezer.
METHOD 2.  Squeeze the lemons and pour their juice in the ice cube tray. Freeze them.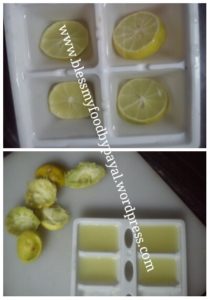 Your Lemon infused & Lemon Ice Cubes are ready….
HOW TO PRESERVE
Although ice cubes can be retained in the ice cube trays itself but as we can't occupy our ice trays for months together because they need to be re-used, so i used ziplock bags.
So if you too don't want to occupy your trays for a longer period, then just demold the ice cubes, place them in ziplock bag and again place it in the freezer.
The only drawback of this step is that the cubes will stick to each other in the bag and at the time of using them, you need a little force to separate them. But I am OK with this until some better option is not available to me.
If any of my reader can help me here, I will feel honoured.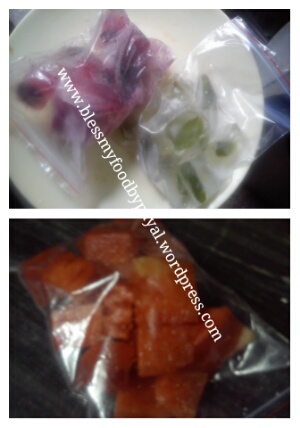 Now use these cubes in the drinks of your choice. Its purely your call that which drink you want to combine with which flavour of ice cube.
You can even decorate a simple water serving, more particularly with the Lemon & mint cubes. Rest you yourself are the best judge.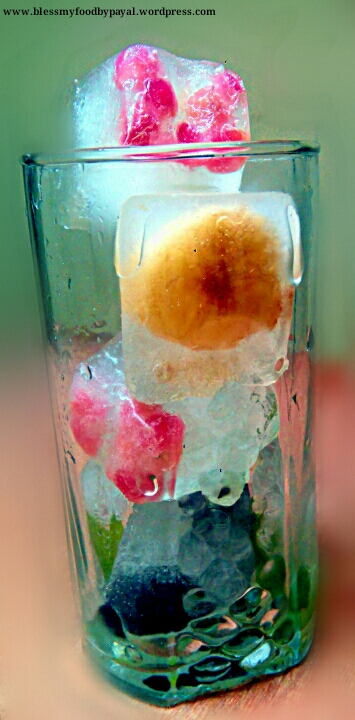 Regards
PAYAL BALI SHARMA