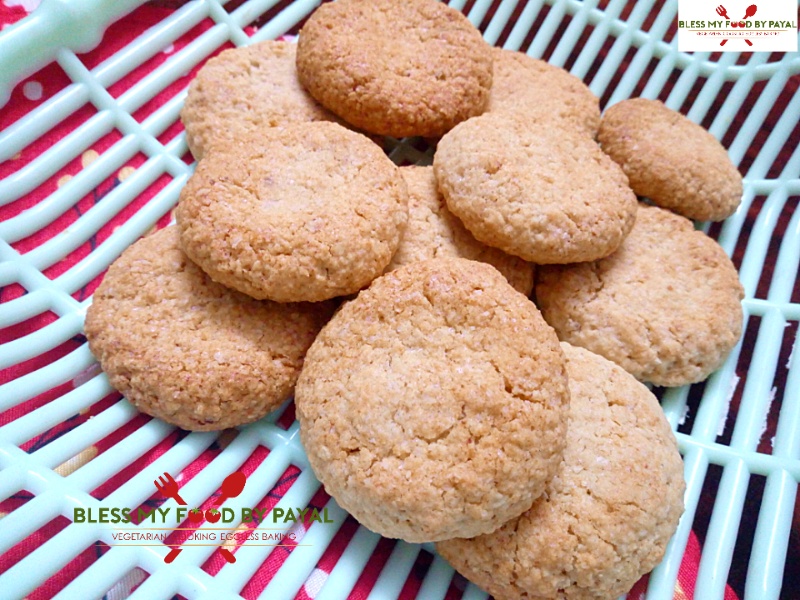 02 Sep

eggless oats cookies with leftover ghee residue | ghee oats cookies

eggless oats cookies with leftover ghee residue | ghee oats cookies | eggless oats biscuit recipe | recipes using leftover Ghee residue with step wise pictorial and video method is here.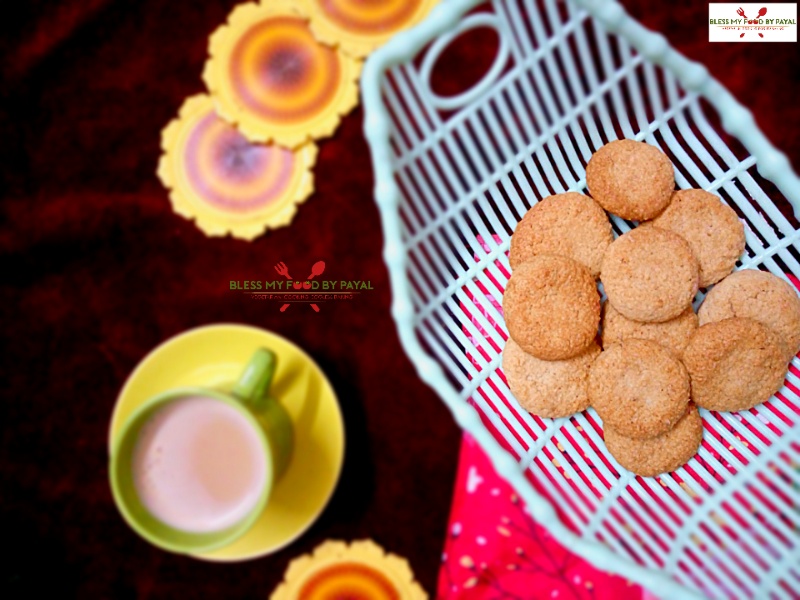 Few days back we have shared a recipe of ladoos made up of leftover Ghee residue in which it is explained in detail that what exactly is ghee residue. You can have a look at that recipe of ladoos, the link to the same is given next.
Ghee residue contains so much of ghee in itself and even otherwise, ghee residue is very healthy. So it should never be wasted. Do try this recipe of eggless Oats Cookies with leftover ghee residue which carries 2 essential ingredients and both comes with great health benefits.
Also have other recipes from leftover ghee residue :
custard flavoured paneer barfi from leftover ghee residue
Ladoo from leftover ghee residue
gajar ki barfi with desi ghee residue
Do try other cookies recipes from this blog:
egg free peanut butter cookies recipe

Video recipe of eggless oats cookies with leftover ghee residue
Text recipe of eggless oats cookies with leftover ghee residue
INGREDIENTS
Ghee Residue – 3 tbsp
Sugar  – 1/4 cup
Oats (plain) – 1 cup
All purpose flour – 3 tbsp
Green cardamom – 3 pods
Butter milk or milk – as per need
YIELDS
11 Cookies
METHOD
You are recommended to use the same Kadai/pan in which you have made the ghee for making the dough of these cookies because even after filtering the ghee, there remains much stick to Kadai/pan. So to save & utilize even a last drop of ghee, we are using the same Kadai.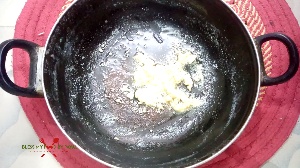 1. Add sugar and cardamom in the grinder and grind to a fine powder. Take out powdered sugar in some bowl and keep aside.
2. Now add oats in grinder and grind to a fine powder. Keep aside.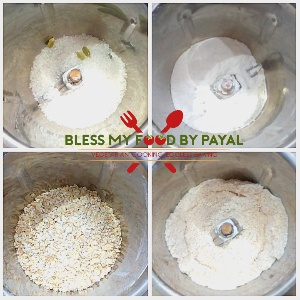 3. Take a Kadai in which ghee residue is already placed and sticked all around. Scrape the residue from all the sides and collect in the centre of Kadai.
4. Add powdered sugar and mix well to make a soft cream.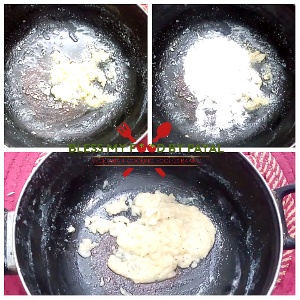 5. Now add powdered oats and all purpose flour and mix them.
6. Don't knead but only try to bring everything together, better with your finger tips.
7. If the dough is not binding together being dry, add butter milk just a spoon and bind everything together.
8. Place the dough in refrigerator for 10 minutes and switch on your oven @180°C for preheating.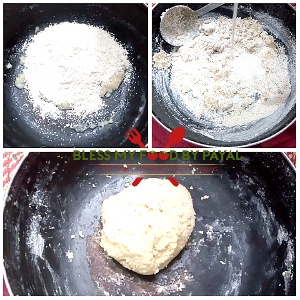 9. Take the dough out and start making small balls out of it one by one.
10. Press each ball gently and keep arranging them on baking tray already lined with parchment paper.
11. Bake in the middle rack of oven with both rods on for 20 to 25 minutes at oven @180°C / 350F or until the cookies turn slightly brown.
12. Take the tray out of rack and let cookies turn cool.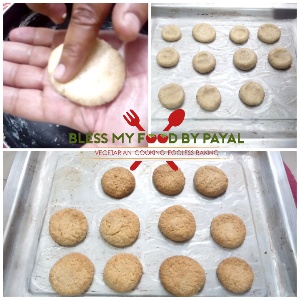 Your eggless oats cookies with leftover ghee residue are ready. Store them in airtight jar and enjoy with a cup of tea.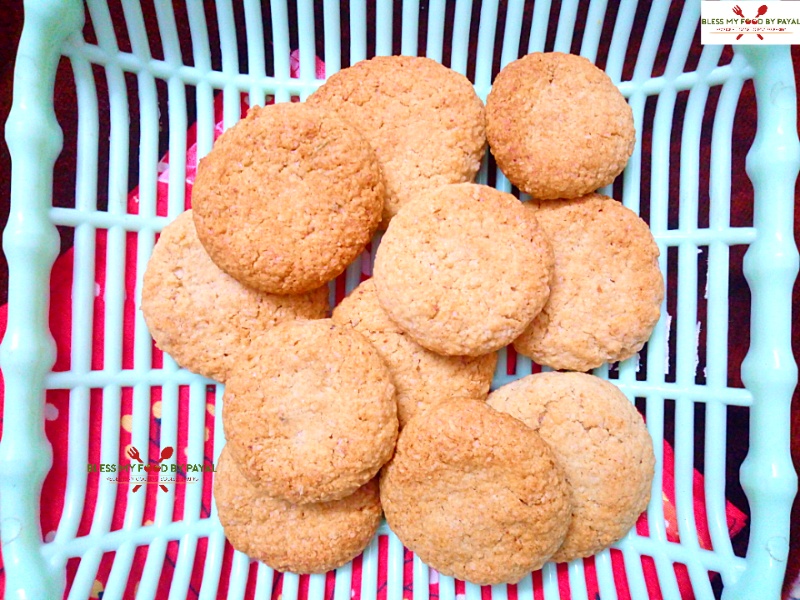 NOTE
* As we are making this recipe by using the residue of ghee, so we have to be careful right from the stage when we started preparing the ghee.
While preparing ghee, keep on stirring the butter otherwise the residue will stick to the bottom of the pan and get burnt and as a result you will not be able to make these ladoos and if made, they will be bitter in taste.
* You can make the same recipe also with desi ghee instead of leftover Ghee residue.
* The role of maida and buttermilk in this recipe is just to bind and maintain the consistency of cookies dough. If you dough is not coming together, take the help of buttermilk and if dough has become too loose, add maida to bring requisite consistency.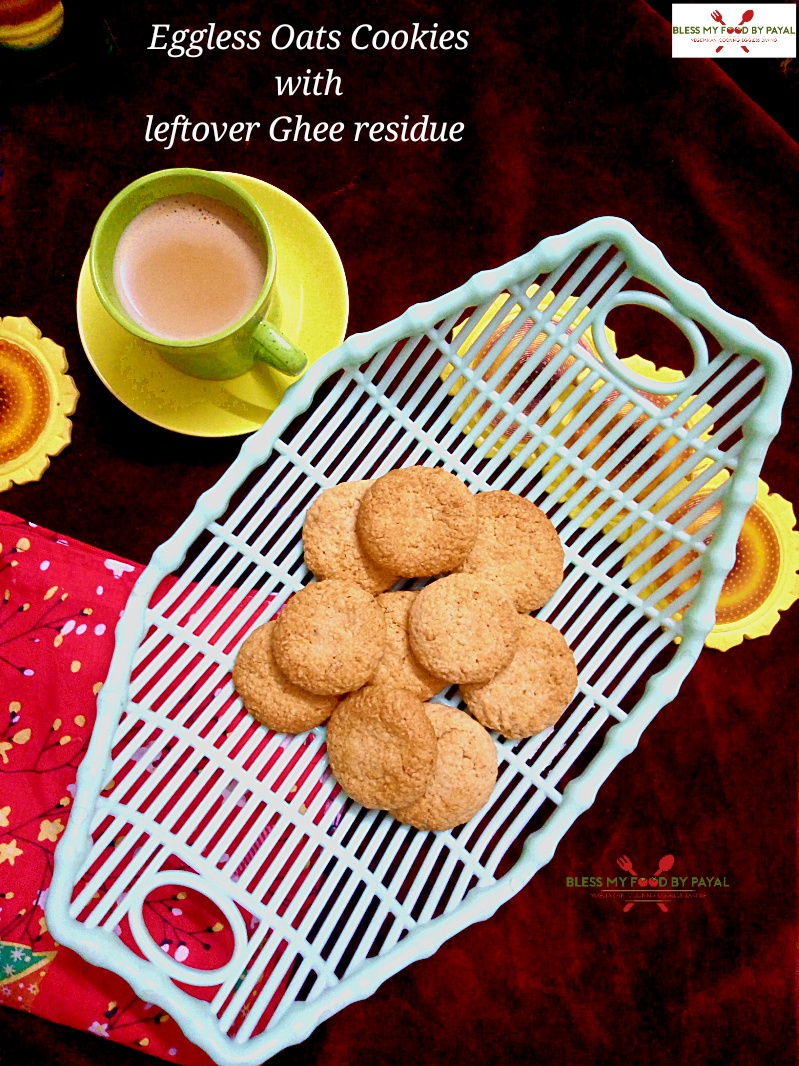 Feel Free To Ask Queries, If Any…
Regards
PAYAL BALI SHARMA
SHAILENDER SHARMA