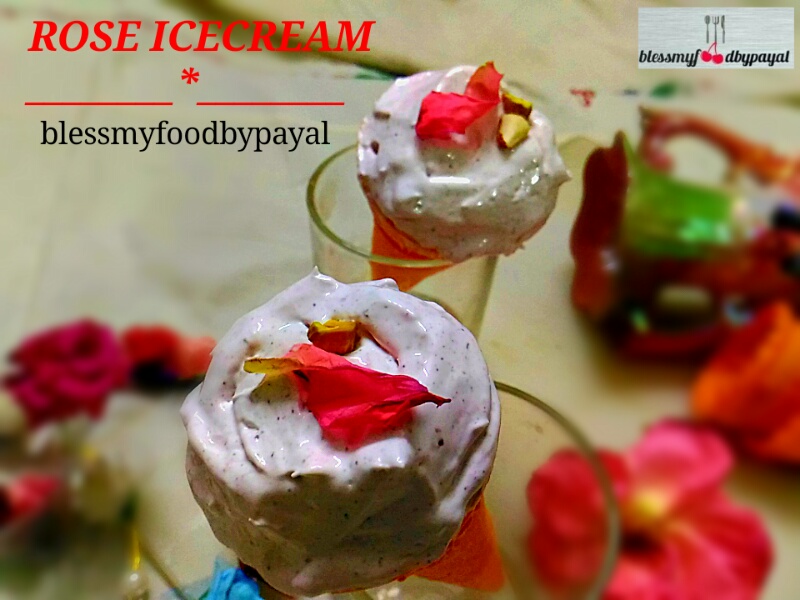 15 Apr

easy rose ice cream | eggless rose ice cream | rose petal ice cream recipe

easy rose ice cream | eggless rose ice cream | rose petal ice cream recipe with step wise pictorial method is given hereunder.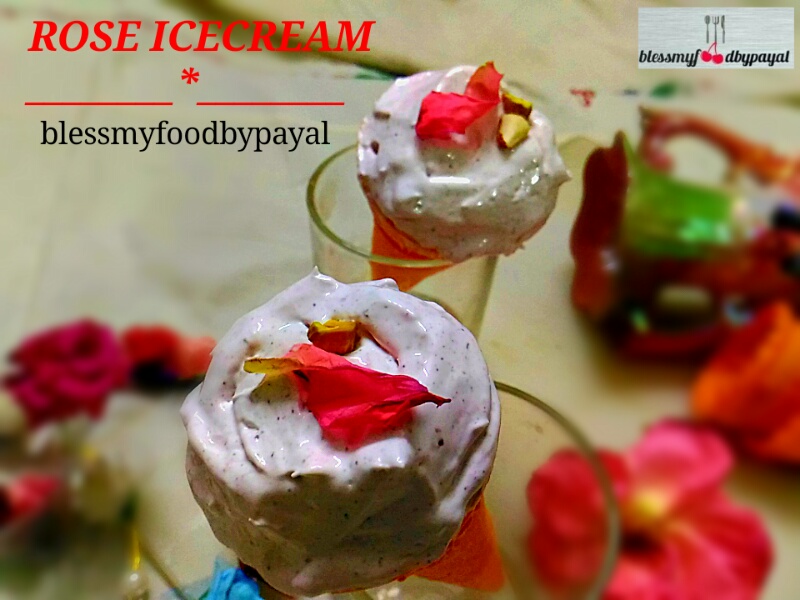 Rose is a symbolic of love and whenever Rose is associated with any thing else, the essence of romance is depicted from that associate also. This is the situation of this recipe of easy Rose Ice Cream. Too romantic, too lovable, too elegant and too beautiful…..this easy rose ice cream is nothing less than a bouquet of fragrant Roses…very easy to make with the rose petals itself.
So let's spread Love from the kitchen……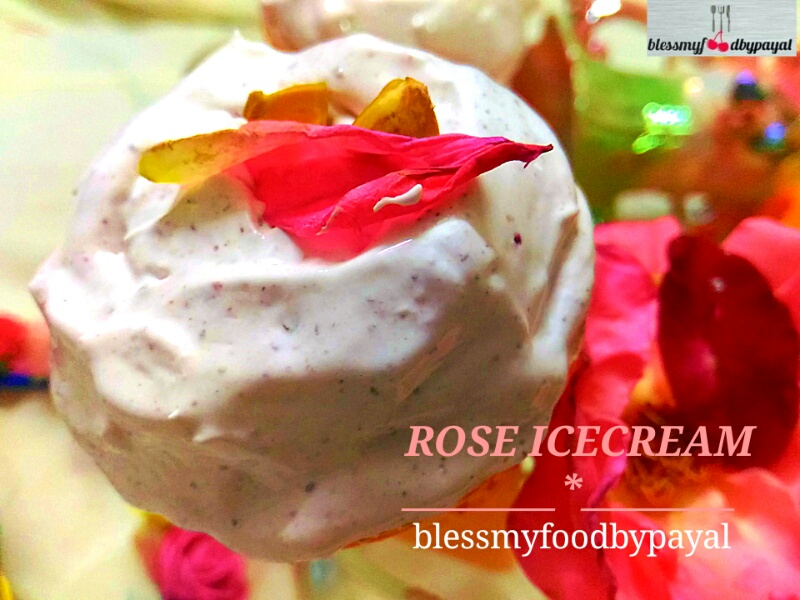 INGREDIENTS
Rose petals – 1/4 Cup
Milk – 1/4 cup
Sugar – 6 tbsp
Rose water – 1 tsp
Dry fruits as per choice
For Garnishing
Fresh Rose petals
Chopped dry fruits
Additional requirements
Ice Cubes
YIELDS
3- 4 Servings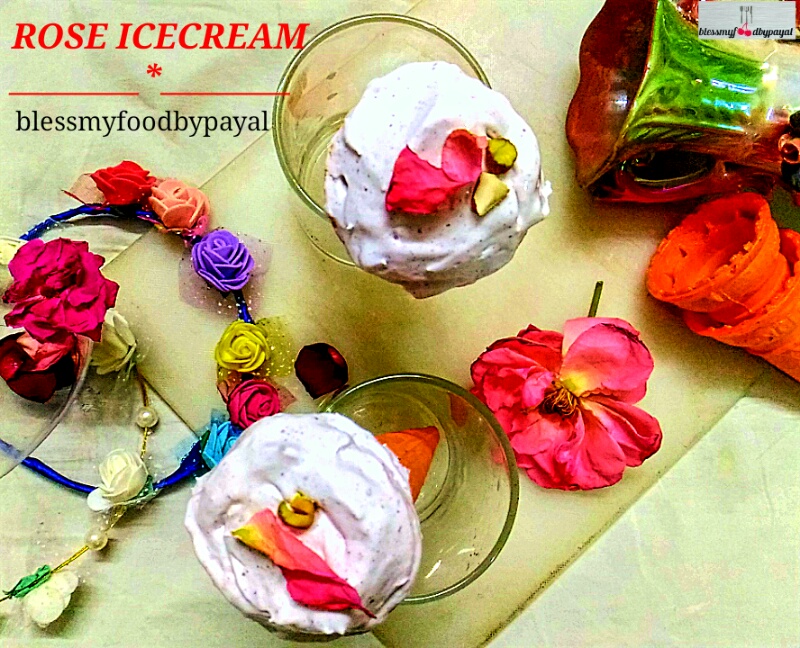 METHOD
Begin with the basic preparations first :-
1. If you are purchasing rose petals from market, make sure they shouldn't be sprayed on. Wash them, place few in refrigerator to be used for garnishing later and let the rest turn pat dry.
2. Place a bowl and electric beaters in refrigerator for atleast 30 minutes prior to making of an ice cream.
3. combine Rooh afza Syrup with milk and keep in refrigerator.
4. Roughly chop dry fruits. Keep aside.
5. on turning rose petals turning dry, grind them along with sugar to a fine powder. Keep aside.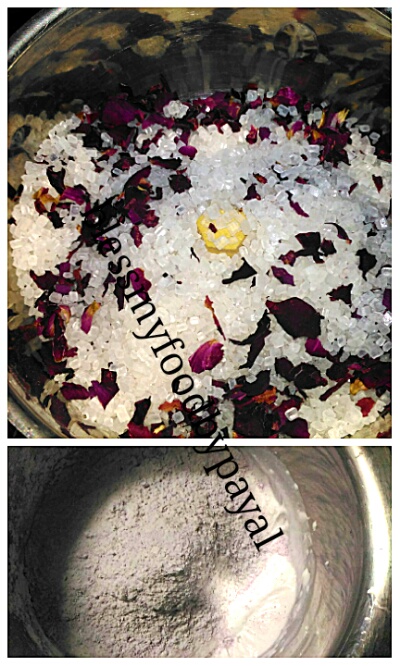 Now commence with the process of preparing easy rose ice cream :-
1. Take a deep & wide bowl and add ice cubes to it. Then add some water.
2. Now take the bowl  which was kept in refrigerator for chilling and place it in the center of the big bowl carrying ice water.
3. pour cream and beat it to stiff peaks with the electric beater.
4. Once its volume is increased to double, add grinded sugar rose mixture and then again beat it to form more peaks.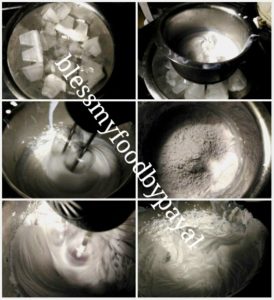 5. Once whipped, add Ruhafza milk, rose water, some of the chopped dry fruits and mix well.  Here you don't require to beat it.
6. shift the mixture to an air tight container and freeze  for some hours.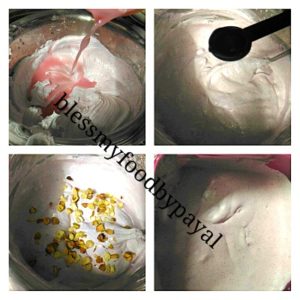 7. Once frozen completely and properly, serve ice cream after garnishing with leftover dry fruits and fresh Rose petals.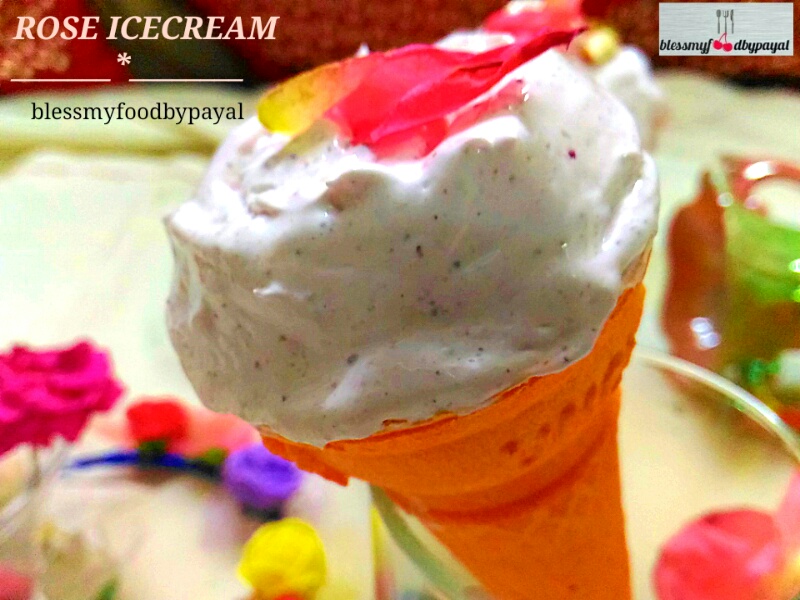 NOTES
* If out of Ruhafza Syrup, add some drops of Red food colour and also increase the quantity of sugar from 6 tbsp to 8 tbsp.
** While freezing the ice cream, place the container in zip lock bag and only then place it in freezer. This way, the formation of ice crystals in the ice cream can be avoided.
This method is useful in case of store brought ice creams too. After every use, place the ice cream containers (either Homemade or store brought) in the freezer only after putting it in zip lock bag.
If you don't have such bags, you can also use polythene bags and tie their open end with rubber band, like we did. Isn't that simply and useful?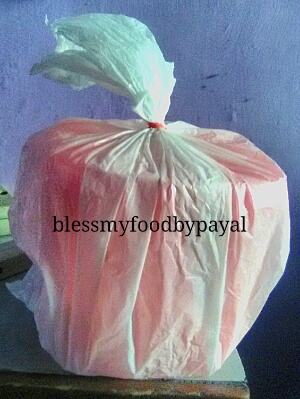 Have a look at some more of the Ice Cream recipes in this blog.
Feel Free To Ask Queries, If Any…
Regards
PAYAL BALI SHARMA
SHAILENDER SHARMA