31 Jul

Duck Shaped Namak Paare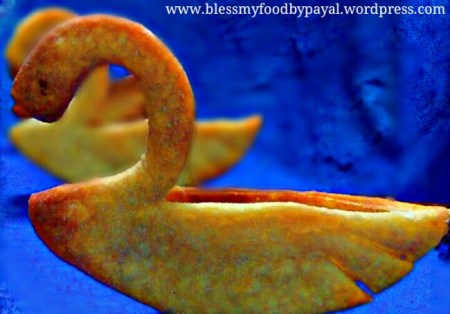 Stepwise pictorial recipe of Duck Shaped Paare.
An amazing snack made in a way to capture the attention of kids. I had seen this shape somewhere on internet. Although that wasn't about Paare and only shape was portrayed. Then I decided to make Paare in that shape. You can call it Duck shaped Namak Paare because it is also made in the same way with a slight difference. I have given a specific shape to it and also this a Baked one unlike my previously made Namak Paare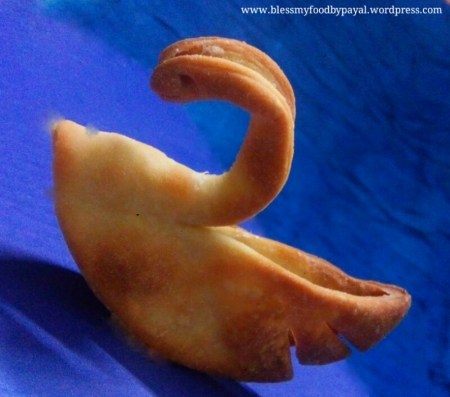 So here the recipe goes….
INGREDIENTS*
Whole wheat flour – 2 Cup
All purpose flour – 2 Cup
Carom seeds – 2 tsp
Cumin seeds – 2 tsp
Baking soda – 1/2 tsp
Red chilly powder – 1/4 tsp (optional)
Oil – 6 tbsp
Water as needed
salt as per taste
oil as per need
METHOD
Preparation of Dough
1. Sieve the whole wheat flour, all purpose flour, baking soda and salt together.
2. Add the cumin seeds, carom seeds, red chilly powder and oil in the flour mixture.
3. Firstly rub the flour mixture with oil with your fingertips and bring it to a breadcrumbs consistency.
4. Once it is done, knead a firm dough with water and cover it with a cheese cloth and set aside for 10 – 15 minutes.
5. In the meantime, switch on the oven at 180°C.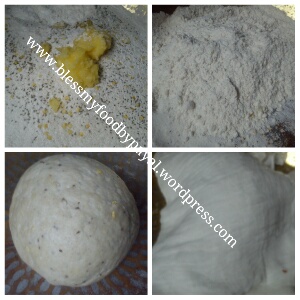 Making of shape
1. Take a lemon size ball out of the dough and roll it with the help of rolling pin on a flour dusted shelf.
2. Cut the dough with the help of a round cutter or katori & you have a perfect round small sized Roti with you.
3.  Brush a small amount of oil on one side of the rolled dough and fold it from the center and it will look like a half moon.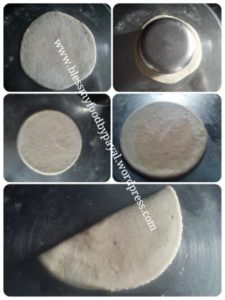 4. Poke the half moon with the folk. This is to be done so that our ducks will not puff up while baking.
5. Again turn the side and now its a time to do the art work with the help of a knife.
6.  Place the dough in a way so that the flat side of it is on upwards direction and the half round side of it is towards the downside.
7. Leaving a space of about ½ inches from the flat upward side and 1 inch from left round side, mark a deep cut towards the right end of the folded dough.
8. Mark the 2 small cuts on the right side of the dough little downwards.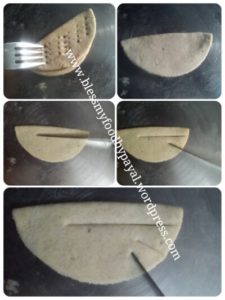 9. Very slightly flatten the round side of the dough with the help of a knife. This is needed just to give a standing posture to your ducks once they are Baked.
10. Now hold the slit of the dough which was marked cut in the beginning and turn it upwards in the shape is a semi circle. This is the neck of your duck.
11. Slightly pinch the slit from its opening end and give it the shape of a beak.
12. Make the eye of a duck with the toothpick.
13. Likewise prepare all the ducks.
14. Brush oil on a baking tray, place your duck in them, again oil them with the brush and transfer to oven for baking till they turn crispy and golden brown. It may take 10 to 15 minutes and then bring them out.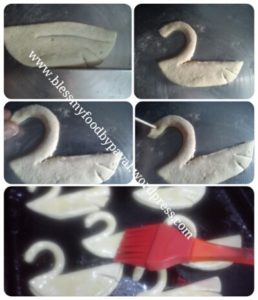 Let your child play with and eat these crispy duck shaped Namak paare. You can also enjoy these crispy paare with a cup of tea and store** the rest.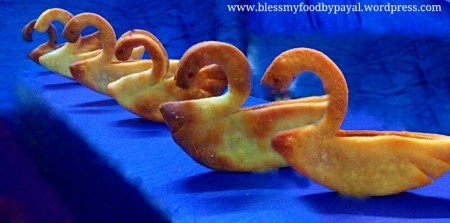 NOTE
* You can increase or decrease the quantity of ingredients as per your need and usage.
** If you are making these paare in bulk and want some to preserve for later use, then place them in an air tight container when they cool down completely and enjoy with a cup of tea whenever you like.
Feel Free To Ask Any Queries…
With the same dough, following recipes can also be made :-
Regards
PAYAL BALI SHARMA
SHAILENDER SHARMA
Please Subscribe to have an access to our new and upcoming recipes.