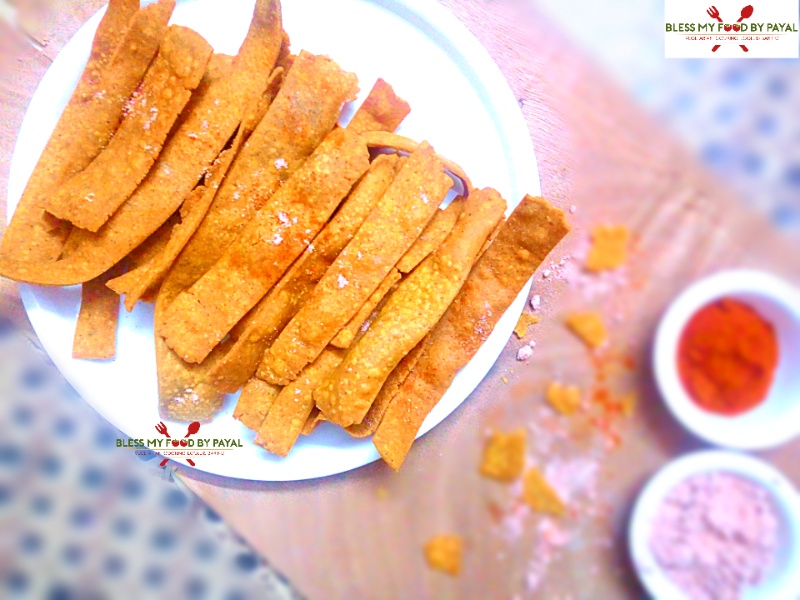 01 Nov

chorafali | choraphali | cholafali | chorafali fafda recipe

chorafali | choraphali | cholafali | chorafali fafda recipe with step wise pictorial and video method.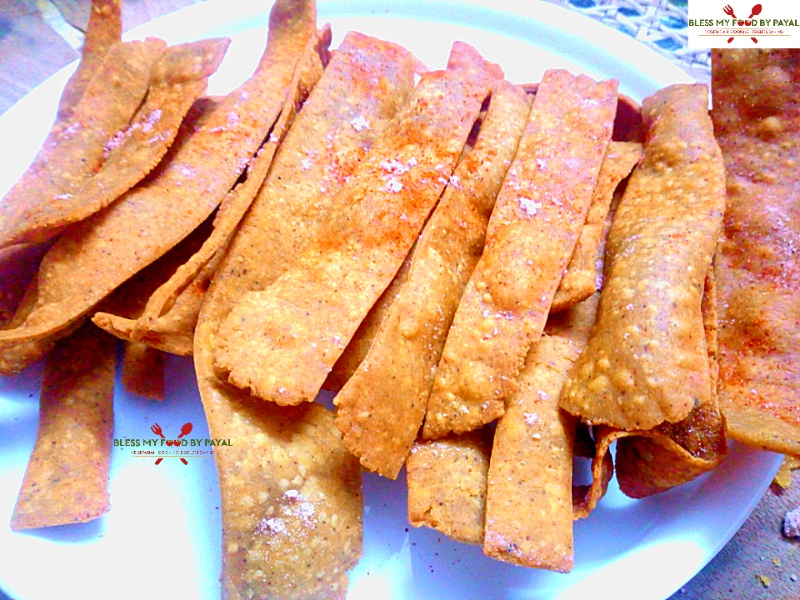 chorafali | choraphali | cholafali | chorafali fafda recipe is an amazing Gujarati snack which is one of the specialty during Diwali.
Honestly speaking, we were never aware about this lip smacking light and fluffy snack until we made a hunt for Diwali recipes. During our search, we came across this amazing chorafali recipe. However we had to make elaborate study (both on Google and YouTube) to make it properly.
Even otherwise we always love to prepare certain snacks which can be stored for days and weeks and can be served instantly with tea. And this one is also belong to the same fraternity.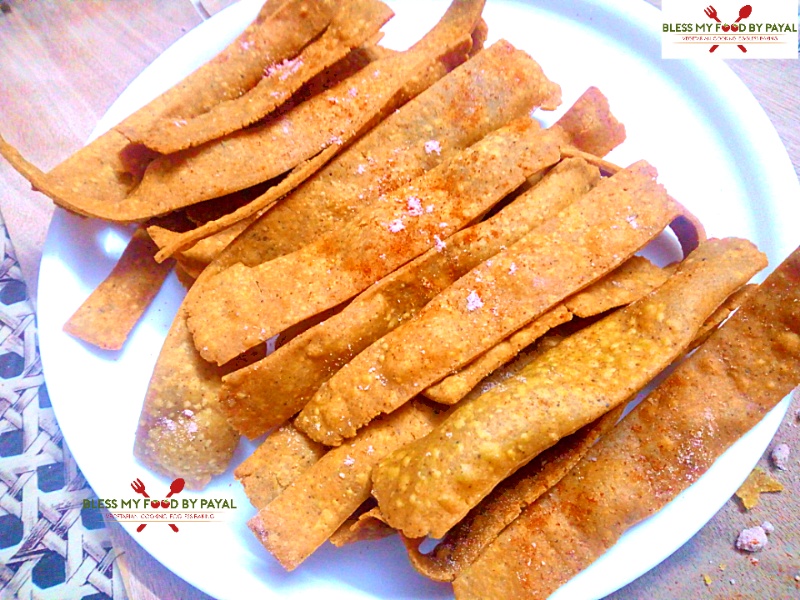 Such other snacks recipes like are methi puri, cheeslings, Karela mathri, snacks basket, Namak pare and duck shaped namak pare.
YouTube
Text recipe of chorafali
INGREDIENTS
Besan / chickpea flour – 1 cup + few tbsp for dusting
Udad Dal flour (homemade) – 1/2 cup
Salt – 1 tsp
Baking soda – 1/8 tsp
Water as per need
Oil – 2 tbsp + for frying
Black salt for sprinkling
Red chilli powder for sprinkling
METHOD
1. Add besan in a bowl along with udad Dal flour.
2. Add salt, baking soda and mix.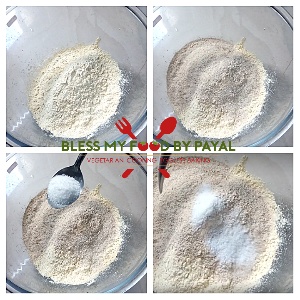 3. Add oil and mix the mixture with hands to make it like breadcrumbs like consistency.
4. Now with the help of water, knead a hard dough.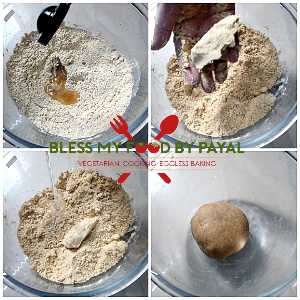 5. Cover the bowl carrying dough and keep it at rest for 1 hour.
6. After one hour, knead the dough again for about 5 to 7 minutes. Or add few drops of oil and pound it with pestle; fold it, add few drops of oil and pound it again. Repeat the process until it is capable of being shaped and its color turns lighter.
7. Take a lemon size dough and thinly roll with the rolling pin like we do while making chapati. Dust some besan if feels needed.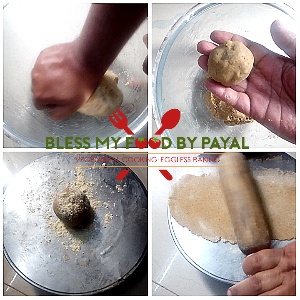 8. With the help of knife or pizza cutter, cut the rolled disk in 2 inches width. Complete the process with the entire dough.
9. Deep fry them in medium heat until crisp golden brown.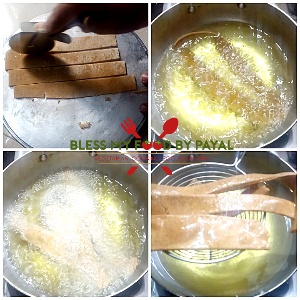 10. Take out on a plate lined with tissue paper.
11. While the chorafali is still warm, sprinkle black salt and red chilli powder over chorafalis.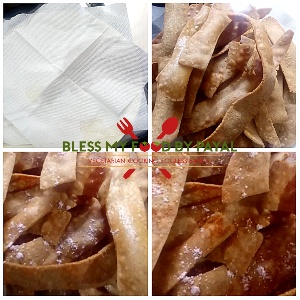 Enjoy with a hot cup of masala chai.
You can store chorafali for about a month in airtight container.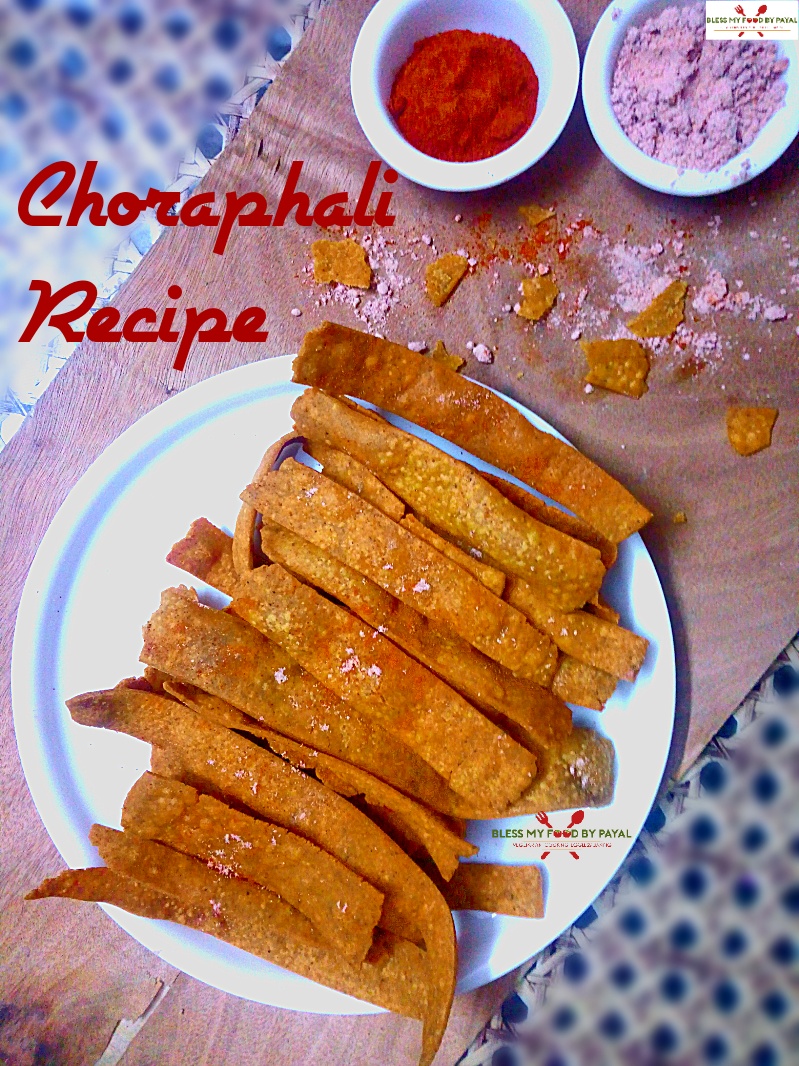 NOTE
* For the fluffy Chorafali, make sure that the dough is well kneaded.
* Do not  fry them on a high flame, as they tend to burn easily.
Feel Free To Ask Queries, If Any…
Regards
PAYAL BALI SHARMA
SHAILENDER SHARMA