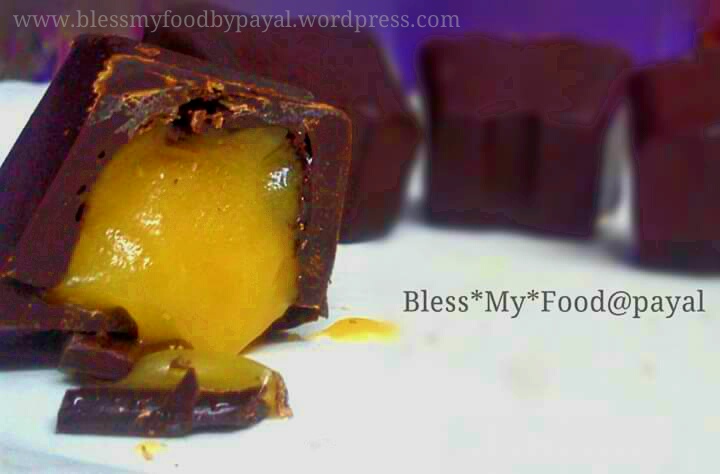 27 Feb

chocolate covered caramels recipe | caramel filled chocolate | how to make homemade chocolates with filling

chocolate covered caramels recipe | caramel filled chocolate | how to make homemade chocolates with filling is an amazing recipe which is not just being loved by kinds only, but by elders too.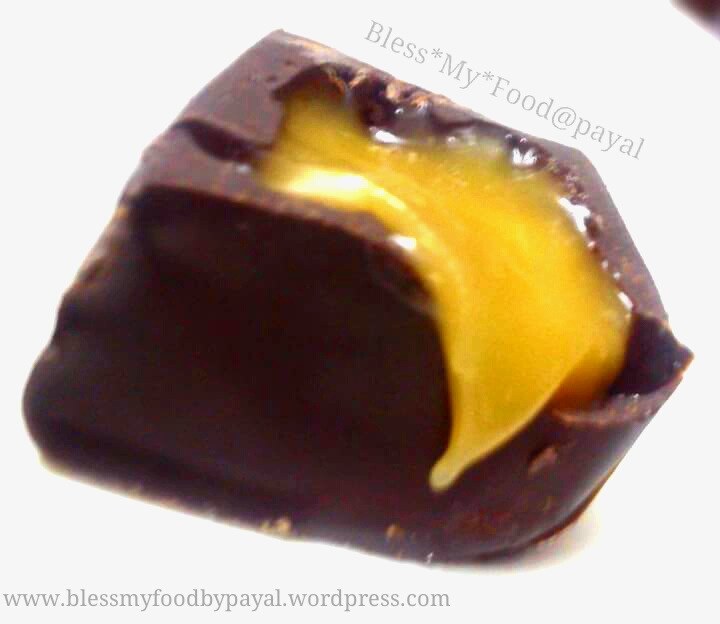 There's a 'Heaven' about which we all know.
But for me there's one more definition of the word 'Heaven'. And I usually call it 'Second Heaven'…..
"….When a bitterly sweet Candy is in my mouth and suddenly it breaks and the sweetest of all caramel oozes out"….. That's My second Heaven.
I planned a trip to the second heaven and then recently made these chocolates filled with caramel sauce.
There are 2 ways, by which we can make the chocolates.
1. With cocoa powder.
2. With chocolate slab.
But I decided to opt the second one because I had already a chocolate (both dark and white) slab in my kitchen.
To make these chocolates, I decided to go for only dark chocolate slab because I didn't want to loose the natural bitterness of chocolate. Otherwise you can mix both white and black chocolate slab to make a bitterless chocolate.
Slightly Bitter chocolate outside + highly sweet caramel sauce inside = OMG, my second Heaven.
Who wanna accompany me….????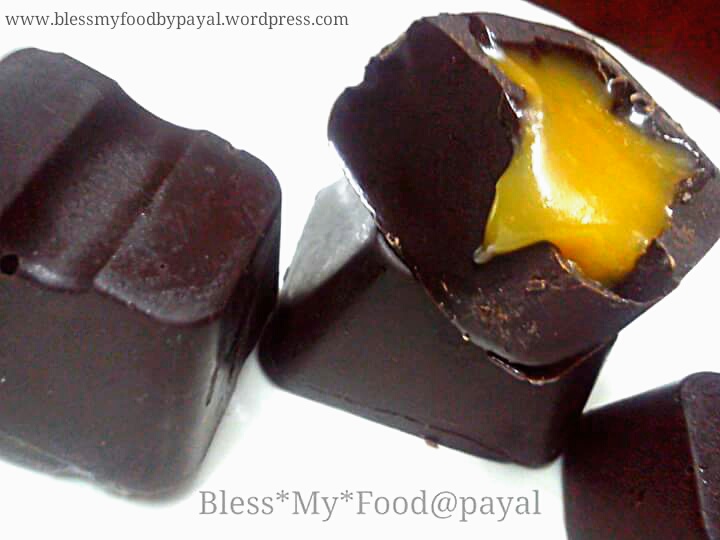 INGREDIENTS for Chocolate Covered Caramels Recipe
Ingredients for Caramel Sauce
100 gms granulated sugar
30 gms butter
60 ml cream.
Ingredients for completing chocolate
Melted Chocolate 1 Cup
(Click here to see the method for melting chocolate)
Caramel sauce (already made)
METHOD
1. Start with the preparation of caramel sauce. Put the sugar into a pan and place onto a medium heat.
2. Let the sugar melt completely. Don't forget to stir continuously until it has turned light brown.
3. As soon as the caramel is light brown, add the butter (cut into small cubes) and whisk rapid until the butter has melted and is combined completely.
4. Turn off the heat and add the cream, again whisking rapidly until combined.
If you find that there are some small sugar crystals, sieve the sauce to remove them.
Put the sauce into a fridge to cool.
5.Now take the melted chocolate and with the help of a small spoon, pour the melted chocolate in the chocolate mould*. I filled it till the top leaving no space.
7. Place the mould in refrigerator. I was short of time, so I placed the tray in freezer. But be careful and don't let the chocolate turn hard.
8. After 4 to 5 minutes, when the chocolate will come to the ice cream consistency, bring the tray out and scoop out the chocolate from within the mould. In other words, dig the chocolates and make a small well in them. Look at the picture below for easy reference.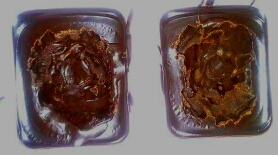 9. Fill the caramel in the well, created between the chocolates, and cover them with more melted chocolate. Again transfer in fridge to turn hard.
Chocolate Covered Caramels Recipe is ready. Enjoy it. You can gift it to your dear ones too.
With these ingredients and depending upon the size of the mould, I made 16 chocolates but gifted only 5.
Rest 11…. You know about.
However, if you are looking forward to a simple chocolate recipe, click here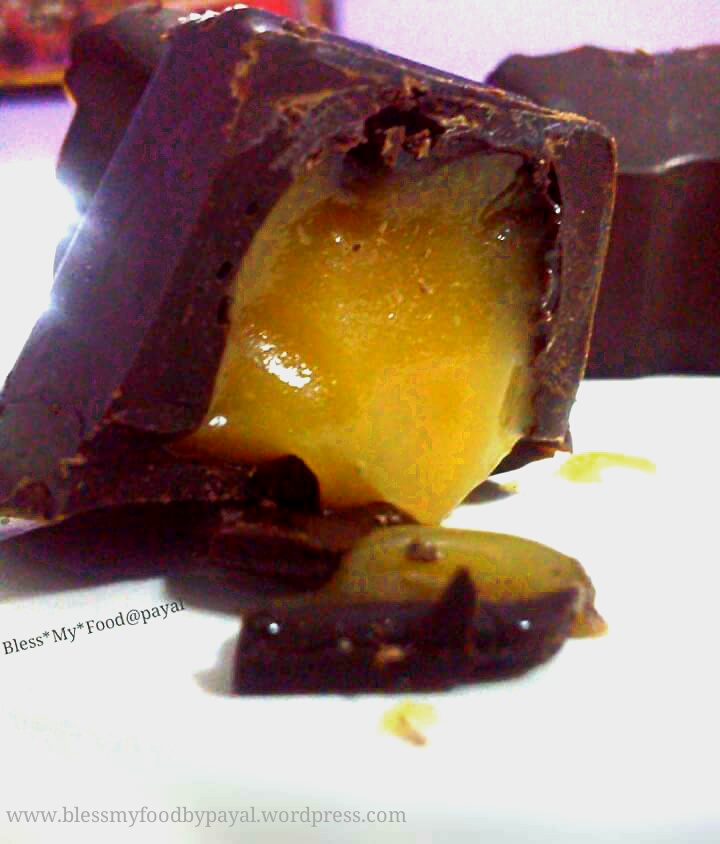 NOTE
*If you don't have the proper chocolate moulds, don't get disheartened. You can use ice tray as a replica.
Regards

PAYAL BALI SHARMA