31 Oct

chenna murki | chenna murki recipe | homemade chenna murki

chenna murki | chenna murki recipe | homemade chenna murki recipe with step wise pictorial method.
These no Ghee, no Butter, no Oil white beauties from the land of Bengal is an instant sweet made with just 2 basic ingredients and ready in almost 15 – 20 minutes is ideal for any special occasion. Although Chenna Murki belongs to Bengal but we think it is readily available across India in all the sweet shops. In North India, from where we belong to, its a part of every festival, either it be Raksha Bandhan, Diwali or Bhai Dooj. In most of the weddings and other functions, you will find it being served as a sweet snack.
So let's enjoy the making of Chenna Murki..
INGREDIENTS
PANEER / COTTAGE CHEESE  250 gram
sugar 1 cup
Milk 1 tablespoon
Kewra essence or cardamom powder or essence 2-3 drops
Water 1 cup
Icing sugar/ powdered sugar as per need.
METHOD
Cut paneer into small cubes of about 1/2 inch size, as shown in the picture. Keep aside.
In a wide pan, add sugar with water and let it cook, stirring continuously, till the sugar dissolves.
Add the milk and scum will be seen floating over the surface of water. discard this scum after collecting with the help of a spoon. keep cooking the syrup till it attains a one-string consistency*.
Add kewra essence and the cubes of paneer/cottage cheese and cook till the syrup coats the cubes well.
When the sugar syrup thickens, remove the pan from heat. Keep twiddling the cubes with a light hand till the cubes are thickly coated with the syrup and separated from each other. The sugar syrup will turn into powdered sugar.
Remove the cubes from the pan, place them in serving plate and sprinkle some icing sugar/powdered sugar over them.
Your Chenna Murki is ready.
NOTE
*To check whether the syrup has attained 1 string consistency, take 2 drops of syrup between your index finger and thumb and open them opposite to each other. If a string is made up, your 1 string  consistency sugar syrup is ready.
If string is not making out at all or not properly, boil the mixture for a couple of minutes more.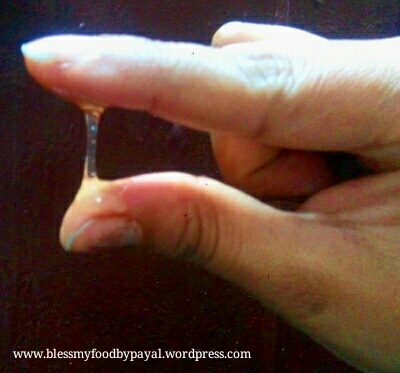 Regards
PAYAL BALI SHARMA
with SHAILENDER SHARMA