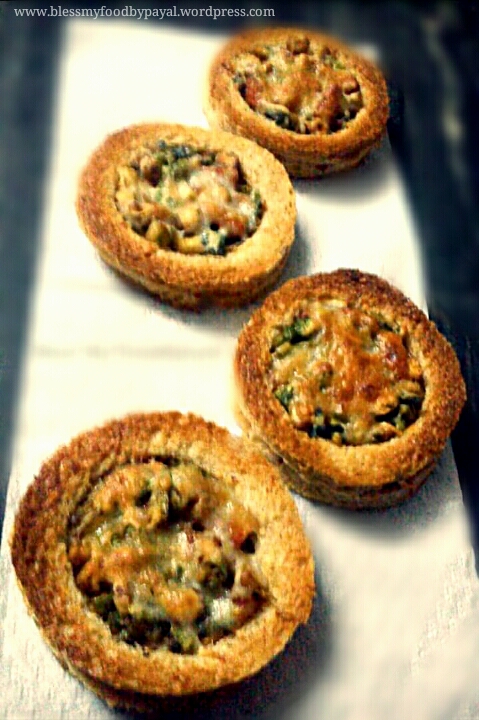 01 Jun

Cheesy Discs | homemade cheesy discs recipe

Cheesy Discs | homemade cheesy discs recipe with step wise pictorial method.
If you are searching for something very easy with the basic ingredients and at the same time dish needs to be having a posh appearance with a wow factor, your search ends here. Where on one hand, this recipe is very easy to make; on the other hand, it gives you the liberty to make the fillings of your own choice. And undoubtedly, this is going to bring so much of Wow's for you too.
So here's the recipe…
INGREDIENTS* for cheesy discs
( For 4 cheesy discs)
Bread – 8 slices
Tomato Ketchup –  4 tsp
Corn (boiled) – ¼ cup
Carrot (chopped) – ¼ cup
Peas (chopped) – ¼ cup
Spring onion (chopped) – ¼ cup
Oil – 1 tbsp
salt as per taste
Red chilli powder – 1 tsp
Black pepper – ¼ tsp
Mozzarella Cheese – ½ cup
Milk as per need
METHOD
1. Heat oil in pan and saute all vegetables (carrot, corn, peas and spring onion) for 2-3 minutes.
2. Add salt, red chilli powder & black pepper into the mixed vegetables & mix well.
3. Remove the pan from heat and keep aside for cooling down.
4. Take a piece of bread and cut it with the help of a round cutter** and keep it aside. (We will write it as 'Round Bread' for easy understanding).
5. Take another piece of bread and cut it in the same manner as done in point 4. (2nd round bread).
6. Take a small size round cutter*** and cut the 2nd round bread from inside so that it becomes a ring. (We will write it as 'Bread Ring' for the same reason).
7. Repeat the same process for all the pairs of bread. 1 piece Round bread; another piece bread ring.
8. Take the round bread and apply Tomato ketchup on it.
9. Also sprinkle a bit of grated Mozzarella cheese on it, if you desire.
10. Place the bread ring on the round bread.
11. Fill the gap in the center with the vegetables mixture.
12. Sprinkle some more grated Mozzarella cheese on top of it.
13. Then give a milk wash to the discs with the help of a brush. It will give a fine golden color to your discs.
10. Now place them in a pre-heated oven at 180° C for 15 minutes. Baking time may vary from oven to oven so please do keep an eye on cheesy discs and bring them out when turned golden brown.
Your cheesy discs are ready to be served.
Serve them hot with Tomato Ketchup.
NOTE
* So far as the ingredients are concerned, you can draw your own ideas also in case of some of the contents. Along with tomato ketchup, you can apply mayonnaise and/or garlic paste or any paste/Sauce of your choice.
Also fill the vegetables of your liking/availability.
** & *** If you don't have the round cutters, no issues. We too don't have. Take 2 katories of different sizes. One should be wider than the other. We used Katori to make the Round breads & a small glass to make the rings.
Regards
PAYAL BALI SHARMA
SHAILENDER SHARMA