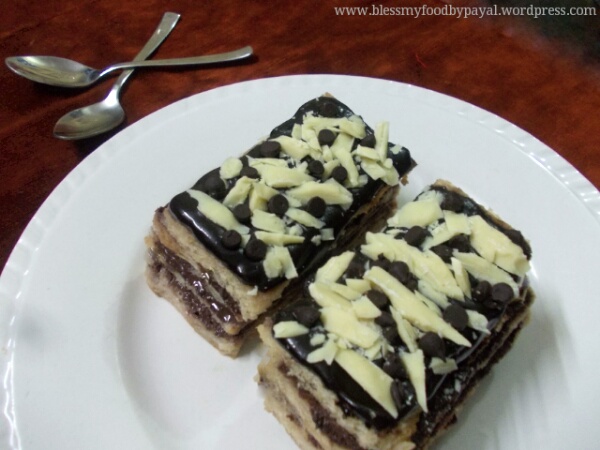 13 Mar

Bread Pastry, chocolate pastry with bread

Bread Pastry, chocolate pastry with bread recipe is here with stepwise pictorial method.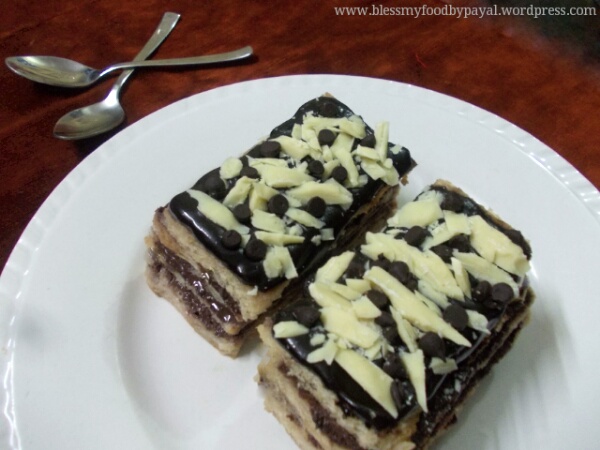 Pastry is something which is always a hit among the kids. Their tongue and tummy is always demanding for the cakes and pastries.
It was around 10:55 PM yesternight and I received a demand from my Son, "Mom, please tell Papa to bring just one pastry for me from the market. Imn't asking for more than one".
Usually he doesn't ask for anything to bring from the market and only pass the directions to me to prepare 'this & that' for him. But I think, he could well understand (probably) that its not an appropriate time to ask for anything messy to be made in the kitchen, especially Pastry.
As the market was almost closed and I can't see my son getting disappointed, so what????
Opened the pantry, made some adjustments, did few assemblings and finally at about 11:30 PM…….
……My Son was super happy. I made 2 instead of just 1 pastry.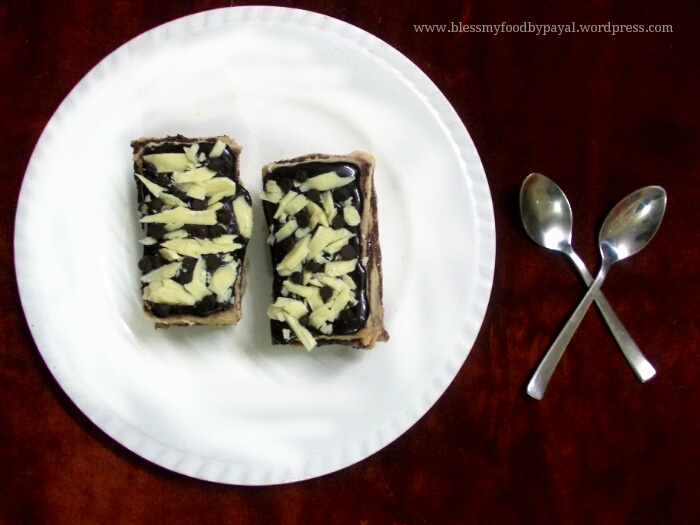 He didn't allow the pastry to get set properly in the refrigerator. But you do keep it in the refrigerator for some time to get it firm and chilled.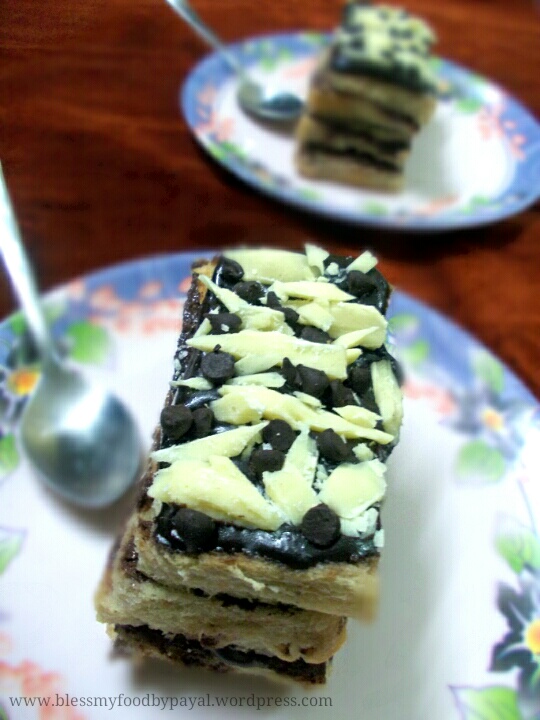 INGREDIENTS
For Pastry Base
Bread (brown/white) – 6 pieces
Milk powder – 3 tbsp
Cocoa powder – 2 tbsp
Powdered sugar – 1 tbsp
Water (as needed)
Milk (as needed)
White chocolate (grated) – 2 tbsp or as per choice.
For Chocolate Sauce
Melted chocolate – 1/2 cup
(For method to see how to melt chocolate, click here. )
Vanilla Essence – 1 tsp
Milk – 2 tbsp
For Garnishing
White chocolate (chopped)
Chocolate chips
TOTAL TIME NEEDED
For preparation 30 minutes
Refrigeration about ½ hour.
METHOD
First of all, keep all the ingredients ready.
1. Take 6 pieces of bread.
2. Remove their edges with pizza cutter/knife.
3. Again divide them in 2 equal parts with knife/pizza cutter. Keep aside. Now I have 12 pieces out of 6 bread pieces. However it will depend upon the size of bread you choose.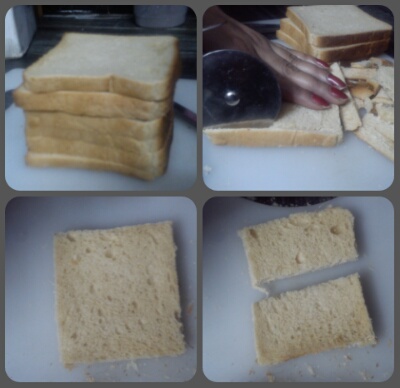 4. Take the white chocolate slab and grate some of it in one plate and chop some on the other and keep aside.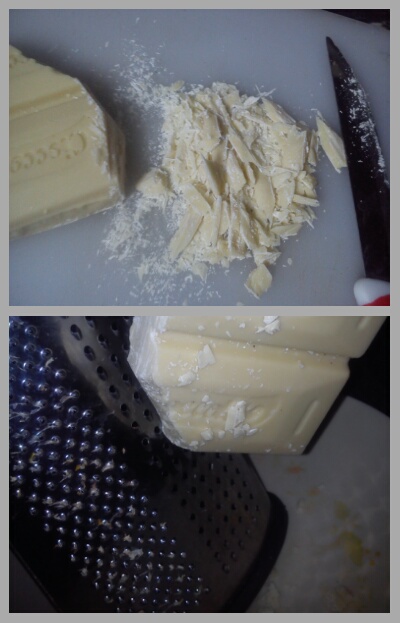 5. Take a bowl, add milk power, powdered sugar and cocoa powder.
6. Make a paste with water. Be careful while adding water. Add water, spoon by spoon, stirring continuously. It should neither be too thick nor too runny.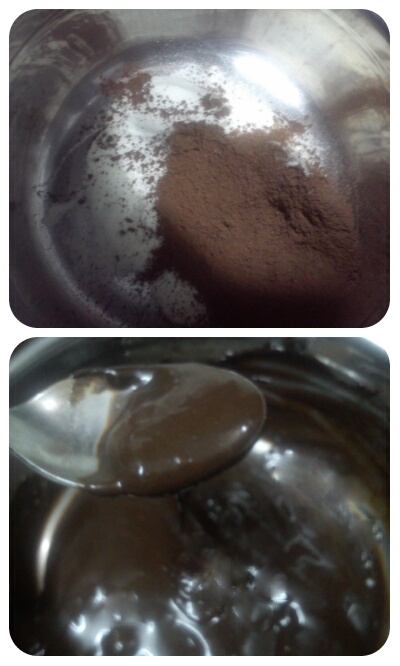 7. Take the melted chocolate in another bowl and add vanilla essence & milk to make it little creamy.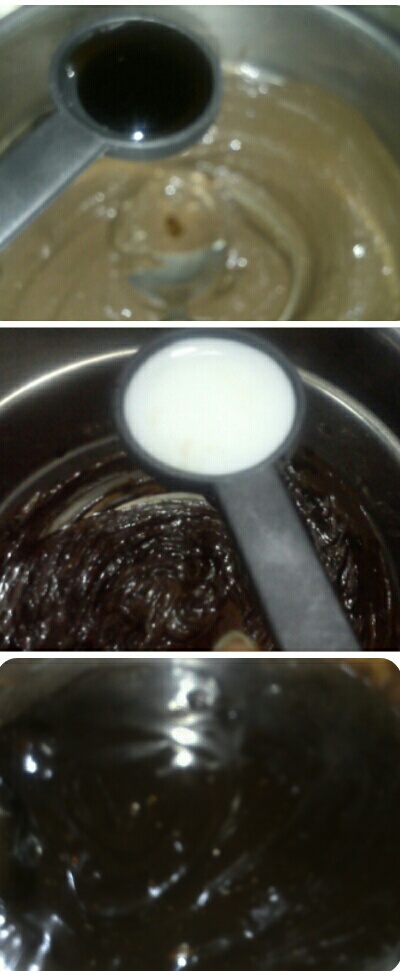 8. At last, take some milk at room temperature in another bowl and soak first piece of bread. Be careful and do it very very quickly, otherwise bread may break down.
9. Squeeze the bread piece gently and place it on a plate.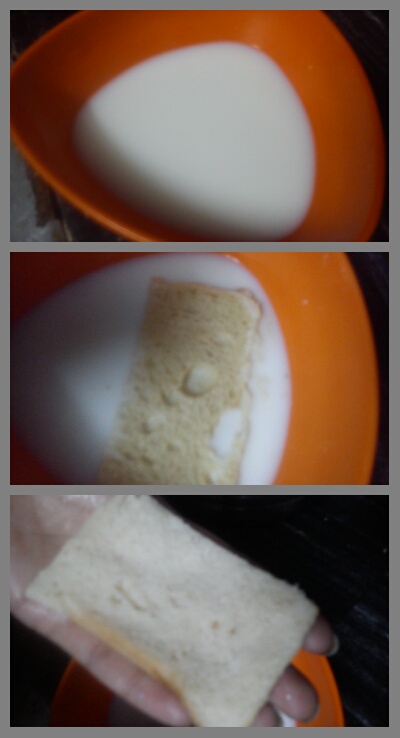 10. Apply some cocoa paste. Now sprinkle some grated white chocolate.
11. Place the another piece on it after soaking it in milk. Apply cocoa paste and sprinkle white chocolate.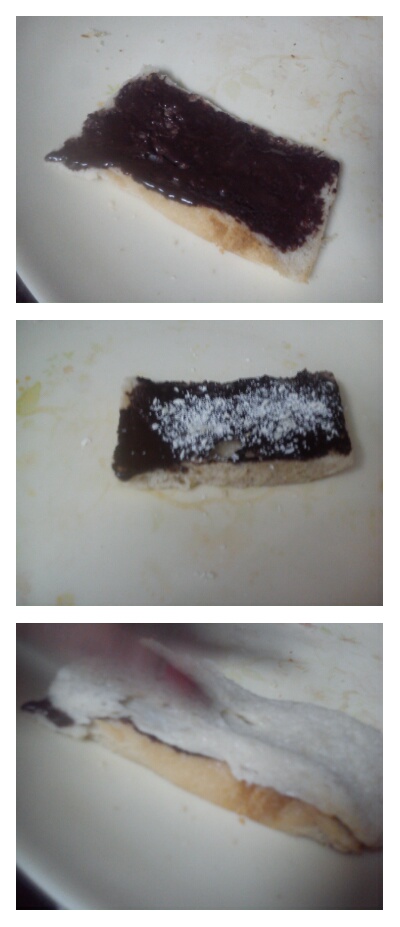 12. Repeat the same process upto 5 pieces.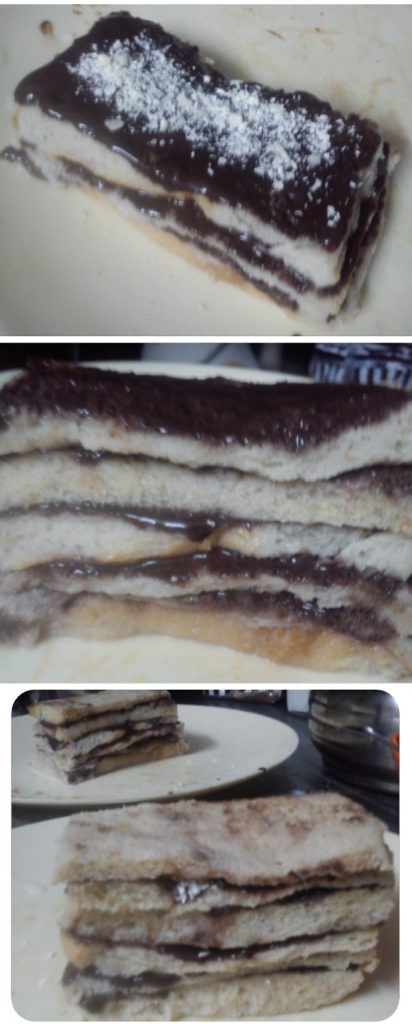 13. When it comes to 6th piece, likewise soak it in the milk and place on the 5th one. But don't apply cocoa paste or sprinkle grated white chocolate over it.
14. Now it's a time for the chocolate sauce. Spread the chocolate sauce on the top i.e. on 6th layer evenly.
15. Garnish with chopped white chocolate and chocolate chips. Place it in the refrigerator for some time to get firm and chilled.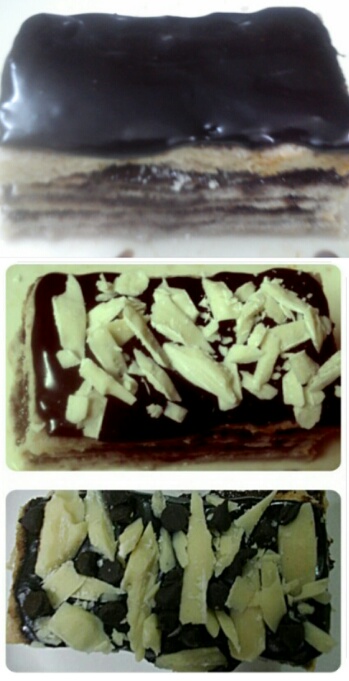 And here it is, kids favourite chocolate pastry.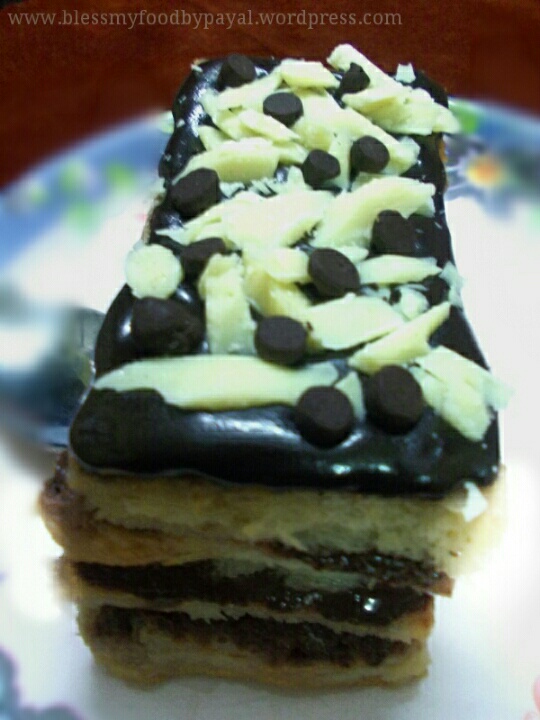 NOTE
Feel free to apply your innovations…..
1. I am using both white and Dark chocolate slabs to make a sauce because dark chocolate is little bitter in taste and addition of white chocolate balances the bitterness. But if your child easily accepts the bitterness of dark chocolate, then you can make the sauce with dark chocolate only.
However If you don't have white chocolate then leave it or if you don't have dark chocolate, make it with white only.
2. Instead of or in addition to spreading white grated chocolate between each layer, you can place chocolate chips or tutti fruity also.
3. On the top layer, you can use any frosting of your choice. Either it is butter cream frosting or cheese cream frosting or chocolate ganche or whipped cream frosting.
4. Decorate the pastry in a way you like. Use cherry or M&M.
Feel free to use whatever appeals to your child and do share the reaction with me. It will give me immense happiness.
To see many of the BREAD RECIPES in this blog, click here
Regards
PAYAL BALI SHARMA
SHAILENDER SHARMA
Please Subscribe to have an access to our new and upcoming recipes.