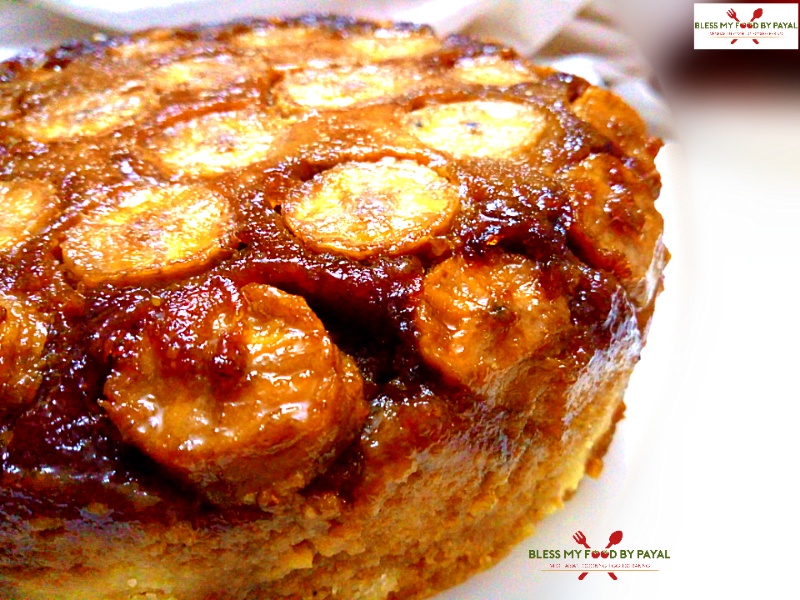 01 Jul

banana upside down cake | upside down cake | eggless banana upside down cake recipe

banana upside down cake | upside down cake | eggless banana upside down cake recipe with step wise pictorial and video method.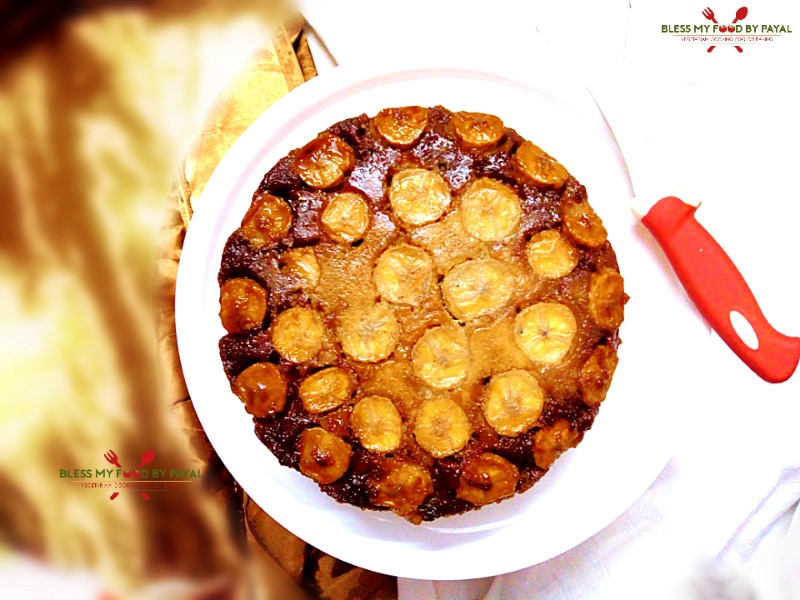 Whenever you have plenty of bananas at home and no one is consuming them just because they are ripened, it's really hard to throw them away. In such a situation, the first and foremost recipe comes to mind is banana cake/bread, because it is very easy to make and everyone loves to eat it. We also went through the same situation which resulted in this cake.
Now the question is that why this banana upside down cake only and not the simple banana cake?
Actually cakes look beautiful only when they are decorated and for the purpose of decorating a cake you need whipping cream as a basic ingredient and many more expensive items which are numberless and based on type of cake. Otherwise a plain cake is as good as a bread, although it may taste heavenly.
But if you want to make a cake which looks appealing and attractive without using any expensive decorative items, then such type of upside down cakes are the best. You need no extraordinary ingredients and still your cake can look so much beautiful.
Not only with banana, but upside down cake can also be made with apples, pineapple, mango and many more fruits whose recipes we will surely bring in coming times.
to see the other cake/muffin recipes in the blog, click here
Now let's begin the process of making eggless banana upside down cake :

video recipe of banana upside down cake
Text recipe of banana upside down cake
INGREDIENTS
…for the upper layer
Bananas (not much ripe) – 3 medium
Brown sugar – 2/3 cup
Butter – 1/4 cup
…for the Cake
Oil – 1/2 cup
Sugar – 1/2 cup
Vanilla essence – 1 tsp
Buttermilk – 1 cup
Whole wheat flour – 2 cups
Baking powder – 2 tsp
Baking soda – 1 tsp
Salt a pinch
Bananas (ripe) – 2 medium
YIELDS
A cake of about 9 inches
METHOD
1. Firstly begin with the preparation of ingredients :
i. Take the bananas kept for upper layer and cut them into round pieces. Keep aside.
ii. Now take the bananas kept for cake in a bowl and mash them finely. Keep aside.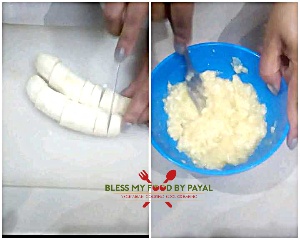 iii. If you don't have ready-made buttermilk, then prepare it's substitute and keep aside. (Method for making the instant substitute of buttermilk is given under the head "NOTE" below). Keep aside.
2. Preparation of upper layer of eggless upside down banana cake
i. Take a cake tin of 9 inches and pour melted butter in it.
ii. Add brown sugar and mix it properly with the butter.
iii. Spread the mixture evenly on the base of cake tin.
iv. Now arrange the round pieces of bananas all over the base of cake tin over the brown sugar mixture. Keep aside.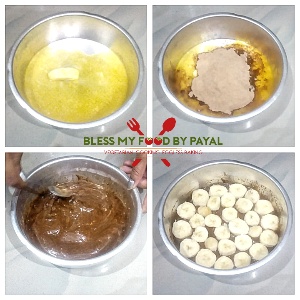 3. Preparation of cake
i. Take a bowl and add oil, sugar and buttermilk in it.
ii. Mix it well until the sugar dissolves completely.
iii. Now add vanilla essence and mix it again.
iv. Add mashed bananas and mix properly.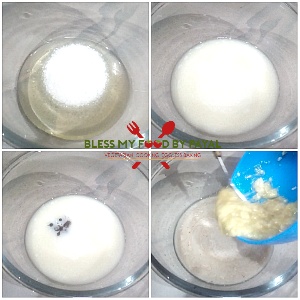 v. Now take a big sieve and place it over the bowl.
vi. Add whole wheat flour, baking powder, baking soda and salt in it.
vii. Sieve these dry ingredients directly into the wet ingredients already placed in the bowl.
viii. Mix everything properly leaving behind no lumps. But don't overdo.
4. Spread this entire mixture in the cake tin over the layer of round banana pieces.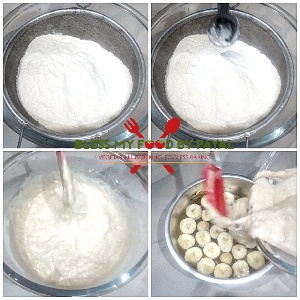 5. Gently tap the cake tin so that excess air bubbles are released and surface of the batter becomes plain.
6. Transfer the cake tin in oven and bake in the middle rack of Oven for 50 to 55 minutes at 180°C with both the rods on. You can also bake it in microwave on convention mode.
7. Check the done-ness by inserting a toothpick or knife in the cake and if the toothpick/knife comes out clean, it means your cake is ready.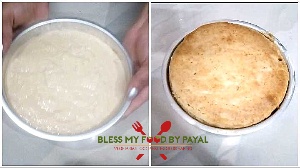 Your banana upside down cake is ready.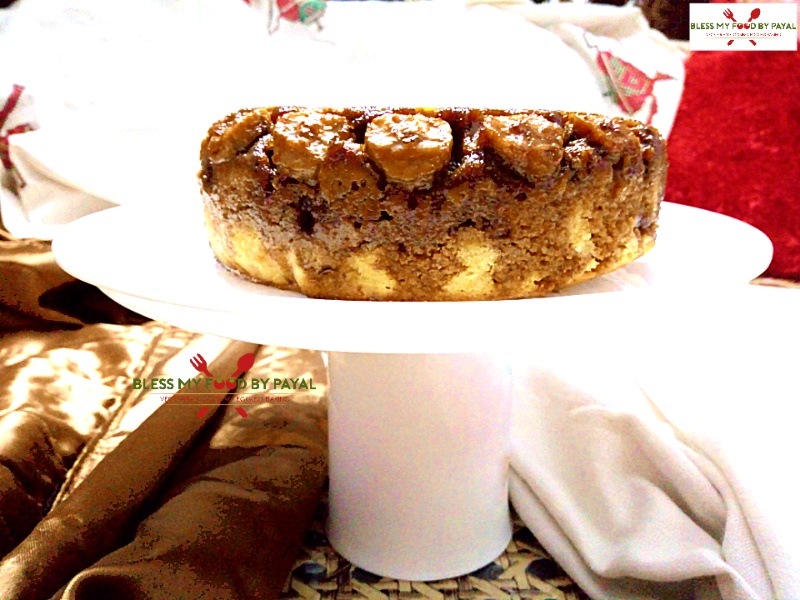 NOTE
* Instant buttermilk recipe :
For making instant buttermilk, take 1 cup of milk in a glass and add 1 tsp of white vinegar in it. Don't mix or/& shake or move the glass for 5 minutes. After 5 minutes, your instant buttermilk will be ready.
* You can also use curd of the same quantity in place of buttermilk.
* Avoid adding salt if you are using salted butter.
* All purpose flour can be used in place of whole wheat flour. We used whole wheat flour to make the cake healthy.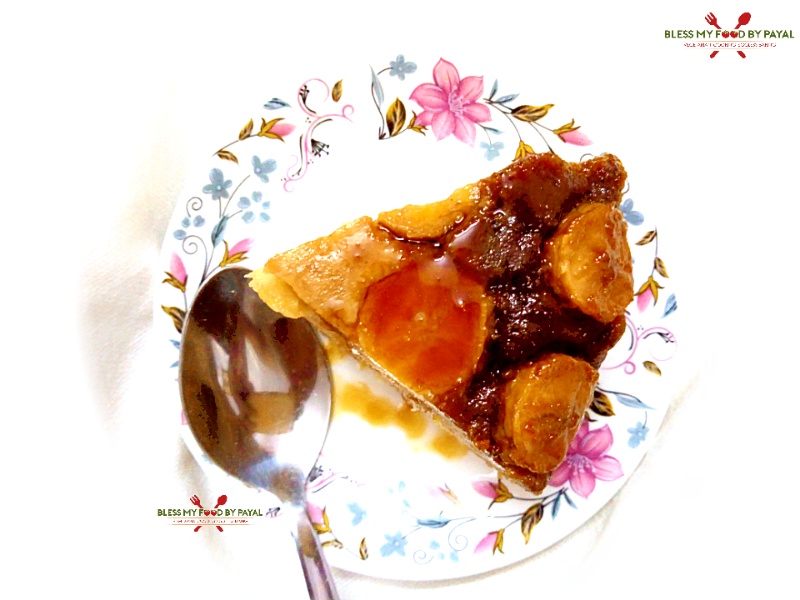 Feel Free To Ask Queries, If Any…
Regards
PAYAL BALI SHARMA
SHAILENDER SHARMA