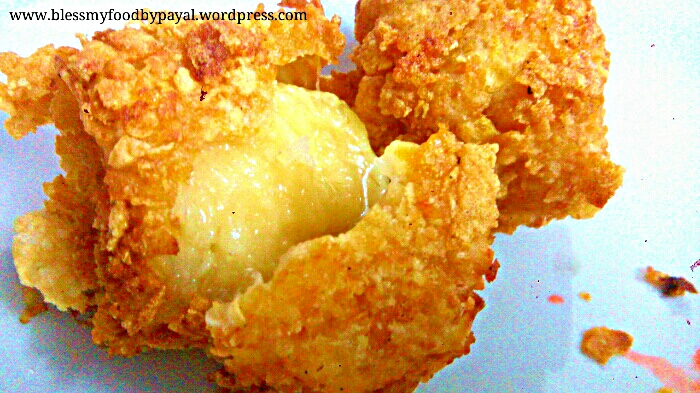 30 Mar

banana and corn flakes fritters | corn flakes recipes

banana and corn flakes fritters | corn flakes recipes with step wise pictorial recipe is given here.
Bananas and corn flakes are best known for their health benefits and when combined both, they will definitely bring out a healthy snack. it is well known fact that many of the health conscious people prefer to take banana and/or corn flakes in the breakfast to keep their whole day enriched with energy.
banana and corn flakes fritters are a little innovation and we just thought of adding the two healthy ingredients in one recipe. and finally, the results were amazing. Besides being healthy, this is an amazing snack ready in 10 minutes with the least ingredients. The sweetness & softness of bananas and crunchy and savory corn flakes in one recipe will just fill your mouth with the amazing experience.
This recipe of banana and corn flakes fritters also comes as a savior if some guests suddenly appear and you have no time and/or ingredient to make messy snack instantly. A house with the kids do have corn flakes in the pantry and the same is the case with bananas. Bananas and corn flakes separately serve no solution to be served with the cup of tea. But the combination of both make an amazing and delicious snack and not only kids, but your guests are sure to love it.
Now make your kids and guests drooling.
INGREDIENTS
Banana 1
Corn flakes 1/2 cup
All purpose flour 3 tbsp
Black Salt 1/4 tsp
Water as needed
Oil for frying
TOTAL TIME NEEDED
10 minutes
METHOD
1. Peel banana and cut it in pieces. Keep aside.
2. Take a plate and add corn flakes in it. Crush the corn flakes with hand. Keep aside.
3. Take a bowl and add all purpose flour in it. Add black salt.
4. Make a batter with water. As batter should be very thick so be careful while adding water. Add water spoon by spoon.
5. Take a pan, add oil and place it on a flame.
6. Take first piece of banana, dip it in batter and then roll it in crushed corn flakes so that banana piece is coated properly from all sides.
7. Put it in the oil and fry on medium heat.
8. Bring out on paper napkin to remove excess oil.
You Banana Flakes are ready to be served. Serve them hot with Tomato Ketchup
Fell free to ask queries, if any
Regards
PAYAL BALI SHARMA
SHAILENDER SHARMA