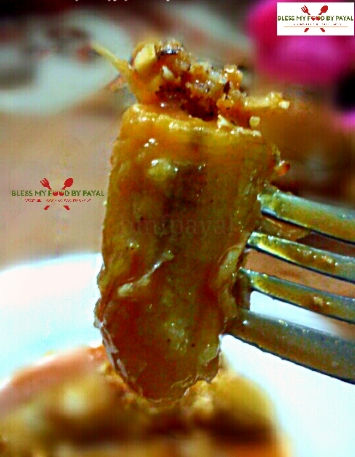 22 Mar

Baked Banana | how to make baked banana

baked banana | how to make baked banana with step wise pictorial recipe is here.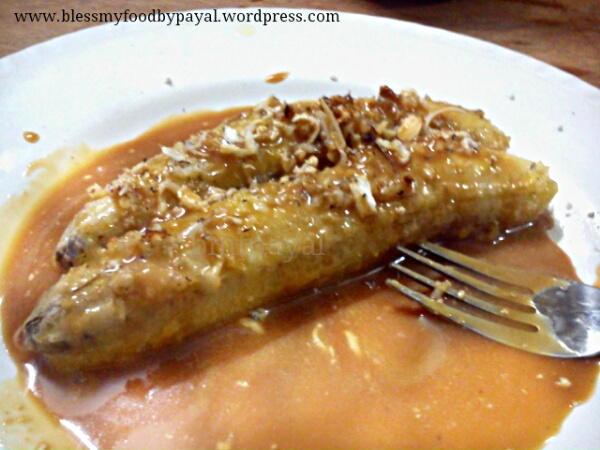 It's not only us, but we guarantee that everyone loves the recipes which are ready in minutes with the least ingredients at home. And this recipe is one of them.
You can amaze your child in just 15 minutes with this lip smacking recipe. So without taking much time, let's begin…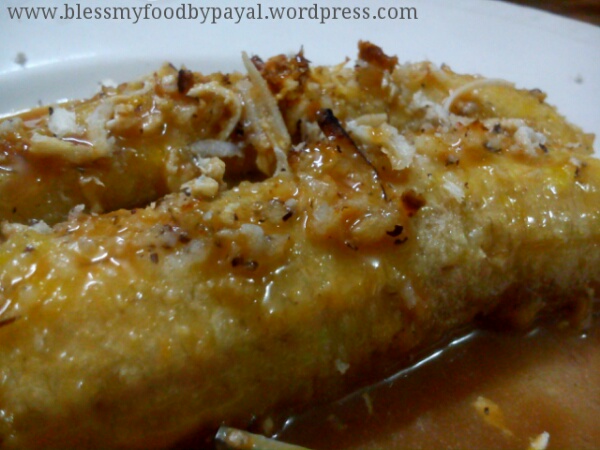 INGREDIENTS
Bananas  – 2
orange Juice – 1/4 cup
Brown Sugar – 1 tbsp
Coconut (shredded) – 3 tbsp
Condensed Milk – as per need
TOTAL TIME NEEDED
15 Minutes.
METHOD
1. Switch on your oven at 200°C.
2. Peel 2 bananas and place the whole bananas in a baking tray.
3. Pour orange juice on them evenly.
4. Sprinkle sugar and coconut over them.
5. Place the baking tray in the oven at 200°C for 15 minutes until orange juice starts bubbling, but bananas are softened & their shape is intact.
6. Once done, remove the tray from the oven and very carefully bring out the bananas from the tray and place them in a plate.
7. Sprinkle more shreeded coconut on bananas and place them in the Fridge when they come to the room temperature.
8. Your Baked Banana is ready.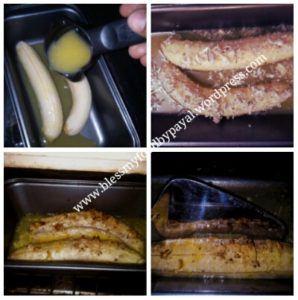 Drizzle condensed milk on them and please your kids.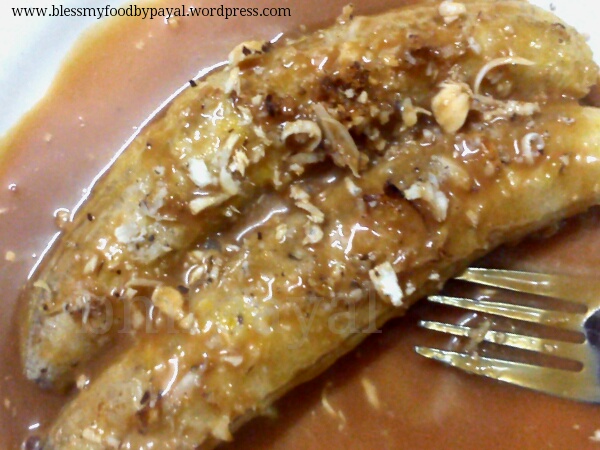 In just 3-4 clicks, I noticed that only one is left in the plate…
IMPORTANT TIPS
1. Bananas should be ripe but not too much ripened.
2. Discard the orange juice at stage no  5 once the bananas are baked.
3. You can also serve the baked bananas hot but i like to serve them only chilled.
4. While sprinkling coconut and sugar, you can also sprinkle 1/8 tsp of cinemon powder on bananas. I didn't do so because i don't like the combination of cinnamon and condensed milk.
5. Also you can sprinkle normal sugar if don't have brown sugar.
4. You can also drizzle honey or some chocolate or can serve with ice cream or frozen yogurt.
Regards
PAYAL BALI SHARMA
SHAILENDER SHARMA