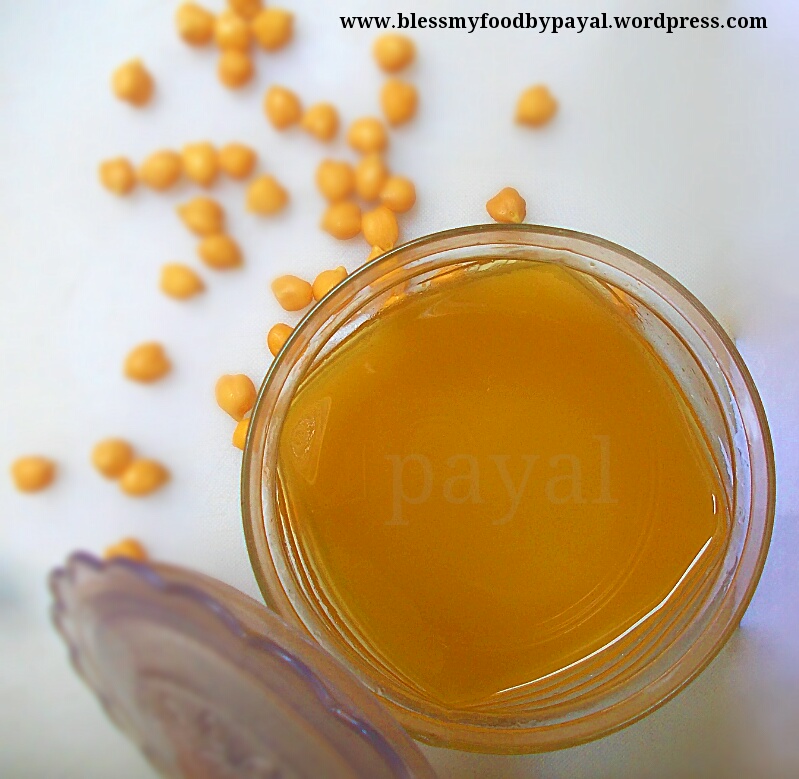 11 Sep

aquafaba | how to make aquafaba

aquafaba | how to make aquafaba recipe with step wise pictorial method.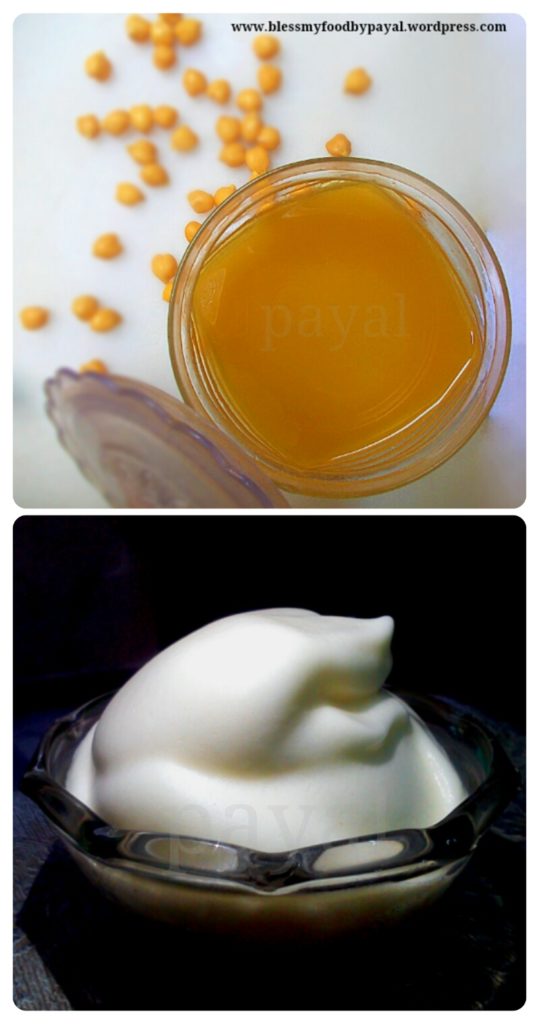 Dear readers, as you all know that the tagline of my blog is "Vegetarian Cooking ; Eggless Baking."
….so when it comes to baking, many a times i had to make compromises with the recipes, asking for egg-white as an essential ingredient. Either I used to set aside those recipes or make them by trying eggless version.
Then I came to know about a new discovery, exceedingly viral on internet, named…
"AQUAFABA"
….and I was full of smile and immense happiness. And I am sure, you all are also going to be after reading this detailed post, who are always in search of eggless cooking, either being pure vegetarian or allergic to eggs or for whatever be the reason.
WHAT IS AQUAFABA
The word Aquafaba is derived from a Latin word which means Water = Aqua, Bean = Faba.
Aquafaba is the liquid that you find in the cans of chickpeas (and other legumes)  or the liquid left over from cooking your own. Aquafaba is translated to "bean water" or "chickpea brine".
If asked to describe in simple terms, 'Aquafaba is that liquid which is left after boiling chickpeas (and other legumes like peas, beans & lentils)'.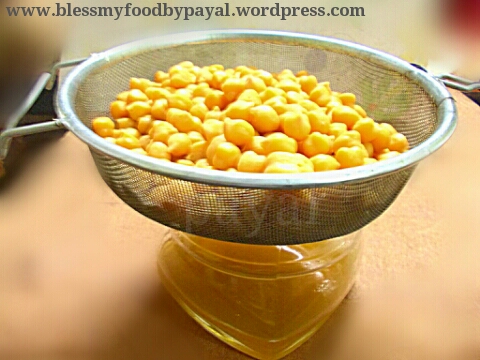 DISCOVERY OF AQUAFABA
In late 2014, a French blogger named Joel Roessel, in order to substitute eggs in meringue cookies, was experimenting with the liquid from chickpeas & palm heart. But after further experimentation, Goose Wohlt, a vegan baker, discovered in February 2015 that when properly manipulated, chickpea water alone is actually stable enough to act as an egg replacer. But most importantly, a growing international community has discovered its true potential and teased out its secrets. There is a group dedicated to using the chickpea brine in all types of bakes known as 'Vegan Meringue – Hits and Misses' and I am feeling prestigious on becoming a part of that esteemed group recently.
USES OF AQUAFABA
Aquafaba can be used to replace egg-whites in many sweet and savory recipes like fluffs, whips, nice creams, drink & pie toppings, meringues, pavlovas, nougat, marshmallows, fudge, icing, cakes, waffles, cookies, mayo, burgers, cheese, butter, breads, ice cream, mousse, macroons, baked goods, and much more!
recipes in which eggs are used as binders, such as cookies, brownies and cakes, aquafaba works best.
However as this ingredient is a new discovery, so people are still experimenting to find the uses of aquafaba, to its fullest.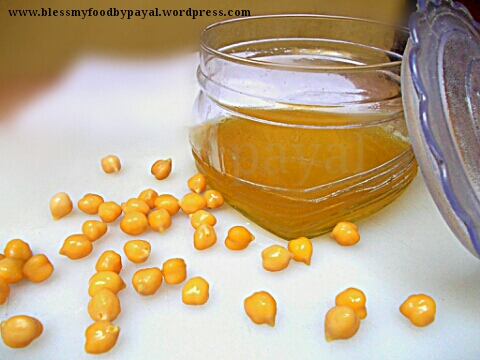 HOW TO MAKE AQUAFABA AT HOME
The method of making Aquafaba at home is very easy but preparing it to the correct consistency is what matters.
Here the recipe begins…
INGREDIENTS
(increase or decrease the quantity as per your requirements)
Chickpeas/Safed (white) Chane – 1 Cup.
Water (for soaking) – as per need.
Water (for boiling) – 4 cups or as per need.
YIELDS
About 1/2 cup of Aquafaba.
METHOD
Wash & soak chickpeas in clean water overnight or for 8-10 hours.
In the morning or after 8-10 hours, take a pressure cooker and transfer the chickpeas and discard soaking liquid.
(adding salt is optional but i didn't prefer but NO baking soda).
Add water so that the chickpeas are covered and water is just above the chickpea level. I used 4 cups of water.
Close the lid & place the pressure cooker on high flame.
When the pressure in the cooker begins, bring the flame to low and let it cook for 40-45 minutes (your cooker timings may vary but you know your cooker well) or until chickpeas turn soft.
When the pressure from the cooker is released, open the cooker. You will find a brownish thick water below the chickpea level.
Separate chickpeas & water by draining the water in a bowl with the help of a sieve.
(You can make ZERO OIL DRY CHANE or CHANA MADRA or any other recipe of your choice with these chickpeas as we need only this brownish water & not chickpeas).
This Brownish Thick Water in the bowl is Aquafaba.
(This water should not be runny & must have a consistency like thick buttermilk. If it is not so, then transfer the water in a pan & boil without lid, untill it attains the desired consistency. Luckily mine was flawless. 🙂 )
You can use it immediately or can preserve it.
(It is highly recommended to place this freshly made aquafaba in refrigerator, atleast for an hour or two, so that it attains the thickness more close to perfect one).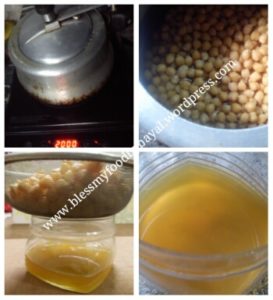 HOW TO USE AQUAFABA
Aquafaba whips up like egg whites for the recipes asking for whipped egg white. However it can also be used in its liquid form in some baking applications.
For whipping, all you need to do is to take the needed quantity of aquafaba in a bowl and whip it at high speed with the help of a blender. It may take about 5 to 15 minutes (depending upon quantity & consistency of aquafaba) in turning the brownish liquid named aquafaba into a white foamy cream like texture. Inverting the bowl with whipped aquafaba is the best way to check if you have achieved stiff peaks. Aquafaba shouldn't slides down even a bit,and if does, Keep on whipping more until it does not move at all.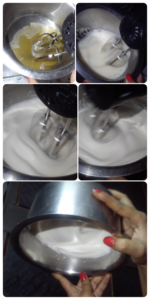 Here it is the snow white beauty……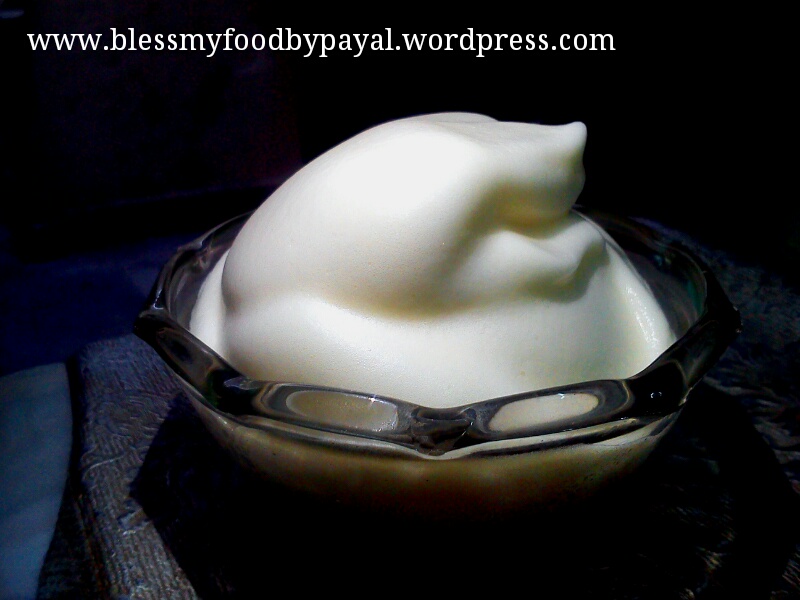 CAUTION
Oil is the biggest enemy of aquafaba while whipping it. So use glass or metallic bowls for whipping aquafaba and avoid using plastic bowls, as it may create greasing while whipping. Be sure, your whipping blades should also be oil free.
This ingredient is not so old discovery and people are keep on trying this ingredient in one way or the another. So

be ready for hits and misses

too, while trying this ingredient or better option is to work on the tried and tested recipes.
HOW MUCH TO SUBSTITUTE FOR EGGS
1 egg white = 2 tbsp of Aquafaba.
1 whole (large) egg = 3 tbsp of Aquafaba.
For best results, Aquafaba should not be used to replace more than three eggs in a recipe. Still people are on trial.
INSTANT AQUAFABA
If you are short of time and need the aquafaba instantly, then you can buy a can of chickpeas from the market and drain the liquid through a sieve into a container. You owe aquafaba within minutes. But if you want to make your own aquafaba at home either because you have sufficient time to make it or canned chickpeas aren't available in your city, then the above method is all your's.
HOW TO PRESERVE AQUAFABA
You can keep your aquafaba in the refrigerator for up to a week or until turn stingy. But if you have made it in bulk & need to store it for a longer period, then divide it among ice cube trays and freeze it. take out the freezed aquafaba cubes, put them in ziplock bags and place these blags in freezer.
RECIPES USING AQUAFABA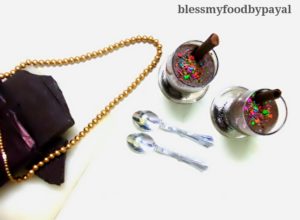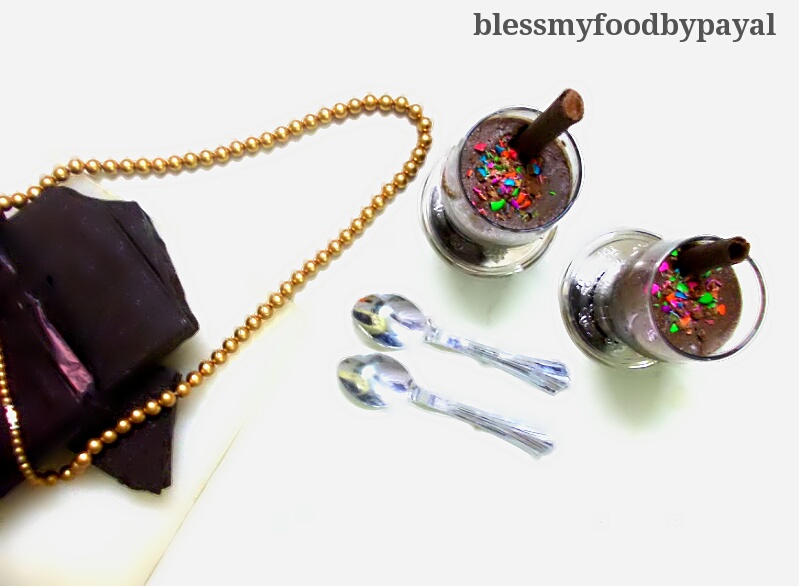 The first recipe I tried using Aquafaba is Chocolate Mousse. Made with just 3 basic ingredients, this bubbly vegan chocolate mousse has a smooth creamy texture ever.
*Stay tuned to our blog for upcoming recipes using Aquafaba in the coming days.*
Regards
PAYAL BALI SHARMA
SHAILENDER SHARMA